After neglecting Instagram for months, I have finally started posting there on a regular basis. Today I had the most amazing latte in the World with whipped cream, chocolate and caramel syrup and pieces of chocolate, and I was a bit sad that I did not think of posting  a photo. Next time you know I will be taking photos of myself in the mirror.
So, if you follow me there you may have already seen this photo of some new beauty related items that I've bought.
Lisa Eldridge Face Paint book, of course
Read More
There are a lot of new eye shadow launches, and I have picked four that caught my attention.
Let's take a look:
Dior Eye Reviver Illuminating Neutrals Palette, Backstage Pros Collection ( $62 from Bloomingdales or Nordstrom)
As seen at the Dior's SS15 Couture Show.This is a palette which contains shadows base, four illuminating eye shadows and a gel liner. Everything you need for a complete eye look.
Too Faced Natural Matte Neutral Eye  Shadow Collection, $36 (will be available from Sephora)
According to the brand, this is a matte version of their
Read More
It's a about time I share top 14 most popular posts from 2014. It is better late than never, right? 😉
1 Kate Moss Rimmel Lipstick Review and Lip Swatches  – link
2 Beauty Inspiration: Blair Waldorf's Wedding Makeup – link
3 Yves Saint Laurent Volupte Sheer Candy Review, Photos and Swatches – link
4 Emily Blunt's makeup – link
5 Rouge Bunny Rouge Eye Shadow Palette Raw Garden in Chronos Review, Swatches – link
6 Daniel Sandler Watercolour Blushes Review and Swatches – link
7 Clarins
Read More
Here is, as promised, the second part of my Favourite Beauty Products of 2014 features.
This time it's all about the eyes & lips. Enjoy, and don't forget to share yours.
Eyes
Eye Shadows Platte – theBalm Shady Lady Vol 2 (review)
I have re-discovered this beauty in summer, and  this was the palette I travelled with most of the times, amazing formulas, great colour selection, thin packaging and great mirror – what else do you need? theBalm eye shadows are among the best.
 Mascara – Clarins Be Long (review)
I've managed to get lush looking lashes with Be Long, it separates perfectly, is never clumpy, and gives a nice , rather dramatic effect, if you use several coats. The brush, for me, is mess-free. I have recommended it to several friends, and they loved it, too.
Cream Eye Shadow – Max Factor Excess Shimmer Eye Shadows  (review)
Definitely one of the coolest eye shadows I've discovered  in ages.  Mousse-like texture that allows you to get a sheer   hint of shimmer, or layer it on for a more intense look. It is stunning both ways!
Eye Shadows – Rouge Bunny Rouge Eye Shadow in Solstice Halcyon  (review)
This is
Read More
When I first heard that theBalm were about to launch a palette called Nude Dude, I actually thought it was a joke.  I highly recommend that you do not google "nude dude",  as I did, trust me on this one. Now, I am hoping that I won't get wrong kind of audience with such title…
But actually it is true!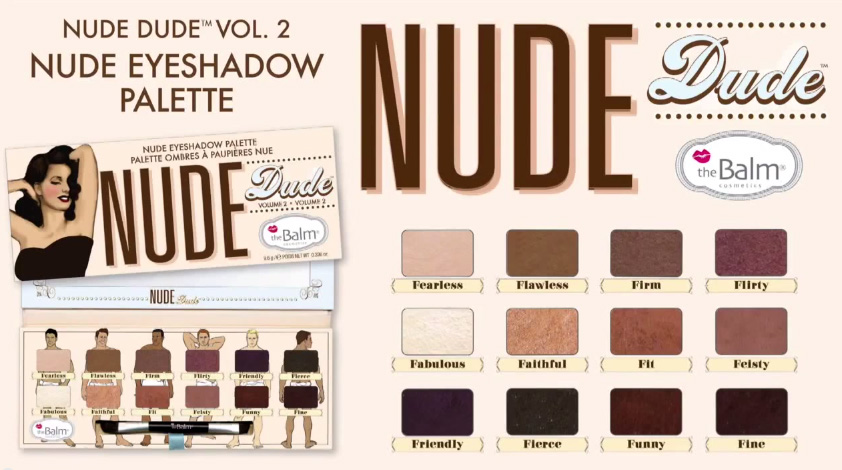 Here is a close up. You get twelve neutral eye shadow shades. I really love the look of
Read More