There are a lot of new eye shadow launches, and I have picked four that caught my attention.
Let's take a look:
Dior Eye Reviver Illuminating Neutrals Palette, Backstage Pros Collection ( $62 from Bloomingdales or Nordstrom)
As seen at the Dior's SS15 Couture Show.This is a palette which contains shadows base, four illuminating eye shadows and a gel liner. Everything you need for a complete eye look.
Too Faced Natural Matte Neutral Eye  Shadow Collection, $36 (will be available from Sephora)
According to the brand, this is a matte version of their
Read More
It's a about time I share top 14 most popular posts from 2014. It is better late than never, right?
1 Kate Moss Rimmel Lipstick Review and Lip Swatches  – link
2 Beauty Inspiration: Blair Waldorf's Wedding Makeup – link
3 Yves Saint Laurent Volupte Sheer Candy Review, Photos and Swatches – link
4 Emily Blunt's makeup – link
5 Rouge Bunny Rouge Eye Shadow Palette Raw Garden in Chronos Review, Swatches – link
6 Daniel Sandler Watercolour Blushes Review and Swatches - link
7 Clarins
Read More
Here is, as promised, the second part of my Favourite Beauty Products of 2014 features.
This time it's all about the eyes & lips. Enjoy, and don't forget to share yours.
Eyes
Eye Shadows Platte – theBalm Shady Lady Vol 2 (review)
I have re-discovered this beauty in summer, and  this was the palette I travelled with most of the times, amazing formulas, great colour selection, thin packaging and great mirror – what else do you need? theBalm eye shadows are among the best.
 Mascara – Clarins Be Long (review)
I've managed to get lush looking lashes with Be Long, it separates perfectly, is never clumpy, and gives a nice , rather dramatic effect, if you use several coats. The brush, for me, is mess-free. I have recommended it to several friends, and they loved it, too.
Cream Eye Shadow – Max Factor Excess Shimmer Eye Shadows  (review)
Definitely one of the coolest eye shadows I've discovered  in ages.  Mousse-like texture that allows you to get a sheer   hint of shimmer, or layer it on for a more intense look. It is stunning both ways!
Eye Shadows – Rouge Bunny Rouge Eye Shadow in Solstice Halcyon  (review)
This is
Read More
When I first heard that theBalm were about to launch a palette called Nude Dude, I actually thought it was a joke.  I highly recommend that you do not google "nude dude",  as I did, trust me on this one. Now, I am hoping that I won't get wrong kind of audience with such title…
But actually it is true!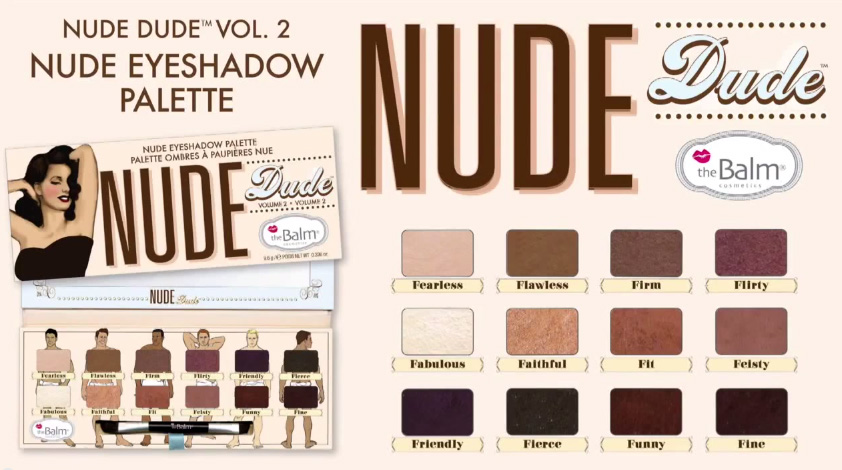 Here is a close up. You get twelve neutral eye shadow shades. I really love the look of
Read More
Woohooo! theBalm continue to bring out killer palettes! This time it's all about the eyes and eye brows – Balmsai.
As usual, it comes in a cute, vintage inspired, packaging. And, yes, who doesn't love a boy brows in a good shape?
You get 18 shades: 6 shades of basic  colours, 6 more colourful options, 3 variants for brows and
Read More