Here is, as promised, the second part of my Favourite Beauty Products of 2014 features.
This time it's all about the eyes & lips. Enjoy, and don't forget to share yours.
Eyes
Eye Shadows Platte – theBalm Shady Lady Vol 2 (review)
I have re-discovered this beauty in summer, and  this was the palette I travelled with most of the times, amazing formulas, great colour selection, thin packaging and great mirror – what else do you need? theBalm eye shadows are among the best.
 Mascara – Clarins Be Long (review)
I've managed to get lush looking lashes with Be Long, it separates perfectly, is never clumpy, and gives a nice , rather dramatic effect, if you use several coats. The brush, for me, is mess-free. I have recommended it to several friends, and they loved it, too.
Cream Eye Shadow - Max Factor Excess Shimmer Eye Shadows  (review)
Definitely one of the coolest eye shadows I've discovered  in ages.  Mousse-like texture that allows you to get a sheer   hint of shimmer, or layer it on for a more intense look. It is stunning both ways!
Eye Shadows – Rouge Bunny Rouge Eye Shadow in Solstice Halcyon  (review)
This is
Read More
When I first heard that theBalm were about to launch a palette called Nude Dude, I actually thought it was a joke.  I highly recommend that you do not google "nude dude",  as I did, trust me on this one. Now, I am hoping that I won't get wrong kind of audience with such title…
But actually it is true!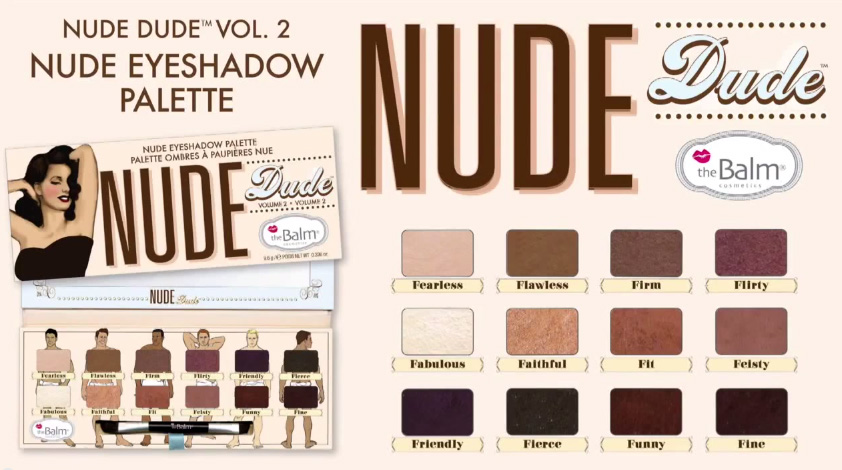 Here is a close up. You get twelve neutral eye shadow shades. I really love the look of
Read More
Woohooo! theBalm continue to bring out killer palettes! This time it's all about the eyes and eye brows – Balmsai.
As usual, it comes in a cute, vintage inspired, packaging. And, yes, who doesn't love a boy brows in a good shape?
You get 18 shades: 6 shades of basic  colours, 6 more colourful options, 3 variants for brows and
Read More
It's monthly favourites time!
Makeup
This month it was all about beautiful  skin for me. The mix of Elemis Pro-Radiance Illuminating Flash Balm (review) and Clarins HydraQuench Tinted Moisturizer  (review and swatches) was my dream combo. It made the skin smooth, radiant and youthful. And I mean it. I guess the fact that recently several (!) people  thought that I am 19-20 speaks for itself. Plus you could definitely see the "real skin" underneath, no cakey thick masks which are even worse than bad skin tone itself, in my opinion.
Since I wanted to keep things on the light-to-medium side -YSL Touche Eclat  (review and swatches) was my best friend, as well.  For me it is a perfect light reflecting product for under the eye area, you get great, long-lasting results, also Touche Eclat doesn't enhance the under eye lines.
August was definitely the month of
Read More
It seems like it's now a tradition to show you  what beauty and makeup products I take with me when I am away, just like in this post. So, since I am currently visiting my family, here is a quick update on what products I took with me.
To tell the truth, I barely wear any makeup these days but I did take quite a few products (and a lot of brushes) since people always ask me for a makeover.
I am very happy with the skincare that I've packed with me, including a lot of mini bottles which I am currently testing.  I only wish I took more than three nail polishes, as my 5-years-old-cousin loves to borrow them
Speaking of my cousin, she insisted on inspecting my "treasures" as she described my makeup bag… When she saw the red lipstick I had,  she told me that she had to put it on me, since it'd make me look gorgeous. What can I say? She does know beauty.
Read More