Spring is the time for new lipstick releases, as we could see in the previous years. And we can see the same situation for SS16, too.
I have already posted about the new releases from Clarins and YSL. But there are just so many more coming out our way – think Guerlain, Lancome, Chanel, Tom Ford, Givenchy, Clinique, Estee Lauder, Armani and more.
Today let's take a look at three of them: Chanel, Tom Ford and Givenchy.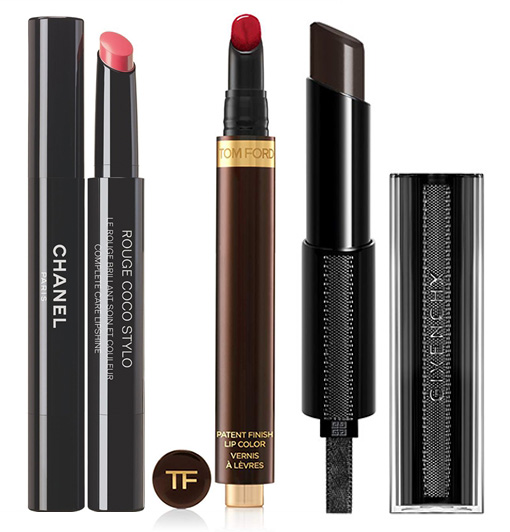 Chanel  Rouge Coco Stylo (Complete Care Lipshine) ($37 from Chanel)
"The intensity of a lipstick, the shine of a lipgloss and the comfort of a lip balm — all in one creamy yet lightweight formula. This innovative formula is enriched with nourishing Apple Seed Extract and hydrating Jojoba Oil and Coconut Oil. Silk Powder, Beeswax and special ingredients help visibly smooth, plump and add brilliant 3D shine to the lips."
Available in 8 shades, the one shown above is
Here is, as promised, the second part of my Favourite Beauty Products of 2014 features.
This time it's all about the eyes & lips. Enjoy, and don't forget to share yours.
Eyes
Eye Shadows Platte – theBalm Shady Lady Vol 2 (review)
I have re-discovered this beauty in summer, and  this was the palette I travelled with most of the times, amazing formulas, great colour selection, thin packaging and great mirror – what else do you need? theBalm eye shadows are among the best.
 Mascara – Clarins Be Long (review)
I've managed to get lush looking lashes with Be Long, it separates perfectly, is never clumpy, and gives a nice , rather dramatic effect, if you use several coats. The brush, for me, is mess-free. I have recommended it to several friends, and they loved it, too.
Cream Eye Shadow – Max Factor Excess Shimmer Eye Shadows  (review)
Definitely one of the coolest eye shadows I've discovered  in ages.  Mousse-like texture that allows you to get a sheer   hint of shimmer, or layer it on for a more intense look. It is stunning both ways!
Eye Shadows – Rouge Bunny Rouge Eye Shadow in Solstice Halcyon  (review)
This is