Here are three new beauty releases for the cheeks that caught my  attention.
Bobbi Brown Brightening Brick, $46 from Neiman Marcus and £34 from Harrods.
Exactly the kind of product we need after winter. It adds colour and luminosity to the skin, according to the brand it has "a the warmth of a bronzer and the soft flush of a blush with a gorgeous, subtle glow."
Available in six shades:  Pastel Pink, Pink,  Coral, Cranberry, Tawny and  Pastel Peach.
Max Factor Creme Puff Blush, £8.99 from Boots and Superdrug
"Lightweight, baked formula contains finely milled, multi-tonal pigments that blend evenly, enhancing individual skin tones, for a truly natural, polished skin finish."
Comes in six shades:
Read More
Too Faced always bring out some of the most amazing releases for  the holidays. Their new collection is cute and girly, as usual.
Not to mention great quality and prices. Everything is already available from Sephora and will be available from Beauty Bay later.
You can choose from the following products:
La Belle Carousel, $49.   A unique looking, carousel inspired set includes the following products:
 12  eye shadows in Angel Hair (muted copper shimmer), Frost (intense white glitter), Tin Soldier (silver shimmer), Christmas Tree (forest green glitter), Santa's Boots (matte black), Tufted Suede (taupe), Haute Chocolate (chocolate shimmer), Yule Log (black sparkle), Nut Cracker (pale pink ivory), Nude Beach (glittery pale peach), Boxes and Bows (icy peach pink), Sugar Plum Fairy (deep purple glitter)
 2  Bronzers in Chocolate Soleil (matte chocolate), Sun Bunny (white shimmer)
2  Blushes in Who's Your Poppy (warm peach/gold shimmer), Luminous Peach (coral)
 Better Than Sex mascara
Everything Nice Set, $56
Read More
Remember that last week I've promised to show you the eye shadows palettes that I personally am very excited about?
Well, they are here, and they are a part of Too Faced Smitten Kitten Makeup Collection for Autumn 2014.
Technically one palette is a part of the seasonal release, and two others are music inspired releases, but I've decided to combine them in one post…
I am a big fan of the brand's palettes, and I am happy to see, not one, but three new variations. They are:
Country Nashville Nudes Eye Shadow Collection
Rock N Roll Rock Candy Eye Shadow Collection
Cat Eyes Ferociously Feminine Eye Shadow & Liner Collection
I am all about Rock N Roll and Cat eyes in real life, but my favourite palette is the Country one. The thing is that I am not a fan of dark eye shadows on myself lately, plus I have enough of those already.  Sorry Glam Rock and Heavy Metal, here I come, Y'all…
Each palette is $36
What else is in the collection?
 Bulletproof Liner 24 Hour Eyeliners, $22
Read More
There is always at least one product from Too Faced makeup collections  that I want. Pardon My French is not an exception, those eye shadows and melted lipsticks are stunning. *add to wish list*. And what about their eye brow products? They look amazing on the promo photos.
Honestly, this has to be my favourite summer collection so far!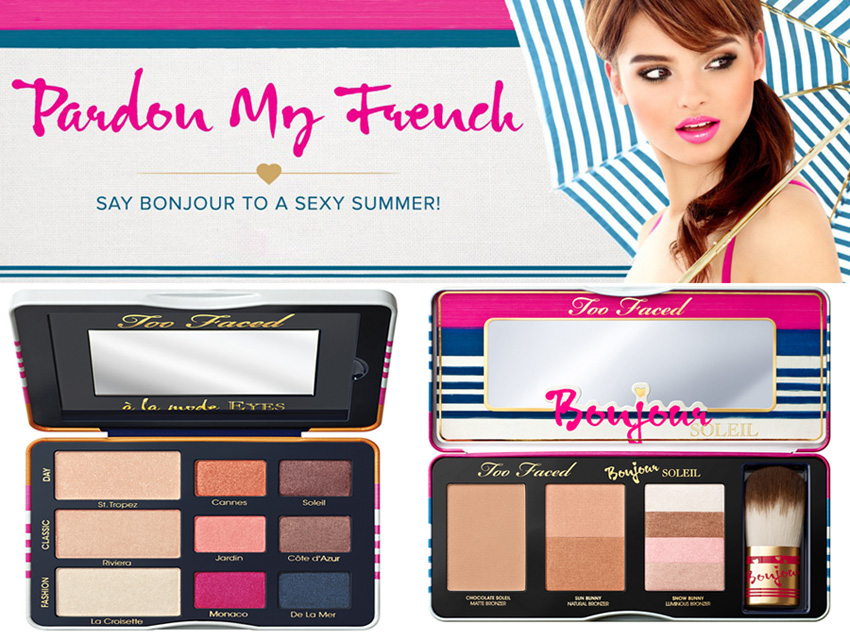 A La Mode Eyes Sexy St. Tropez Eye Shadow Collection ($36)
Capture a summer sunset in St. Tropez with coral, golden pink and fiery copper shadows for eyes that say "Ooh la la!"
Too Faced eye shadows are among my favourite, and how beautiful does that new eye shadow look?  I think I need it!
Bonjour Soleil Limited Edition Summer Bronzing Wardrobe ($44)
"Say bonjour to a gorgeous, golden tan with this collection of bronzing best-sellers including Chocolate Soleil, Sun Bunny and Snow Bunny."
The brand's bronzers are fantastic, I have Sun Bunny and Pink Leopard.
Melted Liquified Long Wear Lipstick ($21)
Get the
Read More
We get to see the new palettes all the time, and, to tell the truth, I personally rarely get excited about any of them. But today I want to show you the one that I really like.
And it's  the Too Faced The Chocolate Bar Eye Palette.
I am a huge fan of Too Faced eye shadow palettes and this one looks amazing. Although I prefer luxury design, over cute,  I love the shades selection. I think I need this in my life.
So what's inside? 0.03 oz x 14 Eye Shadows in Gilded Ganache, Milk Chocolate, Black Forrest Truffle, Triple Fudge, Salted Caramel, Marzipan, Semi-Sweet, Strawberry Bon Bon, Candied Violet, Amaretto, Hazelnut, Crème Brulee, Haute Chocolate, Cherry Cordial
0.10 oz x 2 Eye Shadows in White Chocolate, Champagne Truffle
There are two new shades of the Sweethearts Perfect Flush Blush
 Peach Beach: shimmering peach, rosy
Read More