I am sorry about the lack of updates, work and life just got in the way, and I was away for a mini break at the end of last week which you already saw if you follow me on Instagram. But I  have so many news to share and so many collections to post, so, hopefully, will be able to do that soon.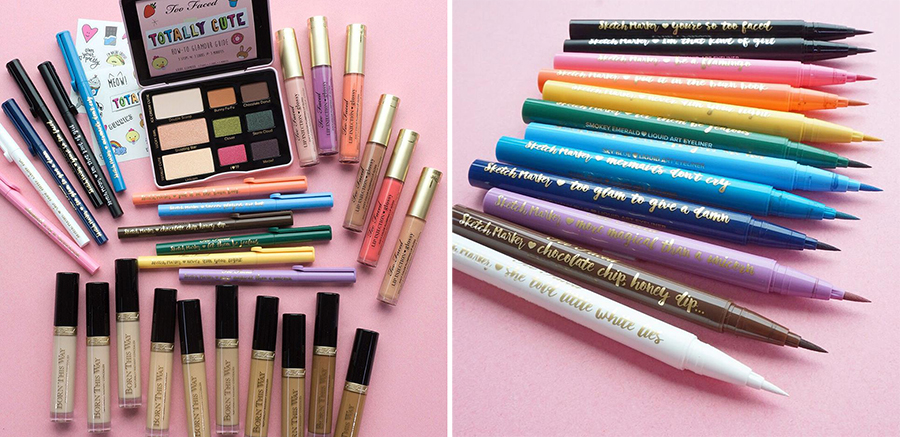 Let's take a look at Too Faced makeup collection for Autumn 2016. I have already posted about the  matte lipsticks, so here are all the other products. The photo above is actually from the brand's Facebook page.
Brow Quickie Brush-On Fiber Gel ($22)
Brush-on fiber gel technology mimics real hair to shape and plump up brows with just one sweep. The buildable formula fills in missing gaps, while adhering to skin and hair for full, thick, naturally defined brows.
Available in Universal Taupe and  Universal Brunette
Totally Cute Eye Shadow Collection ($39)
9 brand new shades in go-to neutrals and pops of colour
Step-by-step, how-to Glamour Guide with 3 beauty looks to get you started
Limited edition, Totally Cute sticker collection to customize your palette from illustrator and graphic artist @iscreamcolour.
Sketch Marker Liquid Art Liner ($20)
Inspired by Japanese Calligraphy Pens. Its formula acts as an
Read More
Too Faced released some cool new products as a part of their summer 2016 collection. Let's take a look.
The coolest thing is definitely the Sweet Peach Eye Shadow Collection ($49) with 18 shades of peachy pinks, corals, bronzes, and pops of purples. There is also a new shade of their heart shaped baked Sweetheart  Blush ($30)  – Perfect Flush.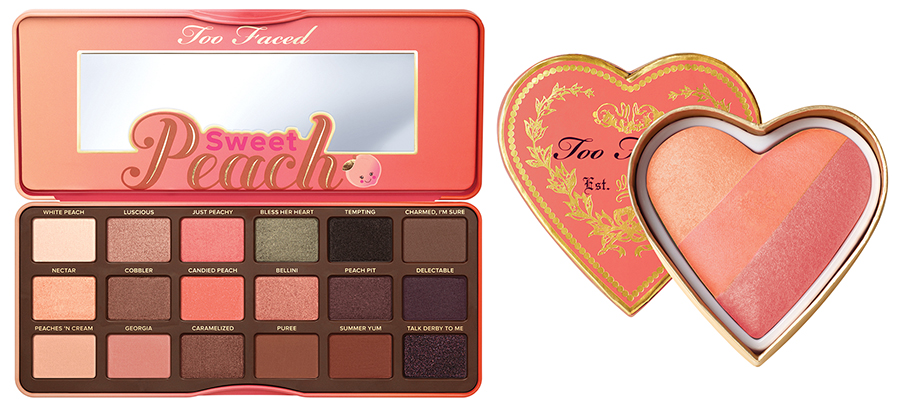 I am personally loving the look of the Royal Oil ($35) obviously. It is a coconut body bronzer with mangosteen extract. It tints and conditions the skin.
As for face products, there is a Cocoa Contour Deep ($40) which is a contouring and highlighting kit  with the following shades: Cocoa Butter Matte Banana Yellow, Medium Mocha Matte Warm Neutral Brown, Deep Mocha Matte Deep Brown, Cocoa Glow Soft Peach Shimmer and
Read More
Here is a weekly edition of the newest makeup products for face, eyes and lips that caught my attention:
BECCA Shimmering Skin Perfector Luminous Blush ($34 from Sephora)
The shade shown is  Dahlia (cabernet). Other shades are: Blushed Copper – copper, Camellia – ballerina pink, Foxglove – orchid.
These blushes basically give you that glow and  multi-dimensional, versatile blushes to create a subtle, shimmering flush. Apparently these blushes are inspired by Shimmering Skin Perfector and give the right balance of colour and light.
Melted Matte Liquified Long Wear Matte Lipstick ( $21 from  Sephora). There are
Read More
With so many new launches, I've decided to highlight those that caught my attention, so here is a preview of the new products for the complexion, eyes and lips that I think look amazing.
Too Faced Peanut Butter and Jelly Eye Shadow Collection, $36 available from Sephora and Too Faced from the end of February.
I personally am a big fan of Too Faced eye shadows and these look beautiful and fun. The shades are:
 Spread the Love( Medium Peach with Gold Sparkle) Peanut Butter (Matte Medium Orange Brown) Peanut Butter Cup (Metallic Golden Bronze with Gold Sparkle)
Bananas( Soft Peachy Gold with Fine Gold Shimmer), Peanut Brittle( Metallic Burnt Orange), Jammin' (Dark Chocolate with Golden Sparkle)
Extra Creamy  (Matte Creamy Beige), Jelly ( Vibrant Orchid), Nuts About U (Matte Brown with Red).
YSL  Touche Éclat Neutralizer Colour Corrector (£25 from Harrods)
Several brands, including BECCA launched colour neutralizing products, and YSL released their cult Touche Eclat (I adore it, BTW) in three colour correcting shades:
Read More
There are so many amazing new products that will be out for Spring 2016, and here is the product that is on top of my wish list – Too Faced Love Flush Wardrobe which includes all six shades of their relatively new but already well loved blushes.
Although "cute and girly" is not my style at all,  I can never say no to Too Faced and their palettes. And it is only $36, the price of a single high-end blush. And here you get: Love Hangover, Baby Love, I Will Always Love You, How Deep is Your Love?, Justify My Love and Your Love is King.
And what are the other products from the collection?
Mr. Right Perfect Powder Brush ($36)
I love how they describe it: "He's here: the universal do-it-all brush you can take home to Mom. Use Mr. Right wet or dry, for foundation, powder, blush, bronzer . . . anything your heart desires. Cancel your
Read More