We get to see the new palettes all the time, and, to tell the truth, I personally rarely get excited about any of them. But today I want to show you the one that I really like.
And it's  the Too Faced The Chocolate Bar Eye Palette.
I am a huge fan of Too Faced eye shadow palettes and this one looks amazing. Although I prefer luxury design, over cute,  I love the shades selection. I think I need this in my life.
So what's inside? 0.03 oz x 14 Eye Shadows in Gilded Ganache, Milk Chocolate, Black Forrest Truffle, Triple Fudge, Salted Caramel, Marzipan, Semi-Sweet, Strawberry Bon Bon, Candied Violet, Amaretto, Hazelnut, Crème Brulee, Haute Chocolate, Cherry Cordial
0.10 oz x 2 Eye Shadows in White Chocolate, Champagne Truffle
There are two new shades of the Sweethearts Perfect Flush Blush
 Peach Beach: shimmering peach, rosy
Read More
More and more holiday 2013 makeup collections are already available for the purchase, and here is a preview of the adorable Too Faced Joy To The Girls release.
You can get the following sets:
Joy to the Girls ($46)
15 Limited Edition Shadows: Cheers, Chestnut, Chimney, Coal, Cookie Dough, Joy, Mulberry, Powdered Sugar, Prancer, Snow Angel, Spike the Punch, Sugar Plum, Too-Too, Twinkle, Yule Log; Full-Size LashGASM Mascara; Glamour Guide with 3 looks
Jingle All the Way ($25)
Candy Pink Blush; Peachy Coral Bronzer; 11 eye shadows: Deep Navy
Read More
In summer, when it's hot I really don't like wearing a lot of makeup, I like to keep it simple, yet  pretty and with some definition.
Clarins BB Cream is a wonderful product to use in such weather. It suits my (currently) tanned skin, feels light  on and evens out the complexion.
Then for the blush I've been reaching for YSL's 4 Audacious Orange blush, it's my favourite orange and the cream-to-powder formula works great even in the heat. Yes, that's right -  no highlighter or bronzer, the blush was enough.
As for the eyes, I've been
Read More
Here is yet another Fall 2013 makeup collection and this time it's Too faced and their Pretty Rebel.
The products are:
Pretty Rebel Beauty Eye Shadow Palette, $46
Girly, Charming, Dainty, Gangsta, Instigator, Jailbird, Totally Fetch, Ringleader, Miss Sparkles and Badass.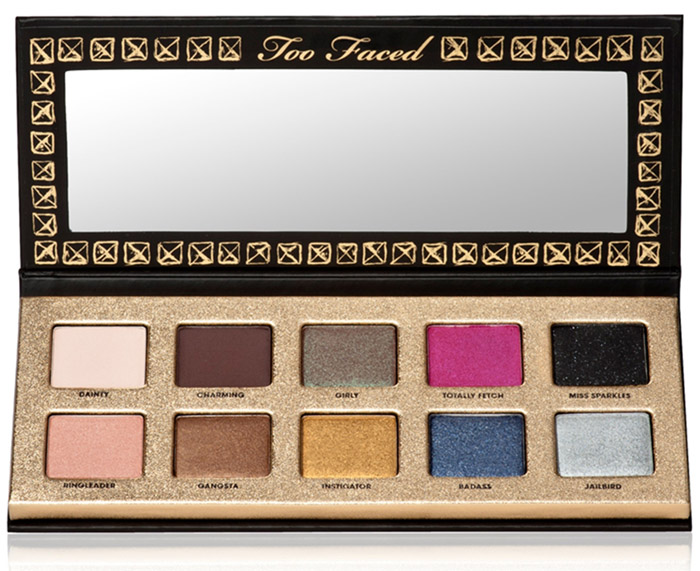 Lip Injection Color Bomb!, $21
"Ultra-conditioning balm combines our best-selling Lip Injection plumping and blood vessel dilating technology with a satin color stain and a hint of sexy shine."
Never Enough
Read More
Believe it or not, but it actually took me hours and hours to complete this list, as I had to think carefully about what products I really want or what products I actually need.
This is not really a wish list, but more of a shopping list of the products that I plan to buy in the near future. Of course, I could add more, but I've decided to be very strict with myself so every item got on the list after a lot of consideration and is very covetable…
So here  is the list!
Makeup
1. Hourglass Arch Brow Sculpting Pencil in Soft Brunette, £26
I have almost finished my Benefit eye pencil and I am definitely getting an Hourglass one next.
2. Matte Eye Shadows Palette
I can't decide if I should get the Too Faced Matte Eye Shadow Collection (£24.57 from Beauty Bay) or theBalm Meet Matte ($42 from the brand's website, but they are in the process of creating a European shop, as well).   I actually really love the eye shadow quality from both brands: Too Faced Natural Eye Palette Review and Swatches, theBalm Nude Tude Eye Shadows Palette Review and Swatches and the Balm Shady Lady Palette Vol.2 Review and Swatches so that's a hard one.  I only wish Too Faced palette weren't so bulky. Maybe I should get both?!
3. Cream Blusher
That is probably the last thing that I need, considering how many I have but I've decided that I can get one, as a treat for myself. After a lot of consideration, I've chosen Stila's Stila Convertible Colour (I actually can't believe that I still haven't tried it!) I think I'll get Rose or Lillium (£15.12 from Beauty Bay)
Skincare
Now this is the category of the products that I need. There are a lot of skincare products that I want  and the list is endless but these
Read More