I was getting my nails day done the other day, and my manicurist and I started talking how brows are a big thing these days, and they so are! I remember even 5 years ago very few brands had special eye brow products but now every brand does at least one type of an eye brow product. And I have written about so many new releases already, but here are even more.
Laura Mercier and Trish McEvoy release eye brow gels, and Benefit actually brought out a huge collection just for brows, let's take a look.
Laura Mercier Brow Dimension Fiber-Infused Colour Gel, $24 from Neiman Marcus
"A fiber-infused colour gel that immediately creates volume and density to brows leaving them full, dimensional and natural-looking.  The gel base grooms, defines, and sets brow looks for a
Read More
Ok, I am finally doing it!  Writing 2015 yearly favourites that is.  The thing is when I started writing this post I've gathered so many products that I'd be going on, and on about them all. This is why here are 15 I loved the most. 15 since it was 2015, yes, I know…
If I had to choose only 1 product that would probably be Max Factor Creme Puff Blush in 25 Alluring Rose (review and swatches)
Long-time readers know how much I love my blushers. And this year it was all about this one, I've barely used anything else.  Creme Puff Blush gives that luminous glow that instantly brightens up the complexion. The formula is incredibly soft and smooth and blends into the skin beautifully. I have several shades but Alluring Rose is the love of my [beauty] love.
The other favourite is still my Trish McEvoy Golden Bronzer (review). As you can see from the photo above, it is very well loved. It warms up the complexion without looking orange or muddy.  I  like the hint of radiance it gives, too.
BECCA's Shimmering Skin Perfector in Pearl (review) is still the best glow-and-radiance-in-a-bottle product out there.  I usually mix it with foundation  to make my skin look "healthy". This formula and shade = perfection.
If I had to pick only one "foundation" of the year – that'd be Clarins HydraQuench Tinted Moisturizer (review and swatches), hands down. It is dry skin's best friend. Clarins know how to
Read More
Last week(s) was very stressful and intense for me, I've barely had time for anything (lack of sleep, eating on the go, putting makeup on in a taxi) but I still had to look good. This is why I had to stick to the products that work the best for me, and didn't have time for any experiments. So here is a selection  that I love, that work, and that never let me down.
As I've mentioned on Twitter , I've re-discovered my love for Molecule 01. And a lot of people have been asking me about the perfume's name. So it is everything it is promised to be!
Makeup wise – my "foundation" of choice was Clarins HydraQuench Tinted Moisturizer which did not enhance any dry patches, and made my skin look glowing. It also helped to even out the skin tone, as I don't have any major skin problems – this was enough.  Bobbi Brown's Natural Brow Shaper & Hair Touch Up in Slate is also a real gem, it tints the brows and holds them in place. I am addicted to this product , will write a detailed review soon.
Lip colour is the only thing that I've been changing, but most of the times that was all about the new Clarins Instant Light Lip Balm Perfectors; 03 My Pink created a
Read More
It is the time when I  am telling you about my favourite products of the year. I did not pick a product in each category just for the sake of having one, but rather only those that really stood out for me.
The first part will be about makeup. Here we go…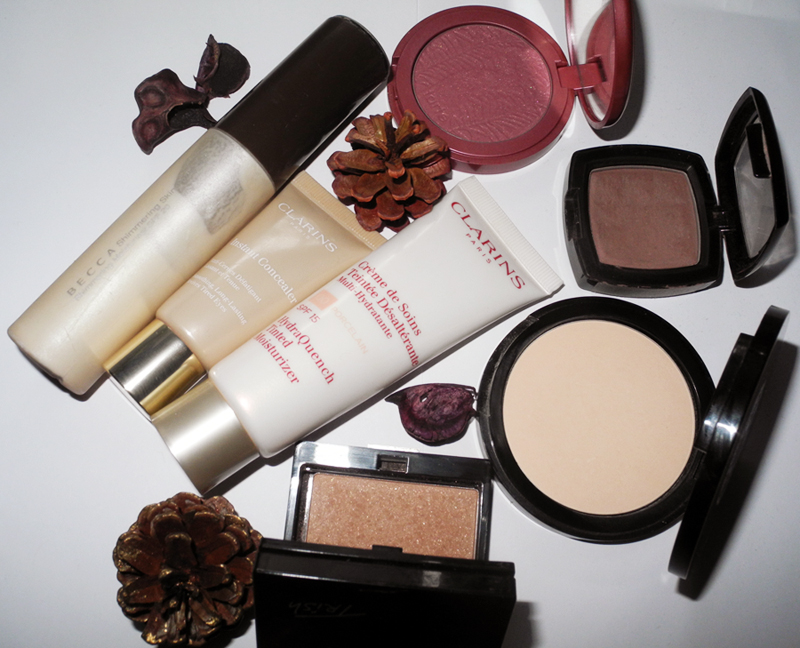 Face
Base:Clarins HydraQuench Tinted Moisturizer (review)
Although there were quite a few "foundations" I loved, this  tinted moisturizer was the base of 2014. It gives a natural and glowing light-t0-medium coverage, and leaves the skin looking beautiful.  HydraQuench is one of my favourite skincare ranges, and this TM is just as good, as everything else, works perfectly for my very dry, dehydrated and sensitive skin. I am very pleased that it never accentuated any dry patches I sometimes have.
Concealer: Clarins Instant Concealer (review)
Definitely the best concealer out there, covers the dark circles and brightens the under eye area, doesn't get in the fine lines, stays on really well.
Powder: Rouge Bunny Rouge  Flawless Face Powder Precious Velvet (review)
I have to say that
Read More
I love writing Monthly Beauty Favourites posts, they make me analyse what products I used the most, and loved the best. I am also always happy when you find a good product through my recommendations 😉
Makeup
Not gonna lie, October was a rough month for me, a lot of stress and lack of sleep. Most of the time I don't bother with a good base that much, but this month I was constantly "rocking" dark circles, horrible skin-tone and even some breakouts. I just looked very tired in general.
So to imitate the "I-am-doing-great-thanks" skin I was using my favourite Pearl Shimmering Skin Perfector by BECCA all over the face as a base to give me some glow. Since I have very dry skin, it did not look greasy or shiny on me, in fact, I loved the effect.
Then I followed with  Clarins' Tinted Moisturizer, which is one of my favourite products for face, ever. Read the review to find out why it is that special.
If you read this post, you probably know that I have been ignoring the blushers lately.  So, of course I had to include
Read More