I'm not gonna lie, I am super jealous when I see girls with long, thick lashes…Unfortunately, it is not the case with mine. It could be worse, so I should not complain really.
But there are certain things I can do about it. I have never tried lash extensions for some reason and wearing false lashes every day is not an option, for me at least.
So here are the products that I use to get a make my lashes look decent:
First of all, I curl my lashes with shu uemura lash curlers, they open up the eyes and the curl lasts all day long. It is a great investment.
Then I use a lash primer, currently it's Urban Decay's Eyelash Primer Potion, it adds some length and volume without making the lashes look clumpy.
Next step is mascara – black Diorshow New Look or
Read More
You don't need a special occasion to wear red actually. But if you are too shy (or whatever reason you have) to wear it on a casual day – go ahead and wear it for the Valentine's.
Speaking of Valentine's – I used to hate is with a passion, but now I love that day. Why? Because it's Makeup4all's Birthday. This Valentine it will turn THREE years old which is unbelievable.
But back to the lipsticks. I have chosen seven variants of the lipstick that are not limited edition.
If I do a red lip – I like a bright deep matte or satin  colour, but since not everyone would go for that I've also added a sheer version and a lip/cheek stain.
Let's take a look!
So here are the swatches. I am not going to write anything as you can read all the reviews but clicking the links!
1. Ellis Faas  Creamy Lips in L101 Ellis Red – see it on the lips here
2. High Impact lipsticks by Daniel Sandler in
Read More
I am very excited about the two new shades of Urban Decay's Super-Saturated High Gloss Lip Color  for Spring 2012.
Here is a picture of the existing shades and the two new. In the US you can already get them from Sephora  for $19 and I can't wait till the two new shades are available at HQhair.com, where you can get other five shades for £14.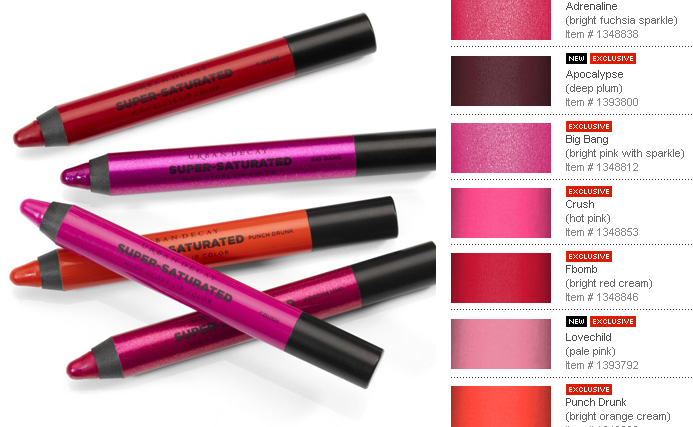 the shades swatches are taken from Sephora.com
I have not tried them but based on the swatches and reviews, these should be amazing! I can't wait to get Lovechild, Crush and maybe Apocalypse. I would get them all actually!
Read More
Let the photo speak for itself!
Too Faced Natural Eye (review and swatches), Urban Decay Naked(review and swatches) and theBALM Nude 'Tude palettes (review coming soon).
How many nude palettes does one need anyway? Which one do you like the best?
Read More
The first product that I have bought from Urban Decay was their Deluxe eye  shadow. Two deluxe eye shadows to be precise, black Zero and reddish Heat. Of course, red and black are my favourite colours.
I am actually surprised that I have never ever written about those as they are absolutely lovely. They are expensive compared to UD (but not  at all compared to other eye shadows) palettes but so worth it if you love the colour.
I also love that each eye shadow has individual design and a colourful label on the back. It also has a nice mirror inside.
So here is how Heat looks like in the pan. It's a
Read More