I want to share about my morning serum of choice which I have been using  most days for the last several months together with this cream, and have been loving the results.
I've got a small sample with one of my on-line purchases, and loved it so much that went out and bought a bottle. The serum in question is Vichy Idealia Life Serum. Speaking of Vichy Idealia, I've noticed that it is the range a lot of my girlfriends that are not even into beauty use, and they all love it. I thought is was worth mentioning.
As for serum, it comes in a pretty pink packaging, has a convenient pump and smells really good. As for the formula, it is light and non-greasy, and works great underneath makeup.  Although Vichy suggest using it both morning and night, I've used it only in the mornings, as it contains those light-reflective, illuminating  particles that
Read More
It was my Birthday this weekend so I've decided to share with you what I wore and what makeup I've used. I don't see Birthdays as a big deal (after a certain age, ha!) but it is always cool to dress up and spend time with friends and family.
Of course, I went for red with a touch of black, outfit wise. And here is the makeup I've used:
Face
Vichy BB Cream, I need to buy a full size of it soon, it is an amazing light  base which gives some luminosity.  Rouge Bunny Rouge  Naked Disguise Glide Concealer which is brilliant for the under eye area. Inglot HD Sculpting Powder in 504 is my favourite for that natural looking shadow and theBalm Mary-Lou Manizer for some glow.
Lips and Nails
Surprisingly I've used a very affordable trio: NYX  Soft Matte Lip Cream in Transylvania which I am obsessed with
Read More
Here are some beauty and makeup products I've picked up in February.  This is an overview of the things that I buy, and a place where you can share about your newest purchases. And, of course, stay tuned for reviews of the products in the future.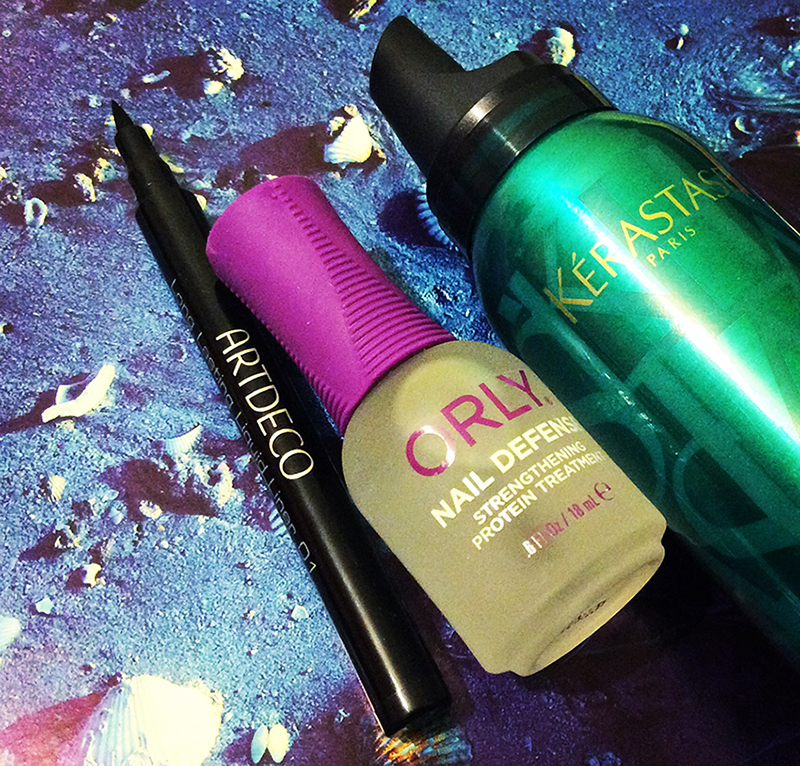 Artdeco Long Lasting Liquid  Eyeliner in Black 01
Ever since Rouge Bunny Rouge changed the nib of my favourite eye liner, I am on a hunt for a prefect replacement, as it was the one I used pretty much every day. This time I've got the ArtDeco one, and it looked almost identical on-line, but unfortunately it is not in real life. However, it is a good one and I hope I will enjoy using it.
Orly Nail Defence Strengthening Protein Treatment
After a very bad experience at a nail salon (this is what happens when you cheat on your manicurist who works far from both your home and work) – I really need to restore my nails,  and this
Read More
Vichy is not really the first brand which pops into my mind when I think about skincare but I've heard so many raves about the Aqualia Thermal  range that decided to try it myself. And, as you can see, I have almost finished it already but somehow I've been really bad with skincare reviews last year.
But, it is better late then never, right?
Vichy use "Instant Comfort. Lasting Hydration" to describe this range, and I would agree. And I do like how it comes in a blue design, somehow it does make you feel about a hydrating beauty product.
I hate it when brands put the "for dry and very dry skin" label but in reality it doesn't work for very dry. Well, this is not the case. Aqualia Thermal cream is amazing on the skin, it instantly helps with tight and dry feeling, it also makes the skin (feel) incredibly smooth (thanks to dimethicon being the third ingredient in the list?) and ready for the
Read More
It's time for monthly favourites! And this time I've decided to mention only those products that I have been really loving. Somehow I have re-discovered 17 Sheer Moisture Foundation which is now discontinued but which has been my base of choice lately, as it gives that beautiful light and glowing finish.
The other product  which is not shown is Garnier HandRepair Intensive Restoring Hand Cream because I have used it all up. And, just like the body cream, this one is brilliant.Works wonders on my very dry hands and feet, it improved the condition [of my skin] dramatically, moisturized and nourished.
Makeup
Clarins Joli Rouge Lipstick in 738 Royal Plum (review and lip swatches)
I have an old version of the lipstick but I will have a few samples of the new Joli Rouge to review and compare them for you. This is an amazing product! The sheer formula can be built up,  or worn as a barely-there stain.  And this the most beautiful dark plum, looks gorgeous on the lips, have been wearing it non-stop.
The only other makeup product is the new Rouge Bunny Rouge Naked Disguise Glide Concealer. And this, without a doubt, is now one of my favourite concealers ever. The texture is light  but at the same time it transforms the under eye area by brightening and covering the dark circles. It doesn't look or feel heavy and doesn't set into the fine lines. I like the brand's description "your skin but better", and I agree.
Skincare
REN Evercalm Gentle Cleansing Milk
I can't believe that I still
Read More