Here is how the new Victoria's Secret range for Fall 2011 looks like. It is called Hypnotic beauty and is inspired by Marrakesh.
Although this is not my style I think a lot of girls would love the look of the packaging and the collection itself.
This collection is available at the website now and the prices are not expensive compared to luxury brands,  for e.g $14 for lipstick and $26 for a palette with five eye shadows.
Read More
I was browsing Victoria's Secret bikinis on the weekend (there are at least 5 designs that I liked and which I am tempted to get) and have noticed that they have a new makeup collection.
I've never tried anything from the VS  beauty range as it's not that easy to get it here but I would like to try the glosses from this  new collection.
So this range includes:
Baked Mineral Shadow Quad in LL2 exotic escape (Pink/Neutrals), C44 Secluded Lagoon (teal/neutrals), $15
VS TIP: Wear it wet for a bold metallic look. Wear it dry for a soft, shimmering finish.
Luminous Cheek & Face Highlighter in 267 Bronze Rays and LL2 Sea Shells, $14
VS TIP: For a sultry glow, apply directly to cheeks, chin or
Read More
If you are a girly girl, love pink and cute design, you're gonna love this new Victoria's Secret Radiant Face Trio which is available in 4 shades ($16). "Be a bombshell beauty. Unleash your inner glow with three radiant powders that combine to lighten and contour for a beautiful, illuminating effect."
Perfect Lipstick, $14 (available in 4 shades)
Read More
Introducing the limited-edition Heidi Collection 2009, Exotic Jewels. Inspired by Heidi's life-changing trip to the spiritual city of Varanasi, India, it's her most personal creation yet. The collection interprets her exotic discoveries into a sparkling and rich palette of irresistible shades in packaging as beautiful and precious as Heidi's favorite jewels. Imported.
Heidi Klum Luminous Face Powder Gems, $22
Illuminating powder spheres brighten and balance for a sultry, jewel-like glow.
VS Tip: For an even blend of radiance, swirl your brush over the powder gems in a circular motion. Lightly tap to remove excess, then apply all-over face, building color on cheeks if desired.
Heidi Klum Perfect Lipstick, $16
Rich creamy formula drenches lips in lasting, full-coverage color and sheen.
VS Tip: For added longevity, lightly line and color in lips with lip liner before applying. Top with gloss for pretty polish.
Heidi Klum Extra-lengthening Mascara $13.
Lush mascara extends the look of lashes with unique lengthening polymers.
VS Tip: To add the illusion of length, apply by first wiggling the wand at the base of the lashes. Finish by lightly pulling the brush up and through lashes.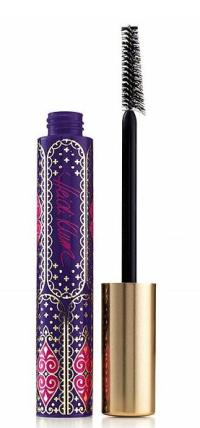 Heidi Klum Lip Gloss, $14
Lasting shine and rich, shimmering color.
VS Tip: For a fuller-looking pout, concentrate application at the center of lips.
Read More
"This Fall the inspiration is Egypt: the warmth of the desert, the blue of the Nile. It's about the juxtaposition of soft fabrics and strong shapes."
Christian Siriano
Fashion phenom Christian Siriano makes his beauty debut with this exclusive limited-edition collection for new VS Makeup. The collection interprets the themes of his Fall 2009 fashion collection with soft, luxurious textures and strong, rich colors. Domestic.

Christian Siriano Silky Eye Shadow, $12

Unveil eye-catching color. Pigment-rich formula with satiny texture drapes lids in pure color.
Available in 5 shades:
Gilded Fierce -black with gold sparkle
Sahara –  nude
Oasis – greenish blue
Sandstorm – cooper
Royalty – deep chocolate
Christian Siriano Lip Gloss, $12
Find gloss perfection. Lasting shine and rich color to wear alone for pure gloss or to layer over lipstick.
Available in 3 shades:
Chic – deep berry
Embrace – champagne
Sublime- warm coral
Christian Siriano Bronzer/Highlighter Trio, $16.
Read More