There are so many new products  for the face, lips and eyes, so let's take a look at them all, we will start with the new cheek items from YSL, Marc Jacobs and tarte.
Marc Jacobs Beauty Air Blush Soft Glow Duo, $42 from Sephora
Features two shades that merge together so you can customize your colour; ultra-lightweight formula and  a radiant finish.
FYI "Air Blush is created using a process called soufflage (French for "air-whipped") for a silky-soft, cream-like texture that blends effortlessly with the complexion."
Shades: 508 Night Fever & Hot Stuff – cherry/ deep plum, 506 Flesh & Fantasy – ivory shimmer/ goddess bronze, 504 Kink & Kisses – pale petal/ peachy rose, 502 Lines & Last Night – creamsicle/ deep tangerine and  500 Lush & Libido – petal pink/ orchid pink.
YSL Couture Contouring Palette, $47 from Neiman Marcus
A duo with a matte shade for contouring and a highlighter to illuminate. "Use the
Read More
I haven't booked my summer holiday yet but  Neiman Marcus and  Bergdorf Goodman already have some products from the YSL's makeup collection available already. And, like it or not, soon we will see all of the releases in stock. Hello, Autumn?
But it has always been like this in the beauty world, so there is nothing to complain about.  And, to be honest, Autumn collections are  my favourite: rich browns for the eyes and luscious berries & plums for the lips!

This collection is called Scandal which is a tribute to the YSL's most-known collection, it celebrates audacity and edgy femininity.
Some of the products are:
Scandal Collection Couture Palette Collector ($60)
Sheathed in dark green leather and laser cut with a satin YSL Cassandra includes rich shades of olive green, shimmering burgundy, golden bronze, and
Read More
I am sorry that there were no updates for several days, work and life in general just got too busy, but I am back with yet another selection of the new products for lips, eyes and face that caught my attention. This time it is all about Illamasqua,  Marc Jacobs and YSL.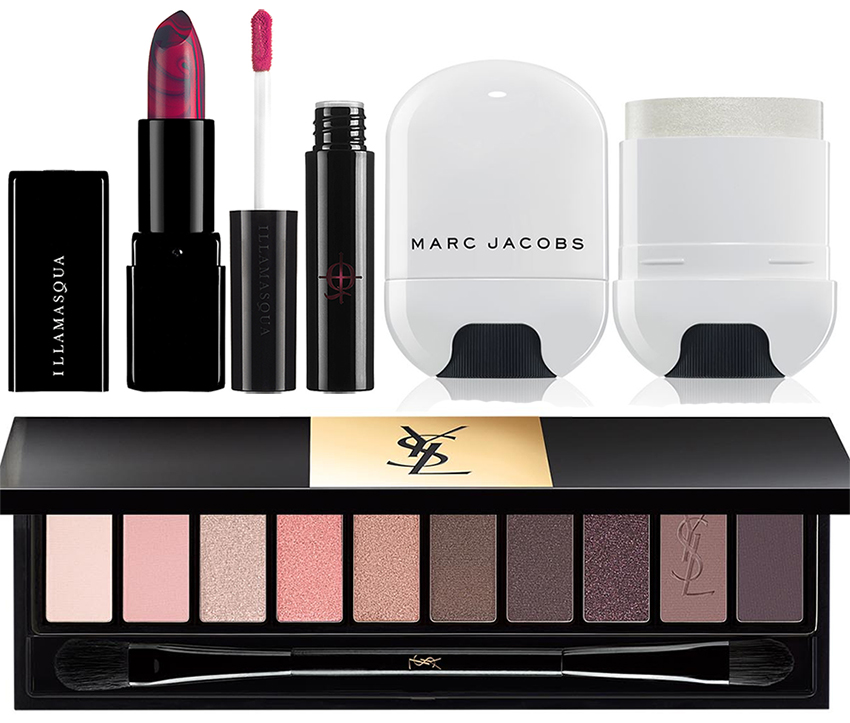 YSL Couture Variation 10-Color Expert Eye Palette, $95 from  Bergdorf Goodman and £49 from Harvey Nichols.
They say you can never have to many nude eye shadows, and this one looks gorgeous. Inspired by  the fabric swatch sheets of Yves Saint Laurent's creative studio, there are 10 neutral shades which come in different finished; housed in an elegant and sleek packaging.
Illamasqua Marbled Lava lips lipstick (£19.50) and Lip Pure Liquid Lipstick (£19.50) from HqHair, Net-a-Porter, ASOS and Selfridges.
It looks like Illamasqua are finally back to their roots with
Read More
I am not really someone who is very into celebrities but if you follow me on Pinterest , you could notice that I have a board called Girls where I pin photos of my girl crushes.
Zoë Kravitz and Victoria Beckham often appear in that folder: Zoë is like the most gorgeous and stylish girl ever and Victoria is someone I liked since the Spice Girls era. This is why both news I find to be amazing.
What news exactly?
Apparently, Victoria Beckham collaborated with Estee Lauder, and above she is wearing the products which will be available in several months. Here is what she wrote on her Instagram:
Read More
How great is it that more brands are launching eye brow products? Here are a few worth checking out:  eye brow pencils, gels and even palettes.
Rouge Bunny Rouge Long-Lasting Brow Liner Alchemy, €26
"The exceptionally fine and sharp tip allows for ultimate precision of lines, instantly releasing the pigments for maximum control.
The easily blendable, wax-based formula and the delicate matt finish create a very natural-looking result: waterproof and smudge-free, it will stay put for 10 hours and longer. Enriched with natural antioxidants, Vitamins E and C."
Shades:
TRONA, Light hazelnut. Ideal neutral shade for almost any natural brow colour.
ANTIMONY, Dark chestnut. Ideal neutral shade for dark brown and black natural brow colour.
Later the brand will also launch Brow Expert Gel Silhouette Of Grace  in Airglow and Earthshine.
Givenchy Brow Studio Eyebrow Couture Definer, £18.00
"Retractable lead and a creamy texture, achieves sculpted, more intense brows in just one stroke. The coverage is intense, the finish powdery matte. Brows are evenly coloured, for a sophisticated, waterproof effect that lasts more than eight hours."
Brow Studio Mister Brow Filler, £17.50
"Fills in any sparse areas and flawlessly shapes the brows. Its fluid, quick-drying formula instantly dries down to a powder finish on application. The curved brush
Read More