I honestly can't believe that it is September next week, it seems like it was June only yesterday. But  this was an absolutely amazing month, and here are the beauty products that really stood out to me.
Makeup
Clarins Joli Rouge Lipstick in 738 Royal Plum  (review and swatches)
Clarins revamped their Joli Rouge line (as seen here), and now it looks even more chic, and the formula feels even more comfortable. Royal Plum is the shade to die for, it is a must have for Autumn! I have to confess that oxblood was the colour of the month for me. Max Factor Glossfinity Nail polish in 185 Ruby Fruit was the shade I wore on my toes all month
Read More
August is the month when I always go on a holiday, and now I am back and not ready  to get back to life.  This year I was very proud of myself for not over-packing or taking any extra products.
Here is the makeup I had with me for two weeks, and I could actually take even less lip products, everything else I have used religiously.  If I had to pick 3 products I've used/loved the most that would be:
YSL Faux Cils Mascara – it is absolutely incredible, the best mascara ever.
Revlon Colorstay Liquid Eye Pen – most of the days I love my cat eye, and this happen to be the liner I am using now, I really love the shape of the nib which is incredibly easy to use.
Clarins Blush & Bronzing Compact (review and swatches) it is
Read More
There are so many new products  for the face, lips and eyes, so let's take a look at them all, we will start with the new cheek items from YSL, Marc Jacobs and tarte.
Marc Jacobs Beauty Air Blush Soft Glow Duo, $42 from Sephora
Features two shades that merge together so you can customize your colour; ultra-lightweight formula and  a radiant finish.
FYI "Air Blush is created using a process called soufflage (French for "air-whipped") for a silky-soft, cream-like texture that blends effortlessly with the complexion."
Shades: 508 Night Fever & Hot Stuff – cherry/ deep plum, 506 Flesh & Fantasy – ivory shimmer/ goddess bronze, 504 Kink & Kisses – pale petal/ peachy rose, 502 Lines & Last Night – creamsicle/ deep tangerine and  500 Lush & Libido – petal pink/ orchid pink.
YSL Couture Contouring Palette, $47 from Neiman Marcus
A duo with a matte shade for contouring and a highlighter to illuminate. "Use the
Read More
I haven't booked my summer holiday yet but  Neiman Marcus and  Bergdorf Goodman already have some products from the YSL's makeup collection available already. And, like it or not, soon we will see all of the releases in stock. Hello, Autumn?
But it has always been like this in the beauty world, so there is nothing to complain about.  And, to be honest, Autumn collections are  my favourite: rich browns for the eyes and luscious berries & plums for the lips!

This collection is called Scandal which is a tribute to the YSL's most-known collection, it celebrates audacity and edgy femininity.
Some of the products are:
Scandal Collection Couture Palette Collector ($60)
Sheathed in dark green leather and laser cut with a satin YSL Cassandra includes rich shades of olive green, shimmering burgundy, golden bronze, and
Read More
I am sorry that there were no updates for several days, work and life in general just got too busy, but I am back with yet another selection of the new products for lips, eyes and face that caught my attention. This time it is all about Illamasqua,  Marc Jacobs and YSL.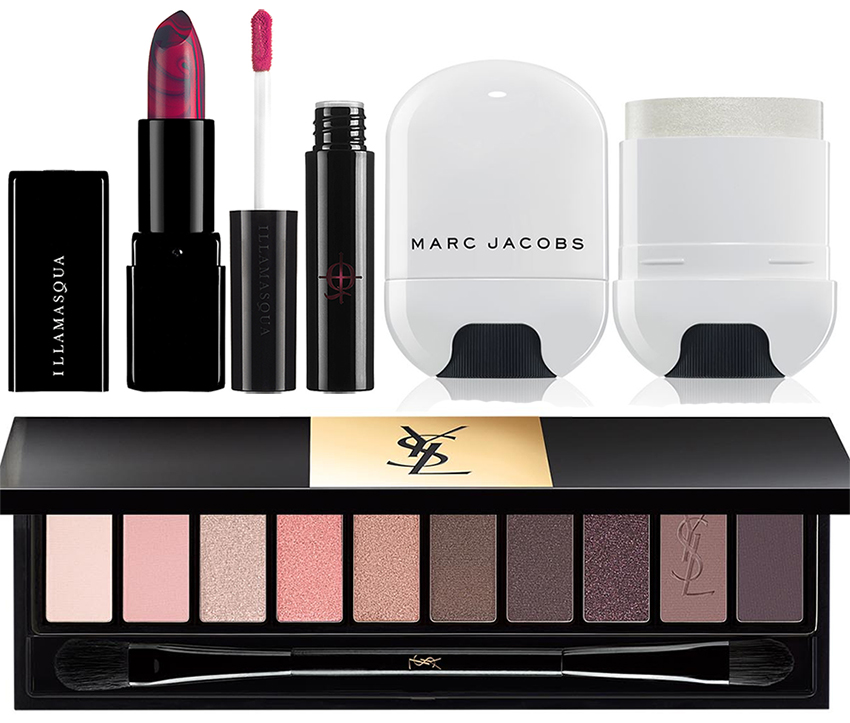 YSL Couture Variation 10-Color Expert Eye Palette, $95 from  Bergdorf Goodman and £49 from Harvey Nichols.
They say you can never have to many nude eye shadows, and this one looks gorgeous. Inspired by  the fabric swatch sheets of Yves Saint Laurent's creative studio, there are 10 neutral shades which come in different finished; housed in an elegant and sleek packaging.
Illamasqua Marbled Lava lips lipstick (£19.50) and Lip Pure Liquid Lipstick (£19.50) from HqHair, Net-a-Porter, ASOS and Selfridges.
It looks like Illamasqua are finally back to their roots with
Read More