Spring 2014 makeup collections will be available just in several weeks, so it's time to take a look at some of them.
And, as you can guess, most of them are all about the pink colour. Just like the YSL's Flower Crush with Cara Delevigne on the promo image with glowing rosy cheeks and lilac eyes. With the pink background, on top of a man peonies.
The star of the collection is the gorgeous  Pivoine Crush eye palette. And I personally plan to take a look at it, when the collection is out.
As for the lip products, there are ten shades to choose from:
Gloss Volupte: 104 Prune Organdie, 03 Rose Merger, 49 Terriblement Fuchsia, 19 Rose Orfevre.
La Lacque Couture: 32 Rouge Avant-Gardiste, red;  33 Bourgogne Artistique, bourdeaux.
Rouge Volupte: 31 Fuchsia Storm, 32 Jealous
Read More
Looks like Face Of the Day is now a more, or less regular feature. Maybe at some point, I will get brave enough to include photos of myself, too. Who knows?! But, as for now, here are the products that I've used and my opinion about them.
This look was all about my good ol' blush love – Chanel Orchid Rose. I used to wear it every single day years ago, so I've decided to show it some love today.
I've started with Hourglass Illusion Tinted Moisturizer in Ivory to get a medium coverage and glowing effect, that way I didn't even need a highlighter. It's a great "foundation" for dull Autumn days. I've added some YSL's Touche Eclat under the eyes, to brighten up the area and make me look less tired.
As, I've already mentioned, I've used Chanel Joues Contraste in Orchid Rose blush, which is a pretty warm-toned shade.  To add even more warmth to the face – I've used  YSL's Terre Saharienne Bronzing Powder  in N° 5 Cinnamon Sand.
Eyes
I wanted this look to be all about
Read More
Here is a preview of YSL's makeup collection for Christmas 2013, Parisian Nights, with Lindsey Wixson on the promo.
Although, Ginta is my favourite YSL girl, I like this photo anyway. Lilac eyes, rosy lips and porcelain skin with glam hair style and elegant white shirt  is a winning combo, in my opinion. The funny thing  is that I am wearing white shirt, pink lipstick and plum eye makeup, as I write this.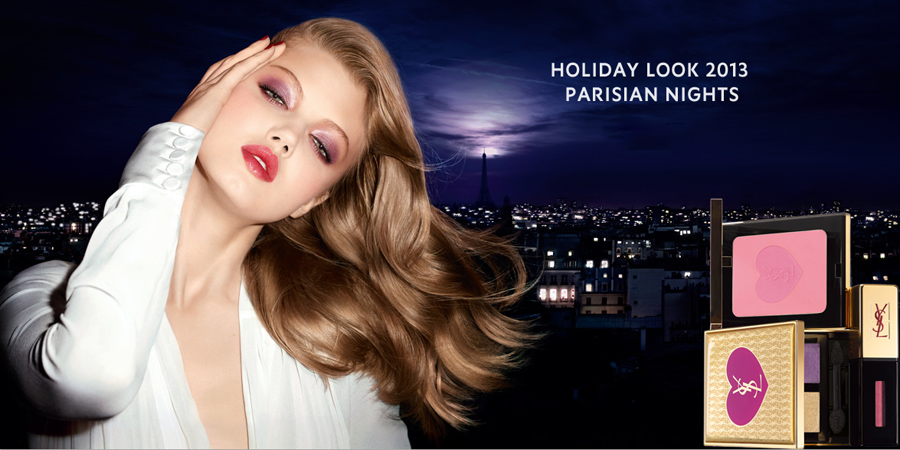 So what are the products from the collection?
Blush Radiance
Pure Chromatics
Touche Eclat
1 Luminous Radiance
2 Luminous Ivory
I don't use up makeup products that often but I did finish both shades 1 and 2 of Touche Eclat in the past. I usually have both shades in my makeup bag all the time, so I've got the replacement, of course.
I am loving this special edition  design with beautiful dots, looking very festive. I have a special edition with stripes, and it is a truly luxury product.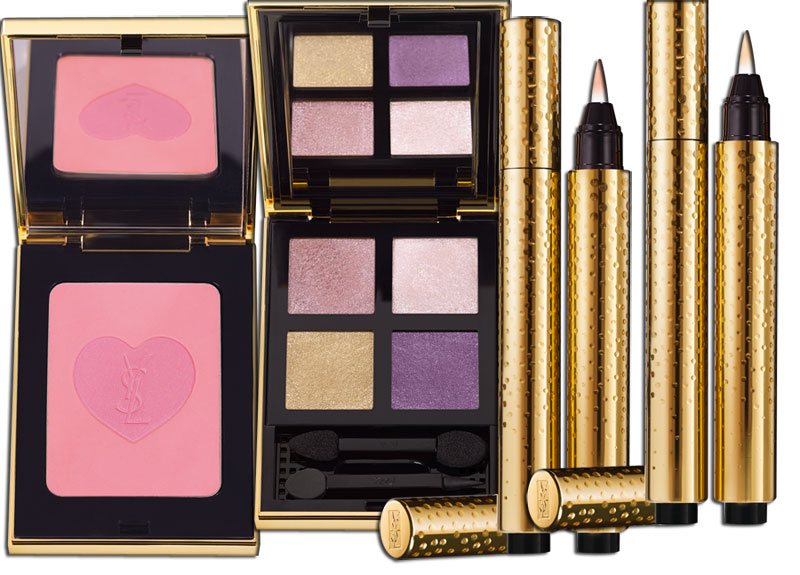 Rouge Pur Couture
Read More
I was actually very curious about YSL's Manifesto when it first came out since I really loved the promo photo with Jessica Chastain (I like her  in general and her makeup looked just spot-on), and the perfume itself sounded promising.
Although  the composition is not complicated or unexpected, I still like it.
You can definitely smell fresh bergamot, as an opening note but then it settles down, and it is a soft, sweet warm and sensual vanilla and tonka bean based fragrance.   I could definitely smell lily-of-the-valley and I was correct, as it is listen as one of the notes.
Other than than, I'd say that
Read More
I was in the mood for a navy eye makeup look so here is what I was wearing yesterday.
Face
Rouge Bunny Rouge Aqua Primer  
This is a great primer, as it doesn't clog  pores and doesn't feel heavy or greasy in summer, plus makes the foundation go on smoothly and last loner.
Clarins BB Skin Perfecting Cream SPF 25
This has to be my favourite "foundation" for this summer. Perfect colour match, feels light on the skin but evens out the skin tone nicely. Full review here.
YSL Terre Saharienne Bronzing Powder  in N° 5 Cinnamon Sand
Warms up the complexion and gives a beautiful glow, see the swatch.
 BECCA Beach Tint in Raspberry  
Long-lasting tint that blends into the skin and looks like it's your own blush. 
Eyes
Rouge Bunny Rouge Eye Khol in Vera
Creamy khol that
Read More