Here is a preview of Zoya's nail polish collection for Summer 2013, Stunning & Irresistable, which will be out on the 15th April in the USA.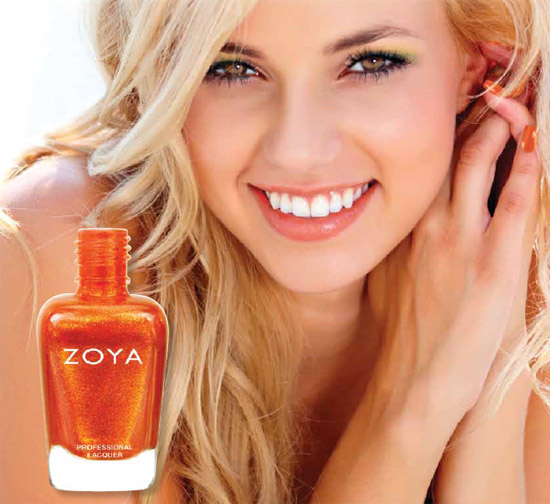 STUNNING Collection:
 Darcy (ZP663) – Sunny Yellow Cream – Full Coverage
 Thandie (ZP664) – Citrus Orange Cream – Full Coverage
Micky (ZP665) – Amazing Coral Cream – Full Coverage
Yana (ZP669) – Rubine Red Cream – Full Coverage
Josie (ZP667) – Grassy Green Cream – Full Coverage
Rocky (ZP668) – Serene Blue
Read More
I have already posted about some new seasonal  nail polish collections, see the preview of OPI's Spring 2013 nail polish collection and Deborah Lippmann, Essie, Illamasqua and Nails Inc and now it's time to see more!
And, can you guess what dominates Spring 2013 nail polish collections? Pastel candy shades, shocker, right?
But take a look yourself!
butter LONDON Sweetie Shop
Cuppa, toasted opaque tan crème
Fever, opaque icy mint crème
Fruit Machine, opaque punchy carnation crème
Jasper, opaque bright pastel yellow crème
Kerfuffle, opaque pink coral crème
Molly Coddled, opaque lavender orchid crème
Zoya Lovely 
 Piaf (ZP652) – Fresh Forsythia Yellow Metallic  (Originally designed for Fashion Designer Zang Toi)
GeiGei (ZP651) – Blushing Cherry Blossom Pink Metallic (Originally designed for
Read More
Here is a preview of three nail polishes collections from Zoya which they offer this autumn. They are called Designer, Diva and Gloss.  Each collection  is "haute" off the New York Fashion Week  Fall 2012 runway.
Designer Collection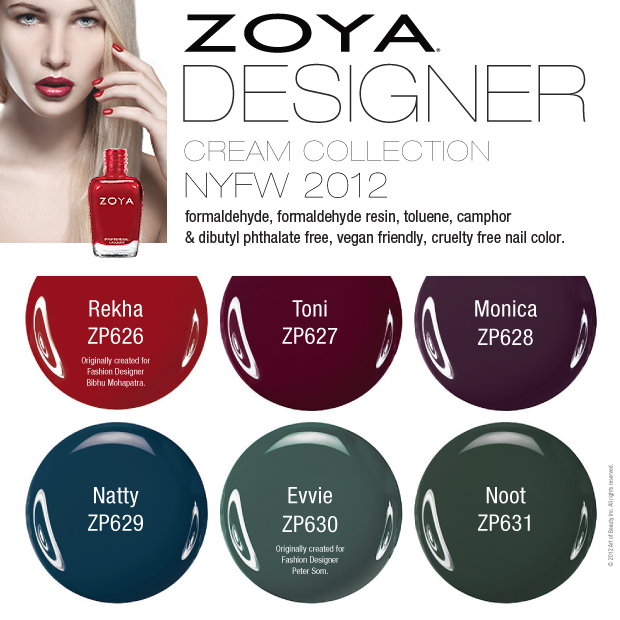 Rekha (ZP626) – Blood red cream (Bibhu Mohapatra custom shade)
 Toni (ZP627) – Dark maroon red cream
Monica (ZP628) – Dark mulberry purple cream
Natty (ZP629) – Smoked navy blue cream
Evvie (ZP630) – Evergreen green cream (Peter Som custom shade)
Noot (ZP631) – Charcoal green gray cream
 Diva Collection
Read More
I am sorry for the lack of updates, I have been really ill. Not that I feel better but I just have to take do at least something besides lying in bed. So I've decided to spend several minutes checking my mail…
There are lots of e-mails which I will hopefully answer next week and the news about some new launches, including the one from Zoya which you can see below.
Zoya BEACH Collection
Reagan (ZP614) – deep cerise pink cream
Lara (ZP615) – vivid cerise pink cream
Shelby (ZP616) – soft pinky pink cream
Arizona (ZP617) – soft coral
Read More
So here are even more nail polish collections for Spring 2012. Click here to see Essie and OPI and here to see butter LONDON and Orly.
And here is the new  collections from China Glaze, Zoya and Nubar.
China Glaze Electro Pop
Kinetic Candy – Touch the sky in light blue crème
Electric Beat – Periwinkle nails for a wink worthy performance
Aquadelic – Pool blue for nighttime gigs and daytime fun in the sun
Gaga For Green – Green lacquer for the girl craving the limelight
Sunshine Pop – Shine in the spotlight in bold yellow
Make Some Noise – Rock the mic in tangerine
Wicked Style – Party cocktail tropical punch
Fuchsia Fanatic – Fuchsia pink for the rocker diva in us all
Gothic Lolita – Steal the show on girls night out in seductive purple
Dance Baby – Hit center stage in cotton candy pink
Sweet Hook – Blow a kiss in dreamy lilac
Techno – Glitter confetti polish for a dazzling topcoat finish or all over finger tip bling
Zoya True Collection
Cho, a light, creamy nude especially nice for skin tones with olive or yellow undertones.
Farrah, an always appropriate neutral to add to
Read More