I get a lot of how-to celebrity tutorials and always post the best ones on Makeup4all Facebook page but this one is so cool, that I've decided to share it here, as well.
It is a great variant for a summer party with friends and family, paired with a pretty dress and bright (or neutral, as Kate's) makeup look.
Kate Bosworth's hairstyle was created by Bridget Brager, and she shares all her tips with us:
Beauty Inspiration:
"Kate's braided hairstyle was intricate and romantic to match the scenery at the Chateau Marmont and her gorgeous RED Valentino dress."
Get The Look:
"I started by giving her hair a good douse of Phytovolume Actif Volumizing Spray (get it here for £17.50) roots to ends. To set in texture and add thickness, I blew her hair dry using my hands, really concentrating on lifting the hair away from the scalp and up off of her head, especially around the hairline.
Next, I created
Read More
Although  we all are discussing Autumn collections  already, let's not forget that it is still Summer…
To remind us of that Rouge Bunny Rouge created a new look, which is the first part of their new  trilogy- Under Good Omens.
This look is called Chance, it "celebrates the concept of a fortunate coincidence", and it is all about the bronze and blue shades, signature Summer colours.
Here is how you can re-create it:
Complexion
"A combination of skincare and make-up base, the Original Skin Primer GENESIS will help you maintain a beautifully flawless skin throughout the day by smoothing the appearance of your skin, evening out your skin tone, minimizing the look of pores and increasing your foundation's longevity.
Invisible and impalpable, the Tinted Moisturiser SKETCHES ON WATER will even out the skin tone naturally. Add touches of the Bronzing Glow Powder AS IF IT WERE SUMMER STILL... to look kissed by sunbeams.
Hide imperfections by applying  Luminous Skin Wand FINE-SPUN LIGHT or Glide Concealer NAKED DISGUISE and smoothing it on with great care.
Using a tiny amount of  Highlighting Liquid SEAS OF ILLUMINATION on your cupid's bow and in the corners of your eyes, draw the light to your lips and eyes.
For a more intense glow, blend some of Highlighting Liquid SEAS OF ILLUMINATION with Tinted Moisturiser SKETCHES ON WATER and apply to the top of your cheekbones, to the bridge of your nose, and to the centre of your chin.
With the light, creme-to-powder formula of our Blush Wand CHEEKS IN BLOOM it's easy to create a fresh, transparent colour. We suggest the fresh, cool rose petal pink 'Vermeer'.
Eyes
Read More
In May the Recipe Of The Month was spinach and cottage cheese  pie, and this month I'd like to share a super simple but extremely delicious breakfast recipe  from James Duigan's Clean and Lean book.
Toasted Rye Bread with Cinnamon Honey Butter; you could already see this pic on my Instagram
Ingredients (for two serves):
100g raw organic unsalted butter
2 tablespoons Manuka honey
½ teaspoon ground cinnamon
4 slices rye bread
2 handfuls of almonds
Read More
Have you seen the new YSL Couture Palettes? (There is one in their summer collection, too) These are the new brand's quints.
The shades are: 1 Tuxedo, 2 Fauves, 3 Afrique, 4 Saharienne,  5 Surrealiste, 6 Rive Gauche, 7 Parisienne (my favourite), 8 Avant Garde, 9 Baby Doll Nude, 10  Lumieres Majorelle, 11 Ballets Russes.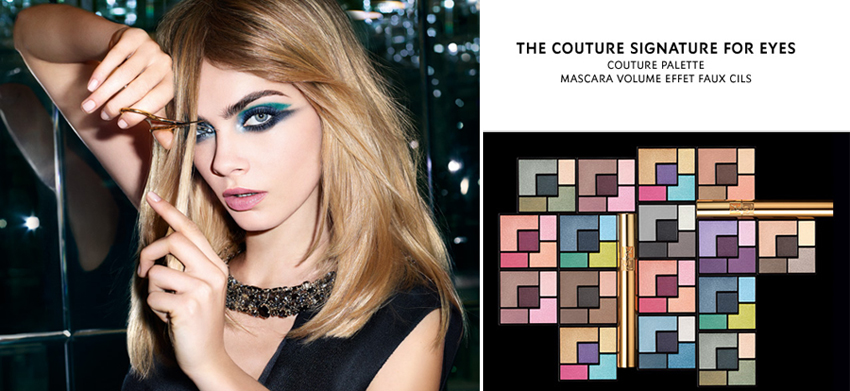 Everything about these palettes was inspired by the "Mondrian" dresses created by Mr. Saint Laurent. Here is how the brand describes this new release: "Eyes like a work of art: Art of colors, Art of combinations, A design as a piece of art."
The
Read More
NARS are bringing out some  very exciting products, their matte multiples, which we could already see being using at the SS14 Fashion Weeks.
Here is actually how the shade Anguilla looks like on the model from Thakoon show, isn't is just gorgeous?
Here is Diane Kendal using it
I am very curious to try these, as they can be used both wet and dry, and here are some videos which
Read More