Did  you get a chance to catch up on the looks from MET Gala 2013? It was interesting to see how celebs or, rather their MUAs and stylists, interpreted this topic.
I did post several looks on my Facebook already and also wanted to share the look that Jenn Streicher created for "my girl" Emily Blunt.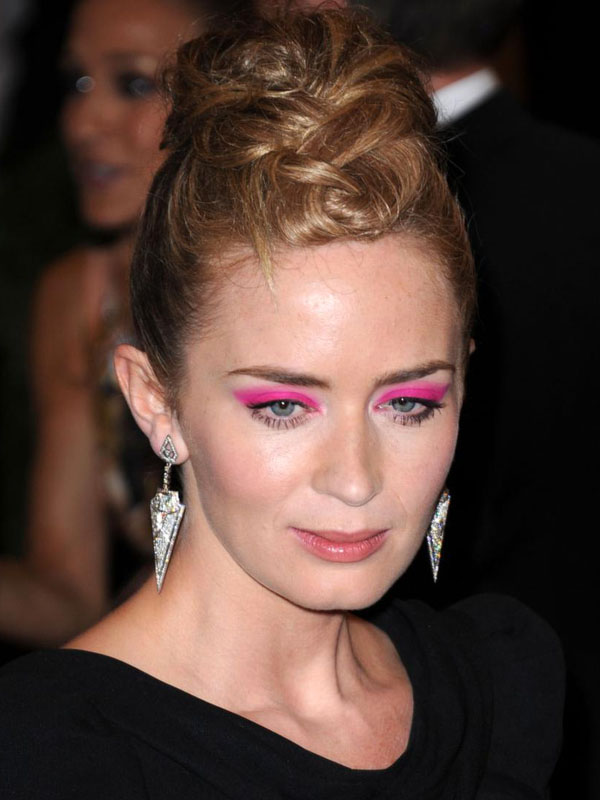 Here is what Jenn says about the look:
"It was Emily's idea to do pink! Her dress was black so we decided to bring out the theme of the gala by playing up her hair and
Read More
Here is the look that was created by Peter Philips for Chanel's AW13/14 Ready-To-Wear show, all the details and the preview of the upcoming products, including the cream blushes!
Peter doing the makeup on Sigrid, and I personally really love those pink lipstick and blusher…
How the look was achieved with:
Skin prepared with HYDRA BEAUTY SERUM
 The Complexion
VITALUMIÈRE AQUA Ultra Light Skin Perfecting Makeup
POUDRE UNIVERSELLE LIBRE Natural Loose Finish Powder
ÉCLAT LUMIÈRE Highlighter Face Pen
CORRECTEUR PERFECTION Long Lasting Concealer
 The Eyes
LES 4 OMBRES Quadra Eyeshadow in Prélude
LE VOLUME DE CHANEL Volume Mascara in
Read More
I have already posted about the new Rouge Bunny Rouge mascara Oxblood Panache on Facebook but here is the brand's newest look for Spring 2013.
And, in my opinion, this is one of the best looks they have created so far (no wonder, as it was created by Lucia Pica).
Khazaria is the look that represents the "decadence of an eastern European empire, refined splendour of royals at court in a bygone middle-age era." There is a series of four looks planned by the brand and this is the first one.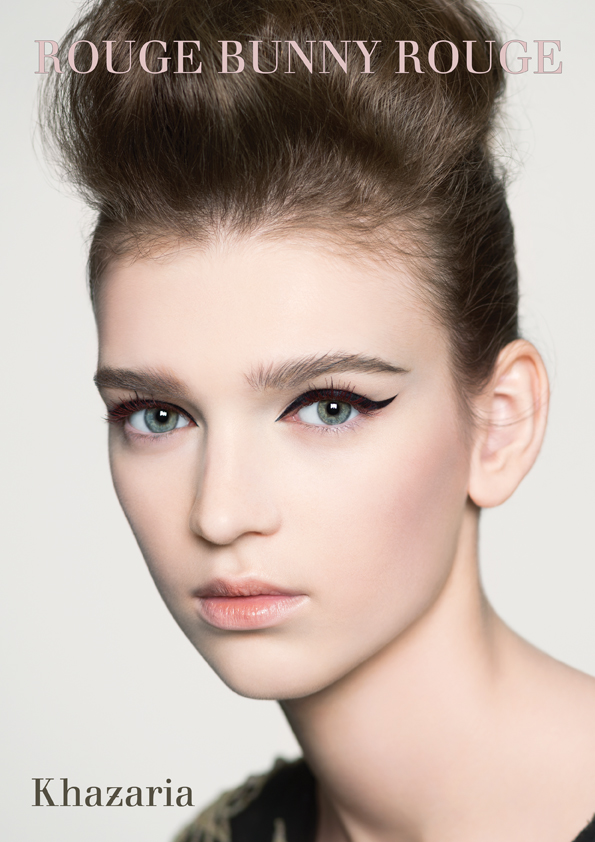 Products that were used:
Face
Anti-ageing Moisturiser SERAPHIC VEIL
 Luminous Skin Wand FINE-SPUN LIGHT in Orionis
 Time Defying Foundation SKIN SANCTUARY in Linen Cream, review coming soon
 Flawless Face Powder PRECIOUS VELVET in
Read More
La Perla Fall 2013 presentation was this Thursday, February 7 at The Gallery at Dream Downtown in New York.
La Perla designer Giovanni Bianchi looked to Spain for inspiration, specifically the moody color palette of painter Francisco Goya, and the embellished livery of bullfighters. "I wanted to capture the sensuality and the strength of the woman wearing this decadent lingerie," says Lee, who focused on elegant brows, radiant skin and dramatic lips worthy of an Almodóvar heroine.
Makeup looks were created by makeup artist Moani Lee for Hourglass Cosmetics.
 LOOK ONE – La Perla Collection
SKIN
Prep with Hourglass No. 28 Primer Serum to create a seamless canvas for makeup. Follow with Hourglass Veil Fluid Makeup in three shades: Porcelain, Ivory and Honey. "I use the deepest shade to contour, the lightest shade to highlight and the matching shade for the rest of the skin," says Lee.
Repeat the process with Hourglass Hidden Corrective Concealer in three shades: Hidden, Fair and Tan.
Finish up with Hourglass Ambient Lighting Powder in three shades: Radiant (golden beige), Dim (neutral beige) and Luminous (champagne pearl). "Blending the three powders creates an exceptional glow. You can literally become your own lighting technician."
EYES
Augment brows with Hourglass Arch Sculpting Brow Pencil in Soft Brunette.
Next, line the eyes with Hourglass Film Noir Kohl Eye Pencil in Espresso, and apply the mauve shimmer shade from Hourglass Visionaire Eye Shadow Duo in Exhibition to the lids.
"To create a watery effect, I like to dampen my brush with a little No. 28 Primer Serum," says Lee. "Unlike using water, the shadow never really dries down." Finish with a few coats of Hourglass Film Noir Full Spectrum Mascara.
 LIPS
Prep lips with Hourglass No. 28 Lip Oil, launching this summer, and follow by
Read More
I am not sure about you, but I've spend pretty much all my lunch break looking at the photos from the Golden Globe 2013: dresses, makeup, hair and makeup.  To tell the truth, I always do that after an event.
Here is actually the makeup breakdown for two most gorgeous actresses – Emily Blunt (I am very lucky to get the details about her makeup quite often; that makes me happy as I love her a lot) and Jessica Alba.
Ambient Lighting Powder in Radiant,  available in five more shades. Will be a part of the Spring collection.
Both wore Hourglass Cosmetics, including the new   Ambient Lighting Powder, and they could not make a better choice!
Emily Blunt
Golden Globes nominee ( for Salmon Fishing In The Yemen) Emily was wearing gilded dress by Michael Kors.  According to her makeu-up artist, Jenn Streicher, she wanted "smoky eyes paired with soft pink lips that echoed her Lorraine Schwartz ruby earrings."
So here are the products that Jenn used:
 Skin
Jenn began by using Kate Somerville Quench Hydrating Face Serum, La Mer The Moisturizing Soft Cream and La Mer Eye Concentrate.
She then primed the skin with Hourglass No. 28 Primer Serum, and followed with Hourglass Illusion Tinted Moisturizer in Ivory.
Hourglass Illusion Tinted Moisturizer in Ivory Review and Swatches
She used two shades of Hourglass Hidden Corrective Concealer: Fair, a light shade, was used around the nose and as a highlighter, and Sand, a slightly darker shade, was applied under the eyes. Jenn completed the skin by applying the new Hourglass Ambient Lighting Powder in Radiant Light all over the complexion.
Cheeks
Jenn applied Hourglass Superficial Waterproof Bronzer all over the face and neck to create a radiant glow. She then used the bronzer shade from Hourglass Illume Crème-to-Powder Bronzer Duo in Sunset to contour the cheeks and jaw line. The blush shade from Illume was applied onto the cheekbones.
Eyes
She started by lining eyes with Hourglass Film Noir Kohl Eye Pencil in Espresso and softened the line with a brush. Jenn then applied the shell shimmer shade from Hourglass Visionaire Eye Shadow Duo in Gypsy as a highlight on the brow bone and followed with a matte brown eye shadow on the lid.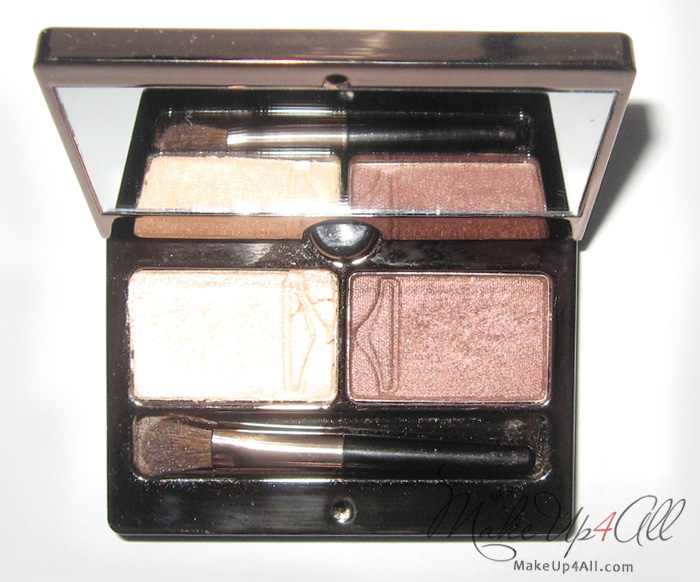 Hourglass Cosmetics Visionaire Eye Shadows Duo in Gypsy Review and Swatches 
Hourglass Film Noir Full Spectrum Mascara was applied to the lashes to volumize, lengthen and separate them. She then amplified the brows with Hourglass Arch Sculpting Brow Pencil in Soft Brunette.
Hourglass Film Noir Full Spectrum Mascara Review
 Lips
Hourglass Femme Rouge Velvet Crème Lipstick in Edition, a soft
Read More