In the era of social media we are very lucky to learn the best tips and tricks from Pro MUAs directly. We can follow them on Twitter and Instagram, watch their videos and interact in general.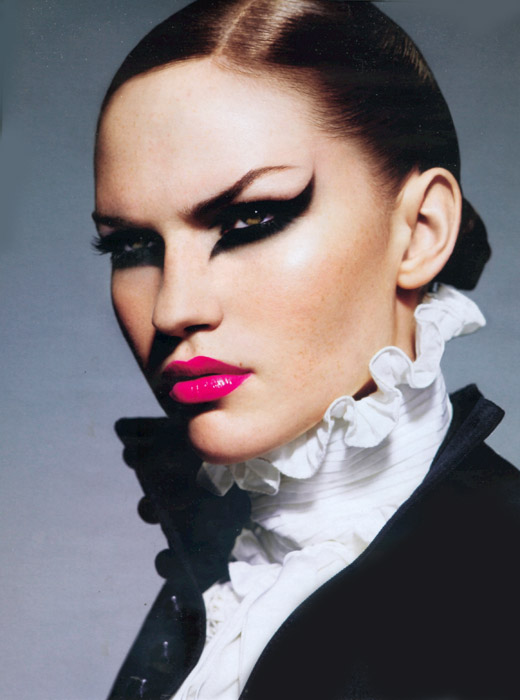 Makeup by Val Garland
I am always fascinated not only by their work but also with their stories and personalities. In my opinion,  it is important to learn as much as possible from different people and try different things to find your own style eventually.
Here are two videos that
Read More
Here is the first part of my Spring Guide, which is beauty related. But I've decided to write a fashion/style related one, as well, as I am in the middle of re-organizing my wardrobe completely. So, hopefully, some of you will find it helpful and will do the same.
1. Get Inspired.
Start a Fashion & Style board on Pinterest and save there all the looks you like.  It will make you see/realize what you prefer, and will also help you shop smarter. Here is my board, if you want to take a look/follow me.
2.  Educate Yourself
There are so many options out there, so it is easy to get confused and overwhelmed, this is when stylists and people who work in fashion can be a great help. Get yourself some books to find out their tips and tricks.  I personally plan on getting Louise Row's Front Roe. I have been stalking her on Instagram, and her style is always on point.
3. Spring Cleaning
Get rid of all the things you don't need, and be honest and brutal about it. Most likely, if you did not wear it in a year (or 5
), most likely – you won't.  I've discussed this with
Read More
You know how much I adore  plum/berry lips and nails but seeing that everywhere now  makes me want to wear something different. And when I saw the promo image for the new Collistar campaign I just fell in love with it.
Besides the fact that it is elegant and beautiful,yet simple to re-create, I am sure that it [my love for the collection] has something to do with the fact that it was inspired by Italian beauties.
If you follow me on Pinterest, you've probably already noticed that I find Italian women absolutely gorgeous. Monica, Cristina, Mariacarla, Bianca, to name just a few of my favourites…
Actually all the products from this collection are named after a certain Italian beauty icon, and it is awesome when a brand pays a tribute to the country it is from.
I have  found a tutorial on Collistar's channel where you can see all the products in action. And, did I mention that
Read More
I get a lot of how-to celebrity tutorials and always post the best ones on Makeup4all Facebook page but this one is so cool, that I've decided to share it here, as well.
It is a great variant for a summer party with friends and family, paired with a pretty dress and bright (or neutral, as Kate's) makeup look.
Kate Bosworth's hairstyle was created by Bridget Brager, and she shares all her tips with us:
Beauty Inspiration:
"Kate's braided hairstyle was intricate and romantic to match the scenery at the Chateau Marmont and her gorgeous RED Valentino dress."
Get The Look:
"I started by giving her hair a good douse of Phytovolume Actif Volumizing Spray (get it here for £17.50) roots to ends. To set in texture and add thickness, I blew her hair dry using my hands, really concentrating on lifting the hair away from the scalp and up off of her head, especially around the hairline.
Next, I created
Read More
Although  we all are discussing Autumn collections  already, let's not forget that it is still Summer…
To remind us of that Rouge Bunny Rouge created a new look, which is the first part of their new  trilogy- Under Good Omens.
This look is called Chance, it "celebrates the concept of a fortunate coincidence", and it is all about the bronze and blue shades, signature Summer colours.
Here is how you can re-create it:
Complexion
"A combination of skincare and make-up base, the Original Skin Primer GENESIS will help you maintain a beautifully flawless skin throughout the day by smoothing the appearance of your skin, evening out your skin tone, minimizing the look of pores and increasing your foundation's longevity.
Invisible and impalpable, the Tinted Moisturiser SKETCHES ON WATER will even out the skin tone naturally. Add touches of the Bronzing Glow Powder AS IF IT WERE SUMMER STILL... to look kissed by sunbeams.
Hide imperfections by applying  Luminous Skin Wand FINE-SPUN LIGHT or Glide Concealer NAKED DISGUISE and smoothing it on with great care.
Using a tiny amount of  Highlighting Liquid SEAS OF ILLUMINATION on your cupid's bow and in the corners of your eyes, draw the light to your lips and eyes.
For a more intense glow, blend some of Highlighting Liquid SEAS OF ILLUMINATION with Tinted Moisturiser SKETCHES ON WATER and apply to the top of your cheekbones, to the bridge of your nose, and to the centre of your chin.
With the light, creme-to-powder formula of our Blush Wand CHEEKS IN BLOOM it's easy to create a fresh, transparent colour. We suggest the fresh, cool rose petal pink 'Vermeer'.
Eyes
Read More