Besides  contouring and eye brow products almost every brand is brining out some kind of new lipstick this season. And it makes sense, as it it the easiest way to get into SS, beauty wise. I have already featured so many, but here are two newest offerings from butter LONDON and Clinique.
Shades featured: Passion Pop and Abbey Rose
Clinique Pop Lip Colour + Primer ($17.50 from Sephora)
Lightweight formula with a smoothing primer, gives a  bold beautiful colour and  as Clinique describe it a "modern-velvet finish".  I like how each shade has a corresponding packaging. There are 16 to choose from.
butter LONDON Moisture Matte LIPPY Lipstick ($20 from Nordstrom)
Read More
If you are still looking for your perfect contouring product (if you even need it) –  here are two palettes to consider, among so many others I have already posted about.
Kevin Aucoin The Contour Book The Art of Sculpting + Defining ($59 from Sephora)
Back in the days, KA contouring and highlighting products were among the very few available – so it is a classic already. In this palette you get:
 0.08 oz The Celestial Powder in Candlelight
 0.06 oz The Celestial Powder in Starlight
3 x 0.06 oz The Essential Eyeshadows
There is also a
Read More
I've chosen three new blush launches that look absolutely incredible, and should be amazing.
NARS Dual-Intensity Blush ($45 from Sephora)
I believe these will be a huge hit, especially considering how popular the original NARS blushers are.   Dual-intensity blushes can be used both dry and wet, also can be worn alone or layered together.
Available in: Fervor – shimmering soft pink/ sparkling deep coppery rose, Panic – shimmering shocking fuchsia/ shimmering orange-pink, Jubilation – sparkling yellow gold highlighter/ shimmering soft nude-peach, Adoration – sparkling baby pink/ shimmering hot pink,  Craving – sparkling seashell pink highlighter/ shimmering beachy bronze,  Frenzy – sparkling soft pink-gold highlighter/ shimmering bright tangerine orange
Smashbox L.A. Lights Blendable Lip & Cheek Color ($29 from Nordstrom)
Read More
How absolutely gorgeous is the new design of the Nails Inc? So chic, classic and sophisticated. And the gel effect formula is great, too. And their collaborations with Victoria Beckham and Alexa Chung are pretty coo, too.
Here is actually a preview of the mini set for SS15 (this is not the same design, as their regular polishes, FYI).
The shades are:
Read More
Here is a preview of YSL's Summer 2015 makeup collection which includes new cream metallic eye shadows, new formulas or glossy stains and pop water nail polishes.
And here is a cool photo with Cara Delevigne in white on a red background.
The products are:
Rouge Pur Couture – Vernis à Lèvres Plump Up Glossy Stain, $36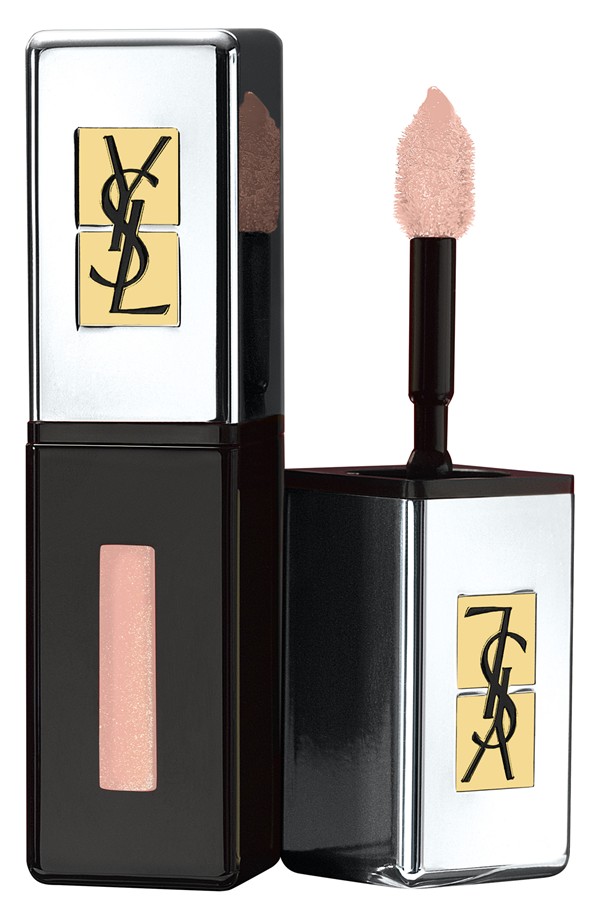 " The invigorating, hydrating formula is enriched with hyaluronic acid and gives your pout a fuller, more voluptuous shine that lasts up to six hours."
Pop Water – Vernis à Lèvres Glossy Stain , $36
Rouge Splash
" Pop Water is formulated with water brilliance, providing 10 hours of hydration and a translucent pop of color. Its applicator features a unique slanted tip and short soft bristles that allow flawless application and perfect precision."
The shades are: 201 Dewy Red, 202 Rouge Splash, 203
Read More