Here is a preview of the new gorgeous festive makeup collection form Burberry. All the products this Christmas come in a beautiful golden packaging.
The star of the collection is definitely the Fragranced Luminising Powder (£45.00). It smells of My Burberry perfume and adds a nice glow to the face.
Other new products are: Complete eye Palette Gold no. 25 (£40) Lip Glow gold NO.25 (£18.50),  Lip Mist Gold NO.217 (£22.50) and Nail Polish Gold NO.447 (£15.00)
Read More
Too Faced always bring out some of the most amazing releases for  the holidays. Their new collection is cute and girly, as usual.
Not to mention great quality and prices. Everything is already available from Sephora and will be available from Beauty Bay later.
You can choose from the following products:
La Belle Carousel, $49.   A unique looking, carousel inspired set includes the following products:
 12  eye shadows in Angel Hair (muted copper shimmer), Frost (intense white glitter), Tin Soldier (silver shimmer), Christmas Tree (forest green glitter), Santa's Boots (matte black), Tufted Suede (taupe), Haute Chocolate (chocolate shimmer), Yule Log (black sparkle), Nut Cracker (pale pink ivory), Nude Beach (glittery pale peach), Boxes and Bows (icy peach pink), Sugar Plum Fairy (deep purple glitter)
 2  Bronzers in Chocolate Soleil (matte chocolate), Sun Bunny (white shimmer)
2  Blushes in Who's Your Poppy (warm peach/gold shimmer), Luminous Peach (coral)
 Better Than Sex mascara
Everything Nice Set, $56
Read More
If you want to treat yourself or a very special friend or relative this season, Cle de Peau Beaute is the of of the best variants to consider. It just doesn't get any more luxurious than this.
La Beauté Céleste Shimmering Lip Gloss Trio, $50
Moisturizing and shimmering glosses with argan tree oil. Brownish Meteor, Orange Planet and Berry Nebula
La Beauté Céleste Makeup Coffret, $195
3 Eyeshadow,  2 Cheek Color, Ruby Red Extra Rich Lipstick – all shades are Limited Edition. And  Perfect Lash Mascara in Jet Black.
Also, if you are ready to splurge on some very high-end body products, Cle de Peau got you covered, you can choose between a
Read More
Here is a preview of Chanel's holiday 2014 makeup collection  - Plumes Precieuses.
The star products are definitely the highlighting powder – Camelia de Plumes in Platimun (£47) and  Les 5 Ombres de Chanel (£42) Oiseaux de Nuit: luminous white, soft grey lavender, intense grey, intense black, antique gold.
Other products are: Joues Contraste  (£31/$45) in Caresse, shimmering peach,  Illusion d'Ombre ( £25/$36) in Envol, shimming peach, Stylo Yeux Waterproof (£19/$32) Or Blanc, white gold. Mascara Inimitable Intense Essential Noir (£25).
Read More
NARS Laced With Edge makeup collection for Holiday 2014 is here, and this season the brand decorated the packaging  with a special ornament. Not only the packaging, but also Daria Strokous' face for the promo
There are six lip products, three glosses and three lipsticks which are almost matching. I love the crimson "duo", of course.
Lips
Hardwired Lipstick (/$26)
Adriatic, Glistening Soft Cream
Femme Fleur, Shimmering Brick Red with Gold Pearl
Deadly Catch, Crimson
Lip Gloss (/$26)
Soleil D'Orient, Shimmering Pink Champagne
Corsica, Shimmering Pink Raspberry
Burning Love, Bright Ruby with subtle shimmer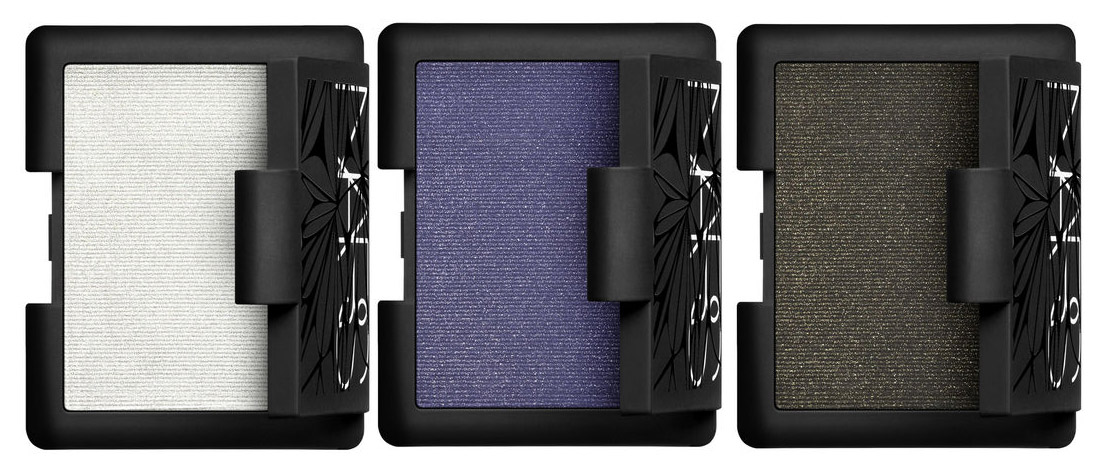 Three eye shadows.
Eyes
Hardwired Eyeshadow (/$26)
Read More