Here is a yet another weekly update of the new products for face, lips and eyes that caught my attention featuring matte Gucci lipsticks, super colourful YSL mascaras and cushion blushes from Lancome.
Gucci Lip Sensuous Deep-Matte Lipstick, $40 from Saks.
" New contemporary formula with a lightweight, smooth feel and an extreme matte finish. The intensely deep colors are brought out by the rich, concentrated pigments. The combination of the bold color and supple finish are unexpected and are designed to instantly change the wearer's look. "
There are 12 shades to choose from. 
YSL Mascara Vinyl Couture, $29 from Saks and  Neiman Marcus.
"Revolutionary intense, super shiny color for lashes. The
Read More
Check out The 7 Most Inspiring Summer Beauty Campaigns
Read More
Here is a usual round-up of the coolest new things, in my opinion. This time I've decided to feature complexion, mostly cheek products. I haven't tried any of these but they all look really cool.
Laura Mercier Colour Dots Lip & Cheek Sheers, $32 from Saks/£25 From Space NK
The shades are: Fruit Punch, Sangria and Tequila Sunrise
"Brighten up complexion with a vibrant wash of colour to lips and cheeks. A multitasking solid blush that creates a wash of luminous, vibrant colour for skin. This unique texture applies with ease and blends into a silky, bright glow. The talc free, gel structure is perfectly translucent for a bright, see-through effect. It glides onto skin with even, flawless color and a creamy feel with the combination of wax, siliconic powder and shiny emollients."
LIPSTICK QUEEN Frog Prince Cream Blush, £22 from Space NK
After the success of the lipstick, there is now a
Read More
Chanel Dans La Lumiere de L'ete Makeup Collection for Summer 2016 is all about sandy browns, coppers for the eyes and face, and pinks with oranges for the lips and nails. Let's take a look.
Les Beiges Healthy Glow Multi-Colour, $65
Duo 01 and Duo 02 are lightweight powders with two shades that create that instant glow and perk up the complexion. There is also a Pinceau (Blush) Brush which retails for $55.
The LE Les 4 Ombres ($65) has that desert inspired pattern. You get three bronze and earthy toned shades and one khaki.
Here is actually a promo image of the collection to give you an idea of how you could use the products.
Other items are:
Read More
I am personally a huge fan of beauty and art collaborations, such as this one by François Nars and a contemporary artist Konstantin Kakanias, inspired by a glamorous  French Riviera they came up with 10 makeup products.
Dual-Intensity eye shadows and blushes and a brand new product for the brand – Lip Cover. Each comes in a special edition packaging.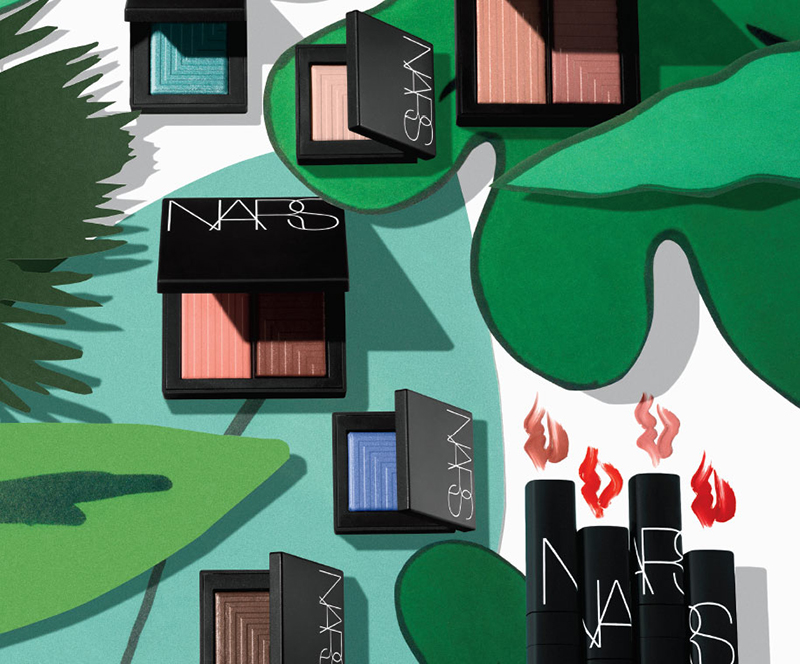 Lip Cover, $28/£21
"High pigment liquid lipstick. High fashion effect. Lip Cover delivers saturated slicks of coastal color steeped in exclusivity and ease. Rich and lustrous. Luminous finish."
Do Not Disturn, Vivid orange red
Overheated, Deep dusty rose
Get Dirty, Desert rose
Members Only,  Crimson
Dual Intensity Eye Shadows, $29/£21
Read More