I have written so many Christmas gift guides, but if you still haven't sorted out your presents, here are some absolutely adorable Pupa Cat sets.
They have all kinds of variations that also come in different packaging: black, red, white and gold.  And I am sure we all know at least someone who loves beauty and kittens. I am sure they'd be delighted to find these under the Christmas tree.
Hurry up, there are very few still available from Escentual. But if they are sold out by the time you see this features, just search for the retailers that stock Pupa. I found them to
Read More
I can't imagine how this happened but somehow I never posted about the Dior's Christmas 2015 makeup collection which is all about gold and vintage-inspired design which the brand has been releasing several winters in a row now.
And how can we complain? Such beauties would look great on a vanity or inside the makeup bag.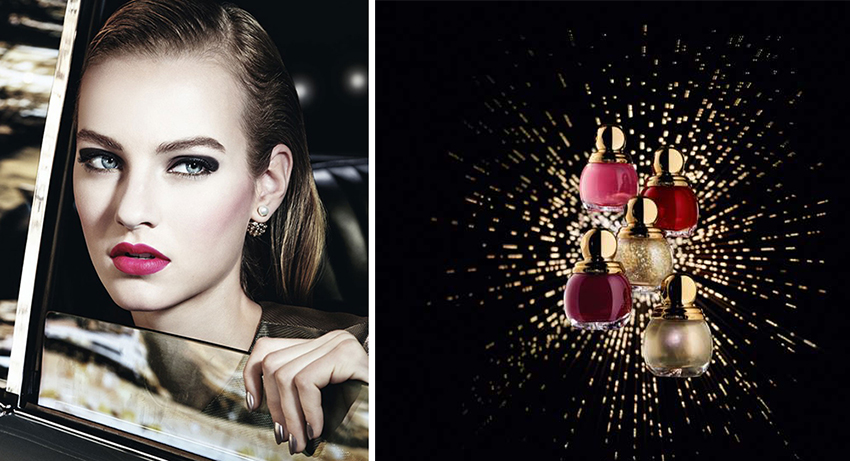 It just does not get any more glamourous and festive than this! Take a look at the promo photos and a video:
Read More
Here are the palettes from Christmas 2015 collections that look absolutely adorable and gorgeous and both are collaborations between beauty and fashion brands.
There are two from shu uemura which are a collaboration with Maison Kitsuné. They are the Smoky Eye And Cheek Palettes (£60 from Harrods or Selfridges).
I also like that these palettes, according to the brand, are inspired by the collision between the West and East (Paris and Tokyo).
Each contains:
7 pressed eyeshadow shades
1 glow on blush shade
2 dual-ended foam and brush applicators
There is also  Festive Camellia palette which is a collaboration between Shiseido
Read More
When it comes to skincare and body care, there are a lot of brands that I like, but there are four that I have been using religiously and loving for many years now, and I am talking about Clarins, Elemis, REN and Aromatherapy Associates.
It was hard to pick only one set from each but I've managed. Here are two sets for face and two for body.
Clarins Moisture Must-Haves, £35
HydraQuench Cream Normal to dry skin 50 ml
HydraQuench Intensive Serum Bi-Phase 15 ml
HydraQuench Cream-Mask 15 ml
Makeup bag
HydraQuench range is my favourite from Clarins and I have tried a lot of their products, and  it is the best time to stock up, and I always get one of their Christmas sets, great savings!
You can buy Clarins from: Escentual.com,  Nordstorm,  Sephora, Boots,  Bergdorf Goodman, Selfridges, Harrods
REN Instant Beauty Heroes, £50
REN is another brand that I love buying from during the holidays to save some money.
Glycolactic Radiance Renewal Mask 50ml "A potent exfoliating mask formulated to renew the complexion, dramatically improve skin tone and radiance and reduce the appearance of fine lines and wrinkles."
Keep Young and Beautiful Instant Firming Beauty Shot 30ml "A gel-serum that instantly firms, lifts and plumps the skin to leave it looking dramatically smoother, tighter and more youthful. A liquid matrix of Hyaluronans supercharges the skin with firming moisture and encourages elastin synthesis to firm and remodel the skin over time."
Flash Rinse 1 Minute Facial 75ml "A transforming treatment that instantly revitalises and visibly rejuvenates the skin. Formulated with potent water-activated Vitamin C it will neutralise urban grey in a flash, leaving skin looking firm and glowing with renewed health and radiance."
You can buy REN from:  Cult Beauty, Feel Unique, Sephora, Look Fantastic
Read More
You just can't get wrong with a lip set or a palette when it comes to Christmas beauty presents.  And here are only some that caught my attention, there are a lot of other sets. In fact, you can see some of them here.
Here is a selection with a different price point, too.

Bobbi Brown University Lip Palette, $60 from Sephora
12 x 0.45 oz Lip color in Salmon, Beige, Raisin, Brown, Rose, Pink, Orange, Blackberry, Burnt Red, Red, Beige Gold, Berry Shimmer.
Handy compact palettes are a great addition to any make-up artist's kit or any makeup lover's collection.
Clinique Days of the Week Lipstick Gift Pack, £31.50 from Look Fantastic
This is such a cool idea – a lipstick shade for every day. The price is also amazing, you'd pay that for one high-end lippie.
Sweet Sunday , Monday Mojo, Take-On Tuesdays, Welcome Wednesday, Throwback Thursday, Finally Friday and
Read More