The newest launch from L'Occitane, called the Fortune Flowers, offers three limited edition scents:
Rose Petals, rose notes with a hint of sugar-coated scent of candied almonds.
Date Bouquet,  essence of the this fruit.
Mango Flower,  full and zesty aroma, which is a Burkina Faso's signature scent.
The pattern on each product was inspired by the art of basket waving by women in West Africa, and was created by the brand's founder –  Olivier Baussan.
This collection includes:
Read More
I really love the new collection from BECCA  Cosmetics, surprise-surprise!
The fact that they photographed girls from different ethnicity for the promo is also very cool, I think all three are gorgeous but I am particularly love makeup of the Asian model, she is incredibly beautiful!
As for the products, there are quite a few new launches, which is always exciting.
First of all, there are new Ultimate Eye Colour Quads which include eye shadows with different finish: matte, demi-matte, and metallic.
There are four different variations: Astro Violet, Galactica, Eclipsed, Night Star. Each is $40.
If I could get only one product from this collection, that would be
Read More
I am very excited about the new A England nail polish collection, called Gothic Beauties! I love everything about it actually, name, shades, the whole idea behind it.
I have already written about Bridal Veil and Perceval and this time I plan on getting Jane Eyre and Saint George (from the Legend collection). I also can't wait for crimson/cerise/burgundy/red shades in the future!
Here is a close up of the collection, each nail polish retails for £9 and the shipping is free Worldwide! My blog friend Eugenia has beautiful swatches and descriptions of the whole collection!
Dorian Grey,Tess d Urbervilles, Lady Of Shallot, Ophelia and Jane Eyre. Which one do you like?
And here are also some new offerings from Deborah Lippmann for AW 2012:
Read More
This summer a lot of people were absolutely in love with orange and coral, and  with Pantone's Tangerine Tango, as it was the trendiest colour of the season.
Although I am not a biggest fan of corals and oranges on myself, unless I am tanned after a holiday, I do love such shades on other people.
But I actually do like the new Pantone and Sephora makeup collection for AW. This time, according, to them,it's all about  precious jewel tones.
First of all, here are four products that I personally like the best and would get for myself (maybe I should actually).
1. Gemstone Faux Lash Set, ($24), 3 x lashes in gemstone, metallic, glitter and glue.
It's not that I wear glittery lashes on a daily basis but it would be fun to try these out for the Christmas/ New Year on myself or others.
2. Transforming Gloss, $14.
Now this may look like my ultimate love, Guerlain's KissKiss 800 gloss. Plus I like the sound of it.
3. Illuminating Face Primer, $26
It is described as a 'weightless aqua-mousse primer that creates a perfect dewy glow.' Would be nice to see what it's like in reality.
4.Dazzling Lip Gloss Set, $24
I like the shades that are included and they look super cute.
Other products from the collection are:
Black Magic Waterproof Eyeliner Set, $24, 3 x 0.014 oz eyeliner in Black, Brown, Blackest Black
Alchemy Of Color Eye Shadow Palette, $34
Alchemy Of Color Face Palette, $30
Lip Luster Lipstick, $18
Almost Apricot – glittery iridescent pink
Tangerine Tango – glittery
Read More
I really love this new collaboration of Dita von Teese and ArtDeco which is called Fall Favorites.
This is a collection of dark lip & nail products and jewel toned eye shadows. And also some must-haves for face and brows such as powder, highlighter, concealer and eye brow gel.
So here is how the collection looks like:
Lips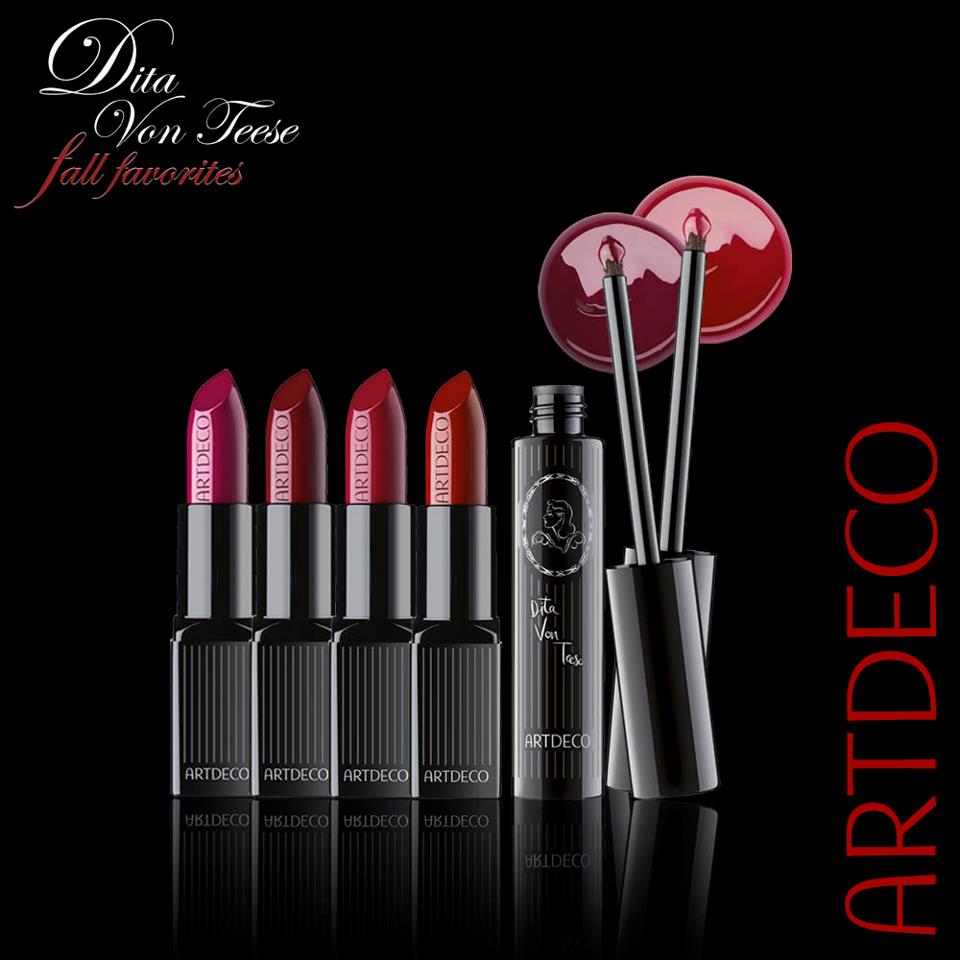 Art Couture Lipstick Velvet: 631 Manslayer, 634 Erotique, 650 Tryst and 656 Black Dahlia
Lip Lacquer: 29 Lovecraft and 37 Sexpert
Eyes
Ultra Volume Mascara in 01 Onyx
Eye Brow Gel 1 Midnight, 2 Mink, 5 Crystal
Eye Lashes 10 Black
Trio eye shadows box in Dita von Teese design
Eye Shadow Pearl in 27 Champagne, 26 Charmeuse, 17 Sable, 150 Mascarade, 175 Sapphire and
Read More