I have to say that I absolutely love the promo images of the 2 new MAC collections. They are so beautiful and inspiring!
The first one is totally glamorous from the Stylishly Yours collection with the hot red lips, beautiful liner and pink eye shadows. I like it. Like it a lot! I would just use the other blusher but I still love this look so much…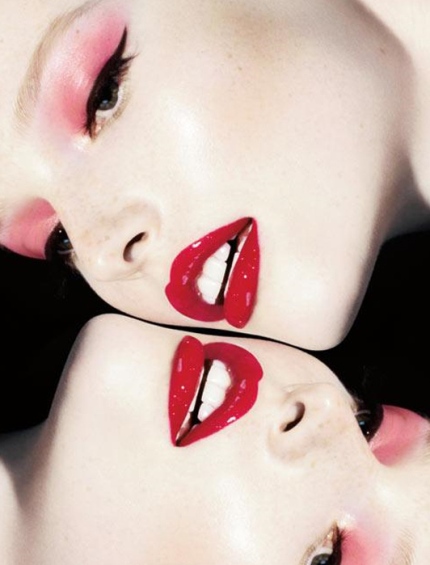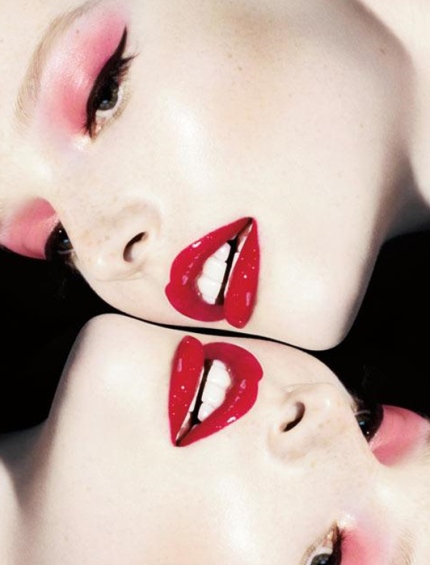 The other look is from the Peacocky collection. It is a
Read More
Take a look at the  Rouge Bunny Rouge holiday 2010 look called Journey Through The Stars.
This is what is said about it:
"Our look "Journey Through The Stars" is presented by Felicity and was created by the brilliant make-up artist Lucia Pica for Rouge Bunny Rouge. It captures all the sparkling stars in our glistening eye make- up to get you ready for the festive season. Luminous skin with slightly rose-flushed cheeks and lips are the base for Felicity´s precious lavender eyes, and for one of the most enchanting looks of the year."
The products that were used:
Face
Liquid Foundation 'Coconut Milk Parfait'
Flawless Face Powder 'Piano'
Highlighting Liquid 'Sea of  Tranquillity' high on the cheekbones
Blush Wand in 'Vermeer' on cheeks
Eyes
"Journey Through The Stars" is all about rich, shimmering purple shades which are expertly blended to make a surprisingly vibrant but elegant evening make-up look.
The iridescent, light-nude mauve 'Wishing for Wings' Loose Glitter Pigment grants your eyes with
Read More
Get ready for the holidays with the new Sleek Sparkle i-Divine palette. It is a "palette of 12 glitter-laced velvety-smooth eye shadows. "
I think it's a great and affordable palette for Christmas and I think it's nice to get it, I am still upset that I've missed the Circus one. And what are your thoughts?
shu uemura is famous for gorgeous lashes but these lashes from Tokyo Lash Bar collection are simply breathtaking!
This is what is written about the collection:
"As an expert in the art of false eyelashes, shu uemura's tokyo lash bar has established itself to be a hot and trendy beauty staple internationally. In a new sophistication, neo-tokyo girls get dressed up in cyber sexy fashion with enchanting eye make-up and extravagant, glimmering lashes."
I don't usually post such big promo photos but this time I just couldn't resize them!  There are 3 gorgeous pair of lashes, take a look yourself:
Neo Sparkle
Graceful, flirtatious eyelashes with diamond-like glitter coating each strand of hair.
Neo Reflector
Inspired by
Read More
If you want to get something very special for yourself – Tom Ford's Black Orchid set (£90/$140) is what you need! I personally absolutely love the nail polish and  the lipstick, the colour is gorgeous and I would love to have them both. Although I am not sure that I need this perfume but I guess it would be a nice present for my Mama, who loves such type of perfumes (but I can't imagine her rocking such lipstick/nail polish).
Set includes Black Orchid Private Blend Lip color(black design which I like SO much better), Black Orchid Pressed Perfume and Nail Polish.
So what do you think?
Read More