You can never have too many lipsticks, right?  So here are the three new releases that caught my eye: Lipstick Queen, Marc Jacobs and Chanel.
A revamped line of Chanel Rouge Coco with Keira Knightely. There will be 29 shades divided into several colour groups: Nudes, Pinks, Plums, Browns, Oranges, Red.
And more images (courtesy of L'Officiel)… I can see at least three shades that I want to try out. These are not out yet.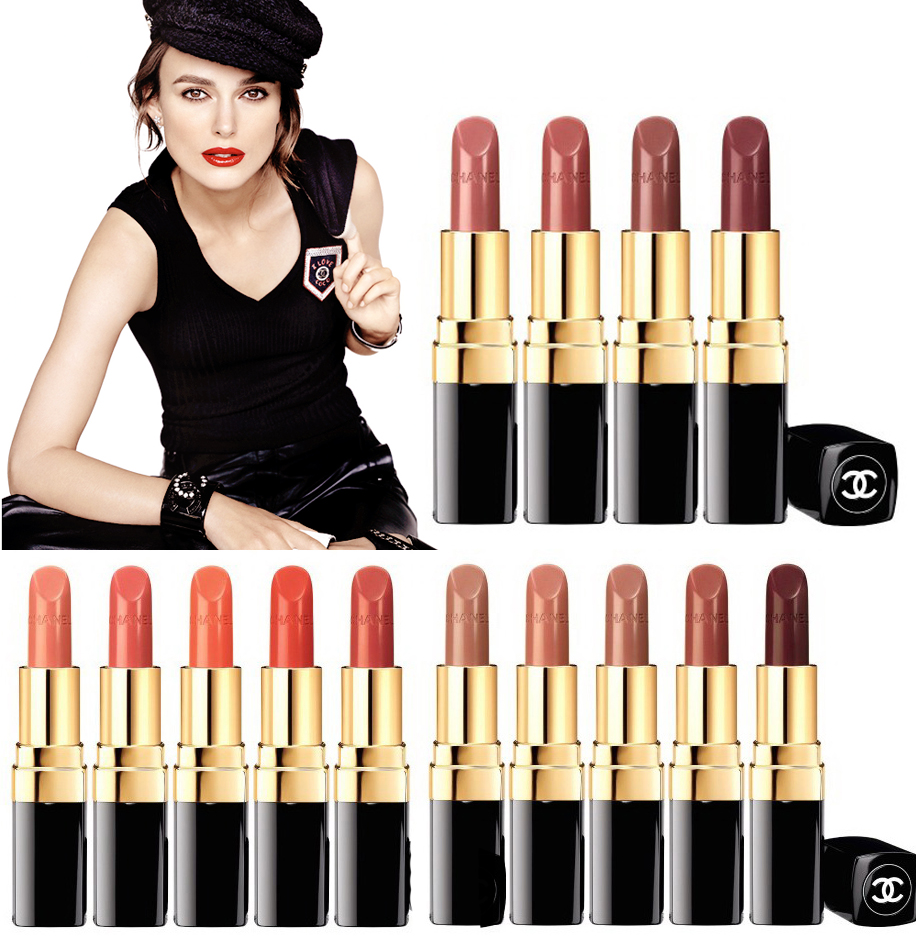 Lipstick Queen Bete Noir
Read More
I am definitely indifferent about  99% of celebrities, there are very few that I actually "follow". Believe it or not, but Victoria Beckham is one of them. I've liked her since the Spice Girls era and love watching her path as a designer and occasional photo of David and Harper.
I am also am always curious about her beauty choices, this is why I am very excited about her collaboration with Nails Inc.
There are two gorgeous nail polishes which are inspired by
Read More
Ellis Faas are launching a new product, Glow Up – a facial illuminator, which will be available from next Monday (December 1st).
Here is Ellis' philosophy on highlighters and her tips on how to use a product:
"Playing with light is one of the best tricks in make up. Light emphasises shape and glow. Attracting light to certain parts of your face will illuminate it and bring it to life. The best way to attract light to your face is with the soft focus properties of the reflective pearls in Glow Up. These finely milled particles provide radiance with a soft subtle shimmer. It leaves you with a delicate glow that helps to mask any imperfections, adding a satin-soft and porcelain finish.
Apply the
Read More
I will be honest, it's hard to count how many times I've watched the videos from the new Tom Ford campaign Lips & Boys (will be available from the 28th; and from Selfridges)I may even shared it with some of my friends, too…
Lips & Boys is  a limited edition collection of 50 lipsticks which are divided into 10 colour groups. Each has a name of a guy.
Now, I wish you could choose the name you wanted. I am sure the brand would charge a lot for the option. But I want to have a lipstick the name, not just any boy's name.
Corals to Oranges:  Luca, Matthew, Adriano, Tomas, Rafael
Reds: Rory, Diego, Alejandro,Luciano, Leonardo.
Violets to Orchid: Olivier, Julian, Pablo,  Xavier, Liam
Plums: Collin, Didier, Guillermo,
Read More
I love REN skincare (especially this product), and when I was browsing this year's skincare gift sets – theirs really caught my attention. I think they have outdone themselves, everything comes in beautiful boxes with the majestic crane.
I have actually already bought something for myself, Sensitive Gift Set, and may pick up some products for friends, too. or more for myself
Mini Gift Set (200ml, £16): 50ml Moroccan Rose Otto Body Wash, 50ml Moroccan Rose Otto Body Lotion, 50ml Revivo Lift Body Wash, 50ml Revivo Lift Body Cream
Rose Trio Set (210ml, £19): 100ml Moroccan Rose Otto Body Wash, 100ml Moroccan Rose Otto Body Lotion , 10ml Moroccan Rose Otto Bath Oil
Skincare Essentials Kit (130ml, £25): 50ml Rosa Centifolia Hot
Read More