Contouring? Strobing? Move over! There is a new trend in town, and that is colour correcting. It was around for some time but you know that it is official when it ends up on Sephora's main page. I actually posted about some products already, such as BECCA, YSL and tarte but there are tonnes of others.
BEAUTYBLENDER Correct.four micro mini blenders (£22 from Selfridges) and stila Correct & Perfect All-In-One Color Correcting Palette ($45 from Sephora)
When you click on the link, you can read all about it, and choose the product which you think you may need/want.  I am personally
Read More
I've used at least three bottles of Garnier Micellar Water and tonnes of other affordable options (L'Oreal, Nivea and others) this is why I am ridiculously excited about the new Garnier SkinActive Oil-Infused Micellar Cleansing Water,  £5.99 from Feel Unique.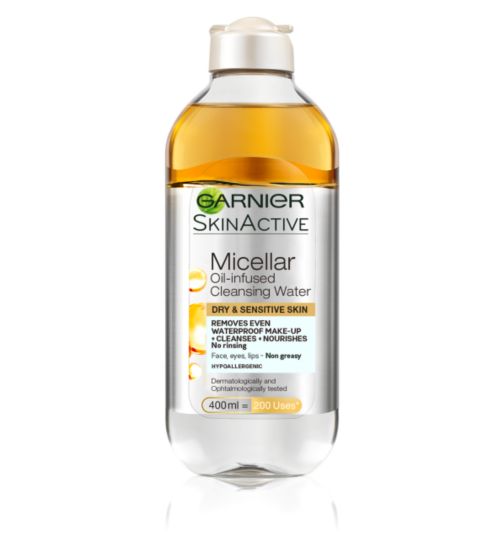 Described as: "Micellar Oil-Infused Cleansing water, for dry and sensitive skin. Cleanses and nourishes the skin. Removes even waterproof make-up. Non-greasy for face, eyes and lips. No Rinsing."  
Read More
Here is a weekly edition of the newest makeup products for face, eyes and lips that caught my attention:
BECCA Shimmering Skin Perfector Luminous Blush ($34 from Sephora)
The shade shown is  Dahlia (cabernet). Other shades are: Blushed Copper – copper, Camellia – ballerina pink, Foxglove – orchid.
These blushes basically give you that glow and  multi-dimensional, versatile blushes to create a subtle, shimmering flush. Apparently these blushes are inspired by Shimmering Skin Perfector and give the right balance of colour and light.
Melted Matte Liquified Long Wear Matte Lipstick ( $21 from  Sephora). There are
Read More
I have to say that I am really loving Kristen Stewart in the new Chanel campaign, those eye brows and eye makeup are spot on!
The products from the collection are:
Stylo Eye Shadows ($34) in 157 Beige Dore,  177 Rose Petale, 187 Brun Chatain, 197 Vert Grise and 207 Bleu Nuit.
Les 4 Ombres ($61) in 264 Tisse Particulier, 266 Tisse Essentiel and 272 Tisse Dimensions.
La Palette Sourcils de Chanel ($50) in 40 Naturel
Read More
Here is a preview of the new seasonal makeup collection from byTerry with limited edition spring shades of white, pink, green and lilac.
Eyes
Terrybly Crayon Kohl, £24 N°16 White Wish 
Infallible waterproof kohl liner that creates enigmatic luminosity and linear precision around the eyes.
Terrybly Haute Croissance Mascara, £33.50 in 9 Green Galaxy
Proven to lengthen eyelashes to another dimension by boosting volume, length and activating lash growth.
Ombre Blackstar, £29
16 Nude Milky Way and 17  Bubble Glow
Lips
Read More