Here is a preview of Daniel Sandler's  High Summer Collection.
Here is what Daniel recommends: "Embrace the brightness of both eye Shadow shades whatever the colour of your iris, though I love to highlight the Blues tones of an eye with Caribbean and the Browns with Encounter."
The new products are:
Sheer Satin Eye Shadow in Encounter (Purple) and  Caribbean (Blue), each is £10.25
Baby Jet Black Mascara, £12.75
Watercolour Crème Bronzer in Riviera £15.50
Watercolour Crème Rouge in Soft Peach £15.50
Lipshine in Buff  and Tangerine, £13.25
Luxury Gloss in Skinny Dip and Vivid Energy, £14.75
All the products are already available.
Read More
I have already posted a preview of this collection and the makeup that was created with it for  the Chanel Haute Couture Spring Summer 2012 Show. So here are the details…
Here is what kind of makeup Chanel suggest:
'The juvenile grace of an almost nude face showcases eyes with marine depths, mellowed by the radiance of blue tones. On eyelids, ILLUSION D'OMBRE takes on a scintillating and satiny effect that makes eye makeup glow with each bat of the lashes. Two airy shades of grey blue, one pale, DESTINATION, and the other more intense, APPARITION, adapt to all faces. Eyeshadows are applied according to inspiration: in sheer washes or deep colour blocks, in monochrome or gradations.
Mascara-laden lashes accentuate the graphic tracing of the eye contour with a sophisticated note. LE CRAYON YEUX BLEU AÉRIEN borders the eyelids with an
Read More
Finally, I have the details about the gorgeous BECCA Endless Summer collection. And I think this is one of their best collections so far, I can't believe how absolutely beautiful it is.
Look at the promo with the amazingly fabulous model and all the juicy colours.
There is a new Shimmering Skin Perfector (£33)in  Moonstone, pale gold. Pearl is my favourite highlighter, read my review here.
Two new shades of the Mineral Blush (£25): Gypsy, ballerina pink, and Songbird, peachy pink. Unfortunately, I haven't tried BECCA's Mineral Blushes but heard only good things about them.
There are three new shades of Beach Tints (£20): Lychee, Dragonfruit and Papaya. See one more photo of them here. And here is my review about Beach Tints.
And finally, the brand new Ultimate Colour Gloss, which are described as f weightless highly pigmented gloss. Oh, my, just look at this promo! Can't wait to try these. Also don't forget that BECCA is bringing out pigmented lipsticks, probably for this Autumn.
And guess what is the coolest thing about this lip glosses? BECCA created a look for each gloss! And here they are with the directions from BECCA.
Ultimate Colour Gloss in Hotel
Read More
I really like this Sheer Nail Polish collection from American Apparel.  These nail polishes  are described as sheer, quick drying and long lasting. So I assume it should not be difficult to get the ombre-ish  effect as shown on the photo mess-free.
These nails look like a beautiful painting to me and I'd definitely want to try.
Here are more photos of the manicure.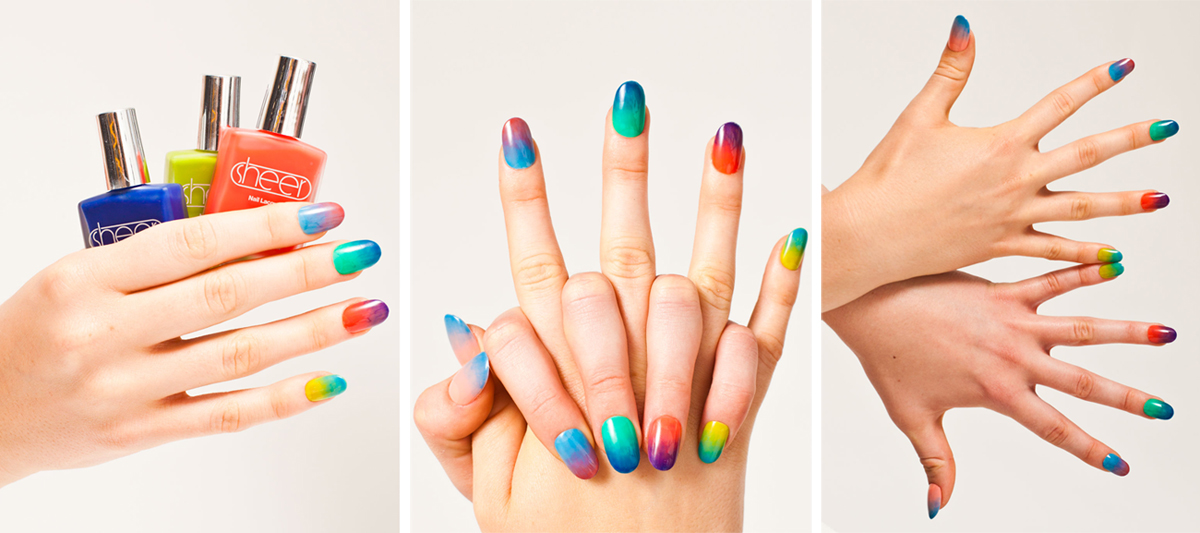 As for the nail polishes themselves, there are
Read More
Here is the  preview of Trish McEvoy's summer 2012 makeup collection called Summertime which includes different bronzers, a lot of (mostly coral) lip products and long-lasting eye liners.
There are three different bronzers:
Bronzers ($32) in Golden (fair to medium)  and Golden Tan(medium to tan), Dual Resort Bronzer ($35) (cooper and bronze with shimmer) and Golden Glow Face Color ($35) (combination of golden bronzer and blush glow)
Intense Gel Eye Liner ($24) in navy Arabian Nights and Black.
And a lot of
Read More