I am really loving this new Leighton Denny nail polish collection for SS 2012 which is called Castaway.
It is inspired by the catwalk looks of Aquascutum, Haider Ackerman and Christian Dior,  and tropical colours at  Diane Von Furstenberg, Bottega Veneta and Salvatore Ferragamo.
The screen-shots from Leighton Denny website
The colour from the collection are:
Coral Reef, shimmering coral-red.
Message In a Bottle, shimmering subtle sandy grey.
Shipwrecked, acid green with cream finish.
Maroon Me Not , vibrant and
Read More
ArtDeco is one of my favourite affordable makeup brands. They often have amazing releases, just like the two upcoming ones.
The first one is called Marrakesh Sunset and it's a summer 2012 makeup collection which I personally really love and will definitely check out when it's out. First of all I absolutely love the design for the compact and also the shades, of course. I actually love the whole collection. You can see the details at Pink Melon.
The second one is the collaboration with Dita Von Teese. There is not much information out. But Dita shared the photo of some products which you can see below.
I wonder what else will be in the collection.
Read More
I always look forwards to Illamasqua launches and, although I personally love AW collections with dark shades and images much better, their SS are always fun & colourful and a pleasure to look at.
Here are some promo images from the Human Fundamentalism collection. The star of the collection is the teal lipstick as you can see.
There are two eye palettes, tel lipstick, two nail polishes, white eye liner,  six matte eye shadows and LE shimmering shade of foundation.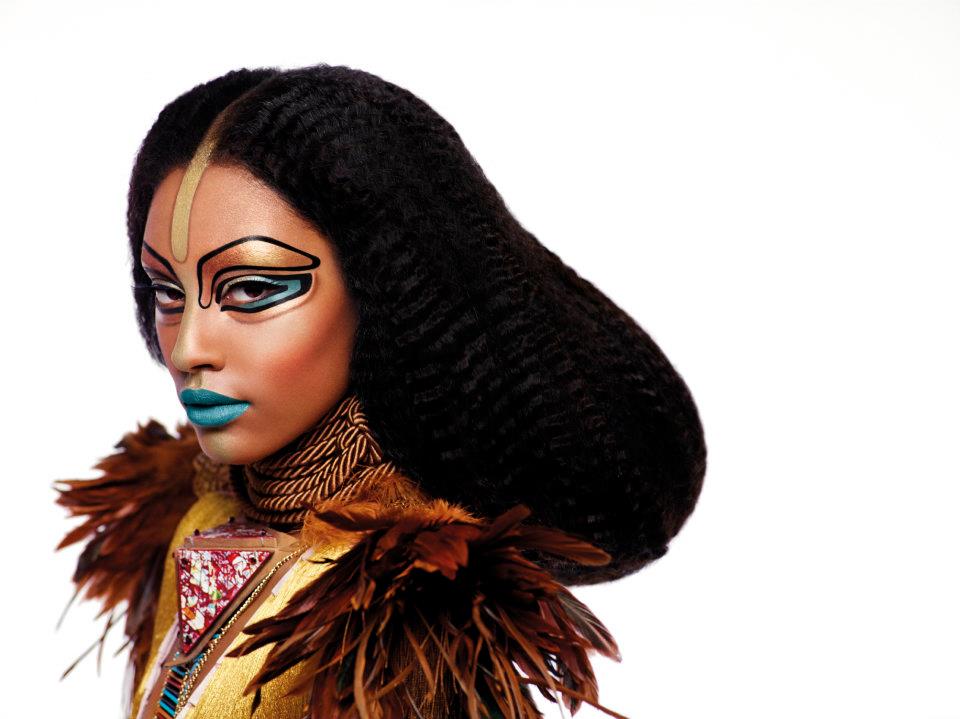 Image below is stunning, I am pretty sure the model is wearing Havoc eye liner.
And this one is about the
Read More
We already talked about one of the summer/bronzing collections which was Guerlain's Sun in the City Terracotta 2012 and now it's time to take a look at Estee Lauder's Bronze Goddess Capri collection.
Here is the promo photo and I love the golden skin tone and the golden bikini.
I actually love my light complexion in winter but I've started using some fake tan ( I LOVE Xen Tan) recently, I guess after looking at too many summer promos 🙂
Anyway, here are the products from the collection. Unfortunately, I don't have the GBP/EUR prices yet, so only USD so far.
 Bronze Goddess Luminous Liquid Bronzer, $28.50
Sheer, pearlized radiance Long-wearing, oil-free
 Pure Color Illuminating Powder Gelée, $42
A bronze, all-over
Read More
This year's Terracotta collection by Guerlain is called Sun in the City.
Olivier Échaudemaison, Creative Director of Guerlain (read my interview with him) comments:  'Treating yourself to a little sunshine boosts the morale!'
Here is what the collection includes:
 TERRACOTTA BLUSH Sun Shimmer Highlighter £28 / €35
02 Sunny Pink
03 Spicy Coral
These are described as  featherlight fluid texture blushes with  mother-of-pearl concentrate that instantly illuminates the cheekbones. Guerlain suggest the pink shade to blondes and coral shade to brunettes.
TERRACOTTA SUN IN THE CITY Golden Glimmer Powder – Face and Décolleté £43/ €60
A face and body powder with creamy texture and metallic gold shimmer with a mother-of-pearl concentrate (75%). 'Adds  shimmer to any tan with its precious metal glints like a skin-enhancing top coat.'
TERRACOTTA LIGHT Sheer Bronzing Powder £33.50 / €45
02 Blondes, with its pink accents and soft tanned tones, beautifully enhances the naturally rosy colour of blondes and fair skin
03 Brunettes, enriched with its coral touches and warm shades, adds bright radiance to the golden tan of brunettes and olive skin. Perfect at the height of summer when your tan is at its best
04 Sun Blondes and 05 Sun Brunettes  in
Read More