Today Makeup4all turns 6 years old which is pretty incredible!
I would like to thank you all for visiting, reading and commenting. I can truly call some of you my on-line friends now. Special thank you to Jane, Lisa, Daniel, Farrah, Nadin, and many others.  I would also love to thank all the brands and PRs who have been working with me during all these years.
Beauty surely makes life better
By the way, I was really touched that one of my best friends got me this shower gel as a present for the blog Birthday today.
To celebrate I will have a small giveaway later this month, so stay tuned.
I also have  gathered a lot of material and exciting interviews for the new magazine, yes really, and plan a re-design which I have been wanting for ages now. I just need to find time for that now, so wish me luck
Read More
Here is the list of the beauty products that I plan to buy in February, and it is only beauty, but I will share my makeup wish list, too.
Rituals Fortune Oil Caring Shower Oil  (here for £8.50)
My skin is very dry and sore in this cold weather. And I do like a shower oil (this L'Occitane one is amazing), so I thought I'd give this one a try.  Plus, it is very affordable, and I like Rituals in general, so have high hopes for this product.
Ole Henriksen pure truth melting cleanser  (here for £24)
I wrote about this cleanser months ago. And now, that I have finished some of mine, I can go ahead and buy myself one. "Ultra hydrating 3 in 1 cleanser that transforms from a gel to a luxurious oil to a hydrating milk. Rich in Vitamin C, Rose Hip, and
Read More
Who does love lasagna? I am still yet to  meet that person… This is why I thought I'd share on of my favourite recipes of this dish that I've got from a friend;  and she is my personal cooking inspiration.
I am sorry for that this photo is definitely not appetizing but it's the only one I have.
Ingredients:
340 grams ground beef
1 medium onion, chopped
2 cloves garlic, chopped small or pressed
400 grams canned, chopped tomatoes
150 grams tomato paste
125-250 ml water
2 teaspoons dried basil
1 teaspoon dried oregano
1/2 teaspoon salt
1/2 teaspoon pepper
Lasagna noodles
1 egg, beaten
400 grams cottage cheese
2 tablespoons sour cream
1 tablespoon dried parsley
Hard cheese, grated
Parmesan cheese, grated (optional)
How to cook:
Read More
I am sorry about the lack of updates, life and work got in the way, once again. It's the end of the year, so things are a bit mental. It should be a lot better in January though..
But I saw this tag on Gio's Beautiful With Brains blog, and I thought that'd be a good one for a little update.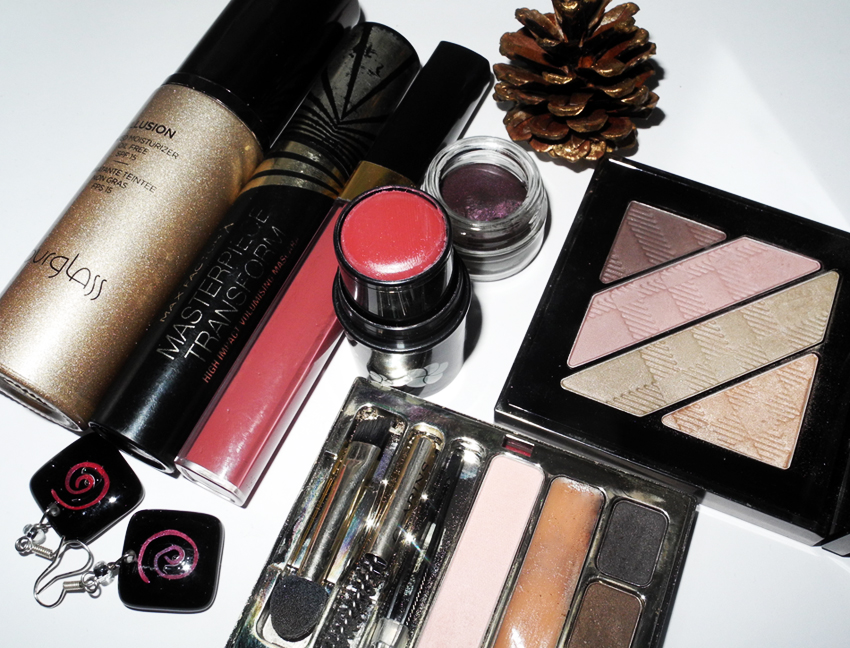 1. Which product do you still keep buying more of despite having plenty in your collection?
Red nail polish and pink baby pink lip glosses – those are my must haves, and I am always looking for a better option.
2. What is the one product that you can not live without?
I assume that we are talking about makeup, not beauty in general – so that'd be this brown eye pencil.
3. Favorite Makeup Brand?
It's a very hard question. Maybe BECCA?
4. How big is your makeup collection?
I'd like to think that my personal makeup collection is not that big. But since I also do makeup in my free time, as a hobby and as an extra income – I do own more than I
Read More
Just a heads up that Cult Beauty have an amazing gift with purchase, just in time to do your Christmas shopping.
If I only knew about it earlier… The funny thing that I have just ordered some products last week (Costes, REN and Oskia), so I feel a bit sad. But you can still take advantage of the offer! Just hurry up, as these goody bags (worth£175!)  fly off the shelves.
To qualify you just need to spend £100. And, trust me, with such an amazing selection of brands – that is very easy.
Moreover, I have some Black Friday codes for you, too:
Read More