This year I've decided to celebrate St Patrick's Day properly. I am wearing my Guiness t-shirt and green jeans.  I know, I know. And also green eye shadows and nail polish. And, yes, I am also going to the party this evening. Bring it on!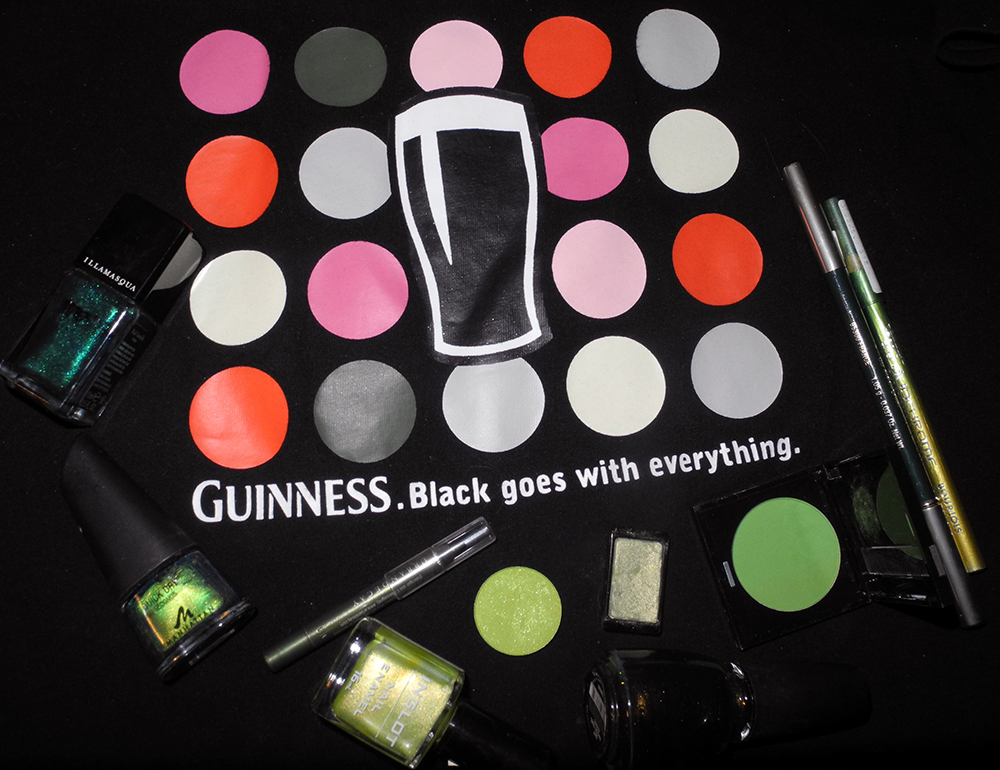 Since it's all about green, I thought I'd share my favourite green nail polish - Illamasqua Viridian, and eye shadow – ArtDeco 247.
Read More
What's the best way to start Spring? Of course, with some beauty shopping. To celebrate the new season Cult Beauty launched this amazing Goody Bag. All the details and products featured see below. I am thrilled to see that they have included my favourite shampoo ever from Philip B.
Also, I finally had some time to catch up on the makeup looks from the Fashion Weeks (yes, I love close-ups of those looks, unlike many), I have to admit that some of them were truly inspiring.  Here is the one from Fendi, how cool does it
Read More
Today Makeup4all turns 6 years old which is pretty incredible!
I would like to thank you all for visiting, reading and commenting. I can truly call some of you my on-line friends now. Special thank you to Jane, Lisa, Daniel, Farrah, Nadin, and many others.  I would also love to thank all the brands and PRs who have been working with me during all these years.
Beauty surely makes life better
By the way, I was really touched that one of my best friends got me this shower gel as a present for the blog Birthday today.
To celebrate I will have a small giveaway later this month, so stay tuned.
I also have  gathered a lot of material and exciting interviews for the new magazine, yes really, and plan a re-design which I have been wanting for ages now. I just need to find time for that now, so wish me luck
Read More
Here is the list of the beauty products that I plan to buy in February, and it is only beauty, but I will share my makeup wish list, too.
Rituals Fortune Oil Caring Shower Oil  (here for £8.50)
My skin is very dry and sore in this cold weather. And I do like a shower oil (this L'Occitane one is amazing), so I thought I'd give this one a try.  Plus, it is very affordable, and I like Rituals in general, so have high hopes for this product.
Ole Henriksen pure truth melting cleanser  (here for £24)
I wrote about this cleanser months ago. And now, that I have finished some of mine, I can go ahead and buy myself one. "Ultra hydrating 3 in 1 cleanser that transforms from a gel to a luxurious oil to a hydrating milk. Rich in Vitamin C, Rose Hip, and
Read More
Who does love lasagna? I am still yet to  meet that person… This is why I thought I'd share on of my favourite recipes of this dish that I've got from a friend;  and she is my personal cooking inspiration.
I am sorry for that this photo is definitely not appetizing but it's the only one I have.
Ingredients:
340 grams ground beef
1 medium onion, chopped
2 cloves garlic, chopped small or pressed
400 grams canned, chopped tomatoes
150 grams tomato paste
125-250 ml water
2 teaspoons dried basil
1 teaspoon dried oregano
1/2 teaspoon salt
1/2 teaspoon pepper
Lasagna noodles
1 egg, beaten
400 grams cottage cheese
2 tablespoons sour cream
1 tablespoon dried parsley
Hard cheese, grated
Parmesan cheese, grated (optional)
How to cook:
Read More