It was my Birthday  yesterday, and I thought I'd share some photos with you…
Here is a photo of this year's flowers, beautiful purplish tulips, and also a quick introduction to Tom Ford's Bruised Plum lipstick.
Marc Jacobs Nail Enamored Hi-Shine Nail Lacquer in Lola in all it's glory and the
Read More
This is a sponsored post
Today I want to share about Fabagora, which is a destination for anyone who loves jewelry.
To introduce the website, I've decided to ask Kevin Hamilton, the owner and founder, some questions.
Makeup4all: " Could you please tell us more about Fabagora? What inspired you to start it?  Can you share your experience with us?"
Kevin: "The idea for the company came from me and my mother's desire to work together. We wanted to bring our experiences together for a long time and we found that online jewelry was such a perfect market for the two of us. I brought a lot of personal knowledge and experience in ecommerce, online marketing, technology and corporate ownership while she brings a lot of personal experience in accounting, fashion, and jewelry. Together we were able to launch Fabagora with some really amazing deals. We've had quite a bit of success and we're always looking for ways to improve! It's really been an incredible experience to bring such an amazing product to market with someone that I care so much about. It changes our perspective on business. We're not looking to take advantage of anyone. Our goal isn't about being as profitable as we can. We want everyone to enjoy our products! We've been blessed the past year to live comfortable while thoroughly enjoying what we do! We're so thankful for that opportunity."
Makeup4all: "What are the best seller items? What, in your opinion, is the reason for that?"
Kevin: "These products literally
Read More
This week  I lost my favourite hat which made me very upset… I do have several other ones but they don't suit me that well, in my opinion. But I already managed to buy a new one, even with 50% discount,  since it's the end of the season, which is great.
I thought I'd also share some other updates about films/books/food.
Books
I love classics, and it's not that often that I really enjoy best-sellers of these days. I am currently reading  Henry Miller. Just finished Tropic of Cancer and started Black Spring.  But I've decided to give Divergent  trilogy a go (already have the first book on my Kindle). I also want to read Half Bad by Sally Green which is out this Monday.
And what was the last book that you loved?
Films:
This week I finally watched American Hustle  and
Read More
I really like  this beauty story from LOOK magazine with Sif Augustdottir. All looks are pretty cool.
I am not a fan of nail art but this simple two-toned manicure looks nice, I would love black and red variant. I also like the liner on the lower lash line, I remember I would always use eye pencil  there in my late teens, and these days I prefer liner on the upper lash line, actually.
The eye makeup for the second look is just gorgeous!  I wish I knew what products were used.  The bright hot lips look amazing, as well.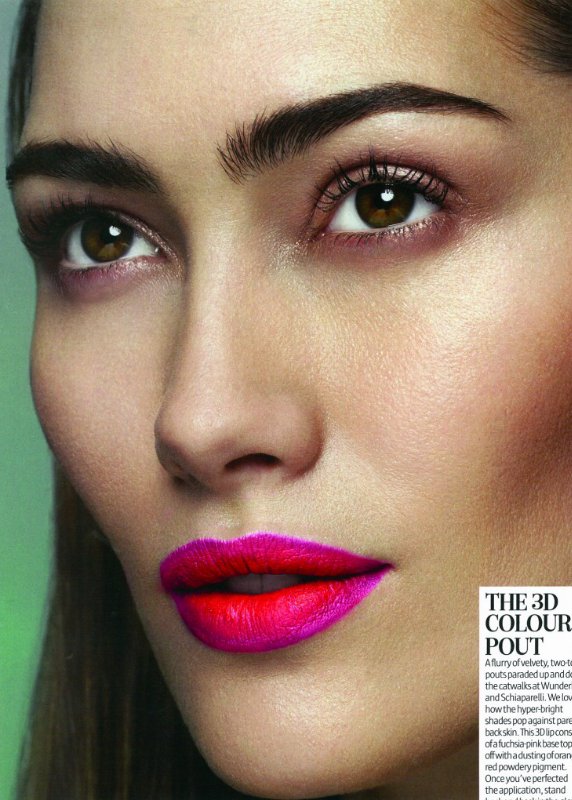 The third look is
Read More
Today Makeup4all turns 5,
so it is a great  reason to celebrate. So, as a thank you, I am giving away 5 beauty products that I personally really love (details about all the products included).
How to Enter:
I would really love to improve Makeup4all this year, in fact, I should start working on the new design soon. And, of course, I'd love to improve the content!
So in the comments section below leave me a comment saying what kind of posts you enjoy the most/find most useful and why? And also what kind of posts you'd like to see in the future, and also explain.
I will pick the winner myself, not randomly, based on how helpful (in my opinion) the comment was, so please consider that when you are  answering.  Also please make sure that you use a valid  e-mail, so that I can contact you, if you're the lucky winner.
Moreover, you can  win some additional prizes (and I promise something nice) by:
If you do like/follow me on any of the mentioned accounts, leave your user name, as well, so that I can add the prizes, in case you win.
The giveaway is open Internationally, until the 24th of February.
Update – the giveaway is now open till the 1st of March.
The prize:
1.  Kate
Read More