I am sorry that there haven't been that many updates recently, as work and live got into the way. But I promise to post, as I usually do, when I get more free time.
And here is just a quick update from me, it's a photo from my Instagram actually.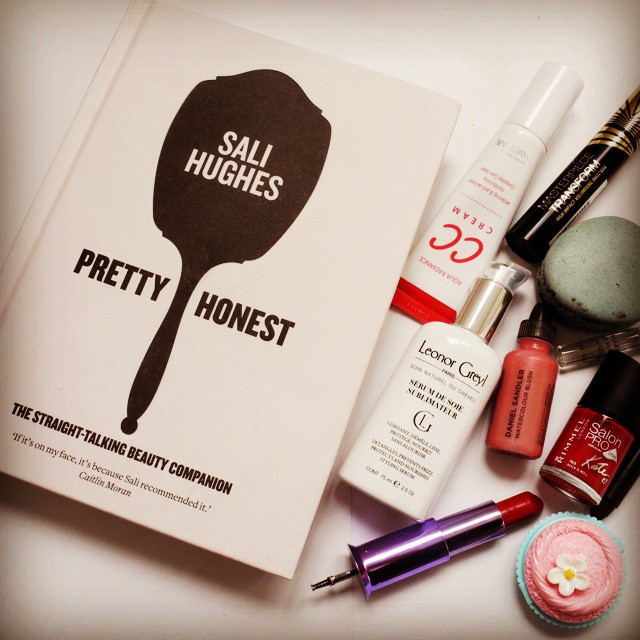 I am currently reading Sali Hughes' Pretty Honest  book which
Read More
I have been browsing  Pinterest (You can follow me here) a lot lately looking for inspiration. And here are some images that caught my attention, in no particular order.
Unfortunately, I don't know the original source.
I am not the one for glam and glitter, but this image – I love, it sets me in the mood for a New Year's party!
L'Express Styles October 2014. I used to underline my lower line all the time in my late teens/early twenties. Not this dramatically, of course… Such a beautiful and fierce look. Need to re-create it for an appropriate occasion.
I've been having a thing for veils and flowers in hair lately. Need to get something for myself, I think. With such an
Read More
If you have been following Makeup4all for some time now, you already know that  Liberty London Girl is a big inspiration for me!   In fact, here is a post from 2011.
I was hoping that one day Sasha will bring out a book. And she did! Of course, I had to buy it…
Her first book (why, yes, I am hoping for more in the future) is about cooking and tips on preparing delicious, but not complicated meals and serving them (think throwing parties!).
She basically covers all main topics, as you can see from the contents below.
This book is a total joy to have. I love Sasha's writing style, the photos are aesthetically pleasing, and you don't need to go to Mars to find the ingredients.
Below you can see some examples of the dishes
Read More
I wanted to try this recipe for months, if not years. And I am not being dramatic here
People were raving about it, and I was always afraid that I may not like it, but little did I know. It is as good, as everyone says it is. So what salad am I talking about? The  already cult watermelon and feta one. I have seen  quite a few variations but decided to try the basic one:
My photo doesn't give it justice but I was too hungry to do all the styling etc
So, what do you need for it?
Read More
I know that a lot of you always ask me to post personal posts from time to time. So here are some photos from my summer holiday. Several years ago I did a feature about beauty only. But this time I've decided to cover some other aspects, too. Some scenery photos, food, books, and cats, of course. Just as I like it
This year I was in Greece, and it was absolutely wonderful. Of course, I have tonnes of photos, so here are just a few, to give you an idea of how it was like. Oh, and can I go back, please?
I did not want to go to a very touristy place, so we've chosen a small local village with the beach that had a view of Olympus. I can totally tell why the gods lived there, the whole area is magical and special in every way possible.
Although for me a holiday is beach, food and a book (don't judge), I've made an effort to visit some other places, too.  My favourite has to be  a small village – P.Pandeleimonas. We were there on a rainy day, but it was still absolutely breathtaking…
How could I not include a photo of
Read More