As I have already mentioned, I do not get excited for celebrity beauty collaborations that often. However, I am all in if Victoria Beckham has anything to do with it.
And here is finally a preview of the collection which Victoria posted herself!
What do you think? It looks very chic to me, in fact, it looks more like  Tom Ford beauty than Estee Lauder.
And, although
Read More
I have to admit that I am slightly obsessed with dystopian novels, and  love all those futuristic and manus x machina themes. And, yes, I do have a board on Pinterest.
It may have something to do with the fact that I did culture studies back at uni and read lots of philosophical theories on the subject.  Whatever it is, I have been always fascinated with the futuristic beauty.
Here is actually a photo I've posted on Instagram recently.

The products shown are:
And here are also some kick ass beauty looks from the relatively recent  MET Gala, how
Read More
I am not really someone who is very into celebrities but if you follow me on Pinterest , you could notice that I have a board called Girls where I pin photos of my girl crushes.
Zoë Kravitz and Victoria Beckham often appear in that folder: Zoë is like the most gorgeous and stylish girl ever and Victoria is someone I liked since the Spice Girls era. This is why both news I find to be amazing.
What news exactly?
Apparently, Victoria Beckham collaborated with Estee Lauder, and above she is wearing the products which will be available in several months. Here is what she wrote on her Instagram:
Read More
It's time for March favourites! Can you believe that 1/3 of Spring is already behind?
Let's start with makeup, this month I have a good mix of products price-wise, from affordable Rimmel and Max Factor, to a high-end Rouge Bunny Rouge and uber luxurious Omorovicza.
Makeup
Bobbi Brown Natural Brow Shaper & Hair Touch Up in Slate (review)
This is still the only brow product that I use on a daily basis. It makes the brows look fuller, tints them and holds them in place. This is love.
Omorovicza Complexion Perfector BB SPF 20 (review and swatches)
This month I have re-discovered my love for this base. It is like a good looking skin in a bottle. The skin is glowing and radiant, and the  tone is evened out and perfected.  I have written a very detailed review in the past, so you are welcome to take a look.
Max Factor Creme Puff Blush in Alluring Rose (review and face swatches)
This is still my favourite blusher, just like last month. Alluring Rose is a gorgeous warm nude with a spot-on radiance effect. It lifts the face instantly, I'd recommend these blushes to everyone.
Max Factor Colour Elixir Gloss Nude Pomade in 10 Pristine Nude (review and lip swatches)
This gloss  has
Read More
First of all,  please excuse the lack of posts this week, I did not have time to update as often, as I usually do. But I think that next week everything will be back to normal.
But I did not want to miss the Photo Of The Weekend, plus there is something I really wanted to share.
Ok, this is technically not my photo but… When I watch a film/ TV show, I always look at makeup/hair/nails, of course.
And below you can see Cameron Diaz  in The Counselor.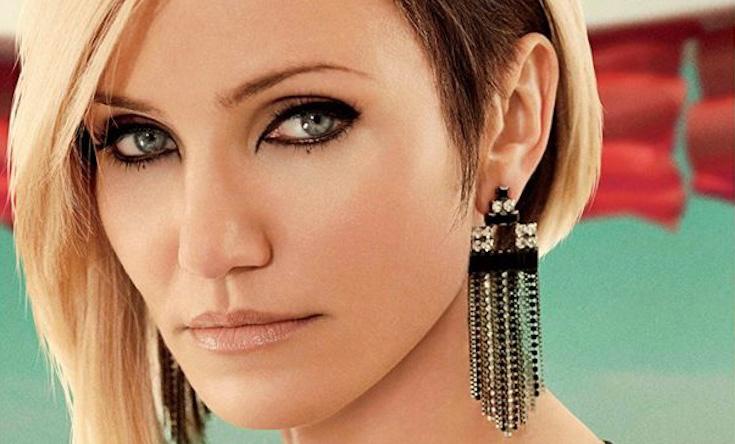 I don't want to give away the plot, but such image really suited Malkina,  Cameron's character. I loved the attention to the details. Her silver  nails, undercut, massive accessories,  and her amazing wicked eye liner and a dot on the
Read More