This is the best video that I've seen in a long time! As a person who studied arts and culture, supports alternative culture and  loves Illamasqua and makeup in general  I was very happy to see it!
Be sure to watch it to understand more about the development of the Illamasqua and makeup in general. I hope you will enjoy it as much as I did!  I will be very happy to hear your thoughts!
Read More
I love vintage and old makeup ads, they are so inspiring and it's nice to  see how the art of makeup has developed. Even if you look at the makeup ads which were made 5 years ago you can see a huge difference!
I have so many of them so I've picked some to share with you.  If you have  any vintage or old makeup ads or just those that you like a lot – I'd be very happy if you could share with us!
This is an old Maybelline ad (1952?)
Revlon 1952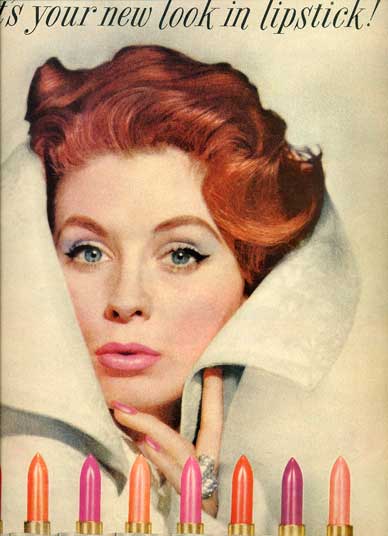 Chanel
Carla Bruni for Givenchy
Read More
Last week I've made a post about 20's and here is the video with "some of the earliest colour motion pictures that you will ever see."
I always love  looking at the makeup and outfits that women used to wear in the past.
Hope you will enjoy it and will be inspired as well. See the video
Read More
I found this very interesting article about Lipstick Trends Through The Decades. Hope you enjoy it
According to Li Edelkoort, one of the world's best known trend forecasters, there is an interesting connection between body, lips, and time frame , included by focus and proportion. Many factors come into play when analyzing lipstick trends: emphasis on particular body parts, celebrities of the time, and most importantly, the economic and financial status of American society in general. Perhaps you knew that the length of a woman's skirt is dependent upon the economy, but who knew the color and shape of a woman's lips could be so telling of the times?
The 20's – Prohibition and Rebellion
A matte-finished, heart-shaped mouth is the expression of the seductive,coquettish woman of the Roaring Twenties. Taking their cue from the scornedyet-sought-after flapper, women go out to dance, drink illicitly distilled whiskey, and push the envelope of their independence. Black and white movies present the mouth in daring, feminine shapes–the "cupids bow" style of Clara Bow, the "vamp's lips" of Theda Bara, and the sexy "bee-stung" lips of Mae Murray. Edelkoort notes that because the focal body part of the time period is the legs, "breasts are smallish, and girls are boyish." Eyes are large and lips are thin. Lip colors are black and garnet red.
Read More