This is a guest sponsored content
You only have to read your favourite magazines to know that even the most beautiful women feel as though they have flaws. It's good to know that celebrities have the same worries as ordinary women. Since we all tend to have the same few problems, there are loads of solutions that we can share with one another.
Bad skin
When you have poor skin you don't feel beautiful but there are ways to combat it. If you suffer from spots, blackheads or dullness, exfoliating can help. There are plenty of exfoliating products available so you can find one that suits you. Dry skin can be painful and develop redness as well as feeling unpleasant to the touch. Moisturising keeps your skin supple and smooth, but if you use too much cream or the wrong one for your skin type you could develop clogged pores. Some people use a body oil which can be rubbed or sprayed on and tends to be lighter and more easily absorbed.
Looking pasty
If you are too pale, it can make you look tired and unhealthy, even if you're in great shape! The perfect way to give your skin a boost is to get yourself a year-round tan without ever needing to go near a beach or a sun bed by applying fake tan. With some very effective home tanning products available, it's easy to get a sun-kissed glow that is the perfect base for minimal make up or for when you go bare-faced. Just make sure you exfoliate before you use the tan so it will go on smoothly and have a good finish.
Uneven tones
Very few women are lucky enough to have evenly pigmented skin over their whole face. Most of us have dark circles under our eyes or redness on or around the nose or chin at least some of the time. Using concealer before applying any other make-up is an easy way to deal with this; give it plenty of time to soak in before applying anything else or it is likely to
Read More
Holidays are almost here, and one of my personal favourite thing is the fact that I have more time (than usual) to sit down and enjoy a  good book.
If you follow me on Twitter, you may have noticed that I tweet #CurrentlyReading from time  to time. Most of the times, I use my Kindle, but sometimes I do read a  real paper book.
Here are books that are currently on my reading list. I actually already have them all waiting for my attention.
1.  Henry Miller. A very special friend of mine got me a huge edition with three of his novels.  I plan to start reading after I finish my current book which is On The Road by Jack Kerouac.
2. Knut Hamsun. My friends know that I love Scandinavian literature. So this was a present, as well.
3. Julio Cortázar 62: A Model
Read More
First of all,  please excuse the lack of posts this week, I did not have time to update as often, as I usually do. But I think that next week everything will be back to normal.
But I did not want to miss the Photo Of The Weekend, plus there is something I really wanted to share.
Ok, this is technically not my photo but… When I watch a film/ TV show, I always look at makeup/hair/nails, of course.
And below you can see Cameron Diaz  in The Counselor.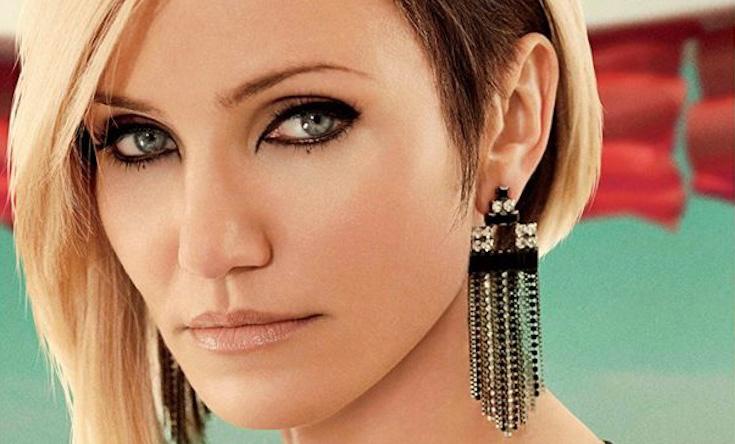 I don't want to give away the plot, but such image really suited Malkina,  Cameron's character. I loved the attention to the details. Her silver  nails, undercut, massive accessories,  and her amazing wicked eye liner and a dot on the
Read More
This is a sponsored post
Celebrities have the time to devote themselves to their health and fitness routines, and the money  to buy the most expensive creams and unguents available, yet many of them swear by skincare  routines that involve ingredients that can be found in the pantry. From almond oil to avocados,  some of the stars' most unusual, yet best-loved, treatments can be whipped up at the kitchen sink.
Acne Treatments
Actress and former model Cameron Diaz has fought a well-publicised battle with acne. Yet, despite  the vast array of expensive face creams and ointments available, she is said to be a devotee of  using powdered milk as an exfoliant – apparently, if rubbed over damp skin, it acts as a gentle but effective facial scrub. Tyra Banks also suffers from acne breakouts but she makes a paste from baking soda and water to zap the zits, whereas Jennifer Love Hewitt prefers to apply toothpaste to a pimple to reduce the blemish as she sleeps. Brown sugar is one of the gentlest exfoliants to be found in the kitchen and, mixed with honey to form a paste, is the type of fix used by Hayden  Panettiere when her skin needs a little extra TLC.
Face Masks
Audrina Partridge, star of MTV's The Hills, makes a pumpkin, honey and milk paste to load her  skin with vitamins and nutrients – mixing two teaspoons of cooked pumpkin, half a teaspoon of  honey and a quarter teaspoon of milk to make a fine paste, she leaves the mask on for 15 minutes before rinsing it off with cold water. Award winners Catherine Zeta Jones and Julia Roberts also use honey, both slathering it on their faces to reduce dryness and enhance their complexions, whereas singer Katy Perry prefers to apply face masks consisting of
Read More
*This is a sponsored post
Who doesn't want a good looking skin and an even complexion? One of the problems of our time is hyper pigmentation, which can  be the reason why a lot of women (and men) get upset. Mainly because it's not the easiest problem to solve, and because it may take a lot of time to conceal. Since the way we look  often affects the way we feel, a lot of people are willing to try radical, expensive and often harmful methods when it comes  to hyper pigmentation.
But what causes it and what are the forms?
The hyper pigmentation can be due to an accumulation of melanin (hypermelanosis) or originate from darkening causes (blood, exogenous pigment, carotene);
  Hypermelanosis congenital: neurofibromatosis, xeroderma pigmentosum and Mongolian spots;
  Hypermelanosis acquired: secondary to systemic diseases, drugs, UV, posttraumatic results or treatments; age spots
Among the melanic hyperpigmentations, melasma is the most common form.
 And what is the solution?
Of course, it is always better to prevent but of you already have the hyperpigmentation, what should you do? Is there an ingredient/product that is effective, not harmful and doesn't cost a fortune?
Here is a little bit of the scientific information for you:
"Historically, hydroquinone is the most used substance in skin whitening treatments. Concentrations of hydroquinone up to 8% – 10% turned out to be very dangerous for the human health. Due to an indiscriminate use and to its CARCENOGIC effects, hydroquinone has been banned by the European Union (The 24th Directive 2000/6/EC) and by other countries, such as Australia and South Africa. 
Pidobenzone is a 2nd generation molecule as
Read More