This is a sponsored post
Today I want to share about Fabagora, which is a destination for anyone who loves jewelry.
To introduce the website, I've decided to ask Kevin Hamilton, the owner and founder, some questions.
Makeup4all: " Could you please tell us more about Fabagora? What inspired you to start it?  Can you share your experience with us?"
Kevin: "The idea for the company came from me and my mother's desire to work together. We wanted to bring our experiences together for a long time and we found that online jewelry was such a perfect market for the two of us. I brought a lot of personal knowledge and experience in ecommerce, online marketing, technology and corporate ownership while she brings a lot of personal experience in accounting, fashion, and jewelry. Together we were able to launch Fabagora with some really amazing deals. We've had quite a bit of success and we're always looking for ways to improve! It's really been an incredible experience to bring such an amazing product to market with someone that I care so much about. It changes our perspective on business. We're not looking to take advantage of anyone. Our goal isn't about being as profitable as we can. We want everyone to enjoy our products! We've been blessed the past year to live comfortable while thoroughly enjoying what we do! We're so thankful for that opportunity."
Makeup4all: "What are the best seller items? What, in your opinion, is the reason for that?"
Kevin: "These products literally
Read More
I really like  this beauty story from LOOK magazine with Sif Augustdottir. All looks are pretty cool.
I am not a fan of nail art but this simple two-toned manicure looks nice, I would love black and red variant. I also like the liner on the lower lash line, I remember I would always use eye pencil  there in my late teens, and these days I prefer liner on the upper lash line, actually.
The eye makeup for the second look is just gorgeous!  I wish I knew what products were used.  The bright hot lips look amazing, as well.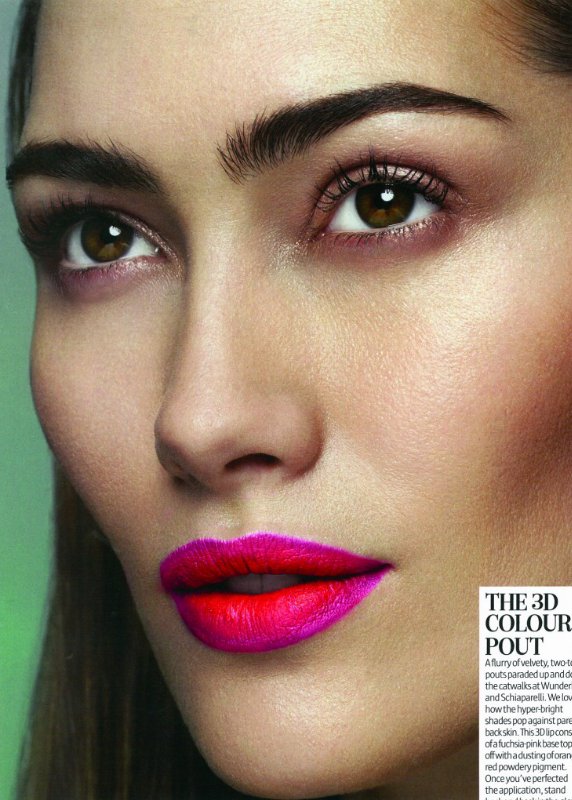 The third look is
Read More
There are no words to describe how much I love this new Balenciage SS14 ad shot by Steven Klein with my ultimate girl crush – Daria Werbowy.
Those glossy lids, defined brows, killer cheekbones and drop-dead gorgeous deep vampy lip shade.  I also like the fact that the manicure doesn't draw attention from the makeup, and the style in general.
The sleeked back platinum hair completes this perfect beauty image.  Out of all the campaigns I've seen recently, this one impressed me the most.
Besides the beauty side of this image, I love the colours, style and the idea. And the clothes, of course, as, after all, it's all about them…
Here are more photos for you to enjoy.
And
Read More
Today's post is a bit different from what I usually post, but I just wanted to share.
Yesterday I've spent several hours going through my makeup and beauty products. And having more "OMG WHY DID I EVER BUY THIS?!" moments than I'd like to admit.
The thing is that I wanted to: a) organize things better, b) give away some stuff  to my aunt; she asked, c) throw away products that have gone bad/I don't need etc.
And here is what I've found. One of my favourite "blushers" from six or seven years ago.  It is 
Read More
I was actually curious to see what post were most popular in 2013, thirteen most viewed to be exact.
It was a bit surprising  that the most viewed feature of 2013 was Kate Moss Rimmel Lipstick Review No2 (review).
The next most viewed post was, and it is not surprising, was a photo of this nude palettes (photo)
A lot of people wanted to know about the Blair Waldorf's makeup. The show  has already ended but a lot of you are still fans of it.
Although Guerlain actually re-launched their meteorites, the post about the old meteorites still gets a lot of attention.
Clarins' Loose Powder Foundation  - the most viewed post about the foundation in 2013.
Looks like lipstick posts are the most popular, such as MAC's Blankety and Revlon's Matte Lipstick in Pink Pout.
Emily Blunt is
Read More