August is the month when I always go on a holiday, and now I am back and not ready  to get back to life.  This year I was very proud of myself for not over-packing or taking any extra products.
Here is the makeup I had with me for two weeks, and I could actually take even less lip products, everything else I have used religiously.  If I had to pick 3 products I've used/loved the most that would be:
YSL Faux Cils Mascara – it is absolutely incredible, the best mascara ever.
Revlon Colorstay Liquid Eye Pen – most of the days I love my cat eye, and this happen to be the liner I am using now, I really love the shape of the nib which is incredibly easy to use.
Clarins Blush & Bronzing Compact (review and swatches) it is
Read More
Since I've just posted about the new eye brow gels, it seems like a perfect time to review the newest release from Rouge Bunny Rouge – their new eye brow products. I have actually already induced one of them in my July Monthly favourites. The brand does not bring out that many products so when they do – it is most likely something awesome. And what about these products?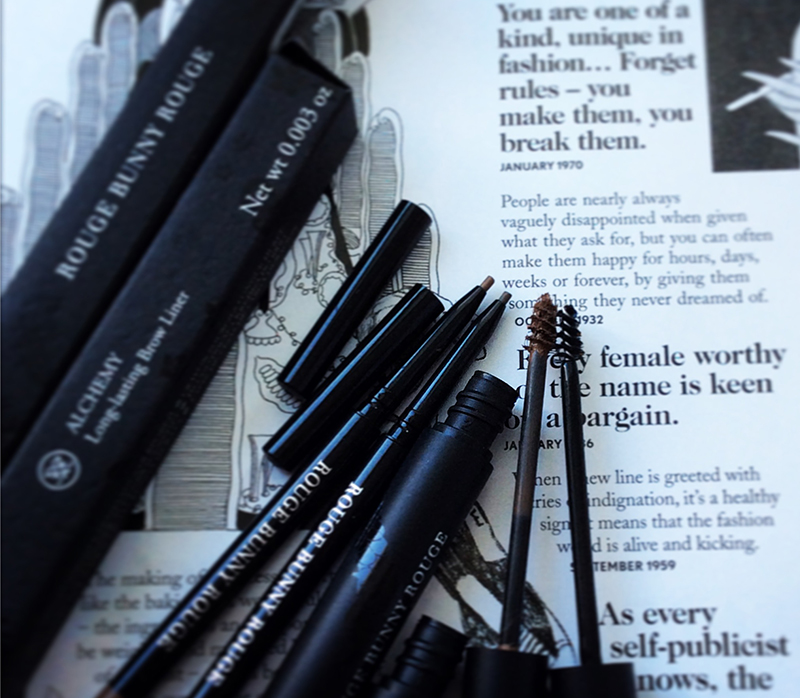 Long-lasting Brow Liner ALCHEMY, €26
Available in two shades:
 ANTIMONY, dark chestnut. Ideal neutral shade for dark brown and black natural brow colour.
TRONA, light hazelnut. Ideal neutral shade for almost any natural brow colour.
It was actually Antimony shades that was in my monthly favourites, and it is brilliant,  it is not  too cool or too warm,  it is also dark enough to add some definition but not too dark, just spot-on.
But it is the formula and the shape of the pencil that I love! As always, the design is exquisite,   this pencil comes in a slick black packaging. And the pencil itself is incredibly thin which allows a very precise application, you can draw in individual hairs and achieve really natural results. This is probably not the on-the-go product but it is
Read More
New week and month is a perfect time to share the new beauty purchases, isn't it?
I have actually posted all of them over at my Instagram but if you are not following me there, here is a round-up.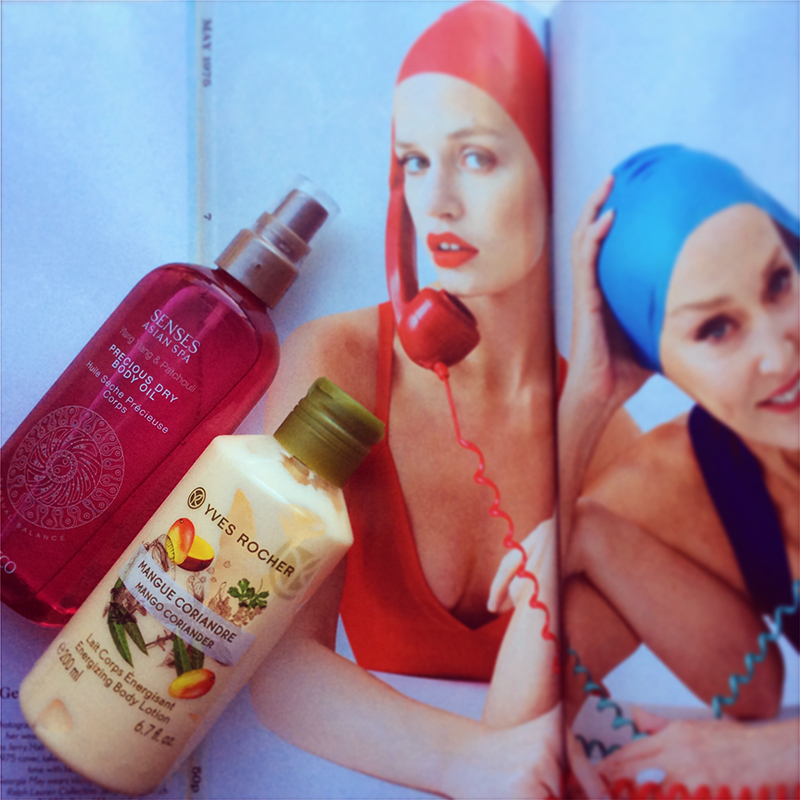 First of all, I have finished 3 body products so it was time go get some new ones, and this time I've decided to pick up yet another body oil – ArtDecoYlang Ylang and Patchouli Precious Dry Body Oil which was already included in my July beauty favourites.
I have also noticed that Yves Rocher updated their body line by changing the scent a bit, and since I love their body lotions and creams (especially this one) I have decided to get try the Mango Coriander, and it smells great.
I needed a new facial sunscreen, and got La Roche Posay Anthelios XL Ultra Light Fluid SPF 50. On the photo is actually my friend's tube but I loved it so much that I've got myself one, as well. It feels incredibly light and non greasy on the face, and
Read More
I have to say that I am loving exactly the same beauty and makeup products that I have been loving in June, I should only add a few extras.  If you can still get those Clarins eye shadows and bronzer – do it! I use both almost every single day, and don't want anything else. In fact, two of my girlfriends bought them after they've tried mine and got obsessed, as well.
The love for coffee body scrub, Color Wow hair Shellac and the bronzing drops is still going strong, too.
But here are the products that I would like to add to the list of favourites.
Makeup
L'Oreal Glam Shine in Dazzle 201 Sparkle Shower (review and lip swatches)
It seems like this was the only lip product I have been loving this month besides the lip balm. I've bought this gloss last July and almost used it up. It smells delicious, feels nice on the lips and looks ridiculously pretty with that multi-dimensional glitter effect. Can't get enough of it. And it is cheap, too.
Rouge Bunny Rouge Long-lasting Brow Liner ALCHEMY in Antimony 088
Rouge Bunny Rouge finally launched their eye brow collection which consists of four products: two eye brow pencils and two eye brow gels. I will write a detailed review with swatches soon but today I want to tell you about the Antimony eye brow pencil which is slim  and allows incredible precision. The shade is not warm which is perfect and the formula is soft but not smudgy. It was worth the wait!
Skincare
Garnier SkinActive Oil-Infused Micellar Cleansing Water
I've used up several bottles of the original Garnier micellar water and finally bought this one in July, and I am loving it. It cleanses the skin really well, without leaving an oily residue.  I also find
Read More
I am actually a big fan of Garnier products, it is definitely my favourite brand for very affordable stuff.  I was very excited when I first learned about the SkinActive Oil-Infused Micellar Cleansing Water as I have already used up several bottles of the regular micellar water at that point.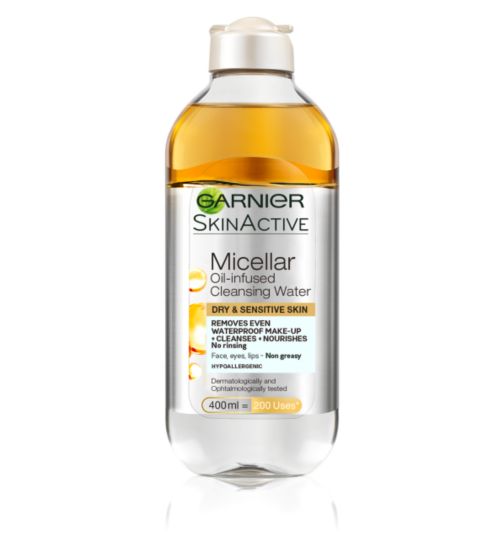 I've have been using the oil infused one for several weeks now, and it is as good as I've hoped it to be. I have very dry ans sensitive skin and I personally find that this version works better for me, I love that it cleanses  pretty well, is
Read More