I was asked about my Illamasqua lipsticks several times on Twitter so  I thought, why not featuring them all together?
I have four shades and have already written about each in details, so this is more of a round-up.
Before I start, I have to say that I really like the brand's lipsticks, they give an amazing colour pay-off and stay on really well.  Since they have a matte finish, make sure that you take a good care of your lips so that the lipstick doesn't enhance any dry patches and goes on smoothly.
Over
This coral with pink undertones, looks
Read More
I was very excited about the opportunity to try Jo Malone's (the lady, not the brand) fragrance creations which are a part of her new brand JO LOVES.
So far there are eight scents to choose from and I have them all. I have been wearing them for some time now, thinking about the associations I have and asking other people about their thoughts… So it's time to share my experinece and I will start with the Mango Collection.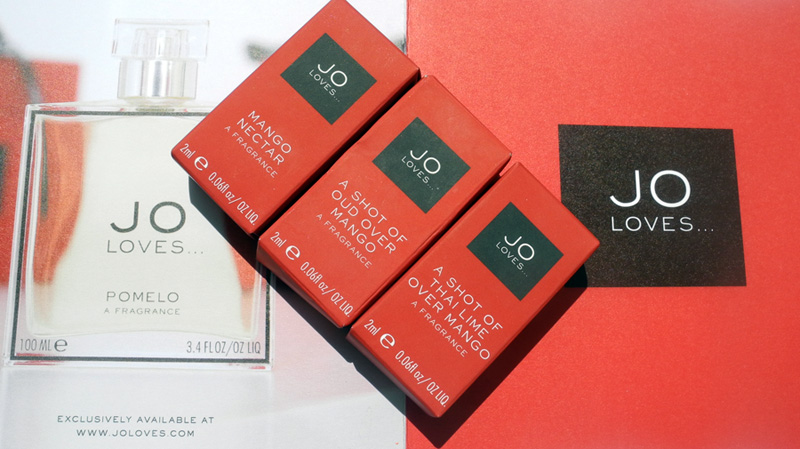 Mango Nectar
It is a sweet fruity and juicy fragrance; it definitely smells like mango and apricots, I almost want to eat it. It makes me think of warm summer days, white dresses, long walks near the river and tasty deserts. I'd say this would be a great fit for young dreamy girls or ladies that like sweet fruity scents.
Top: Bitter Orange, Pink Grapefruit, Mango Leaf
Heart: Mango Nectar, Apricot Blossom
Base: Jasmine, Musk
A Shot Of Oud Over Mango
I really loved this one and got a lot of compliments when I was wearing it. It is warm and feminine fragrance. I did not try that many oud fragrances, but this one is my favourite so far. It is not as sweet, as Mango Nectar but
Read More
I did a post about relatively subtle peachy coral makeup and since it got a lot of views, I've decided to do one about bright orange.
I am not exactly the biggest fan of bright orange (on myself); I prefer fuchsia, so I was surprised to see how many products I have. So I've decided to feature only four, like last time: for lips, eyes, cheeks and nails.
So here we go:
Inglot Nail Enamel 949
I absolutely adore this nail polish! I have several different Inglot shades and this one is the best, it brightens up even a dull outfit and lifts the mood. In fact, I wore it last week and got a lot of compliments. See it on the nails here.
Clarins Rouge Prodige Lipstick in 118 Clementine
I personally can wear this shade only in summer when I get some tan, as it's not the best choice for my light cool toned skin but with some tan, it's amazing. Keep the rest of the makeup minimum and add Clementine for a
Read More
Today I want to tell you about the Clarins One Step Gentle Exfoliating Cleanser which was the part of this set that I've bought for myself as a post-holidays treat.
Since it's a part of the Clarins' girls top 5 products, I had high expectations and it did not disappoint.
It is basically a face wash and scrub two-in-one which means that you do your cleansing in only one step, as the name suggests.
I find that it does a great job: removes all traces of makeup and cleanses the skin really well, without drying it out ( I have very dry skin and I could not believe that I did not have that "tight" feeling afterwards). Although, I usually prefer enzyme peels over scrubs, this one is rather gentle. I'd say it's spot on, not too "scrubby" but just good enough to exfoliate the skin.
I also like the lovely orange scent, which is a nice touch; this is especially awesome in the
Read More
This post is just a quick way to say "hi" and a "current mood" style.
I saw these pink carnations  the other week and I just could not resist getting them, they actually made me think of Carrie Bradshaw. Remember that episode?
I did not like flowers in the past but now I am kind of in the mood of getting a bouquet every week, flowers definitely cheer me up and improve my mood!
I have just spend several hours reading about different perfumes and
Read More