It's monthly favourites time!
Makeup
This month it was all about beautiful  skin for me. The mix of Elemis Pro-Radiance Illuminating Flash Balm (review) and Clarins HydraQuench Tinted Moisturizer  (review and swatches) was my dream combo. It made the skin smooth, radiant and youthful. And I mean it. I guess the fact that recently several (!) people  thought that I am 19-20 speaks for itself. Plus you could definitely see the "real skin" underneath, no cakey thick masks which are even worse than bad skin tone itself, in my opinion.
Since I wanted to keep things on the light-to-medium side -YSL Touche Eclat  (review and swatches) was my best friend, as well.  For me it is a perfect light reflecting product for under the eye area, you get great, long-lasting results, also Touche Eclat doesn't enhance the under eye lines.
August was definitely the month of
Read More
If you follow me on Instagram, you have already seen that I was sent some Clarins products from the AW collection to show you.
And I'd like to start with the 3 Dot liner which is now comes in Brown/Brun shade.  The black version got a lot of raves back in the way, and the brown one it just as good.
It gives a beautiful subtle definition to the eyes, doesn't look harsh in the daylight and is a great shade to start with for those who still need to practice their skills.  Brown is
Read More
Lately I haven't really been buying that many beauty & makeup products because a) nothing really caught my eye, and I did swatch quite a lot products recently b) I want to save some money to afford more travelling this year.
This is why I've bought only two beauty products for myself this month, I did get some nice products for friends and family, though.
So what are those?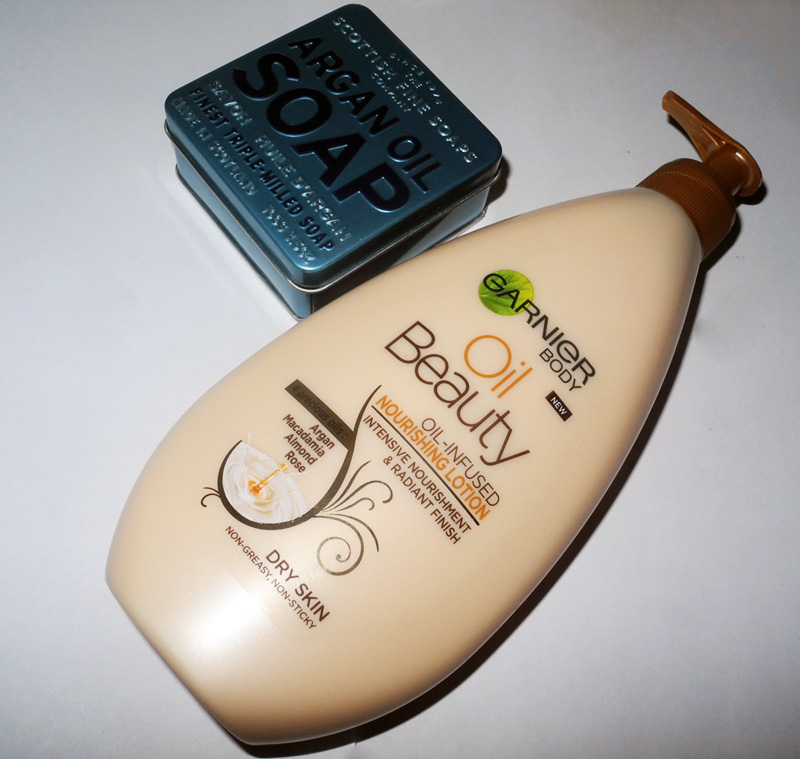 Garnier Oil Beauty Oil-Infused Nourishing Lotion 250ml (you can buy it here for £4.99)
I have a body scrub and an oil from this series and adore both, so thought  it was about time to pick up a body lotion, too. Garnier body creams are my favourite budget options for very dry skin, so I have big hopes for this one.
I have also picked up
Read More
I get a lot of requests for more personal posts and for more photos of myself…
Since I was away for two weeks (Yes, this is why I wasn't that active on Makeup4all's social media accounts, I just did not have time)  in Hungary to attended several seminars and studies ( nothing to do with beauty; but what I do in life, FYI) I've decided to try.
I thought that I'd show you a photo of the makeup that I took with me first. It is a lot more than any personal would need for two weeks. But to justify myself a) I wanted  to have options b) people often ask me for tips and mini-makeovers when they find out that I also do makeup in my free time.
Although I was always very tired, as I did have an intense program, spent more money than I should have,  managed to learn just about five Hungarian words, I absolutely loved my experience.  Not only I've had a very productive  time,  I also met some amazing people,  and somehow managed to find more time for sports, such as running and swimming, than I have at home.  Plus I did see quite a few beautiful places in the country…
My top three places/things would have to be:
Read More
I know that a lot of readers come to Makeup4all for all things Clarins, so here, as promised, is my guide to Clarins toners. I did a detailed review about each product, so this post will be a brief summery, you can read all the details by clicking the links.
Before we start, I'd like to mention that I have very dry and sensitive skin, and my age group is 26-30.
Toners
One-Step Facial Cleanser with Orange Extract (review)
Such an amazing orange scented product which gently cleanses the skin, leaves is super smooth, soft and glowing. A must have here. Will re-purchase in the future. Can I say once again that I love it?!
Clarins Water Comfort One-Step Cleanser with Peach Essential Water (review)
This is a nice product which
Read More