It's time for  June's favourites, and somehow this time it is all about Clarins. I have bought quite a few products from the brand and have been sent some samples, and most products were incredible. After all it is one of my favourite brands for a reason. There are also two beauty tools, self tanning drops and bath salts.
Here we go.
Makeup
Let's start with makeup, as there are only two products that really stood out to me. Technically three, but two are the same product just different shades. Clarins Blush & Bronzing Compact  (review and swatches) my love for this bronzer is still going strong. Now that I have a tan it looks amazing on, warms up the complexion and adds some definition.
As for the Clarins Waterproof Eyeshadow Shimmering Cream Colour (review and swatches) they are phenomenal, as I've already said. Extremely long-lasting and incredibly beautiful on the eyes. Just make sure you don't apply too much, as they can look a bit dry. I've been wearing  03 Silver Taupe at the end of May and beginning of June when I still had a very pale complexion but now  04 Copper Brown is my favourite. It looks perfect now, am I a bronze goddess already?
Body Products
June was
Read More
This post brought to you by Tree Hut . All opinions are 100% mine.
Summer is approaching, and we all want to look our best.  Besides working out and eating clean, firming body products are always a good idea!  This is why today I want to tell you about two new product by Tree Hut, their Italian Mocha Firming Sugar Scrub and Italian Mocha Firming Body Lotion.
Both products come in a  lovely forest green and brown packaging, both are very affordable (around $10 each), and they smell really nice. Tree Hut products are made in the USA, and are not tested on animals. I  personally don't drink coffee, bu even I like the scent, but my girlfriends who do love it, were head over heals about the scent.
So what else do you need to know about the products?
Italian Mocha Firming Sugar Scrub
Just wow, this is my personal favourite product from two. It is a sugar scrub with caffeine and coffee grounds, well known skin-firming ingredients. Besides those ingredients, you get the benefits of certified organic shea butter,  Safflower Seed Oil, Evening Primrose Oil, Sweet Almond Oil, Avocado Oil, Macadamia Seed Oil and Orange Oil.
This is why it exfoliates the skin properly, but at the same time doesn't leave
Read More
I've decided to try out some affordable skin and body care (to feature here, since a lot of people are always asking for the best money-saving products) so went out and bought quite a few Garnier products, since I really love a lot from them. In fact, my favourite cheap face and body creams are from the brand.
So today, I am finally going to tell you about my favourite not-expensive body scrub which I've picked up back in February.
And it is Garnier's Oil Beauty Oil-Infused Nourishing Scrub.
Let me tell you, I am very picky when it comes to body scrubs, and this one ticks all the boxes for me.
It has nice exfoliating particles which are not too tiny (I hate that sand paper feeling), but don't hurt the skin, on the other hand.
The scrub doesn't leave my skin feeling dry, since it contains four oils!Argan, Macadamia, Almond & Rose.  At the same time, because I have
Read More
Being a big fan of Elemis' Nourishing range, Shower Cream and Milk Bath are fantastic products, I had high hopes for their Nourishing Body Scrub.
Here is how it looks like, it comes in a chic dark blue tube which could also work for boys (which means that your man can borrow it when you don't know).
As for the product itself – I really love it! The texture is creamy and it sticks to the  skin, without falling all over the bath/shower and making a mess.  I personally use it on the dry skin and I don't need that much [product], so the tube will last me for some time.
The scrub contains natural exfoliators of rice, bamboo and bora bora sand which are exfoliating  enough (just how I love it, I personally don't like when scrubs are too smooth, know what I mean?) but
Read More
If you are a regular reader, you probably know that I am not a big fan of scrubs with very small particles and love my body scrubs to be really exfoliating but gentle.
Philosophy Pure Grace Hot Salt Scrub is the kind of scrub that I like.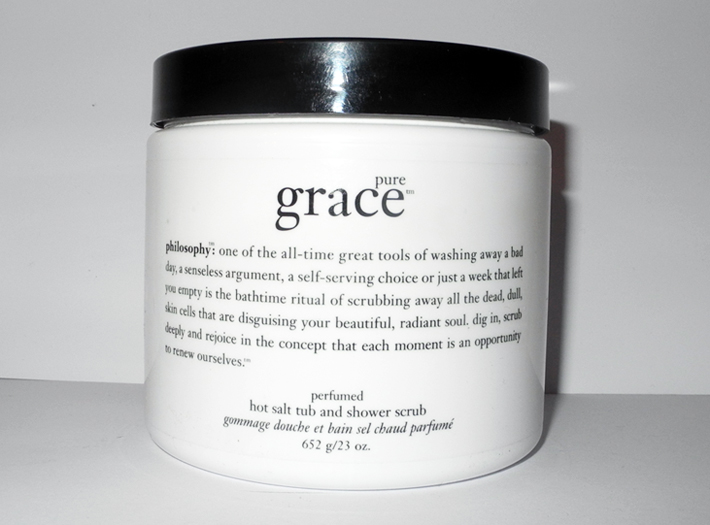 The coolest thing about this scrub is that it warms up when you rub it in your (dry) skin for one-two minutes, as the  brand suggests.
It leaves the skin silky and smooth – exactly what  we want from a scrub. I would say that it does help battle the dryness on knees and elbows, too.  I also find that my creams absorb  better  after this scrub.
The scent is not overwhelming and is not intense, so
Read More