I've decided to try out some affordable skin and body care (to feature here, since a lot of people are always asking for the best money-saving products) so went out and bought quite a few Garnier products, since I really love a lot from them. In fact, my favourite cheap face and body creams are from the brand.
So today, I am finally going to tell you about my favourite not-expensive body scrub which I've picked up back in February.
And it is Garnier's Oil Beauty Oil-Infused Nourishing Scrub.
Let me tell you, I am very picky when it comes to body scrubs, and this one ticks all the boxes for me.
It has nice exfoliating particles which are not too tiny (I hate that sand paper feeling), but don't hurt the skin, on the other hand.
The scrub doesn't leave my skin feeling dry, since it contains four oils!Argan, Macadamia, Almond & Rose.  At the same time, because I have
Read More
Being a big fan of Elemis' Nourishing range, Shower Cream and Milk Bath are fantastic products, I had high hopes for their Nourishing Body Scrub.
Here is how it looks like, it comes in a chic dark blue tube which could also work for boys (which means that your man can borrow it when you don't know).
As for the product itself – I really love it! The texture is creamy and it sticks to the  skin, without falling all over the bath/shower and making a mess.  I personally use it on the dry skin and I don't need that much [product], so the tube will last me for some time.
The scrub contains natural exfoliators of rice, bamboo and bora bora sand which are exfoliating  enough (just how I love it, I personally don't like when scrubs are too smooth, know what I mean?) but
Read More
If you are a regular reader, you probably know that I am not a big fan of scrubs with very small particles and love my body scrubs to be really exfoliating but gentle.
Philosophy Pure Grace Hot Salt Scrub is the kind of scrub that I like.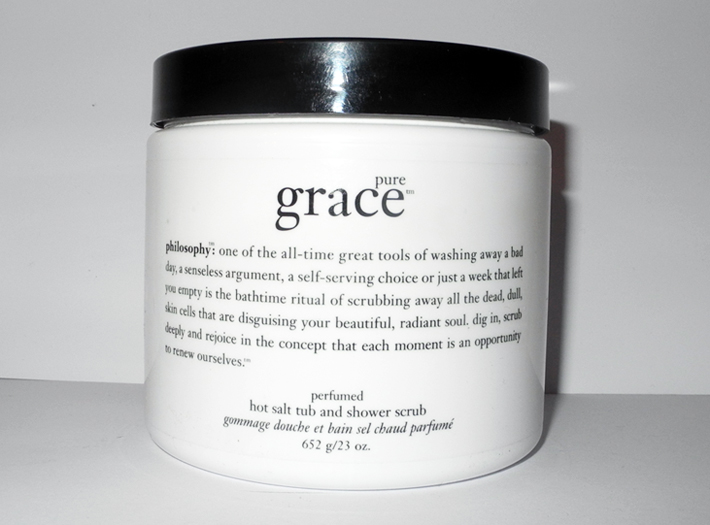 The coolest thing about this scrub is that it warms up when you rub it in your (dry) skin for one-two minutes, as the  brand suggests.
It leaves the skin silky and smooth – exactly what  we want from a scrub. I would say that it does help battle the dryness on knees and elbows, too.  I also find that my creams absorb  better  after this scrub.
The scent is not overwhelming and is not intense, so
Read More
I really liked this post at Modesty Brown about Jane's shower essentials, so I thought I'd show you what I have been using this week. I have tones of products for bath/shower as I love variety but I've narrowed them down to seven.
Can you guess what brands I have been loving lately?
1. Cowshed Cowlick Gentle Shampoo
This shampoo smells absolutely amazing (lemon & ylang ylang) and it does leave my hair clean and shiny, however it gets greasy faster than I would like. Maybe it suits people with dryer hair better?
2. Philip Kingsley Elastisizer
This is a cult product and I have finally decided to try it! I have used it only three times but so far, so good. Will let you know my thoughts about it later.
3. Cowshed Lazy Cow Soothing Bath and Body Oil
This is a great multi-porpoise product as it can be used as a bath oil and body oil. It does make the skin softer and smells great.  I have got it to treat myself and am happy with my purchase, as it is a truly luxurious product. Expect a post about it in the future!
4. Cowshed Knackered Cow Soap
Maybe not the most attractive photo as it is properly used, but I am in love with these Cowshed soap I have got some time ago. I actually plan to try all the others (there are three more) from the range.  They don't dry out my skin but leave it clean, would
Read More
I love a good body scrub and I  do love Clarins. Clarins make two body scrubs: Toning Body Polisher and Smoothing Body Scrub , and I actually have both.
They both are very different but both are brilliant. So which one is the best for you?
Toning Body Polisher, £30/$40 for 200 ml
This is my personal favoutite and there are a lot of reasons for that. First of all, I love the texture, it's  a mix of  sugar, salt crystals and essential body oils.  I love how super smooth and silky my skin feels afterwards. I personally use it on the dry skin and the effect is fantastic. Plus you don't need that much, which I was surprised about, as usually with a similar texture, you end up using lots of product.
One more thing that I absolutely have to mention is the scent! I love heavily scented body products so this one is a perfect one for me! It combines essential oils of Rosemary, Rosewood and Mint. And it is strong! But I personally find that it lifts my spirit and improves my mood. I can feel the aroma of the scrub even  in the other rooms and it stays in the bathroom for some time.
But if you want something more delicate and with
Read More