I definitely did not need another shower gel but Soap & Glory  Whipped Clean Shower Butter got my attention, and I wanted to try it. I've actually picked it up without even smelling it, as I wanted it to be a surprise. I've bought it, as it sounded like a nice product for dry skin…
So what was my impression?
At first I was not a big fan of the scent but now I am addicted, and I mean it.  It smells of almonds, pistachios and vanilla, intoxicating and sweet. I totally get the warning "This is not food" on the tube. Maybe it is not the best product for those on a diet as it will probably make you crave a dessert.
Besides the scent, I also like the
Read More
Who doesn't love a good relaxing beauty product? With our busy and hectic lifestyle – those products are  a must-have. This is why I was really excited when a friend got me L'Occitane Aromachologie Relaxing Shower Gel as a present. How sweet!
L'Occitane is an amazing brand, and Aromachologie is their  premium line so I knew that it'd be great.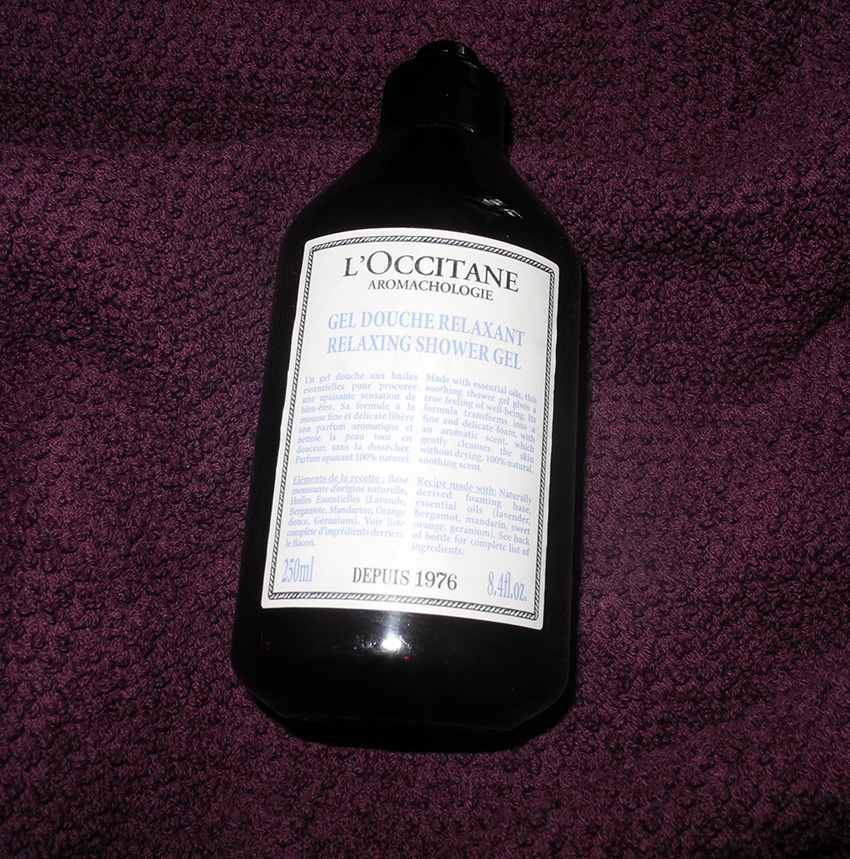 And it is! According to the brand this shower gel contains the purest essential oils which do have a lot of benefits, unlike the cheap "aromatherapy" that does nothing at all.
So what does it smell of? It is a
Read More
I have  posted a photo on Instagram of two of my current favourites last week, and thought I'd write about them in more details.
You all know how much I love my high-end luxury bath & shower  products, but these two have completely replaced them recently. And let me tell you why…
 Old Spice Shower Gel in Champion.
I will be honest – I have  stolen borrowed  it from someone who is obsessed with it, and who always smells nice. I do love me some Old Spice, so I loved this one too. It doesn't smell too manly, at least not for me. And now a shower with this gel is  my favourite way to start  mornings (and also post workout), followed by a cup of earl Grey. It's all about the small pleasures in life, you know?!
By the way, how can you not have a good day when the name is "Champion"?
Garnier Oil Beauty Oil Infused Nourishing Lotion
Read More
I was sent the new release from Organic Surge, their Super Fresh Body Wash, just in time, as I've just finished my Elemis shower gel and am about to finish the Clarins one.
I personally love taking a bath or shower in the evening, but when I do it in the morning, I want my shower gel to be truly awakening. Whatever it takes to wake me up…
This is why I am happy with this refreshing product which smells invigorating and uplifting! All thanks to  may chang, mandarin  and bergamot.
And it is actually a very nice scent, indeed. It is not very intense, but enough to fill in your bathroom with a lovely aroma.  Although this is a natural, ECO Cert certified
Read More
Remember my post about Lush's shower gels in which I've promised myself to buy The Olive Brunch and  Flying Fox?
I did get The Olive Brunch, and, in fact, already used it up. I somehow can't find the photo I took, and since I already threw the bottle away, have to use the stock photo, so please excuse that.
Lush are so right about  calling their shower gel "Mediterranean" (read sunshine & sun), that is exactly what it is!  A blend of mandarins, bergamot oil, vine leaves and Fair Trade olive oil.
Not only it smells amazing, and rather natural, especially compared to other Lush scents (which I personally love but others often find too strong) but if feels great on the skin.  It is non-drying and
Read More