I am always on the hunt for a new good shampoo which does work and does what is promised, and today I want to share about the best one I have used in a  long time.  And it is Revlon Professional Hydra Capture Shine Up Shampoo which I've bought after reading some very positive reviews about it.
I personally find that it lives up to the "Shine Up" name, as it does add that glossiness and sheen to the hair which
Read More
It's time for  June's favourites, and somehow this time it is all about Clarins. I have bought quite a few products from the brand and have been sent some samples, and most products were incredible. After all it is one of my favourite brands for a reason. There are also two beauty tools, self tanning drops and bath salts.
Here we go.
Makeup
Let's start with makeup, as there are only two products that really stood out to me. Technically three, but two are the same product just different shades. Clarins Blush & Bronzing Compact  (review and swatches) my love for this bronzer is still going strong. Now that I have a tan it looks amazing on, warms up the complexion and adds some definition.
As for the Clarins Waterproof Eyeshadow Shimmering Cream Colour (review and swatches) they are phenomenal, as I've already said. Extremely long-lasting and incredibly beautiful on the eyes. Just make sure you don't apply too much, as they can look a bit dry. I've been wearing  03 Silver Taupe at the end of May and beginning of June when I still had a very pale complexion but now  04 Copper Brown is my favourite. It looks perfect now, am I a bronze goddess already?
Body Products
June was
Read More
I've been wanting to try  OROFLUIDO Beauty Shampoo for Your Hair  for some time, so I've bought it back in January finally. I have actually finished the bottle already, so  it's about time to write a review.
According to the brand, this shampoo contains 3 natural oils:
Argan oil strengthens hair and makes it extremely light and incredibly silky.
Cyperus oil gives natural protection against free radicals. It makes hair soft and voluminous, leaving it manageable, smooth and flexible.
Linseed oil seals and smoothes the hair cuticle, providing uniformity and control. As a result, hair gathers and reflects the light, giving it a spectacular shine.
I was very excited to try it, as I've read so many good things about it.
My favourite thing about OROFLUIDO Beauty shampoo was definitely
Read More
Today I want to share about a hair styling product that has been rocking my world lately. I was hoping for it to be good but I did not expect to love it as much, as I do. Ever since I've had my hair cut this short, I had to re-think  the styling routine, I cant be the wash-and-go girl any more.
First of all, how cool is the name?  Shellac for hair? Doesn't it make you think of a polished look? And, yes, this is exactly what it gives you!
Color Wow Pop & Lock Crystallite Shellac is basically a finishing product that  makes your hair look glossy and shiny without weighting it down or feeling greasy. I knew I had to write about it when two of my best friends told me how good my hair looked (after I've used this product).
The brand describes the effect as a "mirror shine hair", and I agree. Also, my
Read More
I have proclaimed my love for Kerastase products numerous times already, but here it is again.
This time it is all about Specifique Bain Stimuliste GL Energizing Shampoo for Thinning Hair which I have already included in my favourites in the previous month.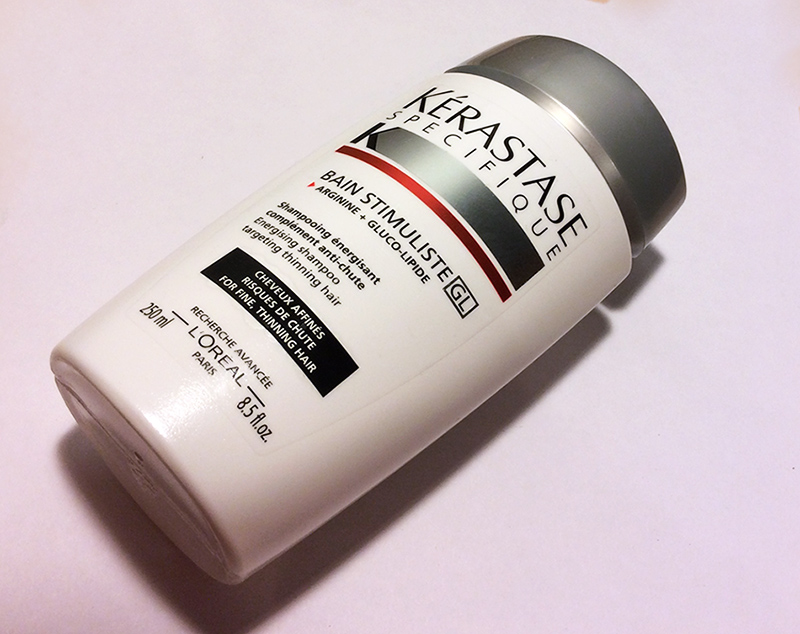 When I was looking for a new Kerastase shampoo, I've noticed that this one was among the best sellers and  I also read several great reviews. Moreover, Specifique Bain Stimuliste GL Energizing Shampoo  includes Agrigine + Gluco Lipid and is formulated  for thinning hair. I don't necessarily have thinning hair but it sheds more than I'd like to, so this is the reason why I've decided to choose this one.
I may have looked up "How many hairs do you lose in a day?"… "Losing up to 100 hairs a day is normal. But if hair loss runs in your family, you could lose a lot more hair."
I know, I know…
So, what about this
Read More