If you follow me on Twitter, you know that I am on a mission #BeautifulHealthyHair. I have already spent a lot of effort (and money) on that, and I can definitely see the results. My hair dresser agrees, which makes me extremely happy…
I was actually sent Pantene's Breakage Defence products back in Autumn, and decided to give it a try several weeks ago.This is the range after which you should experience 97% less hair fall. And I have shampoo, conditioner and hair strength tonic.
I have to say that my hair is in a much better condition, but it's due to a lot of factors (I should probably write about my experience in several weeks), but I do like this range. If you are looking for an affordable and nice hair products – these  are worth considering.
Shampoo smells really nice, washes the hair throughly, and there is no need to wash it after a day, which I absolutely hate, and which often happens to me with cheap(er) hair products. I think this is one of the best shampoo in this price range that I have tried.
Conditioner is
Read More
It is almost the end of January, and I am still talking about my favourite beauty products of 2014…
This time it is all things body, hair and feet & hands. Here we go.
Body
Garnier Oil Beauty Oil-Infused Nourishing Scrub  (review)
This is such an amazing scrub for  dry skin, it is not harsh, not drying, leaves the skin smooth and ready for the moisturizer. Add a nice scent and affordable price – and you get a perfect product!
Neutrogena Norwegian Formula Nourishing Body Lotion With Nordic Berry (review)
I have so many body creams, lotions and balms with different price tags but this is among my favourites. The scent is divine, the texture is gorgeous, and it moisturizes even my very dry skin. I have used up several bottle of this, and need a new one again.
Hands and Feet
 Elemis Treat Your Feet Foot Cream (review)
This is
Read More
I personally think that you just can't go wrong with Kerastase! Their products are not the cheapest but they work, and they work wonders when you get the range which is targeted at  your hair type. Sometimes it is better to have a consultation in the salon.
I have decided to try  the brand's relatively new range Densifique, which contains Hyaluronic and is supposed to give you fuller texturized hair.
I have picked up Kérastase Densifique Bain Densité Bodifying Shampoo  which is described as a "new generation of polymers able to instantly provide smoothness, texture & uniformisation of the fiber."
And it is just so unbelievably good! The best shampoo I have used in a while.
It does
Read More
I simply adore Philip B Peppermint and Avocado Volumizing and Clarifying  shampoo but since it's so expensive, I was on a mission to find a cheaper alternative.
Probably the most talked about  is Phyto's PhytoNeutre Clarifying Detox Shampoo  (formally known as PhytoNeutre Rebalancing Cream Shampoo). Everyone seemed to love it, so I've decided to buy it for myself, and was ready to see amazing results.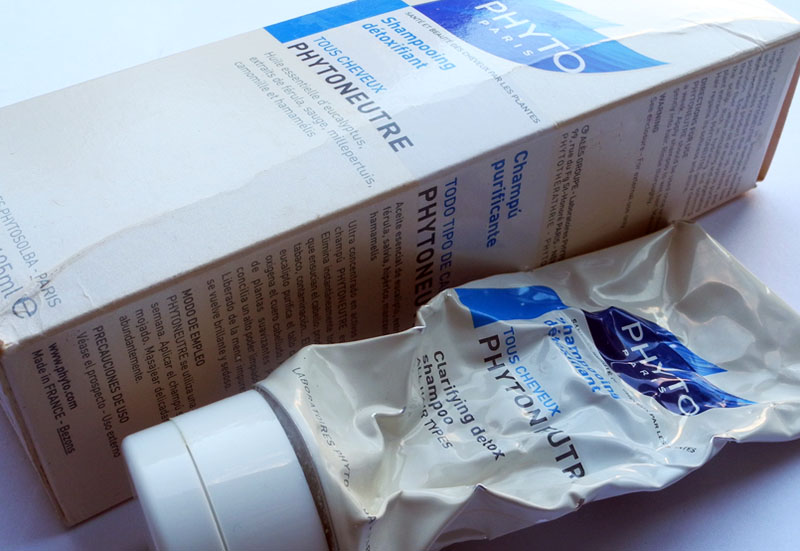 This shampoo with  eucalyptus essential oil (it is green-ish actually; plus it smells so refreshing!), silicone and paraben free, is  formulated to eliminate product build-up without stripping hair of its protective barrier, and should be used weekly.
And what about the results?
At first, I wasn't very impressed with it for some reason. I was really hoping that it would allow me to wash the hair less often, and, unfortunately, it wasn't really the case.  But I have realized that the brand suggests leaving it for several minutes, which I did not do. After I've started doing it, the results were a lot better.
I was also surprised to see how shiny and glossy my hair looked afterwards, which is never the case with the silicon-free shampoos, from my experience. I also loved that
Read More
Usually when it comes to reviewing a product I know whether or not I love it; but it took me almost a year to figure out this one. I have bought it last summer and am writing a review only now. Why?
Maybe, because of my expectations. I was ready for a miracle-in-a-bottle, I guess.
Although it wasn't as outstanding, as I though it would be, I do like it a lot!
The serum adds shine and smooths the hair, especially the ends, without making them greasy.  I  also don't have any complaints about this product, at all.  It has a nice design, convenient pump, and is Swedish (which is always a bonus, if you ask me) It is just that
Read More