You all know that I am a huge fan of cream products, and mentioned various cream blushers so many times. But what about bronzers?
Yes, cream bronzers! I have three variants to show you here:
The most famous is definitely Soleil Tan de  Chanel  (review and swatches)
It is a cult classic for a reason, it is such a versatile product, it can be used as a base to warm up the complexion or as a regular bronzer to add some glow and definition to the face. The texture is light and the formula blends like a dream. I Highly recommend it, unless you very fair skin tone, this is the most orange-toned bronzer out of three.
You can buy this product from Selfridges  for £32 or Nordstrom for $48.
Sienna X Cream to Powder Bronzer with Illuminator (review and swatches)
This is an
Read More
Regular readers will know that I am a huge fan of Clarins lip products and baby pink is my "nude". This is why I've decided to share my top 3 Clarins pink lip products that are my personal must haves.
I did a detailed review of each so I won't say a lot this time but will just mention that all three are phenomenal, they all are like a mix of lip treatment and a beautiful colour glosses. Smell amazing and feel nice when applied. It only depends on the applicator and the effect that you want on your lips:
Lip Crayon in My Pink (review and swatches)
Clarins Instant Light Natural Lip Perfector in
Read More
Regular readers know that I am not a big powder user ( I have a lot of different powders in my kit; but this is the only one that I use on myself). But even I, with my very dry skin, like some powder on a hot and humid day. To a)make my makeup last longer b)mattify my T-zone a bit.
This is why today I want to tell you about my personal favourite powder which is Rouge Bunny Rouge Flawless Face Powder Precious Velvet. 
I've had it for 2 years now, so I am not sure why it took me so long to write about it…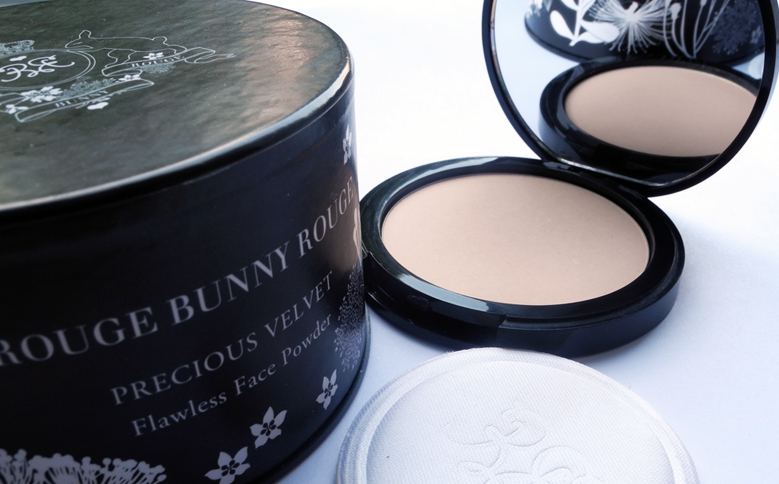 Why do I like it?
It doesn't enhance the dry patches on the skin that I may have and doesn't dry out  my skin.
I don't feel this powder on my face, it is very lightweight.
The brand says that it melds with the skin, and I totally agree.  It is not visible at all. You just get a perfected and flawless finish.
I like the effect Precious Velvet gives, it mattifyes  but doesn't  make your face look  flat and life-less, you skin shows through.
For me personally, the effect lasts all day, but if you  very have oily skin, you may need a special matte powders. I haven't tried it on anyone with such skintype so can't make any comments. But on girls with normal skin  it worked amazing, as well.
As for the main ingredients, Rouge Bunny Rouge list the following: "Papaya Fruit Extract as a natural "face lift" and skin softener, plus Hyssop Extract with soothing properties. Rice Powder imparts a perfectly natural, non-shiny finish. "
All
Read More
It took me some  time to realize that eye brows are very important. I did over-pluck mine, like a lot of people back in the 90′s, but luckily they grew back! Plus I never really did anything with them…
This Tuesday I went out with  only one makeup product on my face –  eye brow pencil (I've also curled my lashes), and I was happy with the way I looked. In fact, when I was visiting my family this is the look I'd rock most of the days. They say eyebrows frame the face; and the is spot on! I personally think good brows make a huge difference.
This is why I though I'd share some of the products that I love using on my myself, and on others.
Shavata Double Ended Eyebrow Pencil (review and swatches)
I have to start with a product that is probably my personal favourite! I always sharpen it really well so that it creates a  precise line which never looks drawn in; but I never drag it on and do small strokes to feel in any gaps and make to brows more defined.  This shade really suits my cool-toned brows, the texture is soft and it stays on for the whole day. It is a total winner, and I highly recommend.
You can buy Shavata from Feel Unique
Hourglass Arch Brow Sculpting Pencil in Soft Brunette (review and swatches)
This is and eye brow product loved by a lot of people, and there are 
Read More
As you already know, there are tonnes of new foundations coming out our way for AW season, so I thought I'd share about my personal new love, base-wise. Buxom Show Some Skin Weightless Foundation.
I've got a sample with a Sephora purchase several months ago, and totally forgot about it, until recently when I threw in some samples to try while I was visiting my family.
Before I start, I have to mention that now I have a tan (plus fake tan on top to make my skin even more "sun kissed"),  and I really love experimenting with my makeup, as I can now wear different shades and colours, which usually don't suit my skin tone.
The shade that I have is the fifth (out of ten) in the line which is Meet Me Latte ( described as "neutral beige for medium skin tones") which is still a bit dark for me but I can make it work.
Now, the foundation is absolutely amazing! As the name suggests, it is weightless, I don't feel it on the face, at all. It is like a hydrating tinted moisturizer.  I also like that it lasts all day on me, doesn't melt or look greasy, and I have tested it in very hot climate. But please keep in mind that I have very dry skin.
My second favourite thing is the fact that you get some serious glow! It is not shiny or glittery, but just a
Read More