Since I've just posted about the new eye brow gels, it seems like a perfect time to review the newest release from Rouge Bunny Rouge – their new eye brow products. I have actually already induced one of them in my July Monthly favourites. The brand does not bring out that many products so when they do – it is most likely something awesome. And what about these products?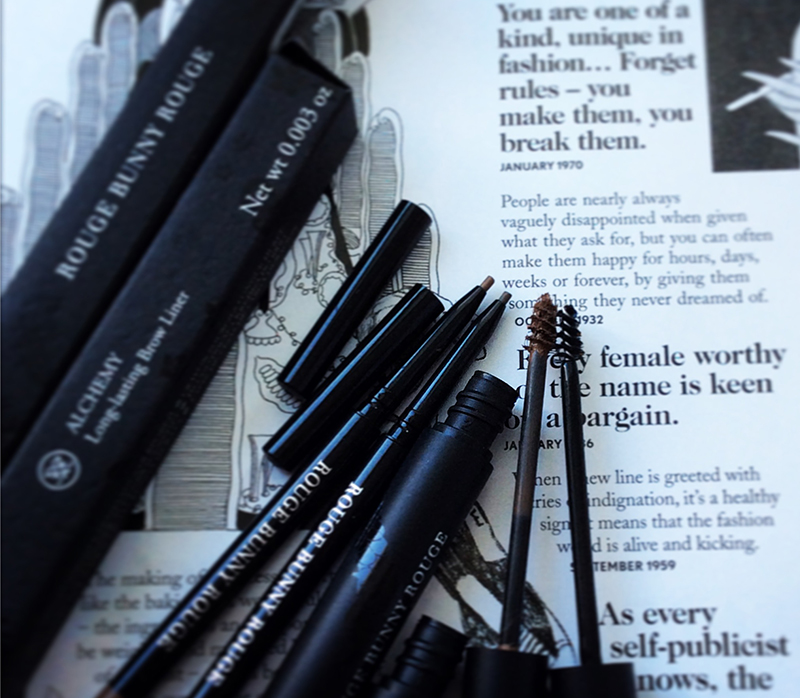 Long-lasting Brow Liner ALCHEMY, €26
Available in two shades:
 ANTIMONY, dark chestnut. Ideal neutral shade for dark brown and black natural brow colour.
TRONA, light hazelnut. Ideal neutral shade for almost any natural brow colour.
It was actually Antimony shades that was in my monthly favourites, and it is brilliant,  it is not  too cool or too warm,  it is also dark enough to add some definition but not too dark, just spot-on.
But it is the formula and the shape of the pencil that I love! As always, the design is exquisite,   this pencil comes in a slick black packaging. And the pencil itself is incredibly thin which allows a very precise application, you can draw in individual hairs and achieve really natural results. This is probably not the on-the-go product but it is
Read More
If you are a long-time reader, you probably know that I am die-hard fan of Daniel Sandler's Watercolour Blush (these two are my favourite), so I was  excited to  receive  his newest product  a while ago – Radiant Glow Illuminating Face Powder. I love the fact that Daniel does not release 100 new products every year but when he does you can be sure that it is high quality and reasonably priced.
The newest face powder comes in a signature gold and black packaging, and the product itself consists of four shades which can be used individually or mixed together.
The shades, as described by the brand are: a bright high shimmer gold, a rich shimmery peach, a beautiful creamy white and a pale peach with a gorgeous sheen.
Below you can see how each shade looks when applied, and also how they look when
Read More
It's time for  June's favourites, and somehow this time it is all about Clarins. I have bought quite a few products from the brand and have been sent some samples, and most products were incredible. After all it is one of my favourite brands for a reason. There are also two beauty tools, self tanning drops and bath salts.
Here we go.
Makeup
Let's start with makeup, as there are only two products that really stood out to me. Technically three, but two are the same product just different shades. Clarins Blush & Bronzing Compact  (review and swatches) my love for this bronzer is still going strong. Now that I have a tan it looks amazing on, warms up the complexion and adds some definition.
As for the Clarins Waterproof Eyeshadow Shimmering Cream Colour (review and swatches) they are phenomenal, as I've already said. Extremely long-lasting and incredibly beautiful on the eyes. Just make sure you don't apply too much, as they can look a bit dry. I've been wearing  03 Silver Taupe at the end of May and beginning of June when I still had a very pale complexion but now  04 Copper Brown is my favourite. It looks perfect now, am I a bronze goddess already?
Body Products
June was
Read More
I have already reviewed Clarins eye shadows from their summer collection but I have two more products to share about.
The product that I really love is Clarins Blush & Bronzing Compact (£30). It is absolutely huge, comes in a nice packaging and with a decently sized mirror. You get three shades of bronzer with one being  shimmery and two  – matte, there is also an  apricot blush. You can use each shade individually, or mix. The texture of the blush is softer than the texture of the bronzers so when products are mixed together they give you that nice luminous glow and created that sun-kissed effect. This bronzer actually made it to my monthly favourites.
Although I have pretty light skin tone, I don't find it to be muddy or too orange on me. But I use it lightly, obviously.
I think Blush & Bronzing Compact is a
Read More
As weird, as it sounds I don't really care about dark under eye circles or bags that much. Although I understand the corrector-concealer-powder concept for the under eye area, that is something you'd almost never see me doing.  In fact YSL's Touche Elcat is the only product I have ever used up which I am using under the eyes.
All I care about is a light coverage and some light reflection.  This is obviously, my personal preference, and I do use a lot of products when I am doing someone else's makeup.
This is why I am excited to share about one of my favourite Rouge Bunny Rouge products.  Glide Concealer NAKED DISGUISE which is described as "bare skin but better". And that is exactly that!
This is my favourite under eye product, ever.  It feels really light on the skin and gives that very natural light-to-medium coverage, and you can still see the texture of the skin. It  is enough to make you look fresher and
Read More