To finish our Lipstick Week I've decided to feature my current top 3 lipsticks and share the top 3 that are on my wish list.
I've made myself choose lipsticks in different colour families, so here are: plum, red and pink. I don't like orange, nude or any other shades that much.
Since I have already reviewed each lipstick, I have just included the links. I also have to mention that Clarins was recently reformulated, and the new version is even better!
Clarins Joli Rouge Lipstick in 738 Royal Plum (Review and Lip Swatches)
Givenchy Le Rouge Lipstick  in 302 Hibiscus Exclusif (Review and Lip Swatches)
Lancome L'Absolu Rouge in 160 Rouge Hypnose  (Review and Lip Swatches)
Honourable mentions go to
Read More
Since I have already posted about a vampy lipstick for the #LipstickWeek, it is now time for a red. Guerlain KissKiss Shaping Cream Lip Colour in Rouge Kiss 325. And I have to mention that I have a cute mini version.
Not everyone is a fan of matte and full on lipsticks, and if you are not and miss the good ol' comfortable and creamy lipsticks – you should really consider this one. KissKiss has a soft and comfortable formula (say hello to mango butter and hyaluronic acid spheres) which glides on the lips and leaves that satin, almost-glossy finish.  You can
Read More
Since we are having a Lipstick Week, it is about time to finally write a full review of my lipstick obsession  – NYX Soft Matte Lip Cream in Transylvania.
I've picked it up back in the winter and already featured it a lot of times on my Instagram and in my favourites, too.
Long-time readers will know that I am a huge fan of berry and plum vampy lipsticks and I have quite  few but I've picked this one up not only because of the shade but also because of the name.  Long story short – Transylvania will always have a special place in my heart, although I have been there only several times.
But, back to the lipstick…
I really, really love it. As the name suggests, it is a
Read More
After Rouge Bunny Rouge changed the nib of my all-time favourite Raven Glaze Lacquer liner a quest for a new option began. And, although I like using really thin pen eye liners (or gel ones) on others, I am very particular about the ones I use on myself.
I have been loving ArtDeco Long Lasting Liquid Liner 01 a lot but it was time to get something new so I purchased Revlon Colorstay Liquid Eye Pen about two months ago.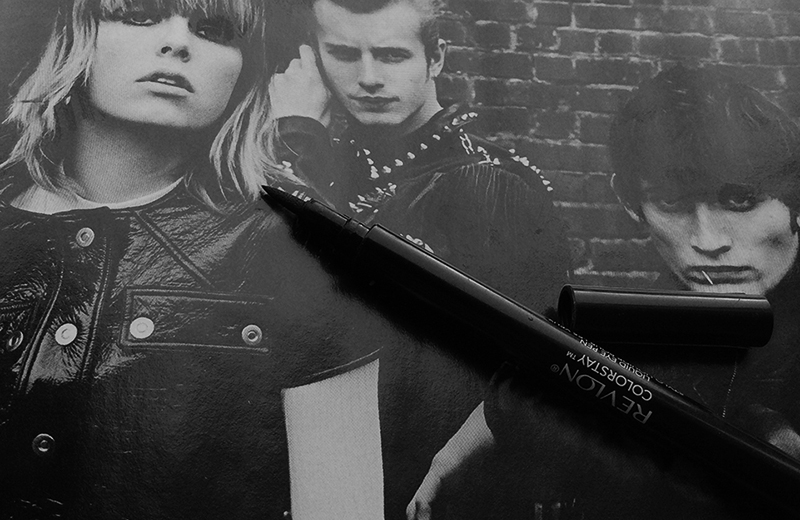 And it is a good liner, I have nothing bad to say about it. I did enjoy using it on a daily basis. It stayed on for the whole working day without smudging (my eye lids are not oily), the liner was very easy to apply and it did not drag the skin.
I only wish it
Read More
Since I've just posted about the new eye brow gels, it seems like a perfect time to review the newest release from Rouge Bunny Rouge – their new eye brow products. I have actually already induced one of them in my July Monthly favourites. The brand does not bring out that many products so when they do – it is most likely something awesome. And what about these products?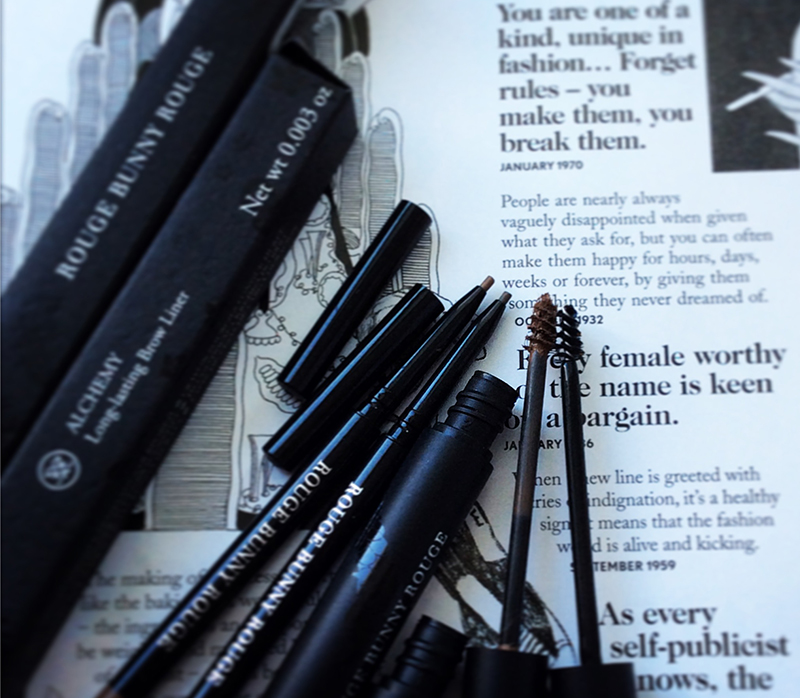 Long-lasting Brow Liner ALCHEMY, €26
Available in two shades:
 ANTIMONY, dark chestnut. Ideal neutral shade for dark brown and black natural brow colour.
TRONA, light hazelnut. Ideal neutral shade for almost any natural brow colour.
It was actually Antimony shades that was in my monthly favourites, and it is brilliant,  it is not  too cool or too warm,  it is also dark enough to add some definition but not too dark, just spot-on.
But it is the formula and the shape of the pencil that I love! As always, the design is exquisite,   this pencil comes in a slick black packaging. And the pencil itself is incredibly thin which allows a very precise application, you can draw in individual hairs and achieve really natural results. This is probably not the on-the-go product but it is
Read More