Today I'd like to tell you more about one of the best mascaras that I have used, and it is Rouge Bunny Rouge WITCHERY Modelling mascara. I have already mentioned it in my October favourites so here are more details.
Who knows how you look better than your Mum? So when the other day when I was seeing mine she asked if I was wearing false lashes or had lash extensions I knew that this mascara works. Especially considering that my lashes are not something to write home about…
First of all I really love the rubber brush which is bendable, easy to use,  and mess-free, I don't get the
Read More
I have proclaimed my love for Kerastase products numerous times already, but here it is again.
This time it is all about Specifique Bain Stimuliste GL Energizing Shampoo for Thinning Hair which I have already included in my favourites in the previous month.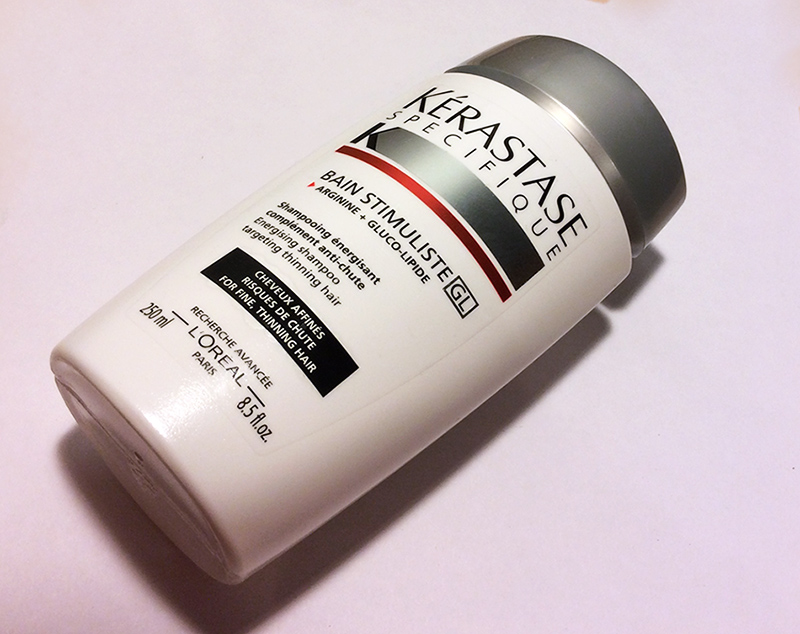 When I was looking for a new Kerastase shampoo, I've noticed that this one was among the best sellers and  I also read several great reviews. Moreover, Specifique Bain Stimuliste GL Energizing Shampoo  includes Agrigine + Gluco Lipid and is formulated  for thinning hair. I don't necessarily have thinning hair but it sheds more than I'd like to, so this is the reason why I've decided to choose this one.
I may have looked up "How many hairs do you lose in a day?"… "Losing up to 100 hairs a day is normal. But if hair loss runs in your family, you could lose a lot more hair."
I know, I know…
So, what about this
Read More
If you follow me on Instagram, you could already see a preview of some Rouge Bunny Rouge products that I was sent for  a review, so here is a long time promised feature about their Glassy Gloss Sweet Excess  gorgeous glosses.
There are six shades in the range, and I actually have five of them. The missing shades is CHERRY CLAFOUTIS which is described as a "gloss version of the 'Scrumptiously Devious' lipstick, sheer blue based cool pink with a warm golden opalescence". And I actually have a review of the lipstick here.
The shades I have are (descriptions from Rouge Bunny Rouge):
FLEUR PARFAIT, Cushiony-soft semi-opaque mauve pink, with subtle silver highlights
MOUSSE FANDANGO, Dark tone of milky pink with barest whispers of grayish mauve and touch of silver micro pearls
RAHAT LOKUM, Pale milky pink with medium-heavy mother of pearl effect micro-shimmer
RASPBERRY MERINGUE, Pale pink with very soft mother of pearl micro-shimmer – this shade doesn't yield a strong colour, but it makes lips naturally pretty
RHUBARB CUSTARD, Semi sheet coverage milky nude rosewood – irreplaceable my-lips-but-better colour
My personal favourite is  Raspberry Meringue which is actually always in my handbag. It is a gorgeous cool-toned pink with micro-shimmer. Love me some sparkles!
The other shade that I use a lot is  Rahat Lokum which is heavier on the shimmer and warmer in tone. I am actually wearing it as I type.
Rhubarb Custard is a great option for those who like "nude" lip glosses. It is a creamy and balmy every day kind of shade. No shimmer.
As for Mousse Fandango – RBR have a really
Read More
Although I personally love berry and plum shades all year round, they look especially nice in Autumn/Winter. Recently my friend asked me what lipstick I was wearing as she really loved it, and was surprised to hear that it was Maybelline. This made me think that I should write about  affordable berry lipsticks that I would recommend. So here are three different options…
Bourjois Color Boost Glossy Finish Lipstick in 06 Plum Russian (review and lip swatches)
It is a gorgeous glossy plum which feels comfortable on the lips, and is super easy to apply as it comes in a crayon form. You can get a sheer colour pay-off or layer it for an intense effect. It can also be worn on top of other lipsticks if you want to create an extra sheen/gloss. The other day my Mum saw this lipstick, and loved so it much, that now I have to get a new one for myself (as she "borrowed" mine) .
Rimmel Kate Moss Matte Lipstick in 107 (review and lip swatc hes)
This
Read More
If you are interested in contouring but don't want to spend a fortune on a product – Maybelline Master Sculpt Contouring Palette is a great option to consider and here is why.
You get both a contour shade and a highlighter.
If cool-toned contouring shades don't look good on your skin tone – this would be a great option, as it is warmer than most products but at the same time it doesn't look orange on the face. It warms up the complexion. The highlighter is   also warm toned and it contains golden micro-shimmer in it.
Great formula
The texture is creamy and soft, you get a
Read More