I did a  feature about Sedona Lace's brush belt, which is absolutely amazing, some time ago. I have actually bought one of their gel liners ($5.95) back then and would like to tell you about it, as well. I guess it's better late than never.
I've chosen their Eyeliner Gel called Smoky Eyes which turned out to be a pretty grey shade. And I think it's a perfect one, not too dark but not too light or blue, the colour payoff is excellent, too,  as the liner is nicely pigmented. I really like how it looks like with my brown eyes.
It goes on
Read More
Imagine if you had to pick only one makeup product you could use before going out (doesn't really matter where). What would you chose and why?
I know that most people would answer concealer  and a lot of would choose mascara.
But, as for myself, the choice would be obvious – dark brown eye pencil.
Why?
As long as my eyes are defined, everything else is fine. Well, almost… But smudged dark brown eye pencil is a must have for me.
I have picked my
Read More
When Rimmel launched their Kohls Kajals, I knew that I had to get the nude one. I have got it, along with the Kate Moss matte lipstick in 107 back in Autumn, but never mentioned it before. Well, I guess, it is better late, than never…
Here is how it looks like and I actually like the design.
It is soft and creamy and glides easily without dragging the skin.  I also like how this particular shade looks like with my skin tone, it gives a brightening effect,  without looking harsh, as white liner, exactly what I was hoping for.
But the main question is… does it last on the waterline?
On me personally, it
Read More
Laura Mercier's  Kohl Eye Pencils are favourites of a lot of people and I can totally see why.
I have five (mini) pencils and would like to show them to you today.
The colours that I have are:  Black Violet, Brown Copper, Stormy Grey, Stone Slate and Black  Gold. And here is how they looks like.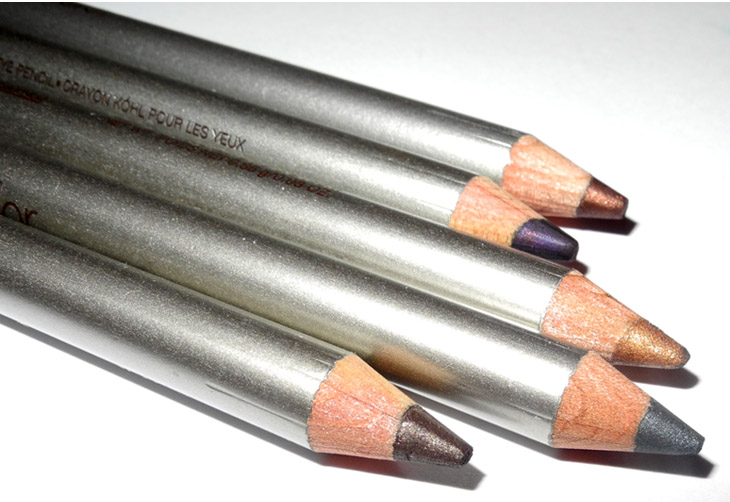 These have a very soft and creamy texture and glide on easily, without dragging the skin.  They have a fantastic pay off and gorgeous colours. Yes, the colours are definitely fantastic, all five of them! I imagine that blue and green shades are to die for, as well!
I would suggest kohl pencils for a quick smoky eye, you could use them on their own or with the eye shadows on top, looks great either way.
Brown Cooper, my personal
Read More
Today I want to  tell you about the eye products from the Dita von Teese  the Classics collection that  were given by the  Tender Loving Skincare shop, where you can get all the collection.
I have four eye shadows: 503 veuve noir, 512 von fleece, 524 mink and 554 petticoat (£6). And also a Styler in Minuit (£9.75).
I have used a lot of ArtDeco eye shadows over the years  ( I have even finished several shades actually) so I knew that the quality was excellent, especially for the price.  So there  was no surprise here.
Although these are all matte shades they are not chalky at all, they blend nicely, are pigmented and last for hours on me. I have a white shade (512), an off white which is close to my skin tone when I am not tanned (554), a classic warm brown which works great for smoky eyes (524)  and  a matte black (503).
As for the Eye Styler in Miniut,  I did
Read More