I know that a lot of people were  waiting for the review of Clarins Ombre Matte Eye Shadows, but I wanted to take my time, and test them out properly. And, finally, I am ready to share my impression.
This Autumn the brand released 6 shades of  what they describe as "new generation cream to powder eye shadows":01 Nude Beige, 02 Nude Pink, 03 Taupe,  04 Rosewood, 05 Sparkle Grey and 06 Earth.
These come with a signature red Clarins packaging, in a cute lightweight plastic jar with a golden lid on top.  Despite the fact that it is not glass, the products still looks high-end.
So what about the formula?
I'd describe it as a very well pressed creamy powder. The finish is matte (at least in the shades that I have), so they look very natural on the eye lids.
It is
Read More
Today I want to show you a very special, and, dare I say, magical product from Rouge Bunny Rouge. Their first eye shadow palette -  Raw Garden in Chronos. I know that the brand is really proud of their new creation, and they should be.
It is truly amazing! Let's take a look.
You get five limited edition and exclusive shades with a bird pattern on top. They come in a sleek black palette with grey and red floral motives and birds.
Here is a close-up of the shades. I have included a high quality  photo, so you can click on it to see the details:
Read More
I already reviewed one shade of Rouge Bunny Rouge Silk Aether eye shadows, and today I want to tell you about the other one, which was easily my eye shadow of the month, as I've already said it my monthly favourites.
It is called  Atlas Swallowtail which is  a "satin wash of nude taupe with pewter reflections; buildable to a darker, more opaque and metallic greyish hue." And it is the perfect taupe, it gives enough of definition but still looks subtle. I can't think of anyone who would look bad with such shade on the lids.
I agree with the brand that their eye shadows have a " semi-matte, luminous colour", the texture is silky and smooth. The eye shadows look absolutely beautiful when applied, you don't even feel them on the skin, as  the texture is so lightweight, and I find that it doesn't enhance any skin imperfections you may have, as some cream eye shadows can.
I apply
Read More
I've written about a lot of Rouge Bunny Rouge eye shadows, but never did a post about their best-seller, maybe the most famous shade, actually (along with Abassynian Catbird) – Delicate Hummingbird.
So here we go.
Yes, that is a  RBR bunny in the mirror
The brand describes this shade as "cool, dusky sugar-frosted plum, iridescent with pink shimmer", and as usual it is a very complex shade that doesn't look flat or boring when applied on the
Read More
I am having a major pink & mauve eye shadows moment right now. If you are a new reader, here is what kind of shades  I used to wear all the time.
I have been wearing Rouge Bunny Rouge's Solstice Halcyon  at least several times per week during the last two months. And recently I've added some other eye shadows to my rotation. Which ones?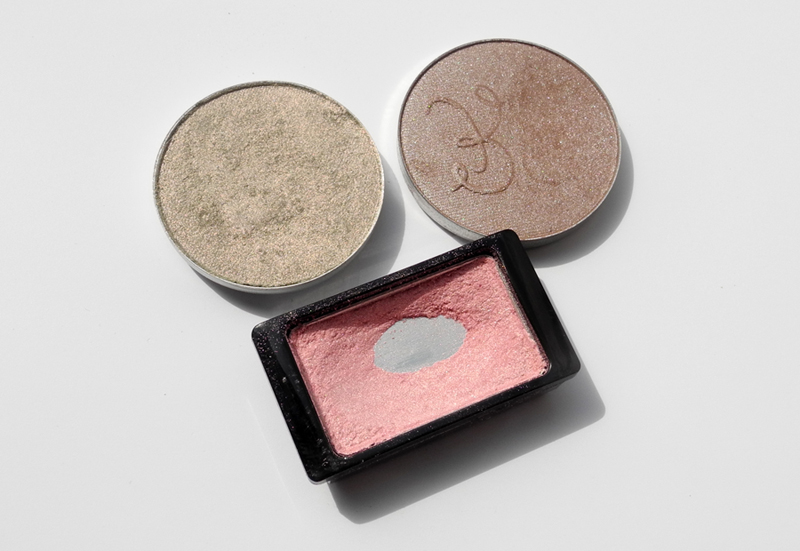 Rouge Bunny Rouge's Solstice Halcyon: "semi-matte mauve beige". It is such a perfect shade, I have already mentioned it so many times that you probably already know my love for it at this point :).
ArtDeco eye shadow 93: described as "pearly antique pink". You can see that it is well-loved.  It adds just a hint of warm rose colour to the lid. It is not too metallic, just a
Read More