Maybelline Color Tattoo 24HR in Metallic Pomegranate was an  impulse purchase. I jut saw it, and had to get it. I actually already have some Maybelline cream eye shadows but don't use them enough.
But this one I have been using every single day ever since I've got it, the colour is just gorgeous! It actually reminds be a bit of one of my all time favourite shade, but this one is definitely has more purple to it.
Metallic Pomegranate is  a brownish purple with a beautiful golden
Read More
Great news for all the Rouge Bunny Rouge fans, especially for the fans of their fantastic eye shadows.
This month the brand launches two new shades that were featured in the latest look Utopia.  And I actually  have both shades to show you.
The shades are:
Rain Dove:  Lightest taupe with rosy gold highlights – overall satin finish. But, according to the brand, the colour is very complex and might look slightly different depending on the skin tone.
Rufous-tailed Weaver: True medium taupe with bronzy-gold highlights – overall satin finish. Again,
Read More
I have already written about a lot of Rouge Bunny Rouge eye shadows but never posted about one of my most-used and loved one (and one of the newest shades) – Eclipse Eagle. I have actually featured it in my November favourites, so  it is about time for some swatches.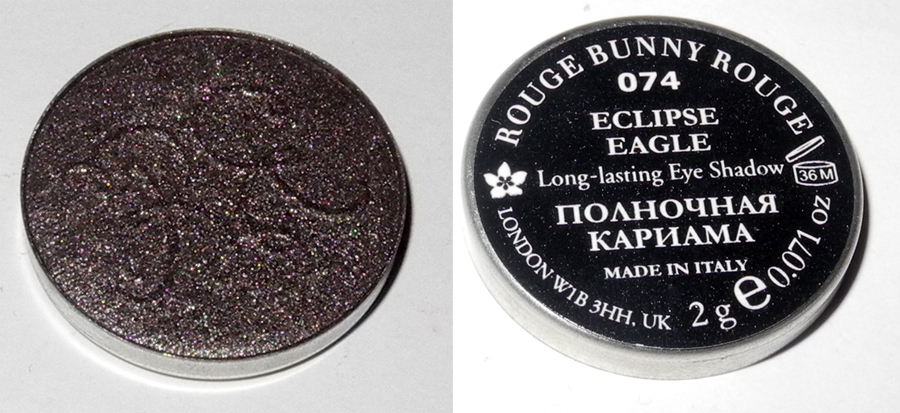 Since I have written a lot of reviews about these eye shadows, you can just click the link above for all the details… But take a look at this gorgeous shade.
You can use it on it's own, paired with some eye pencil and mascara for a smoky eye. Since it is a complex and multi-dimensional shade – it  looks beautiful and makes a statement without "any help" from the other shades. That is the kind of
Read More
I was surprised when I realized that I never did a feature about Rouge Bunny Rouge When Birds Are Singing Long-Lasting Matt Eye Shadow in Blackpepper Jay, which is among my favourite eye shadows. I even mentioned it  back in my August favourites.
I don't have  time or desire to use 4-5 eye shadow shades for my eye makeup on a daily basis, so I appreciate the shades that I can wear on their own and still look nice.
Blackpepper Jay is one of those shades. It is a beautiful cool toned blackened brown, which is described by the brand as semi-opaque.
I have already raved about RBR eye shadows numerous times, but this is the first matte one that I am writing about. But guess what? It is the
Read More
Finally I have tried the cult eye shadows  from Wet n Wild!  There is so much hype around these, that I just had to see what is it all about.
My friend picked up a classic "smoky eye" palette in Don't Steal My Thunder for me and here is how it looks like.
I apologize that it is slightly messy, I should have taken the photo when the product was still new, as I usually do.
 And… these [eye shadows] are truly amazing! Very pigmented, smooth and silky.  They apply and blend out evenly and stay on for hours without creasing. I had high expectations, since so many people seem to love the brand's eye shadows, and they
Read More