So, after I've posted a preview of  Rouge Bunny Rouge SKIN SOUL DROPS Foundation Essence, it is time for a proper review.
So here are my thoughts about it:
The packaging is gorgeous, the product comes in a black cupboard tube with the signature RBR design. Te bottle itself is  a dark matte glass, the foundation comes with a dropper.
The price is almost €60 (€59) which seems really expensive for 15ml but, as the name suggests, it is an essence which means that it is a very concentrated liquid. You need a tiny drop for your face, and it will last you for ages.
The brand describes the finish as demi-matte, and I agree. It gives that flawless coverage and evens out the skin tone perfectly. Just make sure you add some dimension back with a blush or whichever product you prefer.
Skin Soul Drop is not really an on-the go foundation. The application takes some time, and you can't just "slap it on". I like applying it with two brushes. A classic flat synthetic foundation brush (something like this one) to spread it out evenly and a kabuki brush (like Sigma) to blend it into the skin.
I personally think that
Read More
Foundation that made it's début at  Victoria Beckham's (AW14) show;  with the look  created by Pat McGrath? Need I say more? I am in!
What foundation was that? Max Factor's Skin Luminizer. I was sent one of the shades, so here are my thoughts: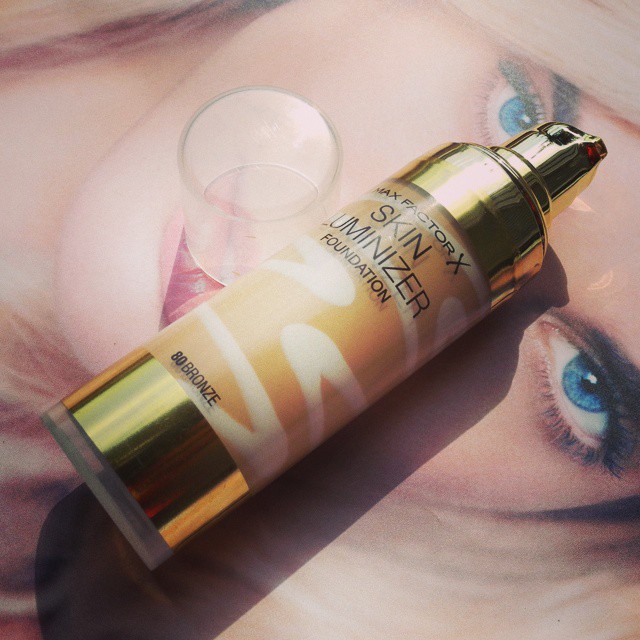 I am a big fan of the design, the cool swirly highlighter stripes add something special to it. Both products mix together, as they come out.
The packaging is made of plastic, which may not look  or feel so chic as my favourite, sadly discontinued Second Skin, but it is very handy for travelling and taking it with you, it is very light.
The pump is very well made,  it dispenses even a very small amount of product so you don't waste any.
What about the foundation itself?
It has a
Read More
As you already know, there are tonnes of new foundations coming out our way for AW season, so I thought I'd share about my personal new love, base-wise. Buxom Show Some Skin Weightless Foundation.
I've got a sample with a Sephora purchase several months ago, and totally forgot about it, until recently when I threw in some samples to try while I was visiting my family.
Before I start, I have to mention that now I have a tan (plus fake tan on top to make my skin even more "sun kissed"),  and I really love experimenting with my makeup, as I can now wear different shades and colours, which usually don't suit my skin tone.
The shade that I have is the fifth (out of ten) in the line which is Meet Me Latte ( described as "neutral beige for medium skin tones") which is still a bit dark for me but I can make it work.
Now, the foundation is absolutely amazing! As the name suggests, it is weightless, I don't feel it on the face, at all. It is like a hydrating tinted moisturizer.  I also like that it lasts all day on me, doesn't melt or look greasy, and I have tested it in very hot climate. But please keep in mind that I have very dry skin.
My second favourite thing is the fact that you get some serious glow! It is not shiny or glittery, but just a
Read More
Being a huge HydraQuench Clarins range fan, I was extremely excited about the Tinted Moistirizer from the line which came out recently.
It's been the only "base" product that I've been wearing for the last two weeks. I also included it in my May beauty favourites.
Why do I love it so much?
It is a light and non-greasy or oily texture, which is exactly what I need in summer. It doesn't feel heavy and I don't get that horrible feeling, as if my skin can't breathe and I need to take off my makeup as soon, as possible.
Being Clarins, the formula includes skin beneficial ingredients, such as hyaluronic acid, which
Read More
Today I want to tell you about a special product that I have included in my November favourites, and have been loving for months already. It is BECCA's Luminous Skin Colour Ultra-Sheer Foundation SPF 25+.
The name is very spot- on!  You get a very light coverage, dewy  foundation. Imagine if you would mix your serum or moisturizer with a bit of your regular foundation,  now you get the idea.
So what is the point of it anyway [if it is that sheer]?
I personally prefer a light coverage on my face, and more coverage where I need it, instead of full-on (often heavy, and sometimes even mask-like foundation) all over.  And with this product you get exactly that – it is light-as-air.
Although it can cover only minor imperfections,  it is actually fantastic! You get a polished, healthy looking and more even complexion! Just add some under-eye highlighter/concealer and dots of concealer where you need to hide any imperfections on your face, and you will get a very natural-looking  result!
It looks just like your skin, but
Read More