If you are interested in contouring but don't want to spend a fortune on a product – Maybelline Master Sculpt Contouring Palette is a great option to consider and here is why.
You get both a contour shade and a highlighter.
If cool-toned contouring shades don't look good on your skin tone – this would be a great option, as it is warmer than most products but at the same time it doesn't look orange on the face. It warms up the complexion. The highlighter is   also warm toned and it contains golden micro-shimmer in it.
Great formula
The texture is creamy and soft, you get a
Read More
There are not that many cream bronzers on the market, not that I am the biggest bronzer fan/user, but I do like myself a cream product plus a lot of the readers are!
So I am excited to tell you about the Sienna X Cream To Powder Bronzer And Illuminator which was launched relatively recently.
There are two cream products, bronzer and highlighter.  So here are my thoughts about each.
Bronzer
It is much creamier than the highlighter and I really like the texture of it as it is so easy to blend it into the skin without it looking patchy or streaky, even on my dry skin. While it may look a bit orangey on fair and very light skin complexions, it looks amazing on more tanned/darker skin tones.
It works great for warming up the skin  and, I assume, you could mix it with the foundation to get a sun kissed look, like with Chanel's Bronze Universel. I've just realized that I never tried it that way, although I've had this product for a long time already, but will give it a go!
 Illuminator
It has a
Read More
Givenchy Antigona bag is currently on top of my wish list so I am totally in love with the brand's LE PRISME ENCHANTÉ Embellishing Luminous Powder – Face & Blush ( £42 / €65.50) which is a part of their  Christmas collection.
It is like my new favourite "toy",  I  have been using it every single day ever since I've got it.
This is how the design looks like.
You get a makeup brush to use with this powder/blush and four different shades that can be used separately or mixed together.
Some are cool toned and some are warm toned. All shades give a delicate shimmer as they have a finely milled texture, it doesn't look like you have glitter or shimmer on you face, just a beautiful glow.

I  love using it as a
Read More
I have already written about  Jouer Luminizing Moisture Tint and today we will take a look at Jouer's Concealer,  Cheek & Lip Tint and Highlighter.
Here is how the packaging looks like. And, as you all probably know, you can  lock together Jouer compacts the way that works the best for you.
I like mine this way.
Some details about the products.
Cheek & Lip Tint in Petal, £ 16
This may be my favourite product out of three as it is really amazing. I am a huge fan of cream blushes and I can tell you that this one is really nice! It gives a sheer and natural shade, not greasy at all. It's easy to blend the Tint and it looks like your real blush,  plus stays on pretty well.
The shade is described as soft rose pink and it's a great one for girls with fair and light complexion  as the shade is so subtle. Petal is also a great shade for those who are  new to the blushes as you can't really go wrong here.
Not only you can use it on the cheeks, but also on the lips!
Highlighter in Champagne, £ 16
My
Read More
I have three products from the amazing Lisa Eldridge's N07 makeup collection for Spring 2012 to show you.
No7 Vital Enlightening Highlighter (10g £13), No7 Vital Brights Cream Blush (2g, £10) in Blooming Pink, bright hot pink and No7 Vital Brights Lipstick (3.5g, £10) in Blooming Pink, hot pink.
First of all I have to say that I really like the flower prints on the packaging and I really wish they'd put at least one on the lipstick tube, too.
I was really excited about the bright pink blush and lipstick when I first saw them. And, let me tell you, both are even better than I've hoped they'd be!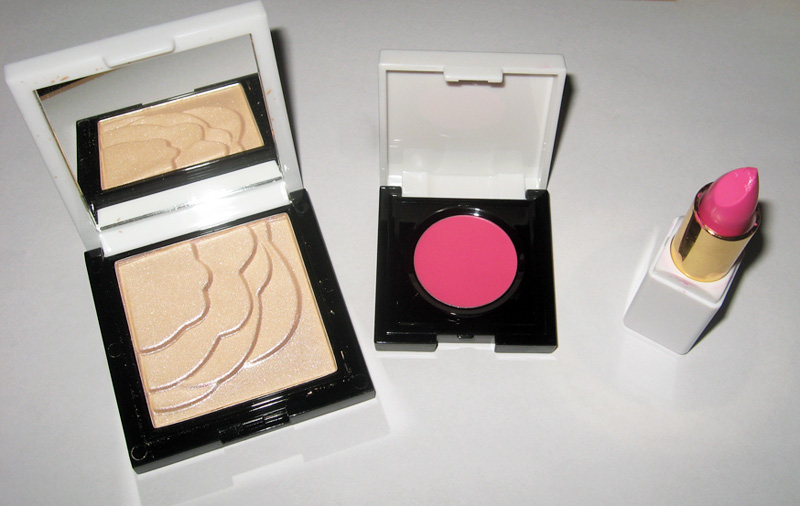 I will start with the lipstick as it is my favourite item. It it a perfect bright, hot and vibrant blue based pink which gives a nice glossy texture. The shade is buildable, you can blot it out for a sheer effect or layer it up for a stunning full on colour.
I really like the lipstick's formula, it is like a
Read More