I was asked about my Illamasqua lipsticks several times on Twitter so  I thought, why not featuring them all together?
I have four shades and have already written about each in details, so this is more of a round-up.
Before I start, I have to say that I really like the brand's lipsticks, they give an amazing colour pay-off and stay on really well.  Since they have a matte finish, make sure that you take a good care of your lips so that the lipstick doesn't enhance any dry patches and goes on smoothly.
Over
This coral with pink undertones, looks
Read More
I did a post about relatively subtle peachy coral makeup and since it got a lot of views, I've decided to do one about bright orange.
I am not exactly the biggest fan of bright orange (on myself); I prefer fuchsia, so I was surprised to see how many products I have. So I've decided to feature only four, like last time: for lips, eyes, cheeks and nails.
So here we go:
Inglot Nail Enamel 949
I absolutely adore this nail polish! I have several different Inglot shades and this one is the best, it brightens up even a dull outfit and lifts the mood. In fact, I wore it last week and got a lot of compliments. See it on the nails here.
Clarins Rouge Prodige Lipstick in 118 Clementine
I personally can wear this shade only in summer when I get some tan, as it's not the best choice for my light cool toned skin but with some tan, it's amazing. Keep the rest of the makeup minimum and add Clementine for a
Read More
I have already shown you the Duo Blusher in Ketie and Ambition from the Illamasqua's  SS 2013 makeup collection I'M Perfection.
So today I want to show you their newest lipstick – Immodest. I personally think this is an awesome name for such a beautiful bright candy pink.
This is my fourth lipstick from the brand so I am already familiar with the quality and the formula, you can see the other shades:  Over (coral), Atomic (fuchsia) and Kontrol (purple).
The brand's lipsticks are perfect for a statement lip, as the pigmentation is amazing, you get a full-on colour with one layer.
As for
Read More
Here is, as promised, a post about Clarins'  Rouge Prodige Lipstick in  Rosy Coral which I have featured in the Peach and Coral makeup.
I actually already did a  detailed review about Rouge Prodige lipsticks which you can read here. So this time I want to concentrate on the colour more.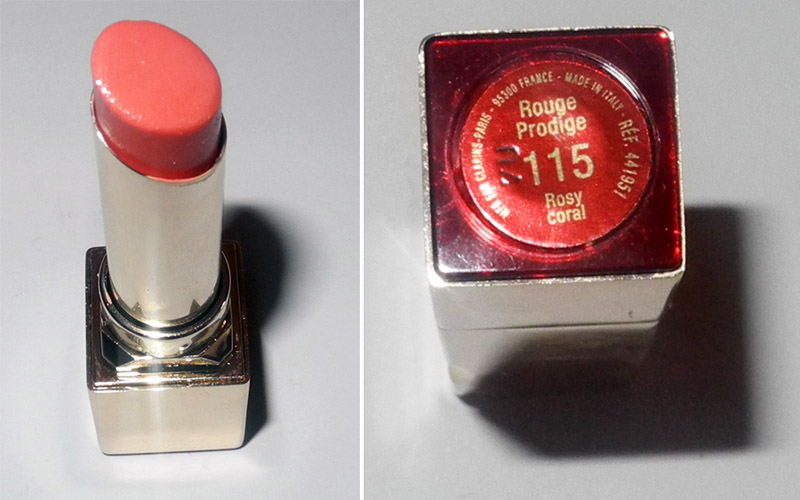 According to Clarins, Rosy Coral is
Read More
I see new releases literally every day, so I don't get excited that often. But when I saw the photos of Givenchy's Le Rouge lipstick I thought that is was a mind-blowing collection! I also knew that I had to get it!
I have bought it only last week, although it was released back in February, because the lovely  Givenchy PR actually sent me some lipsticks and polishes to show you and I did not want to get the same shades, so had to wait.  But the samples got lost, thanks to the glorious post workers, along with some of my other post…
I bought  the lipstick for my Birthday anyway, as I wanted at least one shade for my personal use.
The thing is that there are different shades available in different countries and I had my fingers crossed that I would be able to buy 302 Hibiscus Exclusif  which was the shade that attracted me. Luckily, I was able to find it.
So what is so special about Le Rouge?
First of all, this is the best lipstick design that was ever created, I don't think I could love it more. It is leather with silver metal with engraved Givenchy logo on top  and "Givenchy" written both on the bullet and the cap. There are also two studs that look really cool. The package feels heavy and luxurious!
The lipstick formula is
Read More