Regular readers will know that I am a huge fan of Clarins lip products and baby pink is my "nude". This is why I've decided to share my top 3 Clarins pink lip products that are my personal must haves.
I did a detailed review of each so I won't say a lot this time but will just mention that all three are phenomenal, they all are like a mix of lip treatment and a beautiful colour glosses. Smell amazing and feel nice when applied. It only depends on the applicator and the effect that you want on your lips:
Lip Crayon in My Pink (review and swatches)
Clarins Instant Light Natural Lip Perfector in
Read More
I don't watch that many YouTube beauty videos, but there is one that I really liked, and that was Lip Products Addict Tag.  I thought I'd do my own version in form of a post. So here we go…
My favourite lip treatment, sadly, has been discontinued, so the one that you can buy now has to be NUXE's Reve de Miel. I am not very original here, but this thing is da bomb! It does everything you'd want a lip balm to do,  nourishes and moisturizes the lips; it's a perfect overnight balm.
You can get if for  around £10  from Feel Unique and  Look Fantastic 
Best Eye Catching Red 
I do love a good red and have a lot in my rotation, but I've noticed that I get the most compliments whenever I wear Daniel Sandler's Red Carpet Red. The name speaks for itself, no?  It's a gorgeous and flattering red, I highly recommend.
You can buy it from Feel Unique for £13.25.
Best Luxury and Best Drugstore Lipstick
My  most-used luxury lipstick has to be Dior Addict, so I'll include this
Read More
I really love Revlon lip products, and finally got around posting about their ColorBurst Balm Stain. I wanted  010 Chérie since I first saw the promo photo of it and, finally, got it this December. And, here is  a review, at last…
ColorBurst Balm Stain is, as the name suggests, a creamy balm that feels nice and non-drying on the lips, gives a beautiful glossy finish, and fades to a light rosy stain after a while. Honestly, for the price, I can't think about anything that I dislike. Maybe only the minty scent, but it fades after some time.
As for the colour - Chérie is a
Read More
Today I want to tell you about a very famous product -  my first Tom Ford lipstick. I don't know what took me so long to get one but I did it finally. I've bought it for my Birthday this month.
I've chosen a shade called Bruised Plum which is absolutely gorgeous.
Sasha Luss at Prada show
So what is so special about this product? Is it worth the hight price tag £36/$49?
Of course, the first thing that I have to mention is the amazing packaging, a heavy and luxurious almost black case with gold details and a TF logo on top. It is simple, elegant and chic, timeless classic. Speaking of classic, Tom Ford Lip Color has that vanilla scent, which I personally associate with lipsticks.
What about the lipstick itself? I am extremely pleased with the colour that I've chosen, Bruised Plum  is a beautiful cool toned plum. Here is how it looks like compared with Clarins Joli Rouge Lipstick in 738 Royal Plum and
Read More
Remember this photo with the most gorgeous plummy shades? I've decided to write about the lip product in more details, as it is truly wonderful.
And it is Bourjois Color Boost Glossy Finish Lipstick in 06 Plum Russian and I have been wearing it a lot!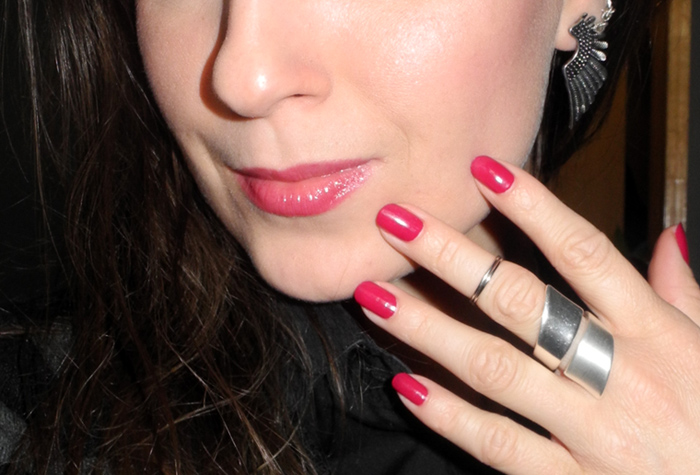 On the photo above it is actually used rather lightly but you can easily build up the shade and make it more intense which is perfect for the Winter season.
I like the fact that the formula is glossy and it feels light and moisturizing on the lips, even when I have some dry patches, they are not horribly enhanced, as with some lip products.
Here is how it looks like swatched on the skin. Glossy Finish is a
Read More