If you are a long-time reader, you probably know that I am die-hard fan of Daniel Sandler's Watercolour Blush (these two are my favourite), so I was  excited to  receive  his newest product  a while ago – Radiant Glow Illuminating Face Powder. I love the fact that Daniel does not release 100 new products every year but when he does you can be sure that it is high quality and reasonably priced.
The newest face powder comes in a signature gold and black packaging, and the product itself consists of four shades which can be used individually or mixed together.
The shades, as described by the brand are: a bright high shimmer gold, a rich shimmery peach, a beautiful creamy white and a pale peach with a gorgeous sheen.
Below you can see how each shade looks when applied, and also how they look when
Read More
I am a huge fan of Rouge Bunny Rouge's Flawless Face Powder Precious Velvet and had high hopes for their newest powder  which I was given to try – DIAPHANOUS Impalpable Finishing Powder.
First of all, I have to mention the great design,  the sifter keeps the powder in place,  and as the result you don't  waste any, and it doesn't get all over the place. And of course, you get a signature Rouge Bunny Rouge pretty packing with  floral motives.
As for the powder itself – it is kind
Read More
Regular readers know that I am not a big powder user ( I have a lot of different powders in my kit; but this is the only one that I use on myself). But even I, with my very dry skin, like some powder on a hot and humid day. To a)make my makeup last longer b)mattify my T-zone a bit.
This is why today I want to tell you about my personal favourite powder which is Rouge Bunny Rouge Flawless Face Powder Precious Velvet. 
I've had it for 2 years now, so I am not sure why it took me so long to write about it…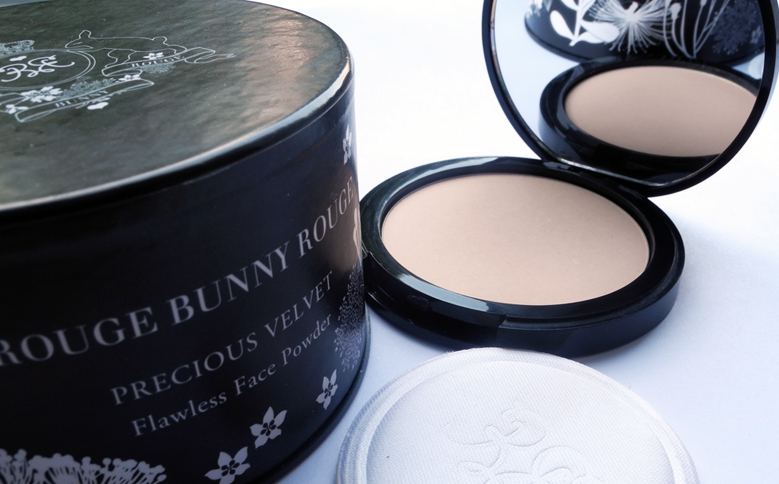 Why do I like it?
It doesn't enhance the dry patches on the skin that I may have and doesn't dry out  my skin.
I don't feel this powder on my face, it is very lightweight.
The brand says that it melds with the skin, and I totally agree.  It is not visible at all. You just get a perfected and flawless finish.
I like the effect Precious Velvet gives, it mattifyes  but doesn't  make your face look  flat and life-less, you skin shows through.
For me personally, the effect lasts all day, but if you  very have oily skin, you may need a special matte powders. I haven't tried it on anyone with such skintype so can't make any comments. But on girls with normal skin  it worked amazing, as well.
As for the main ingredients, Rouge Bunny Rouge list the following: "Papaya Fruit Extract as a natural "face lift" and skin softener, plus Hyssop Extract with soothing properties. Rice Powder imparts a perfectly natural, non-shiny finish. "
All
Read More
Today I want to tell you about the products that would work perfectly for summer. And these are actually from the Illamasqua SS 2010 collection called Body Electrics.
I've already mentioned these products but never wrote a detailed review so here we go…
The first products is the Powdered Metal in Erzule, deep bronze shimmer. There are four Powdered Metals available and I've got the darkest shade but you can also get: Bebhionn (soft pink shimmer), Thalia (golden tan shimmer) and Ether (pale gold shimmer).
You can actually use these in so many ways: as a face powder, body powder, eye shadows; you can also mix it with other products you have.
I personally love using it on my body and as an eye shadows.
It is a very dark colour compared to my body so I have to blend it  very well, but once I do, it looks gorgeous! I personally like using some body oil , wait until it absorbs into the skin and then use a very thin layer of this powder very well blended. I find that it stays on the moisturized skin much better. You can probably try mixing some powder with body lotion but I haven't tried it myself.
The great thing is that it doesn't  wipe off your clothes when you are wearing something with the long sleeves, it stays on very well and gives a beautiful sheen.
I would recommend Erzule after some fake tan or if your skin is not so pale as it would look more natural but if you do use it on the fair skin, again, make sure that you blend it very well.
The great news is that now you can get your Powdered Metal with a great discount! Now it retails for £15.75 and the original price is £22.50 at Illamasqua.
To make sure that
Read More
Today I want to tell you about the Make Up For Ever HD Powder which is a translucent finishing powder which can be applied over the foundation or worn alone. MUFE HD powder is very finely milled and is made of pure mineral silica (talc- free formula). It sets the foundation and evens out the complexion, it is also said that it slightly mattifies the skin.
To tell the truth,  I rarely (almost never) wear any kind of  powders on my face and I have a lot of reasons for that but the post is not about it. But I do have several powders to use them on  others. And I do like the effect that this one gives a lot. In fact all the girls I've used this powder on loved the effect it gives and were happy with the results.
And here is my impression:
I absolutely love the finish it gives, the skin looks so smooth and the makeup is set, it really improves the way your skin looks, especially it is good for
Read More