I was looking for a new top coat, and thought I'd give Mavala's Minute Quick Finish Fast Dryer Top Coat a try!
I did not read any reviews about Mavala top coats (and there were several to choose from), and decided to buy this one when I saw in the other day in the shop.
So what do I like about it?
I love how small it is because fast drying top coats get very gloopy after some time, and it it impossible to use them up, without any special thinning products. So, hopefully, I will be able to use more than a half bottle of this one. I've been using it for several weeks now, and have about 1/4 of it gone already.
My main requirements for a top  coat are:
Read More
Regular readers know that I am a huge fan of red nail polishes, and I am actually very picky, there are not that many that I truly like. My favourite is actually Revlon's Red, it is a bright true red, not dull, but not neon, not warm toned, but not too cool – it's a timeless classic.
But I've managed to find another red which I love as much, as Revlon. It is Marc Jacob's Nail Enamored Hi-Shine Nail Lacquer in Lola. You can see  it, freshly applied, here.
But on the photo below is  manicure with Lola after a week, that's why it doesn't look i't best! It is with a top coat, since without it the nail polish doesn't last for the whole week. But still impressive, right? There are very few nail polishes that last that well on me.
I love this nail polish so much that I would talk about it with everyone who would listen, ha!
Look at that design! It's the coolest nail polish bottle I've ever seen. When I saw the promo photos for the first time – I knew that it had to be mine.
The colour is
Read More
I used to be a bit obsessed with all the different nail polishes. All those out-of-this-world stunning shades and innovative finishes  really rocked my world. Of course, I am no way even close to the  real nail polish fanatics, but I do have several shades of yellow, for example.
But recently something changed and I've been wearing classic colours all the time, think red/berry/plum.  I don't know why, but every time I paint my nails with green or brown, I'm not feeling it. It's been like this for about two months. Back to the basics?
The only shades that
Read More
Although I do love my luxury products, this week I've been obsessed with two of my latest purchases from high street. The thing is that I did not even plan to get those, but saw them, liked the shades and had to pick them up.
My newest lip love is Bourjois Color Boost Glossy Finish Lipstick in 06 Plum Russian.
Such a gorgeous shade and finish, it looks very glossy and beautiful on; feels light and moisturizing. On the photo below  I am wearing it very lightly, you can get a  much more intense shade, which I love for evenings.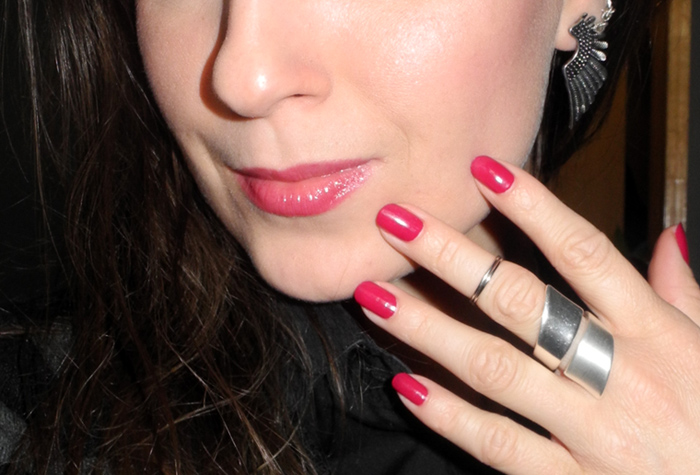 As for the nail polish, I am
Read More
Believe it, or not,  this is my first ever Zoya nail polish. It was actually a present from a friend, who remembered that I wanted one. What a pleasant surprise!
I love red nail polishes, as you probably all know, and was very happy that I did not have a similar shade. The one I have is called Tamsen, which is described as medium warm brick red with strong orange tones.
I am not exactly a big fan of warm toned orangey reds, but this is a nice autumnal variant with  a
Read More