I used to be a bit obsessed with all the different nail polishes. All those out-of-this-world stunning shades and innovative finishes  really rocked my world. Of course, I am no way even close to the  real nail polish fanatics, but I do have several shades of yellow, for example.
But recently something changed and I've been wearing classic colours all the time, think red/berry/plum.  I don't know why, but every time I paint my nails with green or brown, I'm not feeling it. It's been like this for about two months. Back to the basics?
The only shades that
Read More
Although I do love my luxury products, this week I've been obsessed with two of my latest purchases from high street. The thing is that I did not even plan to get those, but saw them, liked the shades and had to pick them up.
My newest lip love is Bourjois Color Boost Glossy Finish Lipstick in 06 Plum Russian.
Such a gorgeous shade and finish, it looks very glossy and beautiful on; feels light and moisturizing. On the photo below  I am wearing it very lightly, you can get a  much more intense shade, which I love for evenings.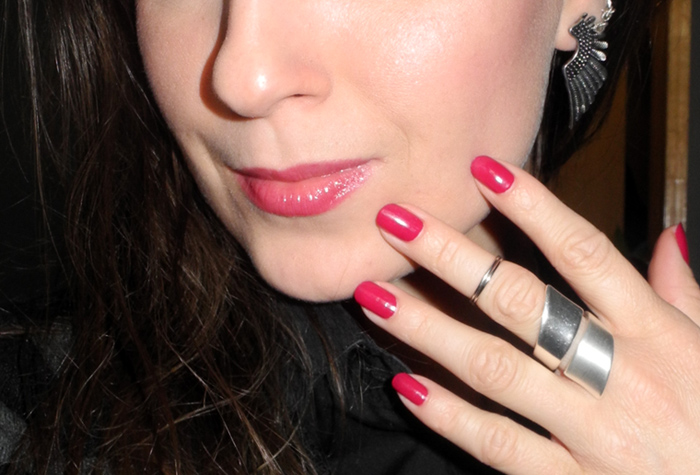 As for the nail polish, I am
Read More
Believe it, or not,  this is my first ever Zoya nail polish. It was actually a present from a friend, who remembered that I wanted one. What a pleasant surprise!
I love red nail polishes, as you probably all know, and was very happy that I did not have a similar shade. The one I have is called Tamsen, which is described as medium warm brick red with strong orange tones.
I am not exactly a big fan of warm toned orangey reds, but this is a nice autumnal variant with  a
Read More
I wanted to try Bourjois 1 Seconde Nail Polishes for some time, as I've heard so many great things about the range. Unfortunately, I couldn't find a shade that I would really want. But… when I'm in doubt – I go for red. This is how I got 11 Style in Rouge.
The formula is really amazing, it is opaque with one coat, glides on smoothly and definitely dries quicker than most nail polishes. Plus I like the wide brush which allows you to save time on the application, too. Plus it's easy to control (the brush) and you don't get the nail polish all over the place.
As for the shade - 11 Style in Rouge is a gorgeous bright warm red. Perfect shade to brighten up dull weather & mood. Although I like cool toned or classic reds, this one is
Read More
Recently I was re-organizing my beauty products and realized that I have quite a few blue nail polishes. In fact, considering that I have around 100 in general, 14  is not a small number.
Actually I am not a collector [when it comes to lacquers] and try to make sure that I don't have a dupe before buying a new bottle and the photo below actually proves my point. Can you see that they all are very different?
So I have decided to show you my top 3:
Rimmel Lycra PRO Nail Polish in Blue Vogue
This is a gorgeous deep shimmering navy blue, such a chic and sophisticated shade, in my opinion.  I really love the formula which is
Read More