Recently I have posted about the top three affordable new makeup launches that caught my attention. And Max Factor actually kindly sent me their new eye shadows to try out.
They have already made an appearance on my Instagram, and now it's time for a detailed review.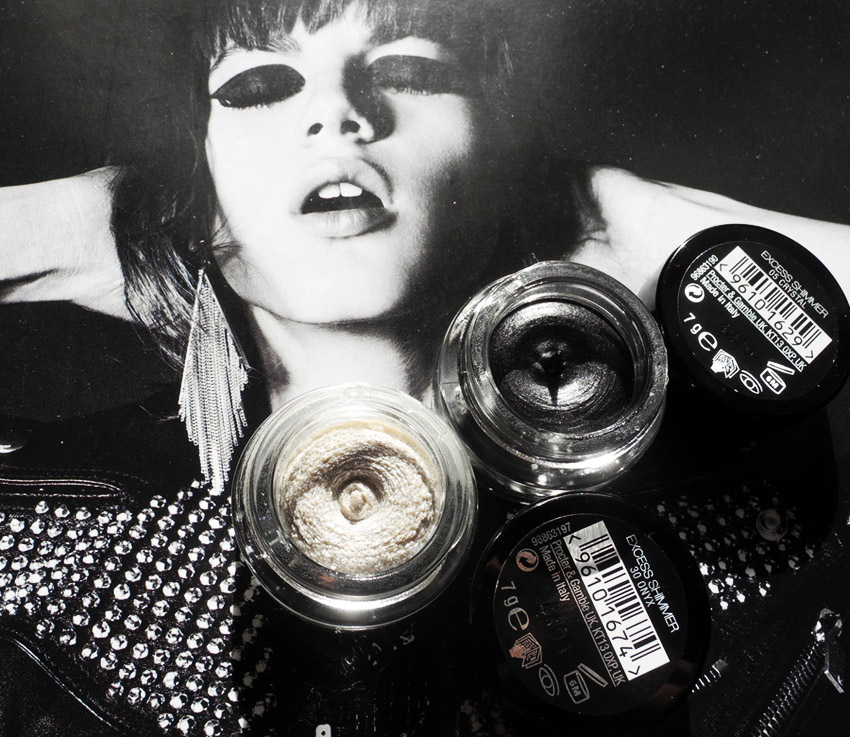 And, let me tell you, these eye shadows are absolutely brilliant!  I was a bit worried that with the name Excess Shimmer it could be an overkill (not a fan of too much glitter), but it is not – spot on, in fact!
The brand describes the  texture as "3D silicone gel", and it does feel like a light mousse-y gel  texture (the only similar product that I have, is my favourite cream eye shadow by New CID) which is foolproof.
You can even use the product with your finger and gently blend all over the lid.  The formula is pretty unique, you can sheer it out, or add layers for a more intense effect.
As for the look, yes it is quite shimmery, but it looks pretty!  It never is flat, but instead, gives dimension, and reflects  the light beautifully.
You can also
Read More
Have you got colour in your cheeks? Yes, that is  Arctic Monkeys "Do I Wanna Know?" (listen )
This song actually inspired me to write about my current favourite cheek products. But, and this will be a shock for regular readers, I have been neglecting blushes lately.  Yes, really.
And here are the two products that I have been using religiously lately…
TrishMcEvoy Golden Bronzer and NYX Blush in Taupe.
Trish's bronzer is probably my favourite out of all that I own. It is not too dark, too orange/muddy/shimmery/you name it. It warms up the complexion, and adds just the right amount of glow thanks to the delicate shimmer. Golden Bronzer looks amazing even on my light skin tone. Moreover, it is very finely milled, so blends beautifully and looks natural. Brilliant product. Maybe this will be the first ever bronzer that I use up?
You can buy Trish McEvoy from Selfridges, Nordstrom and Neiman Marcus.
Read More
I love red lipstick, I really do.  I often wear red, and I have converted some of my close girlfriends to red, too. In fact most of them tried it for the first time because I made them. I literally put it on their lips, ha!
This is why I've decided to look back at some the post about red lips that I wrote in the past and share them with you!
Men and Red Lipstick. Do they Even Like It? (read here)
This was one of my favourite posts to write! My readers' husbands and boyfriends shared their true opinion about the red lip. Care to share what your Mr. thinks?
My tips on wearing  red lipstick (read here)
How, what and
Read More
I am painting my nails at least twice per week.  I find that nice manicure not only never fails to improve my mood but also somehow increases my productivity. How can you not be productive with red nail polish on?
But there is one product that I often neglected in the past –  base coats.  A good base coat should make your nail polish last longer, protect the nails from staining, make them smoother, which would make the nail polish application easier, and maybe even strengthen them.
However, I wasn't pleased with any base coats I have tried in the past, they took forever to dry which made the whole process longer, and
Read More
I personally think that you just can't go wrong with Kerastase! Their products are not the cheapest but they work, and they work wonders when you get the range which is targeted at  your hair type. Sometimes it is better to have a consultation in the salon.
I have decided to try  the brand's relatively new range Densifique, which contains Hyaluronic and is supposed to give you fuller texturized hair.
I have picked up Kérastase Densifique Bain Densité Bodifying Shampoo  which is described as a "new generation of polymers able to instantly provide smoothness, texture & uniformisation of the fiber."
And it is just so unbelievably good! The best shampoo I have used in a while.
It does
Read More