I am sorry about the lack of updates, life and work got in the way, once again. It's the end of the year, so things are a bit mental. It should be a lot better in January though..
But I saw this tag on Gio's Beautiful With Brains blog, and I thought that'd be a good one for a little update.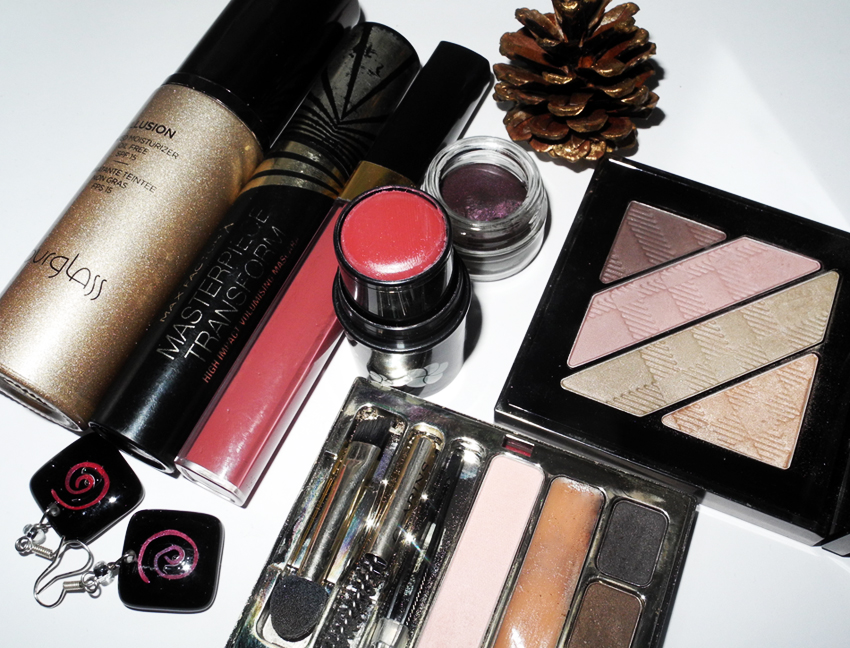 1. Which product do you still keep buying more of despite having plenty in your collection?
Red nail polish and pink baby pink lip glosses – those are my must haves, and I am always looking for a better option.
2. What is the one product that you can not live without?
I assume that we are talking about makeup, not beauty in general – so that'd be this brown eye pencil.
3. Favorite Makeup Brand?
It's a very hard question. Maybe BECCA?
4. How big is your makeup collection?
I'd like to think that my personal makeup collection is not that big. But since I also do makeup in my free time, as a hobby and as an extra income – I do own more than I
Read More
When I was a teen, I considered Max Factor mascara to be a proper luxury, I had to save money to  get myself a tube. Although that was ages ago, but I am still in love with the brand's mascaras. In fact, their latest one – Excess Volume Extreme Impact was  very innovative and brilliant
But what about Masterpiece Transform High Impact Volumising Mascara?
Read More
I thought I'd start Monday with a quick post about my current morning shower routine. I have bought several new products last week, and absolutely enjoy using them, along with some old time favourites.
Here they are:
Costes Shower Gel, £18 for 200 ml from Cult Beauty
I already had a Costes soap, and this time decided to get a shower gel. And, it's the same signature addictive scent of a" spicy, woody mix of coriander seeds, white pepper, laurel, oriental woods, incense, musk and a touch of rose".  Shower gel is a very boring purchase, unless it's this one.  Not only I've got a tube for myself, but also one for a very special friend.
Kérastase Densifique Bain Densité Bodifying Shampoo (review), 250 ml for £14.45 from Feel Unique.
This is still one of my favourite shampoos, it
Read More
Now that I have been using Sally Hansen's Insta Dri  for quite a long time, I want to share my impression.
I wanted to try a new top coat and decided to choose one from the brand. They actually had a lot of different options, but I've chosen this one, since I've heard good things about it. And also…I love red.
And… it is good. As the name suggests, it does make the nail polish dry a lot quicker, which is
Read More
I wanted to buy Inglot's Duraline for ages, and I finally did it last month!
What is it exactly? The brand describes it as a " silicone polymer forms a breathable film while this waterless clear liquid transforms any powder into an intense easy to apply liquid."
It sounds like a must have for any make-up artist or beauty lover, as the possibilities are endless. But does it really work?
I wanted to buy it mostly to
Read More