August is the month when I always go on a holiday, and now I am back and not ready  to get back to life.  This year I was very proud of myself for not over-packing or taking any extra products.
Here is the makeup I had with me for two weeks, and I could actually take even less lip products, everything else I have used religiously.  If I had to pick 3 products I've used/loved the most that would be:
YSL Faux Cils Mascara – it is absolutely incredible, the best mascara ever.
Revlon Colorstay Liquid Eye Pen – most of the days I love my cat eye, and this happen to be the liner I am using now, I really love the shape of the nib which is incredibly easy to use.
Clarins Blush & Bronzing Compact (review and swatches) it is
Read More
As I have already mentioned, I do not get excited for celebrity beauty collaborations that often. However, I am all in if Victoria Beckham has anything to do with it.
And here is finally a preview of the collection which Victoria posted herself!
What do you think? It looks very chic to me, in fact, it looks more like  Tom Ford beauty than Estee Lauder.
And, although
Read More
Dolce & Gabbana's Autumn makeup collection was inspired by the Sicilian landscape, and it is full of beautiful rich browns and subtle metallic hues.
Here is a little video for your viewing pleasure.
The products are:
Shine Lipstick in SN 001,  Chocolate 79
Classic Cream Lipstick in Honey 130
Nail Lacquer in  Raspberry 240, Ebano 827, Desert 820,  Wild Green 725
The Eye Shadow Quad in Enchanting Fall 118 and Smoky 105
Intense Colour Gloss in
Read More
Since I've just posted about the new eye brow gels, it seems like a perfect time to review the newest release from Rouge Bunny Rouge – their new eye brow products. I have actually already induced one of them in my July Monthly favourites. The brand does not bring out that many products so when they do – it is most likely something awesome. And what about these products?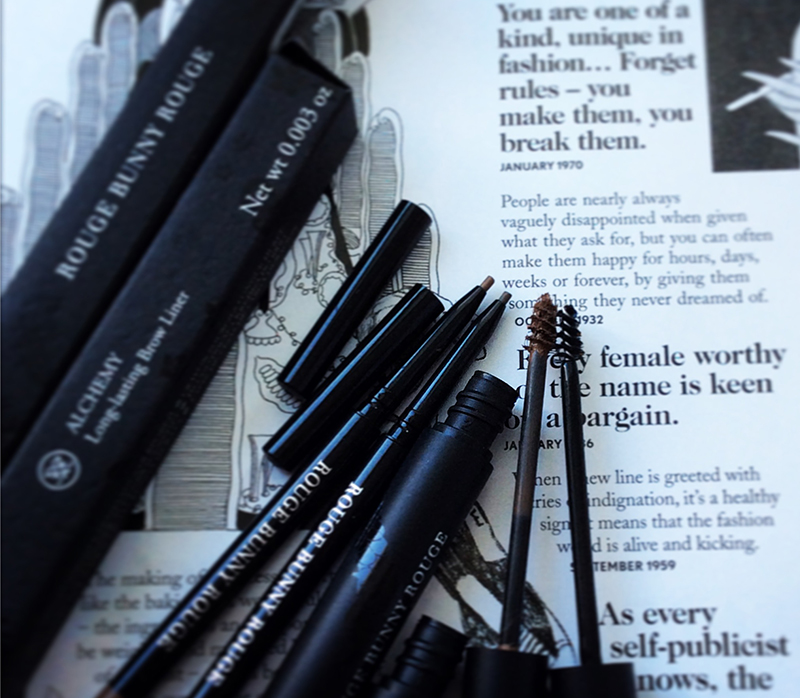 Long-lasting Brow Liner ALCHEMY, €26
Available in two shades:
 ANTIMONY, dark chestnut. Ideal neutral shade for dark brown and black natural brow colour.
TRONA, light hazelnut. Ideal neutral shade for almost any natural brow colour.
It was actually Antimony shades that was in my monthly favourites, and it is brilliant,  it is not  too cool or too warm,  it is also dark enough to add some definition but not too dark, just spot-on.
But it is the formula and the shape of the pencil that I love! As always, the design is exquisite,   this pencil comes in a slick black packaging. And the pencil itself is incredibly thin which allows a very precise application, you can draw in individual hairs and achieve really natural results. This is probably not the on-the-go product but it is
Read More
Check out The Best Fall Lipstick for Every Skin Tone
Read More