Recently I have posted about the top three affordable new makeup launches that caught my attention. And Max Factor actually kindly sent me their new eye shadows to try out.
They have already made an appearance on my Instagram, and now it's time for a detailed review.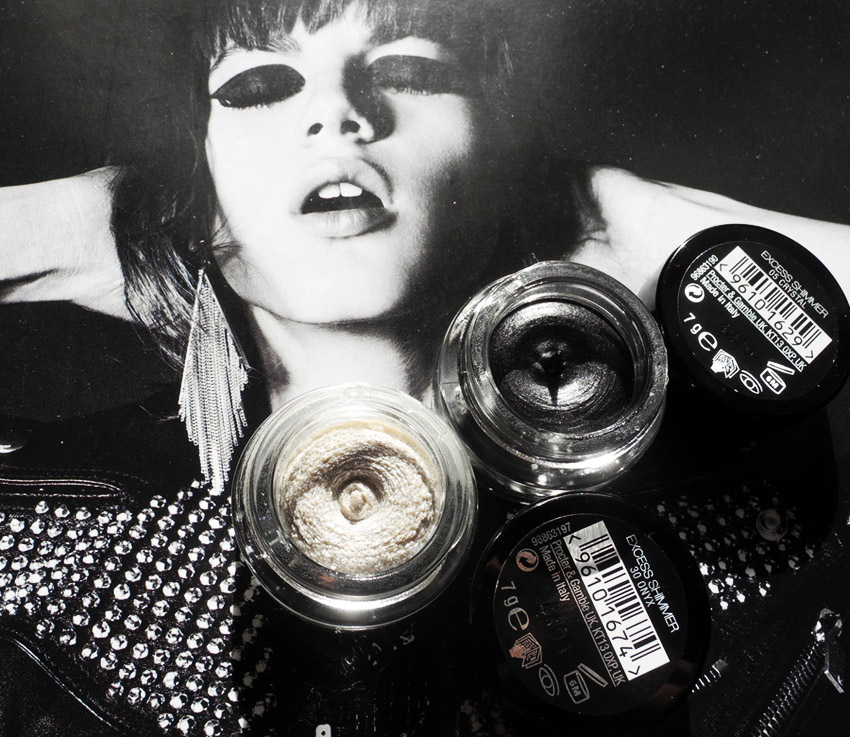 And, let me tell you, these eye shadows are absolutely brilliant!  I was a bit worried that with the name Excess Shimmer it could be an overkill (not a fan of too much glitter), but it is not – spot on, in fact!
The brand describes the  texture as "3D silicone gel", and it does feel like a light mousse-y gel  texture (the only similar product that I have, is my favourite cream eye shadow by New CID) which is foolproof.
You can even use the product with your finger and gently blend all over the lid.  The formula is pretty unique, you can sheer it out, or add layers for a more intense effect.
As for the look, yes it is quite shimmery, but it looks pretty!  It never is flat, but instead, gives dimension, and reflects  the light beautifully.
You can also
Read More
Here is a preview of the new gorgeous festive makeup collection form Burberry. All the products this Christmas come in a beautiful golden packaging.
The star of the collection is definitely the Fragranced Luminising Powder (£45.00). It smells of My Burberry perfume and adds a nice glow to the face.
Other new products are: Complete eye Palette Gold no. 25 (£40) Lip Glow gold NO.25 (£18.50),  Lip Mist Gold NO.217 (£22.50) and Nail Polish Gold NO.447 (£15.00)
Read More
Too Faced always bring out some of the most amazing releases for  the holidays. Their new collection is cute and girly, as usual.
Not to mention great quality and prices. Everything is already available from Sephora and will be available from Beauty Bay later.
You can choose from the following products:
La Belle Carousel, $49.   A unique looking, carousel inspired set includes the following products:
 12  eye shadows in Angel Hair (muted copper shimmer), Frost (intense white glitter), Tin Soldier (silver shimmer), Christmas Tree (forest green glitter), Santa's Boots (matte black), Tufted Suede (taupe), Haute Chocolate (chocolate shimmer), Yule Log (black sparkle), Nut Cracker (pale pink ivory), Nude Beach (glittery pale peach), Boxes and Bows (icy peach pink), Sugar Plum Fairy (deep purple glitter)
 2  Bronzers in Chocolate Soleil (matte chocolate), Sun Bunny (white shimmer)
2  Blushes in Who's Your Poppy (warm peach/gold shimmer), Luminous Peach (coral)
 Better Than Sex mascara
Everything Nice Set, $56
Read More
Have you got colour in your cheeks? Yes, that is  Arctic Monkeys "Do I Wanna Know?" (listen )
This song actually inspired me to write about my current favourite cheek products. But, and this will be a shock for regular readers, I have been neglecting blushes lately.  Yes, really.
And here are the two products that I have been using religiously lately…
TrishMcEvoy Golden Bronzer and NYX Blush in Taupe.
Trish's bronzer is probably my favourite out of all that I own. It is not too dark, too orange/muddy/shimmery/you name it. It warms up the complexion, and adds just the right amount of glow thanks to the delicate shimmer. Golden Bronzer looks amazing even on my light skin tone. Moreover, it is very finely milled, so blends beautifully and looks natural. Brilliant product. Maybe this will be the first ever bronzer that I use up?
You can buy Trish McEvoy from Selfridges, Nordstrom and Neiman Marcus.
Read More
If you want to treat yourself or a very special friend or relative this season, Cle de Peau Beaute is the of of the best variants to consider. It just doesn't get any more luxurious than this.
La Beauté Céleste Shimmering Lip Gloss Trio, $50
Moisturizing and shimmering glosses with argan tree oil. Brownish Meteor, Orange Planet and Berry Nebula
La Beauté Céleste Makeup Coffret, $195
3 Eyeshadow,  2 Cheek Color, Ruby Red Extra Rich Lipstick – all shades are Limited Edition. And  Perfect Lash Mascara in Jet Black.
Also, if you are ready to splurge on some very high-end body products, Cle de Peau got you covered, you can choose between a
Read More