Check out How to Get Better Skin Without Spending a Dime
Read More
There are so many new products  for the face, lips and eyes, so let's take a look at them all, we will start with the new cheek items from YSL, Marc Jacobs and tarte.
Marc Jacobs Beauty Air Blush Soft Glow Duo, $42 from Sephora
Features two shades that merge together so you can customize your colour; ultra-lightweight formula and  a radiant finish.
FYI "Air Blush is created using a process called soufflage (French for "air-whipped") for a silky-soft, cream-like texture that blends effortlessly with the complexion."
Shades: 508 Night Fever & Hot Stuff – cherry/ deep plum, 506 Flesh & Fantasy – ivory shimmer/ goddess bronze, 504 Kink & Kisses – pale petal/ peachy rose, 502 Lines & Last Night – creamsicle/ deep tangerine and  500 Lush & Libido – petal pink/ orchid pink.
YSL Couture Contouring Palette, $47 from Neiman Marcus
A duo with a matte shade for contouring and a highlighter to illuminate. "Use the
Read More
I adore all of my cleansing balms (here are only some) but sometimes I just want to use an effective cleanser which takes less time, usually that is in the mornings. Recently I've posted about a REN cleanser that I love and today I want to share about the Elemental Herbology Vital Cleanse Facial Cleanser.
This cleanser is a brand's best seller, and I can see why. It is gentle and does not irritate the skin but effectively cleanses it, leaving your complexion soft, smooth and radiant with time. The texture is lovely,  it is not too runny so is suitable for a gentle massage.
It is a perfect morning cleanser as has that uplifting citrus-y scent to it.  I find that
Read More
Meet the new eye makeup releases from Giorgio Armani, Lancome and Clinique.
Lancome Grandiôse eyeliner, £23 from Selfridges
Innovative pivoting, bendable wand, lightweight water-based formula ensures an intense colour payoff that dries fast for a smooth, matte, long-lasting finish.
Shades: blue (shown), black and brown.
Giorgio Armani Eye Tint,  from Selfridges  and Harrods for £27
Light and fluid texture and a long-wearing formula.
Shades: Leathersmoke,Fursmoke, Spicesmoke, Camelsmoke,  Taupesmoke and Nudesmoke (shown)
Clinique High Impact Custom Black Kajal Eyeliner, $17 from Bergdorf Goodman
Pigment-packed kajal eyeliner pencil with  long-lasting staying power.
Shades: Blackened Black, Blackened Brown (shown), Blackened Blue and Blackened Green.
And here are the mascaras:
Read More
It seems like Tom Ford's Black Orchid lipstick was released only yesterday. I really loved the look of it but got myself a Bruised Plum shade in the end…
But here is a preview of Mr. Ford's beauty collection for Autumn which is all about those Orchids, and we are talking Black Orchid and Velvet Orchid. And a brand new Orchid Soleil perfume.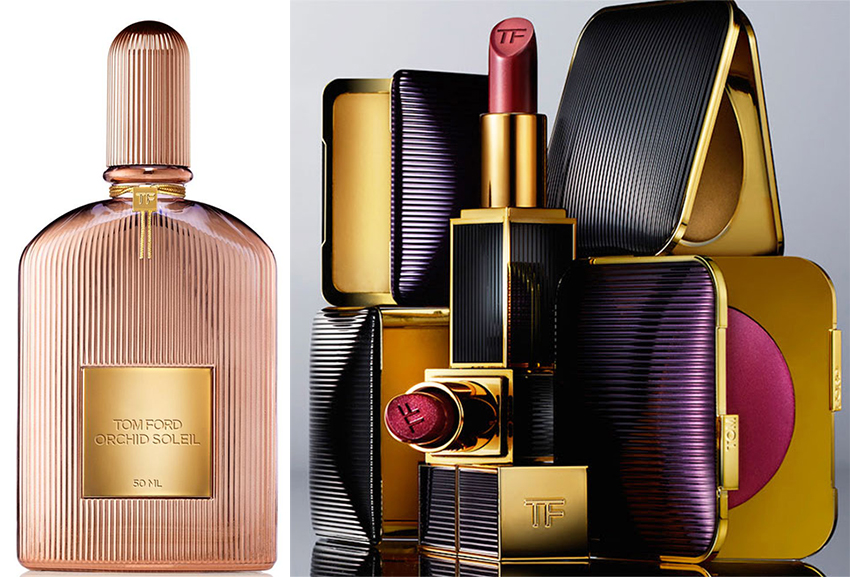 Orchid Soleil EDP  (50 ml- $120, 100 ml –  $168)
spicy notes of pink pepper, bitter orange and cypress
 red spider lily and tuberose
chestnut cream, vanilla, patchouli and orchid.
Black Orchid Collection
Lip Color, $60
Nightbloom Powder ($80)  in Black Bloom
Black Orchid
Read More