I've decided to make a feature on top three products, in my opinion, in different categories. Holy Grail, if you wish.
Although I love trying new products, I am sure that I will be re-purchasing these ones in the future. In fact, I have already bought a second bottle of the serum.
Best Volumizing Shampoo - Sahajuan Volume Shampoo
This is definitely the best  volumizing shampoo, among those that I have tried. This was an impulse purchase, although I usually research before I buying beauty products. And I am so happy that I've got it.
It gives nice volume without feeling heavy or weighting the hair down, plus I find that my hair looks shiny with it.  As I've already said – I will be getting more products from the brand in the future.
Best Hydrating Serum Clarins HydraQuench Bi-Phase Serum
This product is a skin saviour in
Read More
Here is a preview of  summer 2013 new launches from some of  the most luxurious beauty brands out there. It's all about beautiful glowing bronzed skin. Plus don't  forget about the sun protection!
byTerry Summer Splash
Hyaluronic Blush, £28 15 ml
This radiant blush should hydrate and plump the skin.
1 Peach-Posh 2 Blushberry
Hyaluronic Summer, £44 for 40ml
Has  a tanned matte fine powder finish for a hint of barely there summer glow.
1 Fair Tan 2 Medium Tan 3 Ultra Tan
Lash-Coat Mascara, £28
Waterproof top coat for your regular mascara.
 Sisley California Soul
Read More
I have confessed my love for Clarins Instant Light Natural Lip Perfectors (£17) numerous times already. So one more time one hurt, right?
Recently the brand added three new shades to the range and  I was actually sent all three to show you.
So the new shades are: 04 Petal Shimmer, 05 Candy Shimmer and 06 Rosewood Shimmer.
As you  already know, I love everything about Instant Light Natural Lip Perfectors. They have a beautiful balmy,  non-sticky formula which nourishes and moisturizes the lips and makes them smoother and softer. These "glosses" have  light caramel-y/vanilla-ry  scent and taste nicely, not that I am supposed to know
Below you can see the close up of the applicators.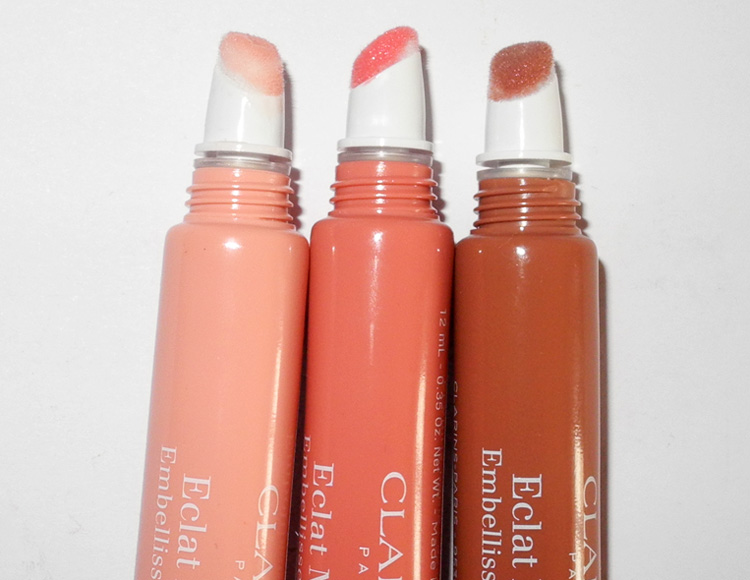 As for the
Read More
This summer Tyen was inspired by the legendary  bird of paradise that supposedly flies in the sky, without never coming to earth.
The promo images are a real eye candy and the shades of this collection are a true summer feast, bright  vibrant and juicy: pinks, corals, tans and all variations of green and blue.
The model on the promo is Daria Strokous and I think she pulls of blue pretty well!
The products are:
Jelly Lip Pen £19
476 Ilhabela
516 Copacabana
636 Carioca
656 Gaïa
Diorskin Nude Tan Paradise Duo £40
001 Pink Glow
002 Coral Glow
 5 Couleurs Eyeshadow, £40
374 Blue Lagoon
434 Peacock
Dior Addict Lipstick, £24
431 On The Beach
471 Flamingo
751 Exotique
771
Read More
Believe it or not, but it actually took me hours and hours to complete this list, as I had to think carefully about what products I really want or what products I actually need.
This is not really a wish list, but more of a shopping list of the products that I plan to buy in the near future. Of course, I could add more, but I've decided to be very strict with myself so every item got on the list after a lot of consideration and is very covetable…
So here  is the list!
Makeup
1. Hourglass Arch Brow Sculpting Pencil in Soft Brunette, £26
I have almost finished my Benefit eye pencil and I am definitely getting an Hourglass one next.
2. Matte Eye Shadows Palette
I can't decide if I should get the Too Faced Matte Eye Shadow Collection (£24.57 from Beauty Bay) or theBalm Meet Matte ($42 from the brand's website, but they are in the process of creating a European shop, as well).   I actually really love the eye shadow quality from both brands: Too Faced Natural Eye Palette Review and Swatches, theBalm Nude Tude Eye Shadows Palette Review and Swatches and the Balm Shady Lady Palette Vol.2 Review and Swatches so that's a hard one.  I only wish Too Faced palette weren't so bulky. Maybe I should get both?!
3. Cream Blusher
That is probably the last thing that I need, considering how many I have but I've decided that I can get one, as a treat for myself. After a lot of consideration, I've chosen Stila's Stila Convertible Colour (I actually can't believe that I still haven't tried it!) I think I'll get Rose or Lillium (£15.12 from Beauty Bay)
Skincare
Now this is the category of the products that I need. There are a lot of skincare products that I want  and the list is endless but these
Read More