Look what just landed in my inbox – gorgeous promo photos of Guerlain's Summer 2014 makeup collection – Sun Celebration! I have already posted about this year's Terracotta release, by the way, too.
This summer Guerlain Terracotta celebrates 30 years, so the brand brought out a drop-dead gorgeous Terracotta Sun Celebration Powder (£47 / €65). Seriously, how beautiful is that bronzer/blush  wooden compact (it has a mirror, too) with flaming orange, burnished brown, sensual golden shimmer, sunset pink shades and a golden metallic sun in the centre?
Terracotta Le Parfum (£46 / €62)
Guerlain describe this fragrance as "The Allure of the Sun, in a Bottle". Thierry Wasser interprets the legendary powder as a fragrance.  It is  "irresistibly sensual, exotic and luminous, inspired by the radiant realm of Terracotta." The notes are: fresh bergamot, tiaré flower and ylang – ylang.
So what else is  in the collection?
Rouge Automatique £25 / €34
Read More
I am a big fan of cleansing balms and melting cleansers mostly because they work great for my dry and sensitive skin, and  also because I love to massage my face while using a cleanser.
It all started with Elemis Melting Cleansing Gel (review) back in 2011, and I never looked back! Over the years I have now tried quite a few, so decided to make a lill' round-up. Maybe, if you are looking for such kind of cleanser, this will be helpful.
Elemis
Read More
There is always at least one product from Too Faced makeup collections  that I want. Pardon My French is not an exception, those eye shadows and melted lipsticks are stunning. *add to wish list*. And what about their eye brow products? They look amazing on the promo photos.
Honestly, this has to be my favourite summer collection so far!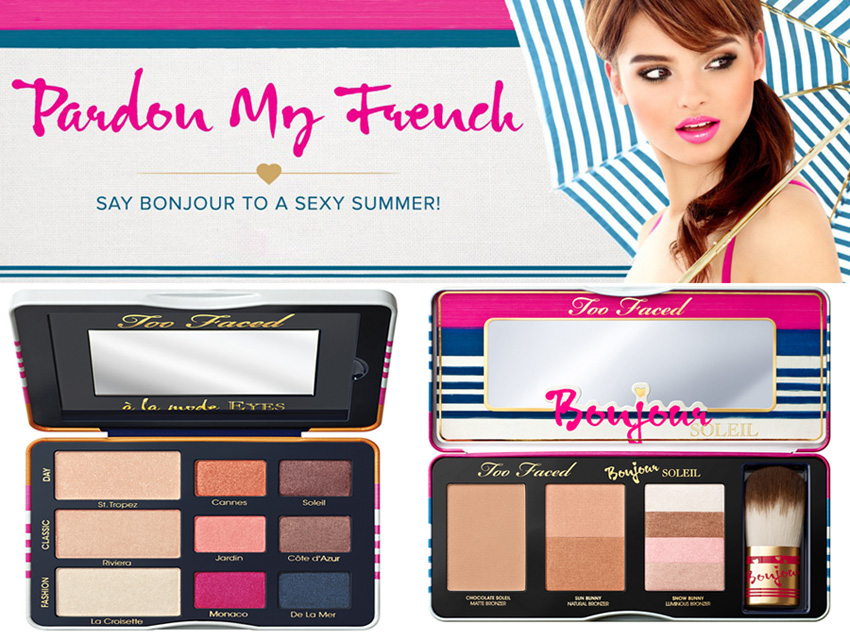 A La Mode Eyes Sexy St. Tropez Eye Shadow Collection ($36)
Capture a summer sunset in St. Tropez with coral, golden pink and fiery copper shadows for eyes that say "Ooh la la!"
Too Faced eye shadows are among my favourite, and how beautiful does that new eye shadow look?  I think I need it!
Bonjour Soleil Limited Edition Summer Bronzing Wardrobe ($44)
"Say bonjour to a gorgeous, golden tan with this collection of bronzing best-sellers including Chocolate Soleil, Sun Bunny and Snow Bunny."
The brand's bronzers are fantastic, I have Sun Bunny and Pink Leopard.
Melted Liquified Long Wear Lipstick ($21)
Get the
Read More
Today I want to tell you about a very famous product -  my first Tom Ford lipstick. I don't know what took me so long to get one but I did it finally. I've bought it for my Birthday this month.
I've chosen a shade called Bruised Plum which is absolutely gorgeous.
Sasha Luss at Prada show
So what is so special about this product? Is it worth the hight price tag £36/$49?
Of course, the first thing that I have to mention is the amazing packaging, a heavy and luxurious almost black case with gold details and a TF logo on top. It is simple, elegant and chic, timeless classic. Speaking of classic, Tom Ford Lip Color has that vanilla scent, which I personally associate with lipsticks.
What about the lipstick itself? I am extremely pleased with the colour that I've chosen, Bruised Plum  is a beautiful cool toned plum. Here is how it looks like compared with Clarins Joli Rouge Lipstick in 738 Royal Plum and
Read More
Givenchy Croisiere Makeup Collection for Summer 2014 is just gorgeous!
There are two new summery shades of Le Rouge lipstick(£25) - hot orange Fruit Defendu and brownish shade Acajou Precieux.
 For the eye the brand released  blue mascara and
Read More