Hourglass don't hunt the trends and don't release endless collections every season but when they do bring out something, it is good.
Their newest product  is the 1.5mm Mechanical Gel Eye Liner,  which is described as "an exceptionally thin, remarkably soft, and waterproof gel liner."
What else do you need to know?
Read More
Clarins' Autumn makeup collection, Ladylike, looks pretty amazing with all those brand new products, and beautiful new shades of the already existing range. Let's take a look…
The new products are:
Ombre Matte Cream-to-PowderEyeshadows, £19
Cream-to-powder eye shadows with Bamboo extract are promised to be smooth, lightweight and long-lasting.
The shades are: 01 Nude Beige, 02 Nude Rose, 03 Taupe, 04 Rosewood, 05 Sparkle Grey  and 06 Earth.
Perfect Eyes and Brows Palette, £35
This  kit contains everything you need for your eye brows to look neat: 3 eye shadows, brow wax, highlighter, mini twizers, and two mini brushes.
Instant Light Eye Perfecting Base, £22
I am a  personally a huge  fan of Clarins Instant Light Concealer, so have big hopes for this new Perfecting Base which contains oat sugar extract and helps to smooth, brighten  and illuminate the  eye area, and make the
Read More
Regular readers know that I am not a big powder user ( I have a lot of different powders in my kit; but this is the only one that I use on myself). But even I, with my very dry skin, like some powder on a hot and humid day. To a)make my makeup last longer b)mattify my T-zone a bit.
This is why today I want to tell you about my personal favourite powder which is Rouge Bunny Rouge Flawless Face Powder Precious Velvet. 
I've had it for 2 years now, so I am not sure why it took me so long to write about it…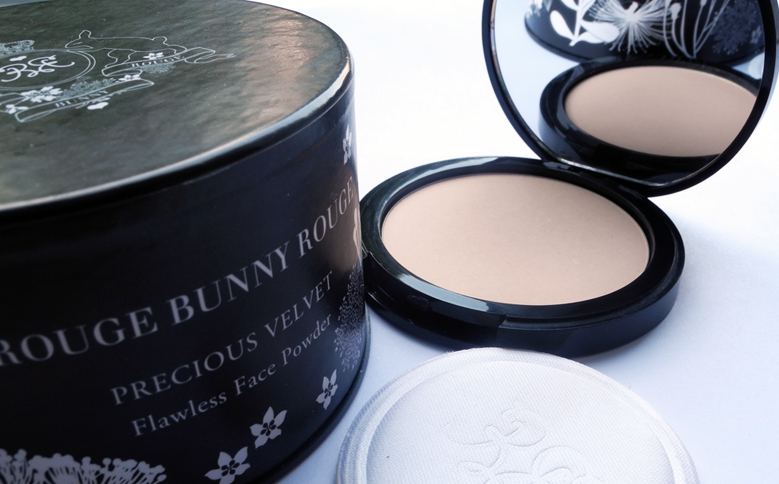 Why do I like it?
It doesn't enhance the dry patches on the skin that I may have and doesn't dry out  my skin.
I don't feel this powder on my face, it is very lightweight.
The brand says that it melds with the skin, and I totally agree.  It is not visible at all. You just get a perfected and flawless finish.
I like the effect Precious Velvet gives, it mattifyes  but doesn't  make your face look  flat and life-less, you skin shows through.
For me personally, the effect lasts all day, but if you  very have oily skin, you may need a special matte powders. I haven't tried it on anyone with such skintype so can't make any comments. But on girls with normal skin  it worked amazing, as well.
As for the main ingredients, Rouge Bunny Rouge list the following: "Papaya Fruit Extract as a natural "face lift" and skin softener, plus Hyssop Extract with soothing properties. Rice Powder imparts a perfectly natural, non-shiny finish. "
All
Read More
I get a lot of how-to celebrity tutorials and always post the best ones on Makeup4all Facebook page but this one is so cool, that I've decided to share it here, as well.
It is a great variant for a summer party with friends and family, paired with a pretty dress and bright (or neutral, as Kate's) makeup look.
Kate Bosworth's hairstyle was created by Bridget Brager, and she shares all her tips with us:
Beauty Inspiration:
"Kate's braided hairstyle was intricate and romantic to match the scenery at the Chateau Marmont and her gorgeous RED Valentino dress."
Get The Look:
"I started by giving her hair a good douse of Phytovolume Actif Volumizing Spray (get it here for £17.50) roots to ends. To set in texture and add thickness, I blew her hair dry using my hands, really concentrating on lifting the hair away from the scalp and up off of her head, especially around the hairline.
Next, I created
Read More
Although  we all are discussing Autumn collections  already, let's not forget that it is still Summer…
To remind us of that Rouge Bunny Rouge created a new look, which is the first part of their new  trilogy- Under Good Omens.
This look is called Chance, it "celebrates the concept of a fortunate coincidence", and it is all about the bronze and blue shades, signature Summer colours.
Here is how you can re-create it:
Complexion
"A combination of skincare and make-up base, the Original Skin Primer GENESIS will help you maintain a beautifully flawless skin throughout the day by smoothing the appearance of your skin, evening out your skin tone, minimizing the look of pores and increasing your foundation's longevity.
Invisible and impalpable, the Tinted Moisturiser SKETCHES ON WATER will even out the skin tone naturally. Add touches of the Bronzing Glow Powder AS IF IT WERE SUMMER STILL... to look kissed by sunbeams.
Hide imperfections by applying  Luminous Skin Wand FINE-SPUN LIGHT or Glide Concealer NAKED DISGUISE and smoothing it on with great care.
Using a tiny amount of  Highlighting Liquid SEAS OF ILLUMINATION on your cupid's bow and in the corners of your eyes, draw the light to your lips and eyes.
For a more intense glow, blend some of Highlighting Liquid SEAS OF ILLUMINATION with Tinted Moisturiser SKETCHES ON WATER and apply to the top of your cheekbones, to the bridge of your nose, and to the centre of your chin.
With the light, creme-to-powder formula of our Blush Wand CHEEKS IN BLOOM it's easy to create a fresh, transparent colour. We suggest the fresh, cool rose petal pink 'Vermeer'.
Eyes
Read More