Here is, as promised, the second part of my Favourite Beauty Products of 2014 features.
This time it's all about the eyes & lips. Enjoy, and don't forget to share yours.
Eyes
Eye Shadows Platte – theBalm Shady Lady Vol 2 (review)
I have re-discovered this beauty in summer, and  this was the palette I travelled with most of the times, amazing formulas, great colour selection, thin packaging and great mirror – what else do you need? theBalm eye shadows are among the best.
 Mascara – Clarins Be Long (review)
I've managed to get lush looking lashes with Be Long, it separates perfectly, is never clumpy, and gives a nice , rather dramatic effect, if you use several coats. The brush, for me, is mess-free. I have recommended it to several friends, and they loved it, too.
Cream Eye Shadow - Max Factor Excess Shimmer Eye Shadows  (review)
Definitely one of the coolest eye shadows I've discovered  in ages.  Mousse-like texture that allows you to get a sheer   hint of shimmer, or layer it on for a more intense look. It is stunning both ways!
Eye Shadows – Rouge Bunny Rouge Eye Shadow in Solstice Halcyon  (review)
This is
Read More
Pantone just announced their colour of 2015 this week – and it's Marsala (PANTONE® 18-1438).
 Leatrice Eiseman, Executive Director of the Pantone Colour Institute describes it  the following way: "The naturally robust and earthy wine red hue 'enriches our mind, body and soul, exuding confidence and stability."
Here is the look that Sephora created in collaboration with Pantone, and I personally absolutely love the eye makeup!
They have actually created  a special section where you can Shop  all things "Marsala".
And I've decided to share my top
Read More
When I was a teen, I considered Max Factor mascara to be a proper luxury, I had to save money to  get myself a tube. Although that was ages ago, but I am still in love with the brand's mascaras. In fact, their latest one – Excess Volume Extreme Impact was  very innovative and brilliant
But what about Masterpiece Transform High Impact Volumising Mascara?
It is actually phenomenal, I think. I have been using it for weeks now, and I am absolutely in love. It gives the most amazing effect – intense, dramatic ultra black  lashes with impressive volume and  fullness.
But I have to  mention that this mascara gets a lot better with time when it dries out a bit, but I think that it's the same for all the mascaras.
And what I personally appreciate the most – how long-lasting it is. It stays on really well, of course not as a waterproof mascara,  but definitely better than any other mascara that I've used. My eyes are very sensitive and they are watering a lot, so I really appreciate it.  It can be hard to remove it by the end of the day, but who cares?
The  bendy rubbery brush has short bristles which distribute the product that way that  it coats each lash and gives this dramatic effect.
I have actually noticed that  Mastepiece Transform already won several beauty awards, and rightly so! It is that good.
You can buy it from Boots and Superdrug for £9.99.
Read More
It is the time when I  am telling you about my favourite products of the year. I did not pick a product in each category just for the sake of having one, but rather only those that really stood out for me.
The first part will be about makeup. Here we go…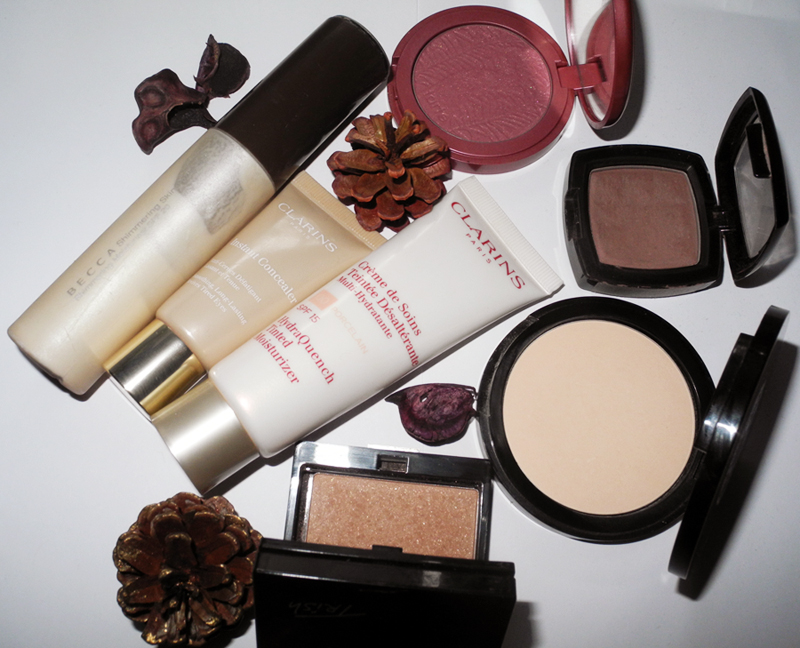 Face
Base:Clarins HydraQuench Tinted Moisturizer (review)
Although there were quite a few "foundations" I loved, this  tinted moisturizer was the base of 2014. It gives a natural and glowing light-t0-medium coverage, and leaves the skin looking beautiful.  HydraQuench is one of my favourite skincare ranges, and this TM is just as good, as everything else, works perfectly for my very dry, dehydrated and sensitive skin. I am very pleased that it never accentuated any dry patches I sometimes have.
Concealer: Clarins Instant Concealer (review)
Definitely the best concealer out there, covers the dark circles and brightens the under eye area, doesn't get in the fine lines, stays on really well.
Powder: Rouge Bunny Rouge  Flawless Face Powder Precious Velvet (review)
I have to say that
Read More
I never liked my hair, there are so many things I don't like about it that I won't even bother mentioning them all. At least I am happy that it is straight and  I am also happy with my natural hair colour;  I have had all the shades  and styles in the past. But I have stopped dying it when I was about 22-23, and I am happy with my [natural] dark cool-toned brunette look.
As I have already mentioned in several previous posts, I am currently trying to figure out what products I still need to add to my routine. I have also used up several that I have been loving, so am looking for a replacement. Or should I just re-purchase the old favourites?
Here are my picks:
Viviscal Maximum Strength Programme for Women - Feel Unique now have 20% off now, so I have already purchased it.
I am seeing it everywhere now. Apparently it is supposed to be  a miracle-in-a-pill, and a lot of people swear by it. I did try Philip Kingsley "hair vitamins" in the past, by the way. So think about giving these a go. What if the results will be really great? I guess, we will see.
A Good Brush/Brushes
Believe it or
Read More