Do you remember the Mineral Eye Make-Up Palette Clarins released last Christmas that so many people loved?
Well, I have great news, this years the brand brought out a new one, which actually looks even nicer to me. It is called The Essentials Eyeshadow Pallete, and it is already available  and here for £35.
Which, I think, is a great price for ten eye shadows (each is 1.5gr). And it looks like a very versatile palette, too.  It contains: 
Read More
I have to give it to Illamasqua, the promo images of their new campaign Facets are the best ones they released in this year. Such a beautiful fabric on the background with the rich colours and beautiful dimensional embroidery.
And how gorgeous is the makeup? Inspiration alert!
The star products of the collection are the two new palettes, which will definitely become best-sellers.
Multi Facet Palettes, £45
Multi Facet palettes come with a compact with mirror, and a mini double-ended angled and blending brush.
Aura: Gleam in Aurora,  Cream Pigment in Hollow, Eyebrow Cake in Thunder, Powder Blusher in Tremble and four Powder Eyeshadows.
 Semblance: New Gleam in Mirage,  Cream Pigment in Hollow, Eyebrow Cake in Thunder, Powder Blusher in Hussy and four  Powder Eyeshadows.
As for other products, they are:
Lipsticks, £18.50
Read More
Guerlain's Christmas 2014 makeup collection was inspired by the opera and ballet.
Olivier Echaudemaison describes the elegant Guerlain woman in a little black dress, beautiful statement lipstick and a shimmering powder on her décolleté and arms.  You can get your inspiration from Natalia on the promo photo, and re-create the look with the help of brand's new gorgeous products.
Coque d'Or Perfumed shimmer powder body & hair, £55 / €79
Guerlain  reproduced Coque d'Or's original bottle and reinterpreted it in gold-lacquered glass just for this collection.  This shimmering  golden powder can be used on both body and hair. It is scented with the notes of rose, bergamot and patchouli.
Petrouchka Palette Eye & Blush Palette £56.00 / €77
The palette that, according to the brand is as "dazzling as the gilding of the Bolshoi or the Opéra Garnier." It contains five eye shadows and  four blushes: fresh pink and coral revive the cheekbones; rosewood and brown sculpt them to perfection. See it featured here.
Météorites Perles d'Etoile, £37.50 / €49
This year's Guerlain meteorites feature the famous bow inspired by Coque d'Or and come in a golden packaging with six shades of pearls  inside for a luminous glow.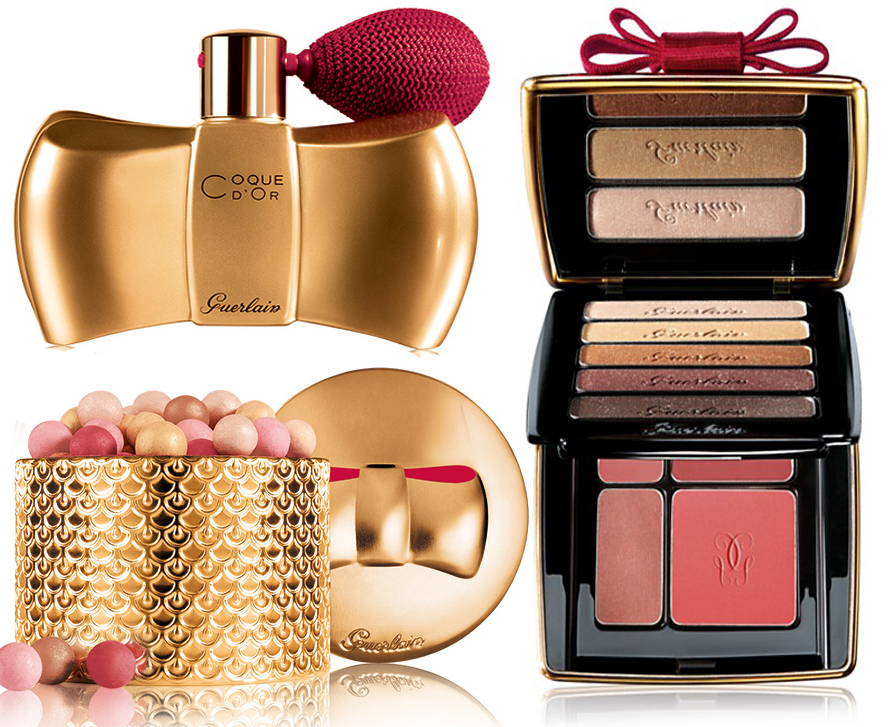 Rouge G Rouge Parade, £33 / €45
Read More
FOM London Jet Set Essential Beauty Kit comes beautifully packaged in a black box with a crimson ribbon. It shows how the brand pays attention to the details, and wants their customers to enjoy everything about their service, from the look to the performance of the products.
Besides the pleasing aesthetic side of the kit, you get a well-thought about packaging: mini glass bottles with the pumps! How convenient is that? You don't need to worry about getting the product all over and creating a mess. Moreover, you don't waste any product that way.
And what products are inside the set?
Read More
I know that a lot of people were  waiting for the review of Clarins Ombre Matte Eye Shadows, but I wanted to take my time, and test them out properly. And, finally, I am ready to share my impression.
This Autumn the brand released 6 shades of  what they describe as "new generation cream to powder eye shadows":01 Nude Beige, 02 Nude Pink, 03 Taupe,  04 Rosewood, 05 Sparkle Grey and 06 Earth.
These come with a signature red Clarins packaging, in a cute lightweight plastic jar with a golden lid on top.  Despite the fact that it is not glass, the products still looks high-end.
So what about the formula?
I'd describe it as a very well pressed creamy powder. The finish is matte (at least in the shades that I have), so they look very natural on the eye lids.
It is
Read More