It's not a secret that I am a huge fan of Rouge Bunny Rouge eye shadows, and I was very excited about their newest palette which I have posted on my Instagram 6 weeks ago already.
The brand's Eye Shadow Palette Raw Garden in Antigo is probably my favourite release, and here is why.
I really love the sleek and chic black compact,  with a good mirror, and a very well edited selection of shades with a wavy pattern.  You  just can tell that it is a luxury product. Moreover, it comes  in a beautiful cardboard packaging with a signature RBR design.
You get four beautiful and really versatile shades ( descriptions are from the brand):
 A very light, yellow-tinged neutral vanilla cream beige; the ideal base to even out your skin tone and add highlights
A medium, cool taupe with a hint of pink
A medium, true "café latte" brown taupe
A dark, rich, powdery chocolate brown
And it is pretty much everything you need: a
Read More
We have already seen almost all Autumn fashion collections now, and beauty-wise, it will be all about summer releases soon. You can already  get some products from the annual Bronze Goddess Estee Lauder collection, and soon we will be able to get the new Terracotta from Guerlain and other bronzing & tanning products.
But today let's take a look at Tom Ford's new collection which is a real eye candy! Here is actually a link to the Soleil collection from summer 2015.
This year's collection is actually already available on-line from Neiman Marcus.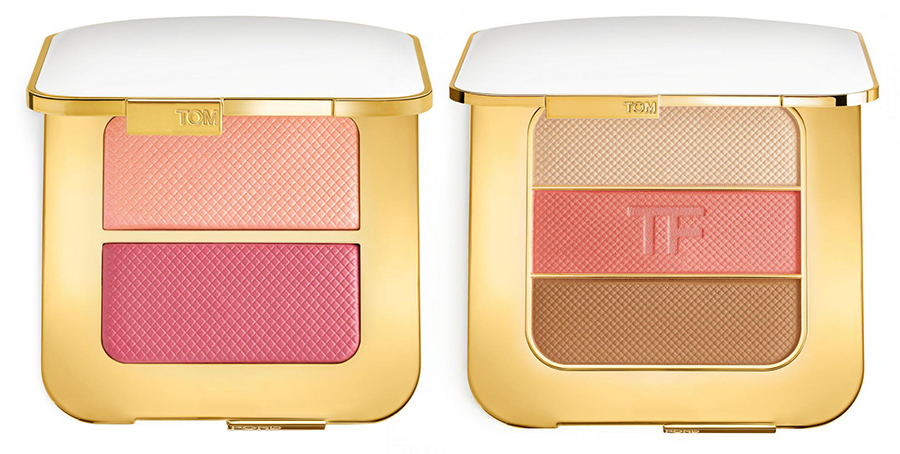 The products this year are: Sheer Cheek Duo ($78) Bicoastal and Soleil Contouring Compact ($108) in the Afternooner.
Moisturecore Lip Color, $55
Scandola, Mustique, Otranto, Cala di Volpe, Pipa and  Carriacou.
Ultra-Rich Lip Color, $52
Purple Neon, Aphrodite, Temptation Waits, Revolve Around Me, Solar Affair and
Read More
It was my Birthday this weekend so I've decided to share with you what I wore and what makeup I've used. I don't see Birthdays as a big deal (after a certain age, ha!) but it is always cool to dress up and spend time with friends and family.
Of course, I went for red with a touch of black, outfit wise. And here is the makeup I've used:
Face
Vichy BB Cream, I need to buy a full size of it soon, it is an amazing light  base which gives some luminosity.  Rouge Bunny Rouge  Naked Disguise Glide Concealer which is brilliant for the under eye area. Inglot HD Sculpting Powder in 504 is my favourite for that natural looking shadow and theBalm Mary-Lou Manizer for some glow.
Lips and Nails
Surprisingly I've used a very affordable trio: NYX  Soft Matte Lip Cream in Transylvania which I am obsessed with
Read More
Here is a preview of the new seasonal makeup collection from byTerry with limited edition spring shades of white, pink, green and lilac.
Eyes
Terrybly Crayon Kohl, £24 N°16 White Wish 
Infallible waterproof kohl liner that creates enigmatic luminosity and linear precision around the eyes.
Terrybly Haute Croissance Mascara, £33.50 in 9 Green Galaxy
Proven to lengthen eyelashes to another dimension by boosting volume, length and activating lash growth.
Ombre Blackstar, £29
16 Nude Milky Way and 17  Bubble Glow
Lips
Read More
Meet the star of Clarins Spring 2016 release, the Natural Glow 5-Colour Shadow Palette (£33). This is a quint which comes in the most beautiful compact, it is a beautiful reflective copper.
Inside you get the following shades:
a pale pink glitter (my personal favourite), it gives that beautiful multi-dimensional effect; just make sure you are being careful with your application, as it can get all over the face, as all glitter shades.
the next one is a matte ivory shade which will be a my-skin-by-better for light skin-tones and a highlighter for darker skin tones.
metallic copper, with peachy pink under tones, the most unique one from the metallic trio.
metallic bronze, will look flattering on  pretty much everyone.
dark purple, a great shade to use as a liner or for the outer corner.
All five,
Read More