My already very dry skin feels even more dry and tight after winter periods. This is why I love using oil infused beauty ranges in the shower to prevent it from drying out even more. Followed by moisturising and nourishing creams, of course.
Here are three products that I have been loving:
Before I start, I have to say that all three products have some things in common: subtle oriental'y scent which is really lovely and affordable price tag.
Garnier Oil Beauty Oil-Infused Nourishing Scrub (Review)
This scrub buffs away dead skin cells and at the same time nourishes the skin. I actually have all three products from this Garnier range (scrub, cream and body oil) and love them, and even converted some of my friends. Effective and not expensive.
Yves Rocher Oriental Shower Oil Review (review)
This gel turns into
Read More
Jo Malone just brought out three new colognes for Spring 2015 with the colourful pretty ribbons and  corresponding caps: pink, purple and green.
Here is the official description:
Jo Malone Sakura Cherry Blossom
"Captures the airiness of spring. Blossoms fluttering on boughs, pure and transient. Layers of cherry blossom mingle with sheer notes of rose brightened with sparkling bergamot."
Jo Malone Plum Blossom
"Cerise splashes of
Read More
It's time for March favourites! Can you believe that 1/3 of Spring is already behind?
Let's start with makeup, this month I have a good mix of products price-wise, from affordable Rimmel and Max Factor, to a high-end Rouge Bunny Rouge and uber luxurious Omorovicza.
Makeup
Bobbi Brown Natural Brow Shaper & Hair Touch Up in Slate (review)
This is still the only brow product that I use on a daily basis. It makes the brows look fuller, tints them and holds them in place. This is love.
Omorovicza Complexion Perfector BB SPF 20 (review and swatches)
This month I have re-discovered my love for this base. It is like a good looking skin in a bottle. The skin is glowing and radiant, and the  tone is evened out and perfected.  I have written a very detailed review in the past, so you are welcome to take a look.
Max Factor Creme Puff Blush in Alluring Rose (review and face swatches)
This is still my favourite blusher, just like last month. Alluring Rose is a gorgeous warm nude with a spot-on radiance effect. It lifts the face instantly, I'd recommend these blushes to everyone.
Max Factor Colour Elixir Gloss Nude Pomade in 10 Pristine Nude (review and lip swatches)
This gloss  has
Read More
Here is a preview  of Lisa Eldridge's makeup collection for Lancome. And I am personally very happy to see cream blushes, as when she asked what products the brand should bring out – I was one of those who voted for them.
I am sure that Lisa will re-vamp Lancome a bit and will make it more modern. As, although their products are amazing (among my personal favourites) – they are not always the first ones that come to mind.
So here is a preview of the collection. And I am very happy to see Daria Werbowy on the promo. If you follow me on Pinterest – you know that I am slightly obsessed with her.
BLUSH SUBTIL CRÈME Light-Weight Cream Blush, $24
01 Coral Alize, 2 Brise Rosee, 3 Rouge Mistral
OMBRE HYPNOSE STYLO Cream Eyeshadow Stick, $27
13 Azur Mediterranee, 14 Corail Dore, 15 Bronze Falaise
COLOR DESIGN 6 PAN PALETTE Reflets Méditerranée 110, $51
Six matte and metallic eye shadows, gold, bronze and blues.
BELLE DE TEINT, Luminous Bronzer, $42.50
This seems like an interesting product, and I will include the official description:"Belle de Teint is a silky, smooth bronzer that adds instant color, shimmer and healthy glow to skin. A
Read More
How absolutely gorgeous is the look of the new ArtDeco makeup collection for summer 2015? It is called Here Comes The Sun, and it has pretty sun pattern on the products.  And there is a selection of amazing shades to create that sun-kissed complexion: bronze, brows, oranges and corals.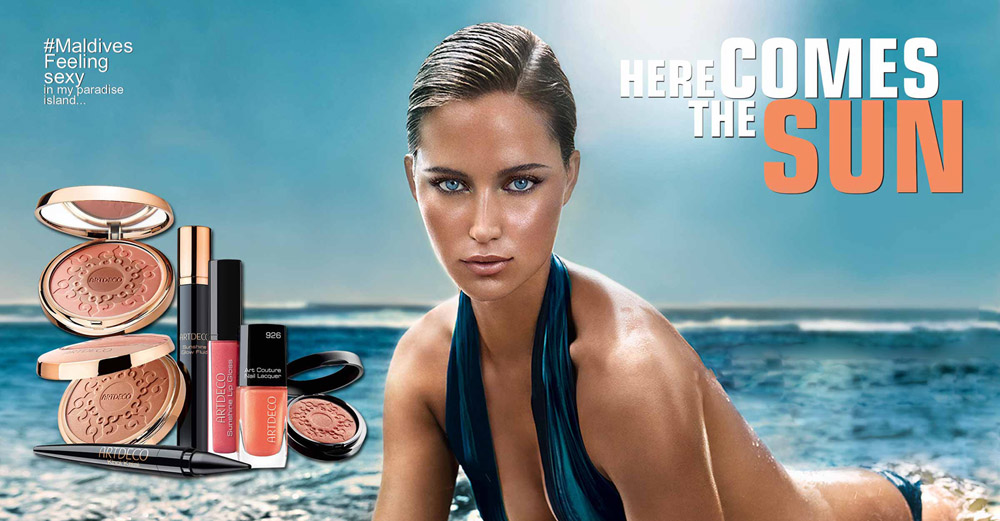 SUNSHINE BLUSH
Three-coloured blusher for a fresh, sun-kissed complexion. Mix the colours together using a blusher brush and apply to the cheeks according to your face shape. You can also use the colours separately to create a particular effect: brown tones for a tanned finish or orange tones for a fresh look.
BRONZING POWDER COMPACT 
Water-repellent bronzing powder with UV factor. Lighter, more transparent bronzing powder with a natural matte finish. Free from lanolin and mineral oil. Fragrance-free. Paraben-free.
02 Beach Walk and 04 beach party
15 Coconut,  21 Sand Beach, 26 Blazing Sun and
Read More