Lip Lacquer is the new black, people. And Smashbox just brought out a very cool looking version of the lipstick & gloss hybrid. These are promised to have a glossy finish and intense col0ur payoff. I am in!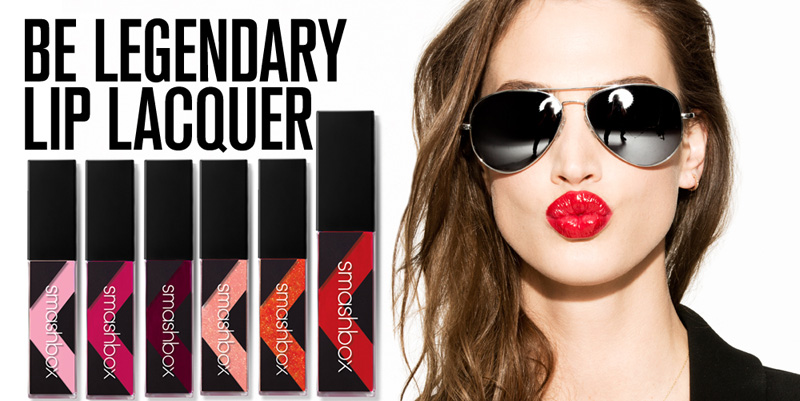 There are tonnes of shades to choose from, too. The price is $24 and you can get it from here, and later from here.
As for the brand's Fall 2014 makeup collection, there are only three products which together are called Cherry Smoke, love that name.
Read More
I know that a lot of readers come to Makeup4all for all things Clarins, so here, as promised, is my guide to Clarins toners. I did a detailed review about each product, so this post will be a brief summery, you can read all the details by clicking the links.
Before we start, I'd like to mention that I have very dry and sensitive skin, and my age group is 26-30.
Toners
One-Step Facial Cleanser with Orange Extract (review)
Such an amazing orange scented product which gently cleanses the skin, leaves is super smooth, soft and glowing. A must have here. Will re-purchase in the future. Can I say once again that I love it?!
Clarins Water Comfort One-Step Cleanser with Peach Essential Water (review)
This is a nice product which
Read More
Here is a preview of Shiseido's makeup collection for Fall 2014. First of all, there will be four new Face Colour Enchanting Trios that I have already mentioned.
The other products are:
  Sheer and Perfect Compact foundation available in 6 shades.
Lacquer Rouge: Ophelia PK 226 – cool pink, Rose Grey RS 717 – classic rose, Viola RD728 – copper red, Tango RD529 (shown on promo image), Dollface PK430 – bright warm pink.
And
Read More
It's been a while since I did a post about brushes…  So, I think, it's time a for a little update. I've decided to show you my most used face brushes whether it's on myself or when I am doing someone's makeup.
There are 6 that I absolutely have to have.
Let's take a look:
Rouge Bunny Rouge Face Contour Brush 012 (Review)
This is my newest brush, and  my favourite for contouring. I have quite a few which I've collected over the years but they all are forgotten now, since I have this one. It has a perfect shape that goes right under the cheekbones. The bristles are firm but soft, which makes it a perfect contouring brush.
Can be purchased from Beauty Bay and Beauty Habit.
Japonesque 924 Travel Blush Brush (review)
Japonesque  rule the brush world, they are among the best. And their 924 Blush Brush is my favourite face brush that I own from them. It feels incredibly nice and soft on the skin and blends the product nicely. This is my blush brush of choice but I often use it for powder, too, as I am not a big fan of big powder brushes.
Daniel Sandler Blusher Brush (mentioned here)
Although
Read More
Is it possible not to fall in love with this new collection from OPI! Just look at those stunning images. Some of them are very Frejya-esque.  Beautiful blonde with long braided hair and piercing icy blue eyes in cool-toned clothes and stunning silver jewelry…I've got a bit carried away, after all I wrote my final work for uni about Scandinavian culture.
Anyway, I am very pleased to see a collection dedicated to Scandinavia, if you did not notice that already.
Images credit
The shades are:
Can't a Fjörd Not To, Whatever it takes, get your hands on this extravagantly creamy coral!
Do You Have this Color in Stock-holm?, Stock up! This icy blue-violet is in hot demand!
Going My Way or Norway? No two ways about it… this caramel is delicious!
How Great is Your Dane?, Pass up this cinnamon coffee? You're barking up the wrong tree!
Ice-Bergers & Fries"Wood" you like a chocolate shake with
Read More