I am actually a big fan of Garnier products, it is definitely my favourite brand for very affordable stuff.  I was very excited when I first learned about the SkinActive Oil-Infused Micellar Cleansing Water as I have already used up several bottles of the regular micellar water at that point.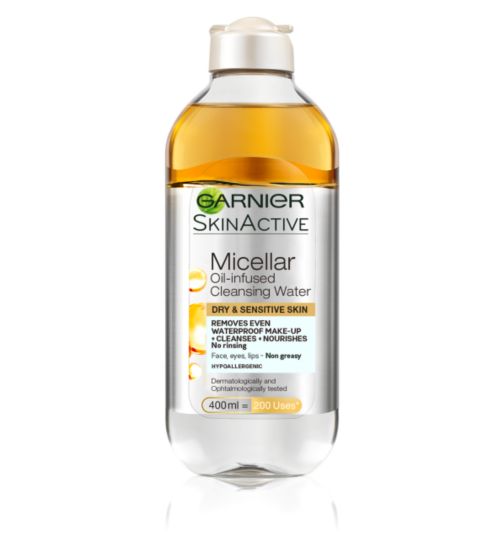 I've have been using the oil infused one for several weeks now, and it is as good as I've hoped it to be. I have very dry ans sensitive skin and I personally find that this version works better for me, I love that it cleanses  pretty well, is
Read More
I really love the look of the Chanel's makeup collection for Autumn 2016, and it made me smile that several readers told me how they've thought of me when they saw it. I do love me some red, that's for sure.
Here are actually several videos about the collection where Lucia Pica talks us through her inspiration.
I think Kristen Stewart fits this collection perfectly.
Lips
Rouge Allure ($37) in 168 Rouge Ingenue and 169 Rouge Tentation
Rouge Allure Velvet in 56 Rouge Charnel, 57 Rouge Feu, 58 Rouge and Vie 59 Rouge Audace
Le Crayon Levres ($31) in  97 Desir and 98 Seduction
Eyes
Les 4 Ombres ($61) in 268 Candeur et Experience
Illusion d'Ombre  ($36) in 128 Rouge Brule and
Read More
I love ArtDeco, and I've had  a post about their new body care line Senses Asian Spa in drafts section for several months now. But today I actually bought something from the range (see it here), so it is about time I finish writing this feature.
There are  four different fragrances which come in different coloured bottles: blue Skin Purity, green Deep Relaxation, pink  Sensual Balance and orange New Enegry.  Some products are available in each category (room fragrance with sticks, for example) but some are unique and available in only one scent.
I've picked up the products I like the most from each range, and since I love oils, there are three!
PURE CARE SHOWER OIL. Soothing, gently foaming shower oil. The delicately
Read More
If you are a long-time reader, you probably know that I am die-hard fan of Daniel Sandler's Watercolour Blush (these two are my favourite), so I was  excited to  receive  his newest product  a while ago – Radiant Glow Illuminating Face Powder. I love the fact that Daniel does not release 100 new products every year but when he does you can be sure that it is high quality and reasonably priced.
The newest face powder comes in a signature gold and black packaging, and the product itself consists of four shades which can be used individually or mixed together.
The shades, as described by the brand are: a bright high shimmer gold, a rich shimmery peach, a beautiful creamy white and a pale peach with a gorgeous sheen.
Below you can see how each shade looks when applied, and also how they look when
Read More
New nude palettes, anyone?
Illamasqua  Rose Gold Palette,  £44
It comes in a rose gold cardboard packaging and includes the following shades: Slink (Champagne), Stealth (Buttermilk), Servant (Eggshell), Vernau (Yellow Ochre), Bronx(Bronze Gold), Wolf (Chocolate Brown), Forgiveness (Chocolate Plum), Fist (Deep Plum), Rim (Black Coffee), Tango (Rich Copper Bronze), Terra (Earth Clay Red), Obsidian (Rich Black).
Illamasqua is available from Selfridges and ASOS.
Laura Mercier Flawless
Read More