I had a relatively long hair and my natural colour for years (here is a photo). And… a) I have a lot of hair but it is thin and doesn't look that good b)I had the same, more or less, length for years and years; plus I did not colour it so I got very bored, as I used to change my hair style all the time in the past.
This is why back in February I've asked to chop off all the thin and damaged hair, so I ended up with a shoulder length hair style.  It was a big change but once I was over a slight shock, I knew that I was ready for more experiments. This is why last week, I changed my hair style completely, and I even had it coloured  for the first time in years.  
It is nothing too dramatic, just a darker shade of cool toned brown which is still not as cool (toned), as I wanted it to be. My natural colour is  really cool toned, and I hate anything warm/reddish on myself. But  I find that it is even harder to get a spot-on dark hair than blonde (I was blonde for several years).
After hours of
Read More
Regular readers may know my obsession with Neutrogena's  body lotion with Nordic Berry but this time I've decided to get a  Deep Moisture one. And it is a favourite of a lot of people with very dry skin.
And, as someone with extremely dry skin, I can confirm that it is amazing! One of the best affordable body lotions you can get. It  definitely moisturizes and nourishes the skin, without leaving a greasy residue.  I find that the only body cream in the same price range I like as much, as this one is the red one (as I call it) by Garnier which I have used several bottles of.
Neutrogena lotion has
Read More
Clarins Autumnal collection focuses mainly on the eyes with soft pink & beige shades for the day time and purple & black for the evenings. There are also new eye brow pencils and two lipsticks to choose from.
Pretty Day 5-Colour Eyeshadow Palette (LE, £33)
Five wearable eye shadows: beige, pink and shimmering taupe; and matte and shimmering warm browns.
Ombre Matte (£19)
Two new shades of these cream-to-powder eye shadows in 07 Carbon 08 Heather. If you are wondering about these eye shadows in general, here is my review of other shades.
Crayon Khôl (£17)
Two shades in
Read More
I rarely post beauty empties, as I don't like gathering empty bottles and I do finish a lot of them, but it is different with makeup, I barely ever finish anything, so having three empties is a big deal. Plus I  really love all of them, so it was worth mentioning…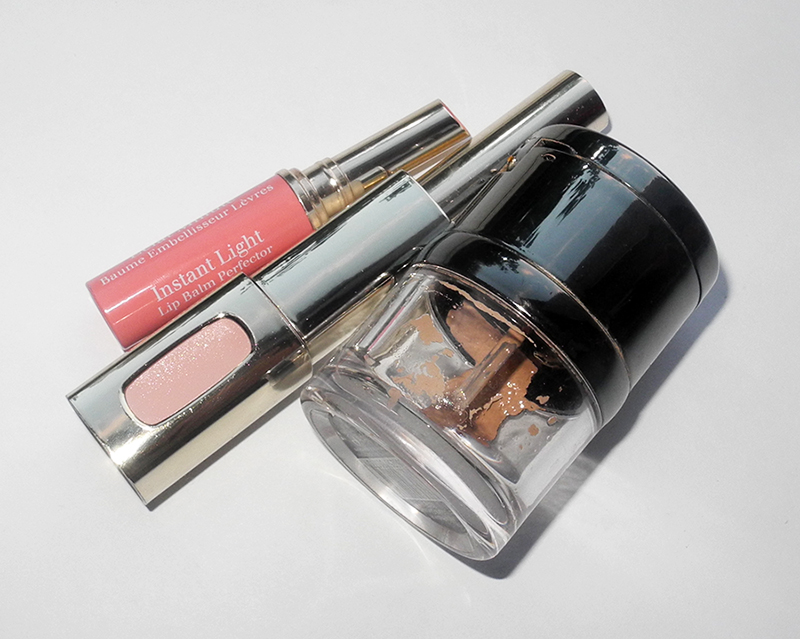 Daniel Sandler Invisible Radiance Foundation and Concealer (review)
This is the second foundation I have ever finished in my life. The first one was Max Factor's Second Skin which was the best affordable foundation on the market, in my opinion (it is sadly discontinued). Invisible Radiance Foundation and Concealer is a great choice if you want  a medium, natural looking coverage and a beautiful glowing finish.
Clarins Instant Light Lip Balm Perfector (review and swatches)
Read More
Wow, SpaceNK posted a preview of Hourglass palette for Christmas 2015 on Instagram which contains the original  Ambient Lighting powders, which started the hype,  and also blushers and bronzers.
Like how gorgeous does it look? *Adds to wish list*.  By the way, I would recommend checking out SpaceNK Instagram account in general, they posted a preview of byTerry, Lipstick Queen and more Christmas releases.
Speaking of Hourglass, they
Read More