Here is a quick overview of some more affordable beauty brands, such as ArtDeco, Kiko and Pupa, and their Christmas releases.
ArtDeco Artcic Beauty is all kinds of cool with Arctic Beauty Dust, Shimmer Cream, Sparkling Lash Drops and all those frosty nail polishes, lip and nail products. According to the brand this collection is all about  the "glittering icebergs, iridescent polar lights, delicate ice crystals and sparkling snow fields", and it is beautiful.
As for Pupa's Stay Gold – it is a classic Christmas release with gold and
Read More
Today I'd like to tell you more about one of the best mascaras that I have used, and it is Rouge Bunny Rouge WITCHERY Modelling mascara. I have already mentioned it in my October favourites so here are more details.
Who knows how you look better than your Mum? So when the other day when I was seeing mine she asked if I was wearing false lashes or had lash extensions I knew that this mascara works. Especially considering that my lashes are not something to write home about…
First of all I really love the rubber brush which is bendable, easy to use,  and mess-free, I don't get the
Read More
Burberry Christmas is looking very festive with that gold special edition design and the signature holiday shades of red and gold.
You can choose from Military Red
Burberry Kisses in Military Red No. 109
Burberry Kisses Gloss in Military Red No. 109
Nail Polish in Military Red No. 300
Or Festive Gold 
Read More
October is one of my favourite months and I am kind of sad that it is over already but it was a great one despite the fact that I was ill for over a week.
I've decided that before talking about my beauty favourites, I'd mention some other things I like/enjoy:
I've finally went to my first swimming class after planning on going for months. Since I've got sick the next day I haven't been back yet but I will be. Next week.
Downton Abbey. That 1920's style…And I refuse to accept that it's the last season.
Since I was ill for a week at home, I've got time to read and it was wonderful. I was mostly reading cultural and philosophical articles (yeah, I do love such topics) but here is my reading list.
And finally – Pinterest. This has to be my favourite social media, I am always browsing/pinning/saving photos.
Max Factor Creme Puff Blush in Alluring Rose (review and swatches)
This is probably my favourite launch of the year. Seriously, I could not love these blushes more than I do, and I feel like I have been going on, and on about them. They have the creamiest and softest texture, blend beautifully and have that all-in-one effect.  You don't really need any highlighter or sculpting, just this. And
Read More
Stila's  Sealed With A Kiss Makeup Collection for Christmas 2015 really caught my attention. Especially with those gorgeous promo campaigns *inspiration alert*.
There are four looks in general and my favourite ones are with red lips and cat eyes which is chic and classy and the one with dark lips and a fresh glowing completion, as that is my kind of look.

And which makeup do you like the best?
As for the makeup sets themselves, they are really-really good!
I personally like (and think of getting for myself)  Eternal Love Liquid Lipstick Set ($20) which includes three mini lipsticks which, in my opinion, are some of the best in the industry (read my review). And you can't really go wrong with mauve, red and berry.  The shades are: Ricco, Beso and Baci.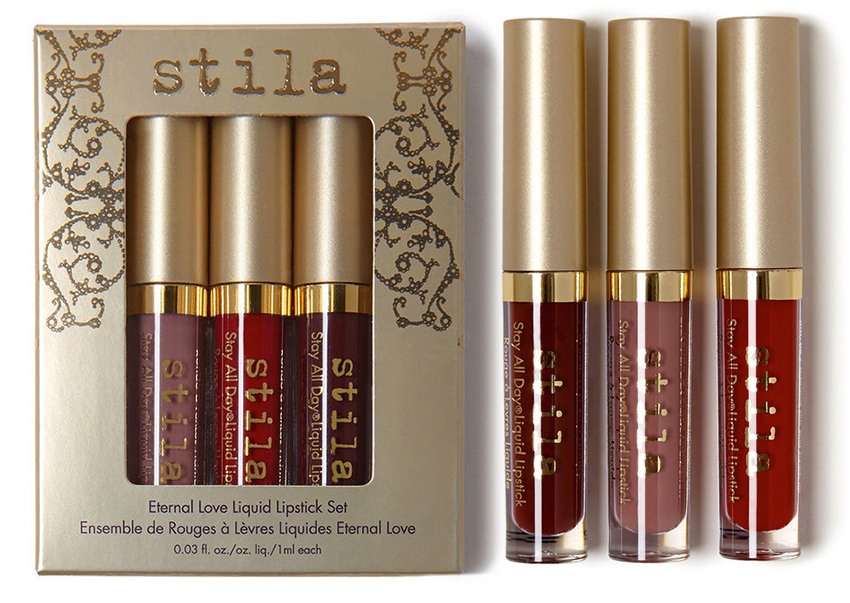 There are two more lip sets. One with more liquid lipstick shades and one with the cult Stila glosses. I have actually bought  a few sets several seasons ago for myself and friends.
Eternally Yours Liquid Lipstick Set ($39): Caramello, Patina, Aria, Como, Chianti and Fiery
Sealed With A Kiss Gift Set ($28): Pomegranate Sparkle, Ruby
Read More