Summer Bliss is the first Lancome collection designed by favourite Lisa Eldridge. According to the brand she was inspired by the mysterious, fresh, and colorful jungle landscapes. Although all the products and shades look beautiful, there is something that really stands out.
And that is Belle de Teint Elixir, $38
It is described as a "healthy-glow cocktail with a light weight liquid phase. The oil phase provides comfort, watery phase provides freshness and lightweight feel, and the pearly phase delivers long-lasting bronzing makeup results for a radiant complexion.  A subtly shimmery fluid that highlights summer skin's natural glow in a few drops. This oil elixir can be used to enhance glow for face and legs."
Available in 3 shades:  01 Glow Vanille, 02 Glow Orchidee and 03 Glow Jungle
See how Lisa uses it in the video below
There are also two new shades of Belle de Teint ($42.50) 11 Belle de Vanille and 12 Belle de Bronze which combine a trio of shades in one compact,
It is "silky, smooth bronzer that adds instant color, shimmer and healthy glow to skin. A specialist of healthy glow & healthy skin, Belle de Teint can be used on your face or all over your body to
Read More
Writing beauty features gives the opportunity to try and  share about a lot of things you wouldn't otherwise, and it is great. For example, I was sent some hair extensions for a review. And it was a really cool experience considering I've never tried extensions before.
The ones I have are called Irresistible Me, which are a 100% remy human hair clip ins. I went for the Chocolate Brown (see all shades here) which is the closest to my natural hair colour. You can also choose the length and the weight. And I've chosen the  200 g x 20 inches option.
So here is the before and after, so you can see for yourself. Yes,  I am wearing glasses at home.  Regular readers will know how I hate posting photos of myself on the Internet.
Before reviewing the hair in particular, I have to mention that it comes in a really cool black box with some sweet girly writings on it. And it is all about those little things.
As for the  extensions – you get:
Read More
Contouring? Strobing? Move over! There is a new trend in town, and that is colour correcting. It was around for some time but you know that it is official when it ends up on Sephora's main page. I actually posted about some products already, such as BECCA, YSL and tarte but there are tonnes of others.
BEAUTYBLENDER Correct.four micro mini blenders (£22 from Selfridges) and stila Correct & Perfect All-In-One Color Correcting Palette ($45 from Sephora)
When you click on the link, you can read all about it, and choose the product which you think you may need/want.  I am personally
Read More
Regular readers know that I am a big fan of Daniel Sandler blushers, they are so unique with that one-of-a-kind liquid formula. I have written so many times about them, and here is a link to a very detailed review with the tips from Daniel himself. I also wrote about the cream formula, too.
I like that Daniel doesn't bring out tonnes of products but when he does – they are awesome.  This month he added two new shades of the liquid Watercolours and one cream version to his line, and they all are dreamy.
You can choose from Rose Glow ( a pastel pink-peach shimmer) and Golden Glow (warm bronze shimmer); the cream shade is Soft Bronze (a delicate pink-peach hybrid with a twist of a bronze). And they are honestly my favourite shades from Daniel so far, and I have quite a collection at this point.
All three shades give that healthy glowing effect which
Read More
Looking for a new bronzer? You can see some of the new ones here – summer 2016 launches.
But here are there options from Gueralain, Bobbi Brown and NARS that caught my attention.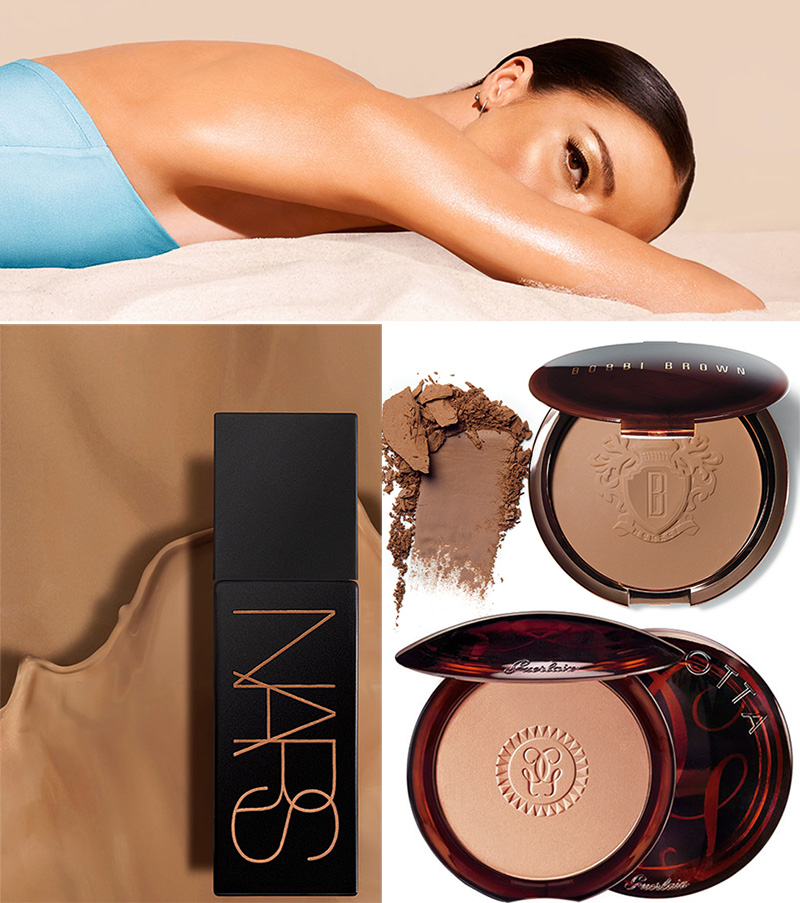 Guerlain Terracotta 2016 Original Bronzing Powder,  £36 from Harrods and $53 from Saks.
Cult  Terrracotta bronzers are out again! They offer  "an instant natural glow, at any time of year, in one quick, easy motion. Its formula, enriched with moisturising active ingredients, does not dry out the skin. It ensures long-lasting comfort. Neither too shiny nor too powdery thanks to an ultra-thin film which perfectly embraces all the contours of the face."  Shades: Golden Deep, Moyen Brun, Intense, Nat Blondes, Brunettes, Blondes (shawn),  Nat Brunettes and Moyen Blondes.
Bobbi Brown Face & Body Bronzing Powder, $48  Nordstrom
"A warm,
Read More