Givenchy La Revelation Originelle Spring 2016 makeup collection is exactly what we all need in January. Gorgeous highlighter, and refreshing pink for lips, nails and cheeks. There are also a brown eye liner, grey mascara and colourful eye shadows.
The star of the collection is definitely the uber gorgeous illuminator Poudre Lumiere Originelle (£41.50), an enhancing powder for an imperceptible, soft focus finish. It is a light pink highlighter  that leaves the skin radiant and luminous.  Quite possibly the most beautiful powder of the season.
There is also a new shade of the cult  Le Prisme Blush (£32) in 41 Lune Rosée which combines the following shades: peach, light pink, rose pink and coral. Seems like another must have to perk up the complexion.
I love the idea of the brand's  Mister Scrub (£22 ) which is a gentle exfoliator in a stick format and  Mister Gentlebalm (£22) which is a lip balm that combines a moisture booster and a colour enhancer to nourish, hydrate and naturally reveal lip colour.
The nail polish in this collection is the pastel pink Le Vernis (£17)  in 29 Rose Divin
As for the eye products:
Read More
With their Spring 2016 makeup collection – From Lancome With Love the brand is definitely aiming at the younger audience with the playful illustrations, tins the products come in and pastel shades.
The promo image with blue and pink shades makes me smile and think of a beautiful spring ahead of us. It looks romantic and carefree, if you ask me. And we all need that…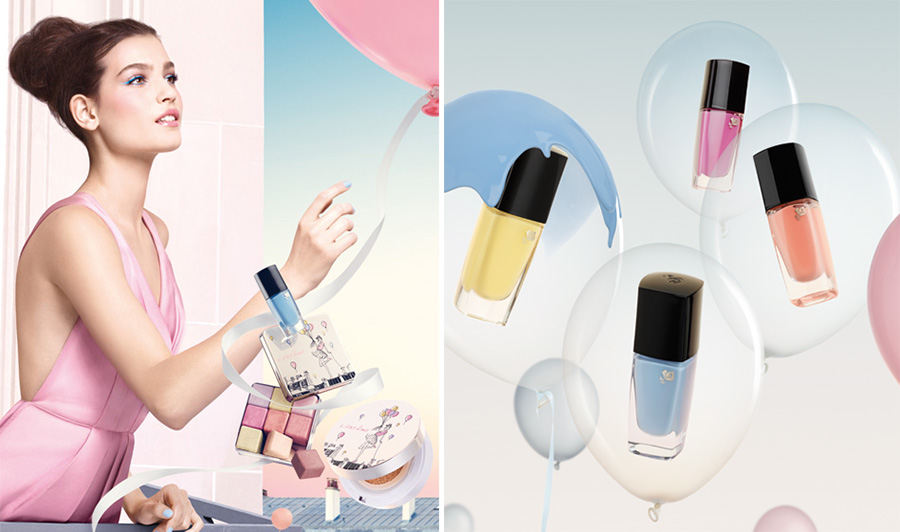 Vernis in Love, £13.50
146 Rose Haussmann
148 Corail de Ville
149 Jaune Grands Boulevards
153 Bleu Ciel Parisien
Here is a video with an  overview of  the collection. Lisa Eldridge demonstrates some of the products in action. Speaking of Lisa and Lancome, have you seen a preview of the Juicy Shaker?
The star of the release is My Parisian Pastels palette (£50/$59). It includes 9 shimmering pastels which can be used on the face or on the eyes.
There are also two cream  My Parisian Blushes  (£28/$39)in 01 Corail de Ville and 02 Rose Haussmann.
Products for lips are:
Read More
To be honest, I did not pay that much attention when it came to  Stila in the past but recently things changed. I think the brand is killing it with the latest releases. Their Christmas collection was one of the best but I love the Spring  2016  products even more. There is nothing in this collection I wouldn't want.
And The Impressionist name and blue background?! As someone who studied culture and arts at uni – I couldn't love it more. What a perfect example of combining art and beauty, other brands should take notes. Also,  I am really loving the new improved website. The looks featured are just so beautiful. Sarah Lucero, Stila's Global Executive Director of Creative Artistry is a genius, I tell you.
All the looks above are gorgeous, right?
How, let's take a look at the products:
Convertible Color Dual Lip & Cheek Palette – Sunset Serenade, $39/£29
Read More
So, after I've posted a preview of  Rouge Bunny Rouge SKIN SOUL DROPS Foundation Essence, it is time for a proper review.
So here are my thoughts about it:
The packaging is gorgeous, the product comes in a black cupboard tube with the signature RBR design. Te bottle itself is  a dark matte glass, the foundation comes with a dropper.
The price is almost €60 (€59) which seems really expensive for 15ml but, as the name suggests, it is an essence which means that it is a very concentrated liquid. You need a tiny drop for your face, and it will last you for ages.
The brand describes the finish as demi-matte, and I agree. It gives that flawless coverage and evens out the skin tone perfectly. Just make sure you add some dimension back with a blush or whichever product you prefer.
Skin Soul Drop is not really an on-the go foundation. The application takes some time, and you can't just "slap it on". I like applying it with two brushes. A classic flat synthetic foundation brush (something like this one) to spread it out evenly and a kabuki brush (like Sigma) to blend it into the skin.
I personally think that
Read More
Besides the lipsticks, the other makeup product almost every brand is bringing out for SS16 is  foundation. And while cushions and foundations with the dropper  (BECCA, Stila, Kiko Armani, Rouge Bunny Rouge etc) are having a real moment this season, "classic" foundations are still going strong.
And here are three that caught my attention with the official description:
Chanel LES BEIGESHealthy Glow Foundation (£36 from Selfridges)
"An invisible foundation that creates a natural healthy glow by giving skin the radiance of a day spent outdoors, while protecting it from harsh environmental conditions. The perfection of a natural glow. With a range of subtle, easy-to-wear beiges, CHANEL's Healthy Glow Foundation frees women from their fears of using foundation and gives every skin tone a lasting healthy glow. The soft and comfortable texture glides over the skin and melts away. The texture becomes imperceptible and allows the skin to breathe freely, while protecting it from harsh environmental conditions. The complexion is evened-out and enhanced with a sheer finish."
Dior Diorskin Forever Perfect Makeup Broad Spectrum,  ( £33 from Selfridges and from $50 from Saks)
"Everlasting 16-hour perfection from morning to
Read More