You can never have too many lipsticks, right?  So here are the three new releases that caught my eye: Lipstick Queen, Marc Jacobs and Chanel.
A revamped line of Chanel Rouge Coco with Keira Knightely. There will be 29 shades divided into several colour groups: Nudes, Pinks, Plums, Browns, Oranges, Red.
And more images (courtesy of L'Officiel)… I can see at least three shades that I want to try out. These are not out yet.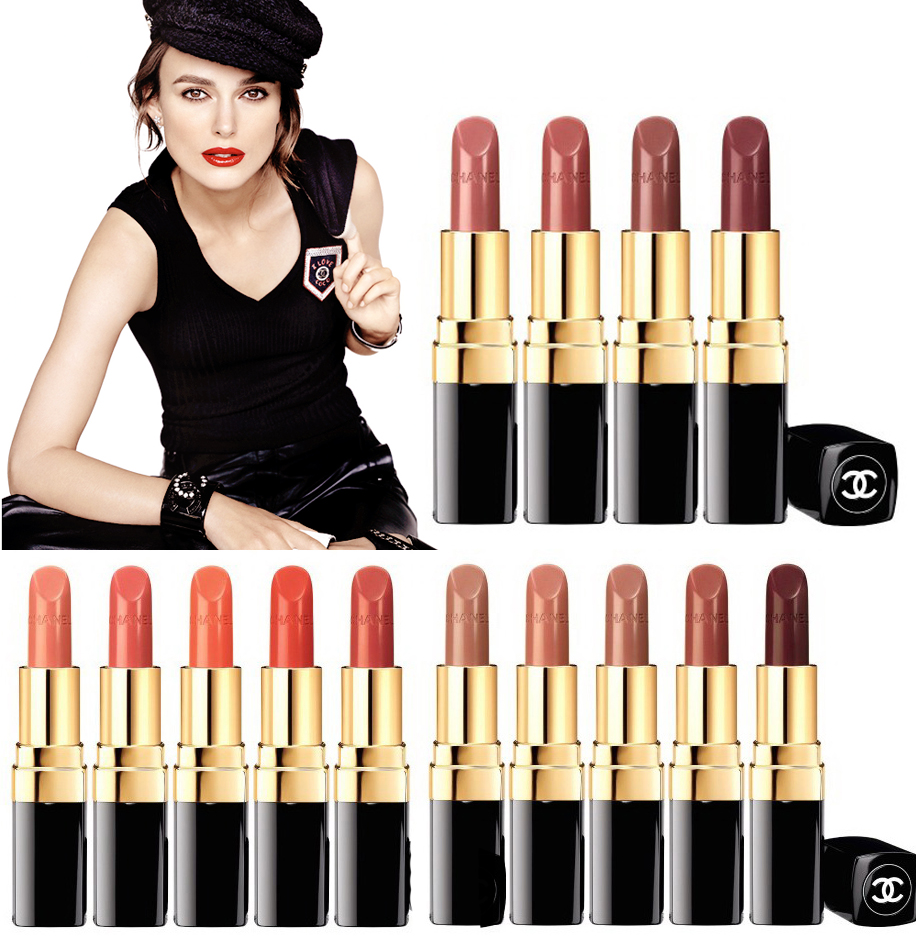 Lipstick Queen Bete Noir
Read More
Since we are talking about contouring today, I thought I'd show the product that I use on myself…
I did a very detailed review of it, with the photos of it applied, too. You can read and see all the pictures here. And this is just a quick update on how much I love it.
I use
Read More
Even several years ago contouring was a pro thing but now everyone does it. It seems like contouring is now such an essential, as mascara, or we are getting there.
In the past it was hard to find a good product, as often they were too orange, too muddy etc. But now, with such a competition, the brands stepped up their game, so finding  a suitable shade and formula shouldn't be a problem.
If you are still not contouring (now it sounds like a sect, ha!), SS 15 is a perfect time to start, as there are tonnes of new releases. I have already mentioned  Kat Von D, BECCA and Laura Mercier. By the way, if you are not ready to spend a lot on this step – Jane shares about the new Chiseled  palette from Barry M here.
But there are more…
Smashbox Step-By-Step Contour Stick Trio  (get it here for $45)
Read More
I have  posted a photo on Instagram of two of my current favourites last week, and thought I'd write about them in more details.
You all know how much I love my high-end luxury bath & shower  products, but these two have completely replaced them recently. And let me tell you why…
 Old Spice Shower Gel in Champion.
I will be honest – I have  stolen borrowed  it from someone who is obsessed with it, and who always smells nice. I do love me some Old Spice, so I loved this one too. It doesn't smell too manly, at least not for me. And now a shower with this gel is  my favourite way to start  mornings (and also post workout), followed by a cup of earl Grey. It's all about the small pleasures in life, you know?!
By the way, how can you not have a good day when the name is "Champion"?
Garnier Oil Beauty Oil Infused Nourishing Lotion
Read More
I have to say, that I am absolutely in love with this new  Spring release from NARS. The brand that is usually famous for their bold and unique shades did their take on natural pinks and  subtle neutrals.
And also singed up Tilda Swinton… Like her on not, but you can't deny that she is one of a kind, completely mesmerizing.
One more thing, I I just have to have an eye shadow which is called Valhalla, although shimmering pink is not the shade it'd pick for such name.
Eyes
Eye Paint, $25/£18.50
Porto Venere, Soft Pale Pink
Shimmer Eye Shadows, $25/£18
Valhalla, Soft shimmering pink peach
Duo Eye Shadows, $35/£25
St-Paul-De-Vence, shimmering nectarine
Lips
Lip Gloss, $26/ £19
Read More