A  lot of readers told me that they love reading personal posts, so here is one, for a change. This time it's  10 random beauty facts about me, but next time I can write random facts about myself. I love reading those about people that I follow, so maybe that is something you'd  like to read about me, too.
So, here we go
1. Recently I have been loving only red(ish) nail polishes, I even wrote a feature about it. Whenever I put on something else, it feels "wrong". In fact, I am giving away some of my varnishes to one girl I know who is very into nail art.
2. Although I have tonnes of eye pencils and liners, 90% of the time I will use Lancome's Le Crayon Khol in Brun Noir. For me – it is perfection.
3. I am almost useless when it comes to hair styling.  A good friend of mine is a hair stylist, and  she showed me different ways to style my hair, and gave me so many tips. It looks so easy when she does it, but when I try  – the results are not even close.
4. Most of the time I just wash my hair with a shampoo and use several drops of oil through the ends.  Yes, I don't like conditioners, and rarely use hair masks. When I am in the mood, I can use SachaJuan's Ocen Mist, but then my (male) friends tell me that I need to brush it. Is it a myth that men like "I just got out of bed hair"? Hmmm
5. I was
Read More
If you are a fan of Chanel and their special limited edition compacts – your heart will beat faster now. Why? Because the brand released a new drop-dead gorgeous DENTELLE PRÈCIEUSE (Illuminating Powder), £46, this week.
Gabrielle Chanel considered lace to be "one of the prettiest imitations ever made of nature's fantasies", so the brand, inspired by
Read More
Since we were discussing raspberry beauty products  today, I've decided to share one of my favourite raspberry product – Original Source Vanilla Milk & Raspberry Shower Gel.
I have already featured my top 3 affordable shower gels, and this has to be  the fourth.
I have smelled almost every Original Source shower gels, and  this one is  my favourite. It is so good,  I almost want to eat it. It is like a tasty girly dessert, not overly sweet and sugary, but just spot-on, in my opinion.
It leathers nicely, has a stylish (for the price, especially) and
Read More
I really love the look of the new The Body Shop Raspberry collection. I am not gonna lie, I want absolutely everything.  I have a thing for raspberry, both the berry and raspberry beauty products, so this looks like a perfect collection for me.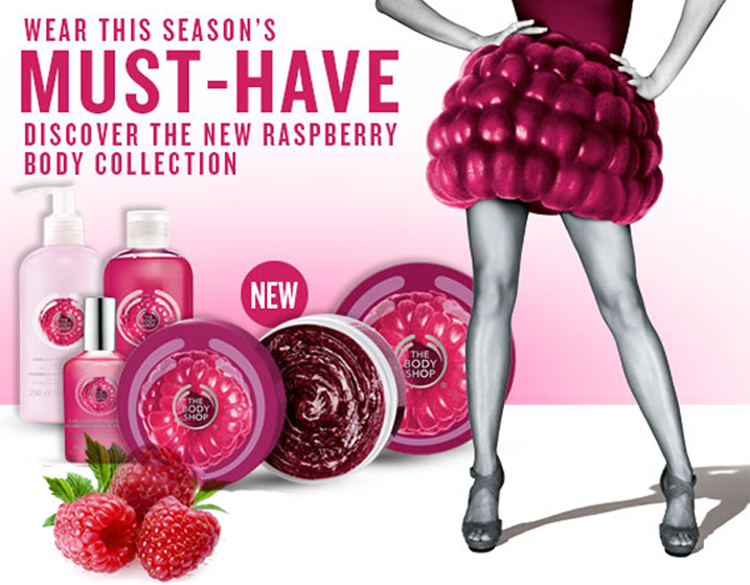 There are five delicious pink products to choose from:
Body Butter, 200 ml, £13/$20; and we all know that their body butters are divine!
Shower Gel, 250ml, £4/$8
Body Scrub, 200ml,
Read More
I have very dry skin, so  a good glow-giving product is a must have for me! And in general, I personally am not a big fan of matte, often flat, looking complexion, so am always on a mission to discover new products that could help. Will make a feature about my top picks soon.
And today I want to tell you about one of those. And it's the Elemis' Pro-Radiance Illuminating Flash Balm.
This is a new generation hybrid of a skincare and primer, in my opinion , since it works great as both.
I personally use it as I would use a primer, meaning that I apply my moisturizer, wait for some time, than apply the Flash Balm, and apply the makeup straight away. This is how it works for me personally the best.
So what it does?
From my experience the product gives immediate results, it's a great way to "cheat" a healthy complexion even after a  bad nights sleep or a stressful day. And with the modern busy lifestyle we all experience that from time to time, unfortunately.
Flash Balm smooths
Read More