There are so many amazing new products that will be out for Spring 2016, and here is the product that is on top of my wish list – Too Faced Love Flush Wardrobe which includes all six shades of their relatively new but already well loved blushes.
Although "cute and girly" is not my style at all,  I can never say no to Too Faced and their palettes. And it is only $36, the price of a single high-end blush. And here you get: Love Hangover, Baby Love, I Will Always Love You, How Deep is Your Love?, Justify My Love and Your Love is King.
And what are the other products from the collection?
Mr. Right Perfect Powder Brush ($36)
I love how they describe it: "He's here: the universal do-it-all brush you can take home to Mom. Use Mr. Right wet or dry, for foundation, powder, blush, bronzer . . . anything your heart desires. Cancel your
Read More
Are those the shades of the new Lip Perfectors by Clarins you see? YES! Hell, yes. The cult lip balms will be available in two new glorious variations – 07 Toffee Pink Shimmer 08 and Plum Shimmer (£18 each).
There is also a new LE Natural Glow 5-Colour Eye Shadow Palette (£33) An iridescent rose-bronze compact with five super wearable eye shadows.
What about the other products?
There are new  Ombre Iridescent eye shadows (£19) cream-to-powder eye shadows with iridescent finish.
Read More
Check out Stars Who Deserve Their Own Beauty Collaborations
Read More
I can't imagine how this happened but somehow I never posted about the Dior's Christmas 2015 makeup collection which is all about gold and vintage-inspired design which the brand has been releasing several winters in a row now.
And how can we complain? Such beauties would look great on a vanity or inside the makeup bag.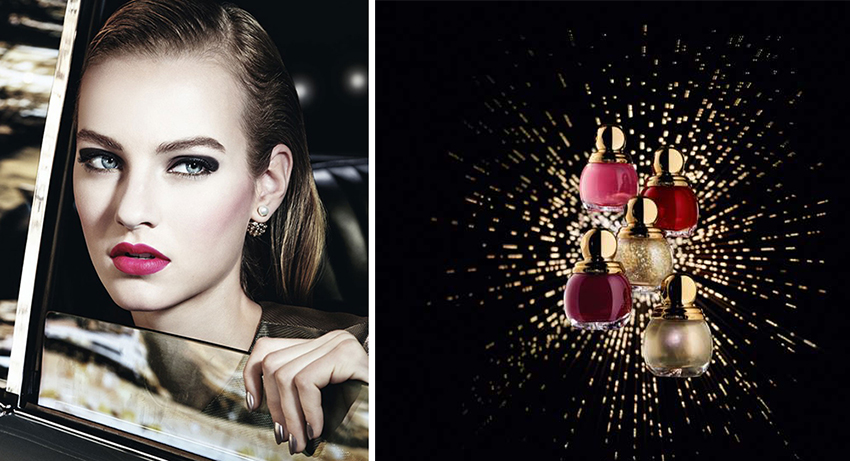 It just does not get any more glamourous and festive than this! Take a look at the promo photos and a video:
Read More
I've wanted theBalm luminizers  for as long as I remember (and by that I mean since they came out). I have swatched them several times  at the counter but couldn't make up my mind on which one to get, and I could not justify getting all three considering how many products I already have.
This is why when I saw The Manizers palette  – I simply had to get it. This is a limited edition, as far as I know, so get it while you can. Yes, the single powders come in that gorgeous packaging but this cardboard  one is perfectly fine. It is sturdy and slim.
So what is so special about these powders?
First of all the texture, it is very smooth, soft and buttery, almost creamy, it melts into the skin. The pigmentation is also brilliant, you only need  one swipe. It is no wonder these babies are so loved by all the beauty enthusiasts.
Let's take a closer look:
Mary-Lou Manizer
This is a gorgeous warm-toned golden highlighter. And it is not subtle by  any means, it gives you a proper glow,  instantly brightens and perks up the complexion. Use it on top of the cheek bones, upper lip and under the brow bone. It may be too intense for some people for a day time but if you love you some luminosity – it is perfection.
Cindy-Lou Manizer
Read More