It turns out that BECCA plan to discontinue their Crème Blush and Lip and Cheek Crème and bring out something new.
I really hope that it will be a great product, since Amaryllis is my favourite cream blush ever.
Not sure why would they change such a wonderful product. Just hope that the new blush won't be cream-to-powder, I'd be very upset…
I am trying to find out the details, but in the meanwhile here is the list of  shades of Beach Tints that brand suggests to use instead of your favourite blushers:
Creme Blush
Turkish Rose — Fig BT
Amaryllis — Watermelon BT (shown above)
 Terracotta — Guava
Read More
How hard  is it to go back to "reality" after all those holidays with lots of food and sleeping until the noon? Please don't tell me that it's only me…
Hot Chocolate with Marshmallows
I saw quite a few photos of this indulgence recently so had to make a cup for myself. I was enjoying it while making a list of beauty purchases for 2014. I have actually added some of them on Pinterest here already, but will add more in the future. If you read this post, you probably know that I want to make lists of my future purchases and stick to them.
Kersastase Styling
I am intrigued by these Kerastase styling products. I've heard a lot of great things about the line, so am curious to try it myself. I need something for
Read More
Regular readers know that I have very dry skin and have to use body creams on a regular basis. And by regular basis, I mean at least once a day when it's AW period, otherwise it [my skin] is dry and flaky (I have a certain skin condition).
This is why, although I love luxury products, high end body potions are not an option for an every day use, only as a treat, since that'd be too expensive.
My favourite affordable body lotion has to be Garnier Body Bodyrepair Anti-Dryness Restoring Moisturiser Extra Dry Skin (the one in the red bottle), it is brilliant!
However, recently I found another excellent product. Neutrogena Norwegian Formula Nourishing Body Lotion With Nordic Berry. I actually
Read More
Want a glowing and luminous complexion? It seems like Bobbi Brown has the answer with her newest Nude Glow collection which includes brightening and glow-giving powders and eye shadows.  Milky, pink and bronze nail polishes and sheer lipsticks for a pop of colour. Just what you need for a post-party season.
Katie Holmes demonstrates how you can wear it all on the photo below. Pretty, right?
Eye Palette, £35
Nude Eye Palette: Dove Grey Eye Shadow, Ballet Pink Sparkle Eye Shadow, Nude Eye Shadow, Cement Sparkle Eye Shadow
Crystal Eye Palette: Porcelain Eye Shadow, Opal Sparkle Eye Shadow, Mica Sparkle Eye Shadow, Angel Pink Eye Shadow
Bronze Eye Palette: Gold Bar Sparkle Eye Shadow, Amber Shimmer Wash Eye Shadow, Toast Eye Shadow, Rich Bronze Eye Shadow
Brightening Finishing Powder, £40
Six luminous shades that blend together to illuminate skin. Formulated with a skin brightening blend of Mulberry, Grape, and Scutellaria extracts.  Apply to cheeks, forehead, nose and chin.
Shades: Porcelain Pearl, Brightening Nudes, Bronze Glow (New
Read More
Guerlain's Spring 2014 makeup collection is all about the light and radiance, with the renewed meteorites in three variations, cute meteorites blushers, sparkling lips and nails top coats and, finally, a Guerlain eye brow kit!
Here is a fresh and feminine promo with Natalia Vodianova with pink, peach and lavender shades which are very spring appropriate…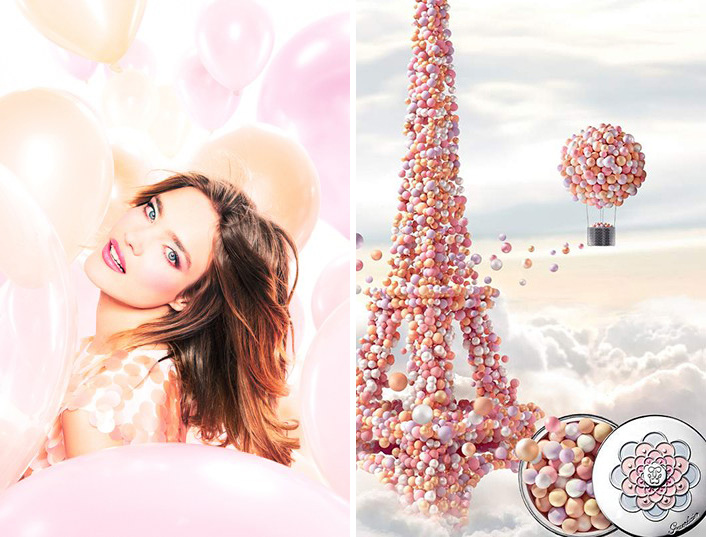 Meteorites Perles, £36 / €49
There are three new variations and here is the official description of each:
"Pure light for fair skin
Within the legendary harmony, green pearls form a halo for skin prone to redness, white pearls reflect the light to make the complexion glow and champagne pearls become one with the skin tone to gently illuminate it.
Tone-on-tone light for medium skin
The most nude harmony, in which beige pearls act as complexion-perfecting agents, champagne pearls naturally reflect the light and peach pearls give a satin sheen and a unique glow to the skin.
Warm light for golden skin
The most smouldering harmony highlights beige pearls that give harmony to the complexion, chocolate pearls with satin shimmers and vivifying fuchsia pearls that revive radiance for skin that looks good enough to eat."
Meteorites Brush, £ 23.50/ €35
Natural Pink Bristles – Sculpt And Highlight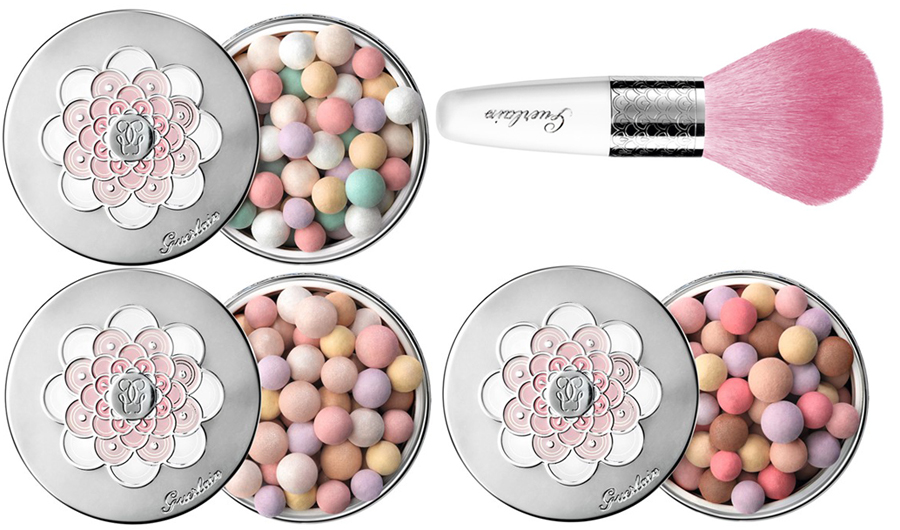 Meteorites Bubble, £26 / €37
Violet Scent- Satin Finish in 01 Pink and 02 Cherry
Star Dust A Dazzling Duo
Read More