This Bite Beauty Watercolor Lip Gloss Library is probably the coolest lip gloss set I saw in a while.  I am a sucker for original sheer lip shades, like blue and lilac here.
The packaging alone is very artistic and chic. And 12 lip glosses would be more than enough, I imagine you could also mix the shades to get a new one. We are talking art here 😉
As for the glosses – according to Bite, these are packed with antioxidants, nutrients, fruit extracts, and seed oils.  The shades are:
Read More
Here is the first part of my Spring Guide, which is beauty related. But I've decided to write a fashion/style related one, as well, as I am in the middle of re-organizing my wardrobe completely. So, hopefully, some of you will find it helpful and will do the same.
1. Get Inspired.
Start a Fashion & Style board on Pinterest and save there all the looks you like.  It will make you see/realize what you prefer, and will also help you shop smarter. Here is my board, if you want to take a look/follow me.
2.  Educate Yourself
There are so many options out there, so it is easy to get confused and overwhelmed, this is when stylists and people who work in fashion can be a great help. Get yourself some books to find out their tips and tricks.  I personally plan on getting Louise Row's Front Roe. I have been stalking her on Instagram, and her style is always on point.
3. Spring Cleaning
Get rid of all the things you don't need, and be honest and brutal about it. Most likely, if you did not wear it in a year (or 5 😉 ), most likely – you won't.  I've discussed this with
Read More
If you are a regular reader – you probably know how much I love Clarins Instant Light Radiance Boosting Complexion Base, I have mentioned it so many times, and here is a detailed review.
The brand brought out two new shades as a part of their summer collection – 04 Apricot and 05 Golden Bronze, and I was sent one of them for a review. So let's take a look.
Golden Bronze basically warms up the complexion and gives you a subtle healthy golden glow.
And you can pull it off, even if you have light skin, just mix a drop with your foundation, or apply where you'd apply bronzer.
If you are tanned – use it all over the face, and just
Read More
Spring is the start of  the new season, and it is the time when we all want changes. I thought I'd share a little list of things that inspire me these days. Hope you enjoy.
Here is part one, my beauty list:
1. Start Wearing Bright Lipstick!
My friend is wearing Illamasqua Atomic. And myself – Guerlain KissKiss in 325 Rouge Kiss.
I wrote a post about makeup during a hard time here. As, I've already said – it won't make whatever you are going through go away, but it does make a positive impact.  Every little thing helps.
2.  Get That Glow.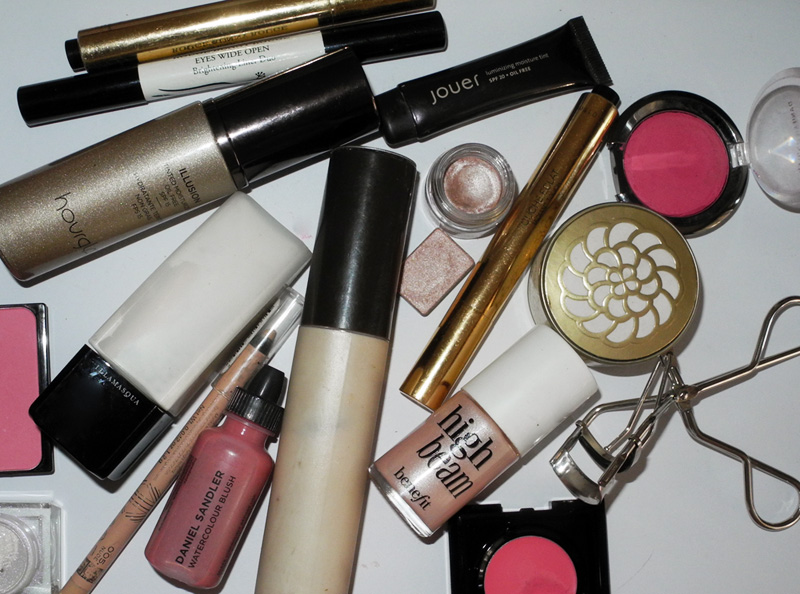 I actually did a very detailed post on how to fake achieve glowing  and radiant complexion with makeup. And you can all read about it here and here.
3. Invest in that "Radiance" Skincare.
Makeup is amazing! But it all starts with good skin. After winter it may look dull, grey and tired, this is why good quality serums and oils are a must-have. Below you can see two great options, and I plan on
Read More
How cool is this Michael Kors summer 2015 Into The Glow makeup collection? Mr. Kors does know glamour and glow. Just look at those juicy and hot lip glosses and nail polishes. And those shimmering bronzers and body oil. You just can't go wrong with it!
The products are:
Bath & Body Liquid Shimmer Dry Oil Spray, $60
This oil is supposed to give your skin radiance and silky sheen, and also make it soft and smooth. I personally think that shimmering body oil is a must-have for summer, and I can't live without mine from Omorovicza.
 Hydrating Bronze Gel Crème, $35
 Permanent Vacation and Sun Chaser
These look amazing!  They are
Read More