Check out Spring Makeup Trend: Cushions Are the New Beauty Essential
Read More
Ok, I am finally doing it!  Writing 2015 yearly favourites that is.  The thing is when I started writing this post I've gathered so many products that I'd be going on, and on about them all. This is why here are 15 I loved the most. 15 since it was 2015, yes, I know…
If I had to choose only 1 product that would probably be Max Factor Creme Puff Blush in 25 Alluring Rose (review and swatches)
Long-time readers know how much I love my blushers. And this year it was all about this one, I've barely used anything else.  Creme Puff Blush gives that luminous glow that instantly brightens up the complexion. The formula is incredibly soft and smooth and blends into the skin beautifully. I have several shades but Alluring Rose is the love of my [beauty] love.
The other favourite is still my Trish McEvoy Golden Bronzer (review). As you can see from the photo above, it is very well loved. It warms up the complexion without looking orange or muddy.  I  like the hint of radiance it gives, too.
BECCA's Shimmering Skin Perfector in Pearl (review) is still the best glow-and-radiance-in-a-bottle product out there.  I usually mix it with foundation  to make my skin look "healthy". This formula and shade = perfection.
If I had to pick only one "foundation" of the year – that'd be Clarins HydraQuench Tinted Moisturizer (review and swatches), hands down. It is dry skin's best friend. Clarins know how to
Read More
Spring is the time for new lipstick releases, as we could see in the previous years. And we can see the same situation for SS16, too.
I have already posted about the new releases from Clarins and YSL. But there are just so many more coming out our way – think Guerlain, Lancome, Chanel, Tom Ford, Givenchy, Clinique, Estee Lauder, Armani and more.
Today let's take a look at three of them: Chanel, Tom Ford and Givenchy.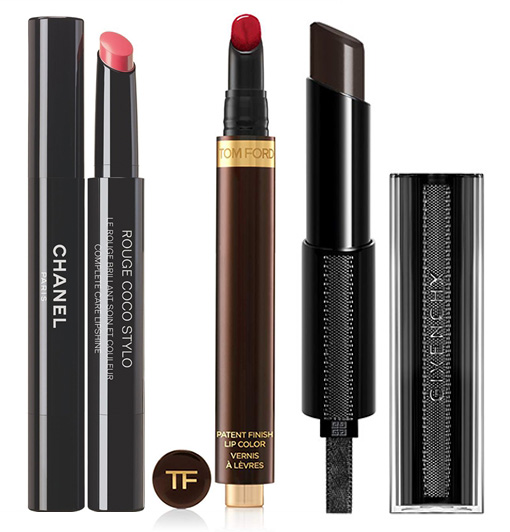 Chanel  Rouge Coco Stylo (Complete Care Lipshine) ($37 from Chanel)
"The intensity of a lipstick, the shine of a lipgloss and the comfort of a lip balm — all in one creamy yet lightweight formula. This innovative formula is enriched with nourishing Apple Seed Extract and hydrating Jojoba Oil and Coconut Oil. Silk Powder, Beeswax and special ingredients help visibly smooth, plump and add brilliant 3D shine to the lips."
Available in 8 shades, the one shown above is
Read More
I know so many women obsessed with Lanolips, and rightly so!  And don't forget the numerous awards…
These are the lip balms that contain 60% Ultra Medical Grade Lanolin,  natural oils, shea butter and Vitamin E and they are truly wonderful. I've included them in my December favourites, but this is the second winter I am using/loving these balms actually. So, I have no idea how I never wrote a proper feature.
The balms come in sheer plastic tubes with a golden lid and a cute sheep, I also like the simple design and the fronts used.
As for the product itself, Lanolips feel nice (like a thick lip balm) and soothing on, I personally love them in colder months as they protect the lips perfectly and they do work when it comes to chapped lips.  They also contain SPF15 which is a great bonus.
You can get a clear option or with fruity scent but I have the tinted ones. There are five colour options to choose from and
Read More
It will be easier to say what brand is not bringing out a new foundation/base product for SS16 (a lot of cushions and foundations with a dropper). But I am personally most excited about BECCA, hands down. They just know what a good base is and they always deliver.
Let's take a look at the new products.
BECCA Aqua Luminous Perfecting Foundation ($44 from Sephora)
"A light, buildable foundation that imparts subtle luminosity with a weightless feel. Every weightless drop of fluid imparts subtle luminosity that blurs imperfections and leaves a soft-focused glow. "
There are 8 shades in the line from Fair to Deep Bronze (both shown above).
Here is actually a video that demonstrates the foundation really well.
BECCA Backlight Priming Filter ($38 from Sephora and £32 from Cult Beauty)
"Infused with three unique Filtering Luminescent Pearls, each one adds a different drop of diffused light. Blended
Read More