Want a glowing and luminous complexion? It seems like Bobbi Brown has the answer with her newest Nude Glow collection which includes brightening and glow-giving powders and eye shadows.  Milky, pink and bronze nail polishes and sheer lipsticks for a pop of colour. Just what you need for a post-party season.
Katie Holmes demonstrates how you can wear it all on the photo below. Pretty, right?
Eye Palette, £35
Nude Eye Palette: Dove Grey Eye Shadow, Ballet Pink Sparkle Eye Shadow, Nude Eye Shadow, Cement Sparkle Eye Shadow
Crystal Eye Palette: Porcelain Eye Shadow, Opal Sparkle Eye Shadow, Mica Sparkle Eye Shadow, Angel Pink Eye Shadow
Bronze Eye Palette: Gold Bar Sparkle Eye Shadow, Amber Shimmer Wash Eye Shadow, Toast Eye Shadow, Rich Bronze Eye Shadow
Brightening Finishing Powder, £40
Six luminous shades that blend together to illuminate skin. Formulated with a skin brightening blend of Mulberry, Grape, and Scutellaria extracts.  Apply to cheeks, forehead, nose and chin.
Shades: Porcelain Pearl, Brightening Nudes, Bronze Glow (New
Read More
Guerlain's Spring 2014 makeup collection is all about the light and radiance, with the renewed meteorites in three variations, cute meteorites blushers, sparkling lips and nails top coats and, finally, a Guerlain eye brow kit!
Here is a fresh and feminine promo with Natalia Vodianova with pink, peach and lavender shades which are very spring appropriate…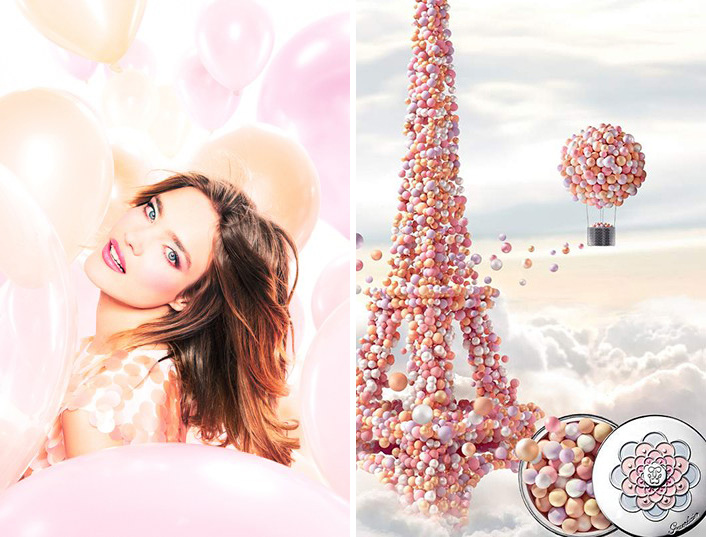 Meteorites Perles, £36 / €49
There are three new variations and here is the official description of each:
"Pure light for fair skin
Within the legendary harmony, green pearls form a halo for skin prone to redness, white pearls reflect the light to make the complexion glow and champagne pearls become one with the skin tone to gently illuminate it.
Tone-on-tone light for medium skin
The most nude harmony, in which beige pearls act as complexion-perfecting agents, champagne pearls naturally reflect the light and peach pearls give a satin sheen and a unique glow to the skin.
Warm light for golden skin
The most smouldering harmony highlights beige pearls that give harmony to the complexion, chocolate pearls with satin shimmers and vivifying fuchsia pearls that revive radiance for skin that looks good enough to eat."
Meteorites Brush, £ 23.50/ €35
Natural Pink Bristles – Sculpt And Highlight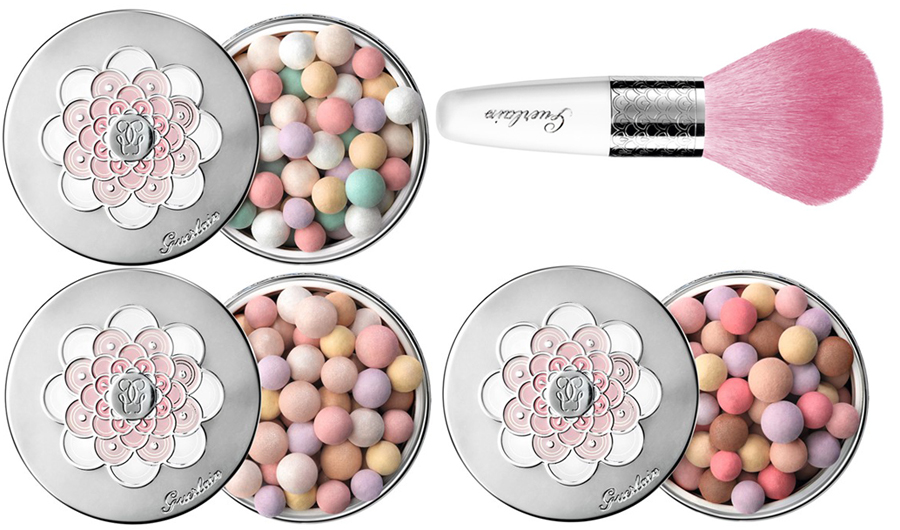 Meteorites Bubble, £26 / €37
Violet Scent- Satin Finish in 01 Pink and 02 Cherry
Star Dust A Dazzling Duo
Read More
I don't usually post a preview of only one product ( I do post about those on Facebook), but I want to make an exception for theBalm's new release. Now the cult Mary-Lou Manizer and Betty-Lou Manizer have a sister – Cindy-Lou Manizer.
It is a peachy pink blush/highlighter/eye shadow. It looks like a must have, no? And don't you just love the design. theBalm did it again. The price in the USA is $24.
Read More
This Spring Clarins brought out an absolutely gorgeous makeup collection, with a beautiful  opalescent packaging on powder, light creamy blushes and new shades for eyes and lips. Moreover, the  brand re-released their "highlighters".
Let's take a look…
Finally! Cream blushers from Clarins!
Multi-Blush Cream Blush, £18
These are promised to be lightweight, smooth and add a hint of colour to create a light, natural-looking finish. Plus floral waxes from rose, mimosa, jojoba and sunflower protects skin against dehydration.
There are four shades to choose from: 01 Peach, 02 Candy, 03 Grenadine and 04 Rosewood
This palette is promised to give  "a boost of radiance with its trio of fresh, complexion boosting shades" when you use it all over the face. Can be also used as a blusher.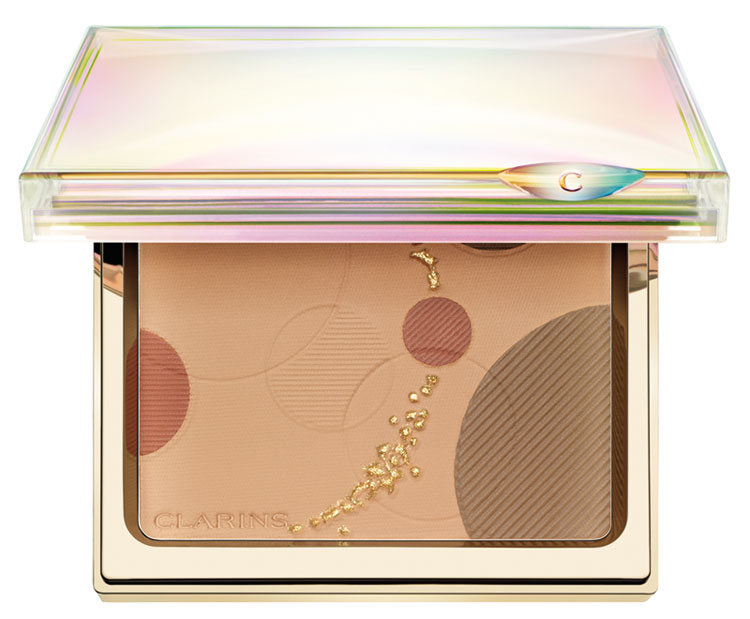 Eye Quartet Mineral Palette (LE), £31
White highlighter offers a pearly hint to the eye,  opulent pink and grey shades create definition.Plum eyeliner adds a
Read More
I have already shared my beauty conclusions of 2013, and here is the list of my beauty and lifestyle related  plans  for 2014.
Jessica Durrant Fashion Illustration
1. If you read my 2013 list, you know that I have been working out on a regular basis and couldn't be more happier but in the end of January/February I plan to start a new program, and already found a gym where they have it near my work.
2.  I am now more into perfumes, and would like to find a signature scent(s), and experiment with perfumes more. So far my favourites are Jo Malone Vanilla & Anise and Illamasqua's Freak.  Wish me luck.
3.  Closer to summer, I'd like to have a course of massages.  I am not very organized when it comes to such things, and I have never completed a course yet. That is a challenge.
4.  I plan on having facials more often. They are so worth it. I can definitely see a difference. And, luckily, not only me.
5. This is probably too much information, but we are all humans, so… I have been thinking about
Read More