Since we were talking about lipsticks yesterday, I thought that'd be a good idea to share about the lipstick which is a part of Clarins' Autumn collection.
I was sent Rouge Eclat in the shade 22 Red Paprika (there is also one called 21 Tawny Rose).
Clarins lip products are fantastic, and  Rouge Eclat is not an exception.  It feels amazing on the lips, almost like a lip balm but with an intense colour. According to the brand, it protects against dehydration, and boosts collagen. And in reality Rouge Eclat one of those lipsticks that feel comfortable on and  stay on nicely, without any drying.
My friend who is not a lipstick wearer who tried this lipstick was impressed that the formula makes it really easy to apply the product as it glides on and doesn't make a mess.
One more thing that
Read More
As always, there are tonnes of new lip products our for Autumn. And here is a first preview of some of them. A balm from Burberry,  hydra-gel lipstick from Dior, revamped Joli Rouge from Clarins and a new line from Bobbi Brown.
Stay tuned for part 2 of the new lipstick launches.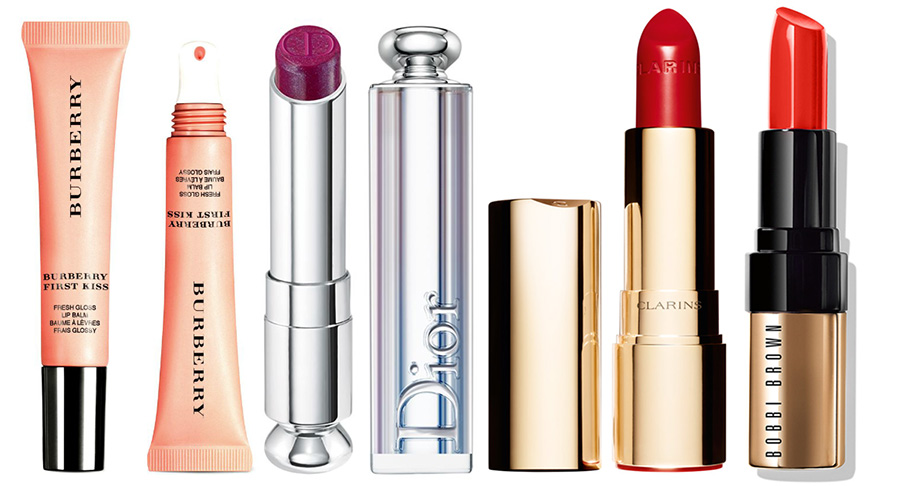 Burberry  First Kiss Fresh Gloss Lip, $26 Available from Saks
Official description: "A soft glossy balm that melts onto the lips, delivering a comforting first kiss of colour and hydration.  Unique cooling ceramic applicator for a smooth finish and invigorated feel, the sensorial gloss-balm hybrid glides effortlessly.  Fuller-looking lips, the moisture-infused formula hydrates lips while smoothing them."
The shades are: No.01 Soft Peach (shown), No.02 Coral Glow, No.03 Rose Blush, No.04 Crushed Red, No.05 Sweet Plum
Dior Addict Hydra-Gel Core Lipstick £26.50 from Harrods and Nordstrom for $35
Official description: "Dior ushers in a new era in lip make-up with the breakthrough creation of a lipstick that boasts a hydra-gel core and a top coat effect for sensational mirror shine. Concentrated in
Read More
My friends ask me all the time about my favourite high-street makeup products, and I have realized that I haven't posted a top 5 [affordable makeup products] feature in ages (See previous ones here and here)… So here we go!
Max Factor Creme Puff Blush in Alluring Rose (review and cheek swatches)
If I had to choose only one product out of these – it'd be the blush. Regular readers know how many blushes I own, and the fact that I've barely touched any other  in months says it all. Creme Puff Blushes are dreamy! Soft and creamy, they blend beautifully and look gorgeous on the skin. I am a convert, and I have recommended it to a lot of my girlfriends, too. There are six shades in the range and I have swatches of three (click the link above). I can't recommend these enough!
Rimmel Kate Moss Lasting Finish Lipstick in 45 (review and lip swatches)
Being a fan of Rimmel Kate Moss lipsticks I knew I'd  love the
Read More
AW, nail polish wise, is not only about berries and plums (funny how I type that right after a new manicure with a gorgeous cream plum, oh the irony) but also about rich  metallics, as you can see below.
Here is a preview of Essie and Zoya Fall 2015 collections.
Essie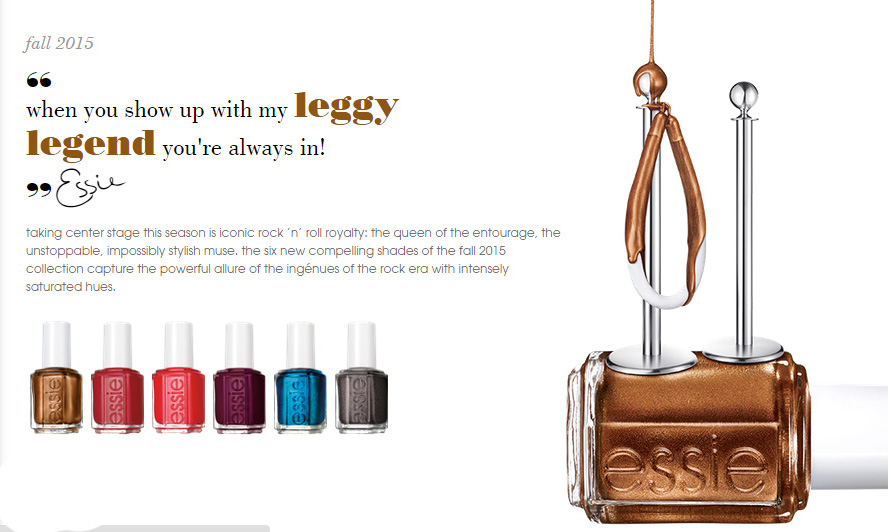 Leggy Legend, alloyed bronzed bombshell
With The Band, toasted spice burgundy

Color Binge, addictive orange red

In The Lobby, exotic cinnamon plum
Bell-Buttom Blues, intense midnight indigo
Frock n'Roll, shimmering rich espresso
Zoya
Read More
If you follow me on Instagram, you could already see a preview of Rouge Bunny Rouge new products for Summer 2015.  The most exciting one is probably their  duo cream eye shadows. I have actually  included these in my monthly favourites.
This duo actually combines two gorgeous shades: Atlas Swallowtail  and Brocade Skipper (review and swatches), and regular readers will probably know how much I love both!
The texture is creamy and smooth it applies like a dream, blends out easily and stays on for hours without smudging or fading. I experience only minor creases by the end of the working day.  Just make sure that you blend the product quickly (which you can even do with your fingers), as once set – it doesn't move.  One more thing which I have to mention – it is a great formula for mature ladies, as the shadows don't enhance the texture of the skin.
The finish is
Read More