I have just featured several new contouring products this week (here and here), and there is yet another new product coming out our way! This time it's a gorgeous powder palette from Kat Von D – Shade + Light Contour Palette.
You get:
3 x 0.16 oz Shade powder in Sombre (true taupe), Shadowplay (soft brown), Subconscious (deep brown)
 3 x 0.08 oz Light powder in Lucid (pinkish nude), Lyric (yellow beige), Levitation (soft peach)
All shades are matte, promised to be silky and blendable.
Besides the
Read More
This Spring's makeup collection COLOreCREATION from Givenchy is all about the bold, bright playful colours. Exactly what you'd need for a new season!
The products are:
Must-have Le Prisme Visage Color Confetti, £38
Multi-coloured illumonator with transparent and luminous pearlescent particles, can be used all over the face for a brightening effect.
Color Kajal, £16
Smooth and colourful, long-lasting bright eye pencils.
 Vert Invention No. 1
Turquoise Imagination No. 2
 Violet Creation No. 3
Gelee D'Interdit, £21.50
Read More
Contouring is still a big thing, and we  will be seeing a lot of  new products coming our way in the  next season. Like this new palette from Laura Mercier or sculpting Chubby Sticks from Clinique.
But I am personally definitely am excited about the two new products from BECCA:
BECCA Lowlight/Highlight Perfecting Palette, ($42 from Sephora)
BECCA's cream products are brilliant, so I have high hopes for this lill' kit with:
Read More
The newest  Spring 2015 makeup collection Reverie Parisienne from Chanel looks absolutely beautiful – probably my favourite release from the brand in a while.
First of  all, the promo image is absolutely stunning, inspired by springtime gardens of Paris- you get blooming flowers and those killer lips and nails? I need that colour in my life!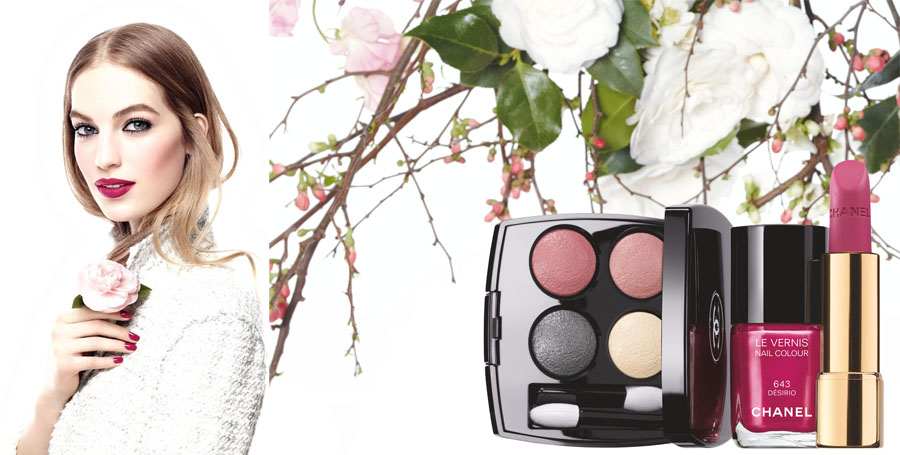 Face
Jardin de Chanel Blush Camelia Rose, $55
The star product of the collection, a gorgeous blush with floral motives.
Joues Contraste, $45
Eyes
Les 4 Ombres, $61
236 Tisse Fantaisie
238 Tisse Paris
Stylo Yeux Waterproof,  $32
Lips
Read More
I have mentioned my  Bonne Mine palette from Laura Mercier quite a few times, and I am pretty excited to see the new  Flawless Contouring Palette  from the brand.
Unlike the previous palette, it comes in a black design but it also contains 5 beautiful cream products: 0.17 oz Contour #1, 4 x 0.1 oz Contour in Medium #2, Deep #3, Highlight #1, and Highlight #2. There is also an instruction cards with application tips.
Here is what Laura herself says about this release:
"I am so excited to share this incredible art with you. The key to everyday contouring is to be discrete. Contouring is a
Read More