I have to say that I am still loving all of my favourites from April but here are some more products that I would like to add.  Four makeup items and three beauty.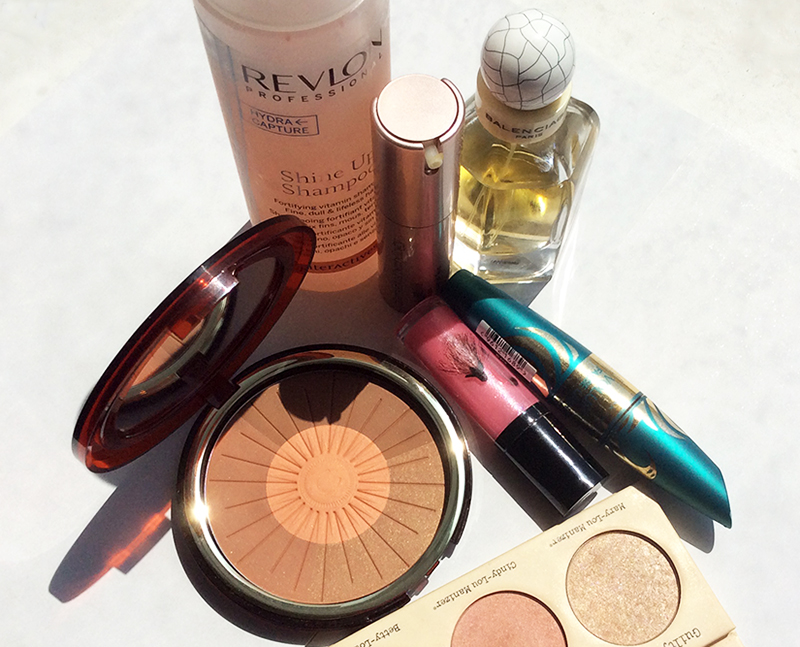 I did not expect this first product to make it to my favourites, as I have been neglecting all my bronzers for some time now, and I have tonnes. But I really like this new Clarins bronzer from their summer collection. It is called Bronzing & Blush Compact (full review coming up soon), as it adds warmth and that subtle sun-kissed effect to the face; you can use each shade separately or mix them all together. The other day when I was wearing it one of my  best male friends told me that whatever I have on my cheeks – it looks amazing, and makes me look beautiful, and it was this bronzer. Yes, some of my poor male friends know things like that.
Speaking of glow, I have started piling on using my Mary Lou Manizer from theBalm again. It gives the most gorgeous sheen to the face, and makes me look decent even when I barely sleep due to all the deadlines. Get it! Seriously, if you love a good highlighter, you need this in your life.
I have been using Max Factor Voluptuous False Lash Effect Mascara all
Read More
*this is a collaborative post
Today, personal grooming plays an important role in the daily routines of many men. Not only does it have the power to transform your appearance and boost your confidence, but it can also help you to overcome specific problems that you may feel embarrassed or self-conscious about. However, enhancing your looks doesn't come without its trials and tribulations. Here are three common male grooming problems – along with suggestions on how they can be solved.
1. Hair loss
Lots of men experience hair loss, and some embrace the change and quickly get used to their new appearance. However, for some the shedding of tresses is a major concern. Whether it's caused by a genetic condition, stress or a medical problem, hair loss could have a significant impact on your self-esteem and make you feel uncomfortable about the way you look. There may be no cure for balding, but fortunately there are a number of treatments available which have been proven to slow down or in some cases even reverse this process. For the chance to regain your youthful looks and boost your confidence, you can get hair loss treatments from most pharmacies or online from sites such as Lloyds Pharmacy.
2. Skin problems
Let's face
Read More
If you want to treat yourself to a new cheek palette, here are three options you can choose from: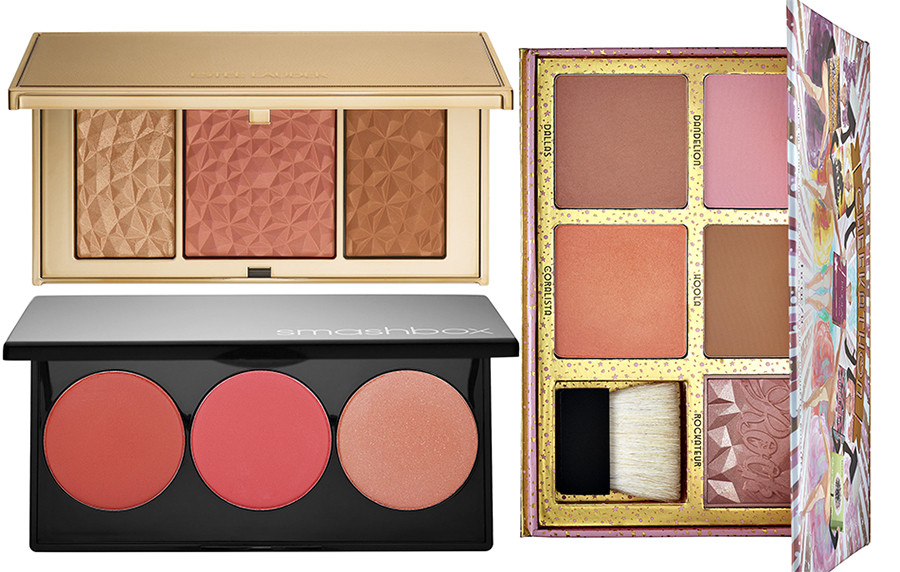 Benefit Cosmetics Cheekathon Blush & Bronzer Palette, $58 from Sephora
 Dallas box o' powder blush in Dusty Rose  (my review)
Dandelion box o' powder blush in Baby Pink
CORALista box o' powder blush in Coal Pink
Rockateur box o' powder blush in Rose Gold
Hoola matte bronzer (my review)
Natural-bristle brush
All blushes and bronzers are full sized
Estée Lauder Bronze Goddess Summer Glow Multi-Palette, $50 from Sephora
"Illuminate, contour, and blush with
Read More
OPI are killing it with their two latest releases. First of all there is this fantastic collection inspired by New Orleans, and the promo video is incredibly beautiful. Now I want to visit even more… One day.
I highly recommend, feel the vibe of that city, and check out the model's outfits, and her red shoes!
The shades are:
Let Me Bayou a Drink, This refreshing blush pink is my treat.
Humidi-Tea, Beat the heat in this nude shimmer.
Suzi Nails New Orleans, This light, bright pink hits the spot for chic.
I Manicure for Beads, Throw me nothing but this luscious purple crème!
Spare Me a French Quarter? Say oui-oui to this mellowed raspberry crème.
She's a Bad Muffuletta! Don't mess with this hot red crème!
Got Myself into a Jam-balaya. A yummy mélange of spice and creamy peach.
Crawfishin' for a Compliment. This light, creamy orange is perfect on me, isn't it?
Take a Right on Bourbon. An intoxicatingly, warm metallic pewter.
I'm Sooo Swamped! This verdant, creamy green is drenched in style.
Rich Girls & Po-Boys .Make a date with this china blue crème.
Show Us Your Tips! Let's see how this periwinkle shimmer looks on you.
As for the Alice Through The Looking Glass collection,
Read More
I have to admit that I am slightly obsessed with dystopian novels, and  love all those futuristic and manus x machina themes. And, yes, I do have a board on Pinterest.
It may have something to do with the fact that I did culture studies back at uni and read lots of philosophical theories on the subject.  Whatever it is, I have been always fascinated with the futuristic beauty.
Here is actually a photo I've posted on Instagram recently.

The products shown are:
And here are also some kick ass beauty looks from the relatively recent  MET Gala, how
Read More