It feels like I have been using all those melting cleansers and cleansing balms for ages now. I don't even remember when I did use something different, and really enjoyed it.
But today I want to tell you about such product, and it's L'Occitane Brightening Cleansing Foam. I actually got it as a gift with purchase after buying quite a few products from L'Occitane.
And I can't believe how much I like it. First of all it smells amazing ( is it immortelle floral water that smells so good?), has a very convenient pump which makes it easy to use the product, and has a nice design in general. All these factors make it a pleasure to use such cleanser.
The product feels
Read More
As I've posted last month, it's all about red and berry nail polishes for me now. I am browsing all the different nail polish collections, and nothing calls out my name.  In fact the only nail polish on my wish list is Marc Jacob's Lola (it is already mine!). 
That was until I discovered Nailberry!
It is a relatively new  4 free (Free of Formaldehyde, Toluene, DBP and Camphor. It is also cruelty free) nail polish brand from the UK.
It has probably the coolest design for a nail polish ever, very chic and sophisticated.  Cool name, nice front, simple black and  white label and elegant bottle.
And, of course, with the name Nailberry you would expect some
Read More
I really like  this beauty story from LOOK magazine with Sif Augustdottir. All looks are pretty cool.
I am not a fan of nail art but this simple two-toned manicure looks nice, I would love black and red variant. I also like the liner on the lower lash line, I remember I would always use eye pencil  there in my late teens, and these days I prefer liner on the upper lash line, actually.
The eye makeup for the second look is just gorgeous!  I wish I knew what products were used.  The bright hot lips look amazing, as well.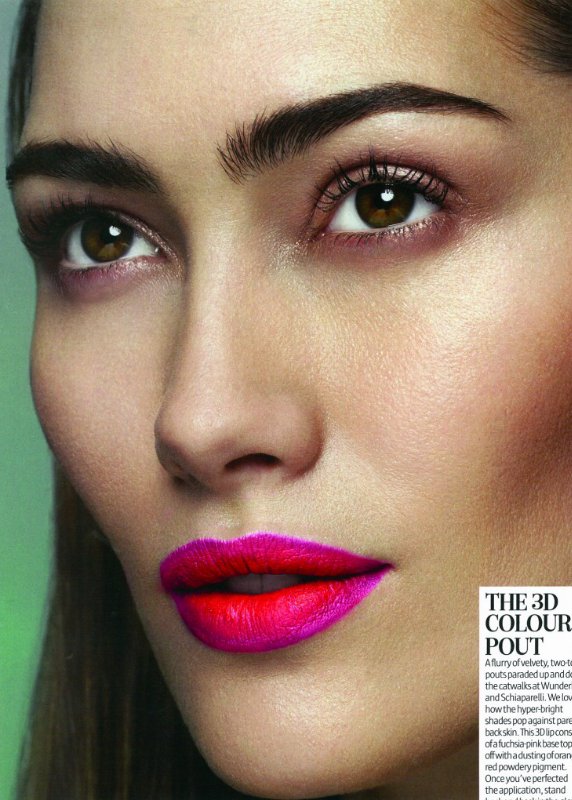 The third look is
Read More
I am a huge fan of Clarins skincare, as you all know, so that is why I was excited to try their Double Serum. This was the most promoted Clarins product in years and the campaign was huge.  There were a lot of different reviews, a lot of people raved, some  were put off by the mineral oil. And I've decided to wait, and use up the whole bottle before sharing my experience.
As you can tell from the photo above, I did use up the whole bottle. And… I did love this serum a lot.
It is  a two-phased system Hydric + Lypidic system, which means that you mix it before applying to the face. It is labelled as "age control with 20 anti-ageing pure plant extracts", and I was told that it will be more effective if you are 25+.
So what is my impression?
This AW season I was sick twice, and this product literally saved my skin! You know how the skin can react to a long-time cold? Yes, that. And this serum was the only thing I've used morning and night. It literally brought my dry, flaky and dull skin "back to life".
And what about the general effect?
I am
Read More
Here is a preview of  several nail polish collections for Spring 2014, lots of pastels, and not only!
Gorgeous promo photo from Deborah Lippmann, it really is very spring inspired with all the flowers and soft shades.
Blue Orchid – blossoming baby blue, Build Me Up Buttercup – blooming buttery bouquet, Flowers In Her Hair – magnificent mint medley, La Vie En Rose – pastel petal pink, Spring Buds – pretty playful pistachio, Tip Toe through the tulips – perennial pale peach.
As for OPI, their collection  was inspired by Brazil this season:
Next Stop… – The Bikini Zone
This amethyst-toned pewter suits me just fine.
 Don't Bossa Nova Me Around
 – Nobody can stop me from wearing this creamy nude!
Taupe-less Beach – There's nothing optional about wearing this enticing taupe.
 I São Paulo Over – There
He was sipping coffee with this mocha-toned beauty.
 OPI Scores a Goal!
 – Make your point in this winning shade of rich chocolate.
AmazON…AmazOFF
 – I'm making the switch to this deep jungle green.
 I Just Can't Cope-acabana – Nothing lifts your spirits like this sunshine yellow.
 Where Did Suzi's Man-go? – He went to fetch her this delicious mango
Read More