Back in March I was away to a spa trip for my Birthday with one of my best girlfriends. Of course, I had to check her favourite beauty products as she has a very good taste in everything. And it was all mostly Weleda.  I haven't tried that many products (here is a review of the birch body scrub), so I had to go Weleda shopping when I came home.
And I've got myself  their Citrus Creamy Body Wash.
And it is pretty nice, I have two main requirements for a shower gel – for it to smell nice, and not to be drying, and it ticks both boxes.
With my very dry skin, I don't really believe in moisturizing shower products but this out isn't drying  (no SLS in the ingredients list), as  I already said, so that is good. I use a cream/butter/oil/lotion afterwards anyway.
As for the scent – it was exactly what I was looking for, a zesty, invigoration and uplifting. I was looking for a new morning shower gel, as I
Read More
Don't you just love the idea of having most of the products you need to create a look with in just one palette? How convenient that is. Luckily, Stila and Charlotte Tilbury got us covered, both brands released those gems.
Stila brought out four Perfect Me, Perfect Hue Eye & Cheek Palettes with 5 eye shadows and 2 blushes each. They are created for  different skin tones, as the name suggests.
Fair/Light Palette
Eye Shades:  Alluring (soft pale pink), Breathtaking (soft neutral white), Passionate (champagne pearl), Dynamic (soft taupe), Glamorous (warm chocolate brown)
Blush Shades:  Romantic (soft pale pink), Playful (soft rose pink)
Light/Medium
Eye Shades:  Artistic (neural beige), Dazzling (vanilla), Ambitious (midtone brown with gold pearl), Spontaneous (brown with berry undertones), Mischievous (black brown)
Blush Shades: Charming (true cool pink), Angelic (neutral warm rose)
Medium/Tan
Read More
I was browsing Makeup4all the other day, and stumbled across this post from 2010. The point was to choose only three products I could use for my makeup. I was actually surprised by my choices, so thought I would do the same thing six years later.
So here is what I would go for and why:
Eye liner (ArtDeco Long Lasting Liquid Liner 01 Black)
I just have to have some kind of definition for my eyes, black liquid eye liner or a brown eye pencil, or even some eye shadows. But if I could use only one product- that would be this. These days I am loving ArtDeco, but there are lots of other nice ones I like.
Mascara ( Max Factor Voluptuous False Lash Effect Mascara, review coming later)
Read More
Chanel Dans La Lumiere de L'ete Makeup Collection for Summer 2016 is all about sandy browns, coppers for the eyes and face, and pinks with oranges for the lips and nails. Let's take a look.
Les Beiges Healthy Glow Multi-Colour, $65
Duo 01 and Duo 02 are lightweight powders with two shades that create that instant glow and perk up the complexion. There is also a Pinceau (Blush) Brush which retails for $55.
The LE Les 4 Ombres ($65) has that desert inspired pattern. You get three bronze and earthy toned shades and one khaki.
Here is actually a promo image of the collection to give you an idea of how you could use the products.
Other items are:
Read More
I am personally a huge fan of beauty and art collaborations, such as this one by François Nars and a contemporary artist Konstantin Kakanias, inspired by a glamorous  French Riviera they came up with 10 makeup products.
Dual-Intensity eye shadows and blushes and a brand new product for the brand – Lip Cover. Each comes in a special edition packaging.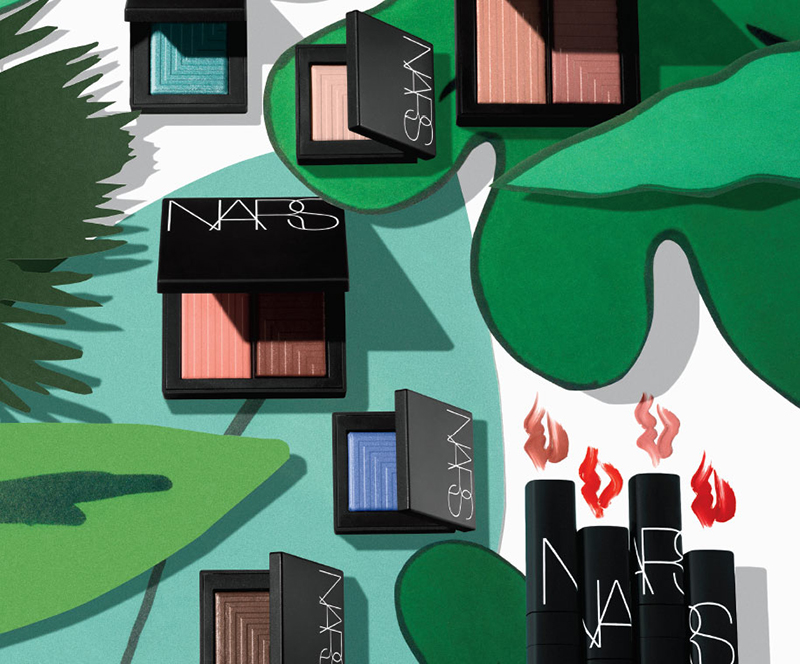 Lip Cover, $28/£21
"High pigment liquid lipstick. High fashion effect. Lip Cover delivers saturated slicks of coastal color steeped in exclusivity and ease. Rich and lustrous. Luminous finish."
Do Not Disturn, Vivid orange red
Overheated, Deep dusty rose
Get Dirty, Desert rose
Members Only,  Crimson
Dual Intensity Eye Shadows, $29/£21
Read More