This season Stila  teamed up with BaubleBar for their holiday collection. So not only you can buy amazing beauty value sets but also gift certificates to get the jewelry of your choice. Pretty much girls' dreams came true?
I also like the matte red lip and the navy nail polish from the photo, nice combination!

The products are:
20th Anniversary Stay All Day Waterproof Liquid Eye Liner Collection,  $225: Intense Black (jet black), Dark Brown (chocolate brown), Alloy (steel charcoal), Snow (bright white), Midnight (deep blue), Indigo (royal blue), Cobalt (bright blue), Periwinkle (pale blue), Turquoise (bright aqua), Teal (peacock), Moss (forest green), Emerald (rich green), Olive (army green), Amber (burnt orange), Paradise Pink (fuchsia pink), Gold Slim Hinge Bracelet by BaubleBar, $10 Gift Card to BaubleBar.com, An elegant and sleek roll
20th Anniversary Smudge Stick Waterproof Eye Liner Collection, $225: Stingray (jet black), Lionfish (shimmery chocolate), Moray (golden olive sheen), Triggerfish (shimmery gray), Bluefin (vibrant blue sheen), Damsel (dark chocolate), Tetra (shimmering eggplant), Turquoise (light turquoise), Cobalt (deep teal blue), Sienna (matte rust brown), Gilded (golden copper), Sepia (metallic taupe), Metallic Umber (metallic grey smoke), Jade (emerald green shimmer), Alpine (matte pure white), Midnight Blue (matte deep navy), Deep Fuchsia (matte cranberry), Graphite (matte charcoal grey), Gold Slim Hinge Bangle by BaubleBar, $10 Gift Card to BaubleBarcom,  An elegant and sleek roll
  Best of Kitten, $65 Eye Shadow in Kitten (sparkling nude pink), Lip Glaze in Kitten, All Over Shimmer Liquid Luminizer in Kitten, Smudge Stick Waterproof Eye Liner in Gilded, Pavé & Yellow Gold Pyramid Bracelet by BaubleBar, $10 Gift Card to BaubleBar.com ,Gold Fringe Clutch
New Year's Eve Glam Set,  $60 Jewel Eye Shadow in Opal (shimmery white), Stay All Day® Liquid Lipstick in Fiery (stiletto red), Major Major Mascara (jet black), Yellow Gold and Pavé Cone Bangle by BaubleBar, $10 Gift Card to BaubleBarcom, Navy Gusset Clutch
Sparkling Rose, $50 Jewel
Read More
I think I have already told this story, but why not sharing it once again. When I was a child the most fascinating thing for me, makeup-wise, was a colourful mascara. I remember that I was about 6, when I saw a girl with blue eye lashes, and I just couldn't take my eyes off her. I promised myself that when I grow up – I will have a lot of different shades!
And, although, I don't really wear blue or green mascaras that often – I do like more subtle versions for a change. Here are three that I want to share with you.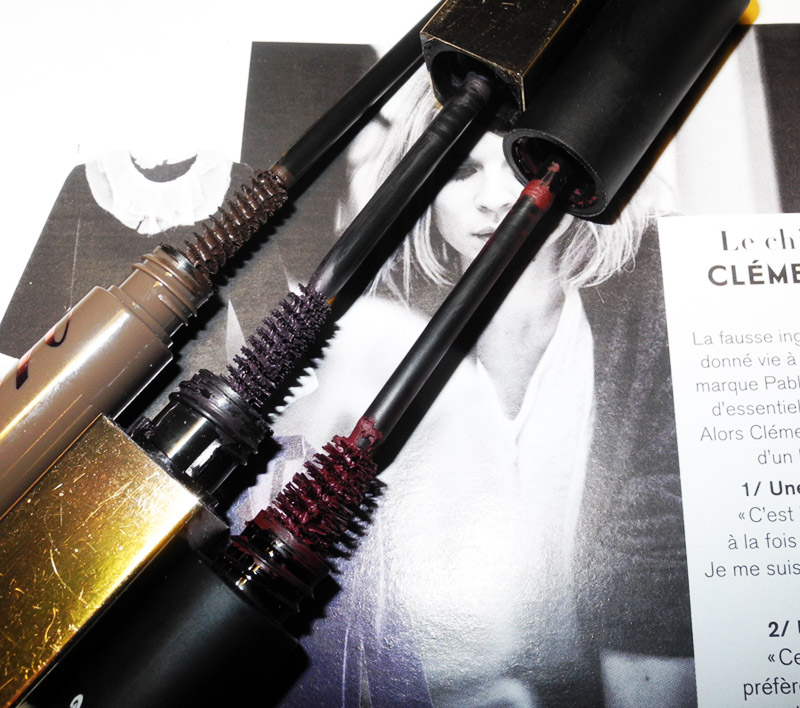 Clarins Instant Definition Mascara in Intense Plum (review)
This was a Limited Edition, but since it's my favourite colourful mascara that I ever owned, I had to include it. Plus, you can still get it from Amazon.
The formula is brilliant, is gives you that wow-effect, nice volume and intensity.   I adore wearing it when I opt for a bright lip and want to keep my eyes look more subtle (and more  interesting than just black) but still defined. Actually, I get a lot of compliments when I am wearing it.
Rouge Bunny Rouge Dramatic Lash Mascara Megaplumes in Oxblood Panache (review)
I am the biggest oxblood fan, I have been wearing it for years
Read More
It's November, so it's ok to shop for Christmas presents, right? Here are the new releases from two luxury brands which would make a great present for any beauty lover.
Dolce&Gabbana brought out some collector's items, decorated with symbolic motifs,  which give us an insight into the  heritage of the designers through the Ancient Coin and the Iconic Red.
 Glow Bronzing Powder Collector's Edition Desert (£42) a glowing bronzer for a sun-kissed effect.
Dolce & Gabbana Glow Illuminating Powder Collector's Edition (£42)  radiant highlighter for face and eyes.
Already available form Harrods.
Le Metier de Beaute released two new kaleidoscope palettes, their signature, one for the eyes, and the
Read More
Dear Father Christmas,
Here is what I want  as a stocking filler for the holidays. I have been a almost good girl! Love, Marina.
It is a set of ten Diptyque Mini Candles:
Feu de Bois: the warm, familiar, sophisticated accord of rare woods throughout the long winter days.
 Opopanax: extracted from the bush of Persia, the resin is captivating and enigmatic by the balsamic notes.
Ambre: a warm and elegant procession of the woods vetiver and patchouli, enhanced with the radiant aniseed, insolent spices, mysterious incense, citrus and Tonka bean.
Pomander: reminiscent of a Christmas orange sprinkled with cloves and cinnamon.
Genevrier: a woody
Read More
If you are a fan of beauty value sets – the new On The Rocks  Holiday 2014 makeup collection by Smashbox is worth the attention. The brand brought out beautiful items for eyes, lips and face.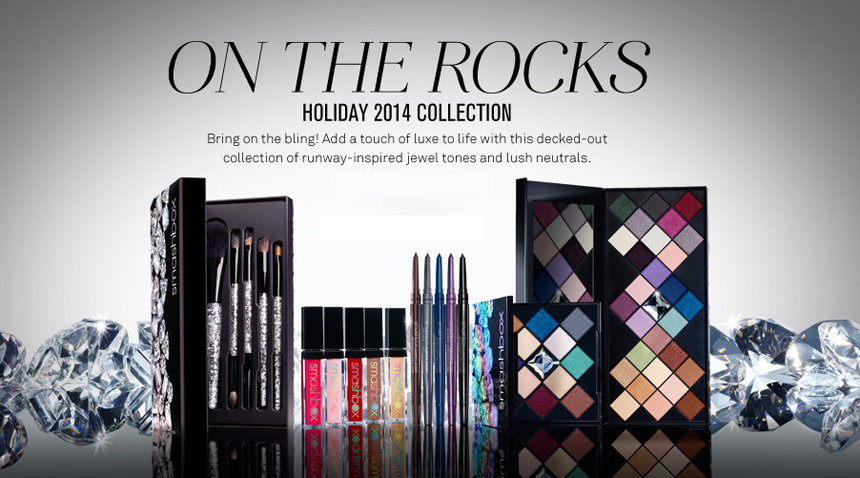 On the Rocks Always Sharp Liner Set, $ $39
Raven, Sumatra, 3D Orchid, Midnight, 3D Night Gem
On the Rocks Be Legendary Lip Gloss Set, $28
Azalea: bright pink fuchsia; Legendary: true red; Pout: pale blue pink; Jewel: soft golden berry and Gilt: champagne golden shimmer.
On the Rocks Brush Set, $62
Read More