Although  we all are discussing Autumn collections  already, let's not forget that it is still Summer…
To remind us of that Rouge Bunny Rouge created a new look, which is the first part of their new  trilogy- Under Good Omens.
This look is called Chance, it "celebrates the concept of a fortunate coincidence", and it is all about the bronze and blue shades, signature Summer colours.
Here is how you can re-create it:
Complexion
"A combination of skincare and make-up base, the Original Skin Primer GENESIS will help you maintain a beautifully flawless skin throughout the day by smoothing the appearance of your skin, evening out your skin tone, minimizing the look of pores and increasing your foundation's longevity.
Invisible and impalpable, the Tinted Moisturiser SKETCHES ON WATER will even out the skin tone naturally. Add touches of the Bronzing Glow Powder AS IF IT WERE SUMMER STILL... to look kissed by sunbeams.
Hide imperfections by applying  Luminous Skin Wand FINE-SPUN LIGHT or Glide Concealer NAKED DISGUISE and smoothing it on with great care.
Using a tiny amount of  Highlighting Liquid SEAS OF ILLUMINATION on your cupid's bow and in the corners of your eyes, draw the light to your lips and eyes.
For a more intense glow, blend some of Highlighting Liquid SEAS OF ILLUMINATION with Tinted Moisturiser SKETCHES ON WATER and apply to the top of your cheekbones, to the bridge of your nose, and to the centre of your chin.
With the light, creme-to-powder formula of our Blush Wand CHEEKS IN BLOOM it's easy to create a fresh, transparent colour. We suggest the fresh, cool rose petal pink 'Vermeer'.
Eyes
Read More
Just quick heads up -  the new Dior quints are already available from Nordstrom for $60.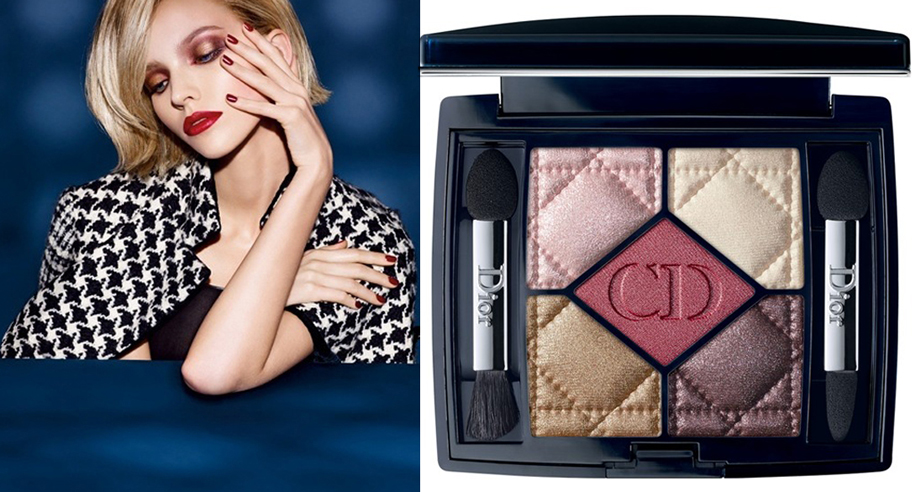 So far you can buy five new palettes, including the gorgeous and talked about  Trafalgar 876, which was used for the AW makeup campaign with Sasha Luss.  I personally will definitely take a look at it when it's available from my local Dior counter.
The other four
Read More
I love a good body scrub! I always have at least three different options on my bathroom shelve. And today I'd like to show you the one that I've been really loving this hot  summer season. It is Weleda's Birch Body Scrub.
I left some water drops on the tube but it doesn't look as good (if good at all), as I would like it to…
Why do I like this scrub so much? Mostly because of the scent,  the brand says it is birch leaf extract and essential oils (rosemary?). And I'd say that it has an uplifting and invigorating aroma, fresh and clean scent – very unisex.  I don't know what it is, but it is one of my favourites; the kind of fragrance that makes you want to
Read More
Good news for the NARS fans, their Fall 2014 makeup collection, is already available. I personally really love the 70′s vibe on the promo, the new blush and the new cranberry lip shade.
So the products are:
Blush
 Unlawful, Amber pink with silver pearls
Matte Multiple
Mauritanie, strawberry red
Satin Lip Pencil
Read More
It took me some  time to realize that eye brows are very important. I did over-pluck mine, like a lot of people back in the 90′s, but luckily they grew back! Plus I never really did anything with them…
This Tuesday I went out with  only one makeup product on my face –  eye brow pencil (I've also curled my lashes), and I was happy with the way I looked. In fact, when I was visiting my family this is the look I'd rock most of the days. They say eyebrows frame the face; and the is spot on! I personally think good brows make a huge difference.
This is why I though I'd share some of the products that I love using on my myself, and on others.
Shavata Double Ended Eyebrow Pencil (review and swatches)
I have to start with a product that is probably my personal favourite! I always sharpen it really well so that it creates a  precise line which never looks drawn in; but I never drag it on and do small strokes to feel in any gaps and make to brows more defined.  This shade really suits my cool-toned brows, the texture is soft and it stays on for the whole day. It is a total winner, and I highly recommend.
You can buy Shavata from Feel Unique
Hourglass Arch Brow Sculpting Pencil in Soft Brunette (review and swatches)
This is and eye brow product loved by a lot of people, and there are 
Read More