At last I am happy to present the newest addition of Makeup4all Magazine for SPRING 2011.
Spring is here and it's time for the new issue of Makeup4all Magazine. As it is our first anniversary I've decided to make some changes and I really hope that you will like them. The hottest topic of this issue is diversity. Do you love pastels or brights, will you splash out or save, are you a rock diva or a slick chick? One thing is for sure, there are choices for everyone.
In this issue we have two brilliant Make-Up Artists who are amazing and creative, yet both have their own stunning, unique style. The edgy and innovative Alex Box creates mind blowing images and stretches the boundaries of make-up artistry, while Lisa Eldridge specialises in modern aspirational and sophisticated looks. Their work reflects their personality – Alex is a Creative Director for British alternative brand Illamasqua and Lisa is Creative Director for the British brand No7. In this issue you can find out more about Lisa's latest project, Chanel Confidential.
We have gathered the best Spring 2011 makeup collections for you to choose from, my personal wish list and, as usual, created an tempting shopping list. We share the hottest makeup trends from the SS 2011 runways.
This season is all about
Read More
Here is a preview of Dolce & Gabbana summer 2011 makeup collection which was inspired by the designers runway collection. By the way, here is the makeup from the show which looks fresh and beautiful.
This collection is  called Italian Summertime and it's an interpretation of the Sicilian beauty with it's femininity, sensuality and  unique charm.
It includes a The Sun Blush and a vibrant nail polish in Passion
Four new shades of the lipsticks
Two new shade of the lip glosses: chocolate and
Read More
Take a look at the beautiful Lancome Bronze Azure Collection for summer 2011. I have information about the US release so far and, as you know,  their summer collections by Lancome are a bit different with those that we have here.
But I guess US readers will be happy to see it anyway as it is very pretty and I would like at least several products, especially I am interested in Le Stylo Waterproof Long Lasting Eye Liner.
So this collection includes:
Color Design Palattes, $42
Molten Shore – A cool palette with shades of beige, teal, metallic plum and brown
Heat Wave – A warm palette with shades of soft gold, peach, copper and brown
Le Vernis in  Sarong, $19
Desert Rose Blush Subtle Shimmering Blush, $ 40
Desert Rose is an all-over powder that gives a subtle shine. A new mix between shaded tones of summer bronze, berry red, soft rose and light pink. Apply with powder Brush, mixing all the shades for an all-over glow.
Color Fever Gloss, $26
Paradise Peach – Soft peach with golden shimmer
Heatstroke – Spiced pink-y taupe with
Read More
It's been forever since I wrote my inspiration of the month for the last time. So I thought I'd share who inspired me a lot last month. And it was Latvian model – Ginta Lapina.
I first spotted her because of the Yves Saint Laurent makeup promo photos and I really liked her.
You can take a look at her NYMag profile here.
I love that she is always so different but always equally
Read More
If you read Makeup4all for some time now, you've probably noticed that I love cream/liquid/gel blushes and most of the time they are quite expensive. Well, luxurious blushes is something that I really like.
But is there a chance to get a great product for an affordable price? YES, there is! Today I want to tell you about the Max Factor Miracle Touch Creamy Blushes.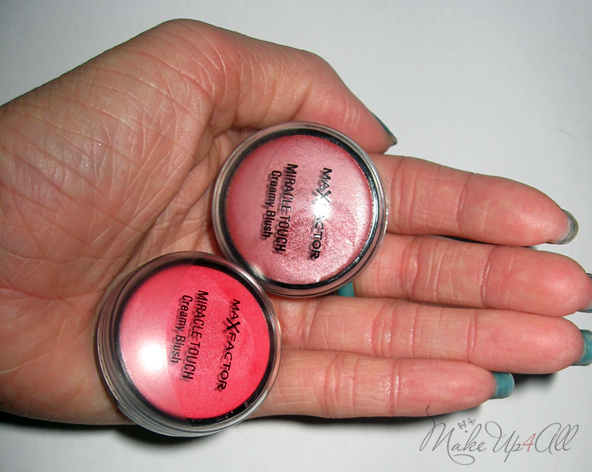 These are tiny and you can see how they look like when placed in my hand. I actually really love the size because it's so easy to take the blush with you. But despite the size, it will take you forever to finish this product. You will need the smallest amount of these, especially when you have fair or light skin. I use just one or two dabs for both cheeks and that's enough!
The shades that I have are called 18 Soft Cardinal and 09 Soft Murano  and here they are: natural light and flash.
Read More