I've heard a lot of positive feedbacks about LipFushion glosses but I've never tried these myself unfortunately. But  after I saw these LE LipFusion glosses I want to try them even more. I hope we will get them here. You can already get these in the US for $29 each.
"A shimmering shade packaged in a vintage-inspired metallic floral motif."
Shades that are avilable (the same order as on the photo):
Posh
Show Off
Rhinestone
24k
It is important to know that Fusion Beauty Colorceuticals will donate $1 from the sale of every Objects of Desire LipFusion Color Shine to help women work their way out of poverty.
I'd really love to get Rhinestone and 24k.
You also need to know that now you can also get some value sets of these glosses which are available for holiday!
Read More
I've wanted to get this Sleek Cream Lip Paint from Inglot every time I had an opportunity to visit Inglot but it was sold out every time. I was told that this is one of the best sellers and that everyone wants one so this made me even more curious.
I've got mine last month at last, I've got a pale pink shade #97.
This is how the package looks like and I really like the simple,  yet elegant design.
This is how it looks like swatches on my hand. I understand why it is called Cream/Lip Paint – the texture really  reminds me of cream. It  easily glides on the lips and gives a nice coverage, the shade is buildable. It is quite sheer when you use only one layer but you can get an absolutely opaque shade.
It has a really interesting scent and I am not sure if I like it or not so I've asked some of my friends to tell their opinion. As the result:  some loved it, some – not really.
This is how it looks like on my lips
Read More
Inglot gave us a preview of their Holiday 2010 makeup collection and I really love the lipstick and the glitter or is it pigment? I have tried their pigments and they have some gorgeous colours  and the pigmentation is amazing. Now I want to try their glitter, I can already see a lot of beautiful sparkly looks that I can create with it!
Anything you like?
Read More
There have been so many amazing posts about Spring 2011 that I've decided to mention them all in this post.
Guerlain Spring 2011 , photos above from the same source
Benefit Bella Bamba, new boxed powder
Paul & Joe and Nails Inc Collections  for  Spring 2011
Photos (not promo) of Lancome's  Spring 2011 collection
Shiseido  new lipsticks and
Read More
If you haven't seen it yet – here is the Spring 2011 makeup collection by Yves Saint Laurent called Boheme Libertine, created by Lloyd Simmonds.
I am also happy to see the model from the holiday 2010.
I really love the highlighter, blush and lipstick the model  is wearing. The eye makeup is nice but not for every day plus pink is probably the only colour that doesn't look nice on me. I believe the model is also wearing the new taupe nail polish from the new French Couture dou.
The range looks like this. Fresh and bright shades for spring are always welcomed!
The star product of the collection is the highlighting powder called Pink Celebration.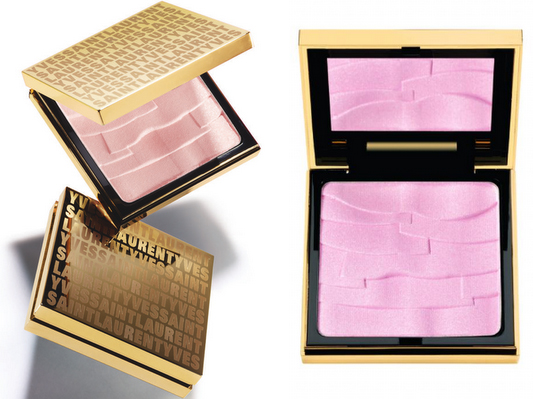 There will be also 8 new shades of Rouge Pur Couture lipsticks
Read More