If you are a fan of Megan Fox you will be happy to see her first seasonal  beauty campaign for the Girgio Armani cosmetics. Let me remind you that she was already the face of Eyes to Kill mascara.
The new collection is called Transluminence. Linda Cantello, Armani's Creative Director says that she was inspired by the colours of spring for this collection: lights cheeks and lips and purple, blue, green and silver eyes.
Collection includes:
Eye shadows palette with Iris purple, jungle green, melting snow and carbon black.
Giorgio Armani Sheer Blush in pale pink
Translucent pale pink powder
Waterproof eyeliners in Classic Black # 1, Modern Brown #2, Grass Green # 3
Luxury Lip balms in # 518 Dawn Pink, Petal Pink # 503, Early Morning Rose #508
Here is the photo of the products
Read More
I have to say that I absolutely love the promo images of the 2 new MAC collections. They are so beautiful and inspiring!
The first one is totally glamorous from the Stylishly Yours collection with the hot red lips, beautiful liner and pink eye shadows. I like it. Like it a lot! I would just use the other blusher but I still love this look so much…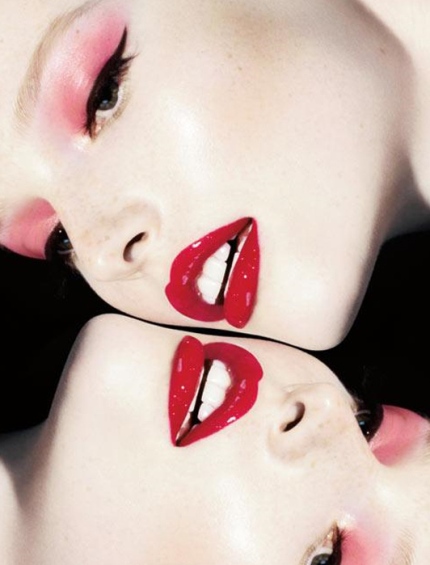 The other look is from the Peacocky collection. It is a
Read More
Some of  you asked to share my makeup work with you, so here is one of the looks that I really like! It was supposed to be  cat eyes and red lips but I have no idea what happened with me. I just started packing the black eye shadows on. I guess I was thinking about this look by Rouge Bunny Rouge.
But obviously it's not so dramatic and more wearable, although I know that most of you probably won't wear anything like this out so it is still a more editorial/fun look.
My friend is super gorgeous so it was fun making her up.
So here are the products that I've used on her:
Face:
Make Up For Ever  HD Primer
Max Factor Foundation in Creamy Ivory, read my review here.
Revlon ColorStay Concealer in Light, great affordable concealer, will write a review about it soon.
BECCA Shimmering Skin Perfector in Pearl, this is my #1 highlighter, I've been promising you a review for ages now, I am sorry, will change it!
Benefit Hoola Bronzer, for very light contouring, read my review here.
Make Up For Ever HD Powder, read my review here.
Eyes:
Read More
Do you remember my post about Ellis Faas Lights?  Now that I have 3 shades out of 5 I would like to tell you my impression.
First of all just look at the design, it looks amazing to me, absolutely unique and I really like this elegant and sophisticated  futuristic silver. Let me tell you that people, both women and men, always ask me about  Ellis products when they see them.
Although the design is the same there are labels on on each product which won't come off so you can actually see what colour you are reaching for.
Each Light has this brush which you can use straight on your eyes I guess, but I still use it with my brushes.
So the shades that I have are: E301 (warm silver), E303( bronze) and E305 (holographic Bordeaux). Let me tell you that I absolutely love all the shades and I've added the E302(gold) and E304(lilac) to my never-ending  wish list because I do believe it is worth getting them all! After reading this post you will understand why.
Let me start with the colours…
They are absolutely beautiful, silver and bronze are like true  metals and as for E305 it's a beautiful and duo chrome colour which I like a lot. One of the reason why I like it is because the colour of
Read More
Here are even more ideas for the Christmas gifts from different online shops. And let me tell you I've chosen the gifts that I would love to receive myself, I think all of these are great.
That's amazing how I write about the presents all the time but haven't got anything myself yet (not for myself but for others).  I won't get a beauty related presents for my parents and boyfriend but my brother wants a set of luxury skincare and a set of YSL perfumes. I guess I will have to get it now, well, I am the only one to blame anyway. It is because I gave him several samples which I got with some of my online orders and he loved everything.
I've already written about a lot of other beauty related products that you can get as a present, so just take a look at the  earlier posts. And today I've chosen these products:
Korres Lip Saver Roll, $19.50 from Sephora
Pomegranate Lip Butter, Jasmine Lip Butter, Wild Rose Lip Butter
Caudalie My Vinothérapie Spa Escape, £21.53
Nourishing Body Lotion, Fleur de Vigne Shower Gel, Cabernet Scrub, Vinopure Purifying Mask and a Hand and Nail Cream.
Hourglass Femme Rouge Lipstick, £22/$30
The richly pigmented formula of Femme Rouge adds fullness and luster, immediately shaping and softening lips for a plush, cushiony effect.
Get Lashed False Eyelashes Get Dazzling, £8.95
Boots Get Lashed professional lashes are made to the highest quality to ensure that they are easy to apply and will look sensational.
Get Lashed False Eyelashes Get Dazzling, £8.95
Boots Get Lashed professional lashes are made to
Read More