This week I was browsing some US websites as I've ordered some things for myself  ( my friend kindly agreed to help) and I came across some interesting sets which I personally think are worth the attention.
So if you are from the US, you may find this interesting. I could have included so many sets but I've limited them to four only.
All the sets are relatively new and I would personally  get all of them for myself.
Buxom Fashion Show…& Tell™ , $29
A collection of seven ready-to-wear Big & Healthy Lip Polishes.
This set contains:
0.05 oz x 7 Mini Big & Healthy Lip Polish in
Sugar (rose glow),
Katie (princess pink),
Mia (fuchsia shimmer),
Alison (vibrant pink shimmer),
Sasha (champagne shimmer),
Linda (sheer plum wine),
Kesha (sheer pink rose)
My opinion: I think it's an amazing value for 7 glosses and a great chance to get a lot of shades for less than $30.
Too Faced Beauty In A Box: Endless Summer ($120 Value),$45
A limited-edition kit featuring a handpicked collection of our favorites from Too Faced, plus a how-to guide.
This set contains:
0.11 oz Shadow Insurance
0.17 oz Eye Shadow Quad in Lovey Dovey (sable brown with gold micro-glitter), Honey Pot (warm gold shimmer), Heaven (matte ivory) and Neptune (turquoise shimmer)
0.33 oz Sun Bunny Bronzer (satin suntan/ rich satin bronze)
0.12 oz Glamour Gloss in Plush (candied coral)
0.4 oz Lashgasm Mascara in Black
1 oz Tanning Bed In A Tube
My opinion: I think it's a wonderful set for summer, pretty much everything you need and an amazing value.
The first two sets are from Sephora and the next two are
Read More
Elemis Exotic range is definitely one of the best skin care lines I've ever tried. Every single product is absolutely amazing!
I already wrote about the body scrub, multi-purpose melt (my favourite) and mentioned the body lotion. So today I want to tell you about the shower and bath gel which is also divine!
This shower cream smells of  Tahitian Monoi Oil and  Frangipani flowers which I like so much and I really would like to find a fragrance with a similar scent (if you know one please let me know). Elemis have Exotic Eau de Parfum but is has a different scent. So far I just use the melt as perfumes so I can feel it for a longer time but of course it doesnt' last as long as the perfume would.
It is said that
Read More
I really love this Jo Malone LE Sakura Cherry Blossom Cologne which is new for Spring. Not only I love the sakura scent but I also love the cute package.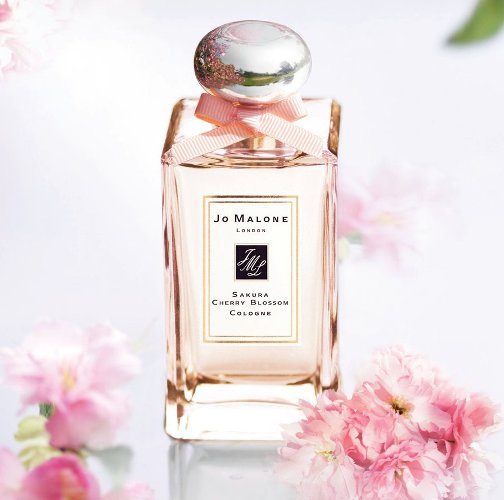 This is how this cologne is described:
"Delight in an exquisite interpretation of the airiness of blossoms fluttering on boughs. Discover the subtlety of cherry blossoms, layered with chiffon-sheer notes of rose, accented with the sweetness of bergamot. A diaphanous, perfectly powdery fragrance that lightly comes to rest on a creamy base of musk and woods."
Sounds like a perfect product for spring and I would really love to try it.
Read More
I love those random purchases when you don't plan to get anything but then  you notice something that you just have to get.  This is how I got this Maybelline gloss. I had no intentions to get it but the colour caught my attention so I knew that I had to get it.
This is how it looks like in the tube, as you can see this gloss comes with an applicator.
As you already understood I absolutely love the shade of this gloss and I also like how it feels like on the lips. It is moisturising and goes on smoothly. The formula is creamy and it goes on smoothly.
This is how it looks like swatched in different light.
Read More
Here are two more looks that I really love from the SS2011 shows. The first one is from Gucci with the classic red lips and the second one is from Armani Prive with a dark lip and a blue crystal which I really like.
Both Freja and Bianca have amazing lip shape and I also love how amazing their  skin tone looks like, great job by Make-Up Artists.
It is great how everything else is kept neutral, this is the kind of look I am loving right now: accent on the lips, groomed eye brows, flawless complexion and a bit of a blush. But I would probably also add some eye liner for myself.
If you want to see more looks from the SS2011 fashion weeks click here.
Read More