So the question of the week was " What are your favourite nail polish shades?!".
Thank you everyone for taking a part! I really love when you share with us all!

This is  how my little brother painted the nails of his girl for the first time in his life.
You can see some black lines near the pastel and light shades because originally he used the black nail polish but then removed it (not completely as you can see).
If you are interested in the colours he used: butter LONDON Yummy Mummy, Illamasqua Viridian, Sally Hansen Blue It, Maybelline  Wonder Violet, Essence Undead?, Illamasqua Alarm, Inglot #949 ,Barry M Berry Ice Cream not sure about this one, Maybelline Coconut Crystals.
So here are the answers I got on Twitter and Facebook:
Deep purple
OPI Over the taupe, Butter london Scoundrel, Chanel Particuliere, Rococo Psychedelic, Underground and Trash,Revlon Red hot tamale
Loving greys. especially rimmels Grey Matter. and glitter. glitter is everywhere in makeup right now espcially nail polish
I love shades of
Read More
Looks like all Urban Decay palettes and sets always have major success. I personally got their NYC palette (don't know why), Black palette (I love the dark eye shadows) and really wanted to get the Jackpot 24/7 set (there are some shades that I don't have) but it won't be available in the UK or EU which is a shame.
This time Urban Decay released a brand new product which is called Cowboy Junkie Set.
"Let Midnight Cowboy and friends tempt you out way past your bedtime! This giftable palette is packed with sparkle and holds everything you need to look gorgeous until the sun comes up."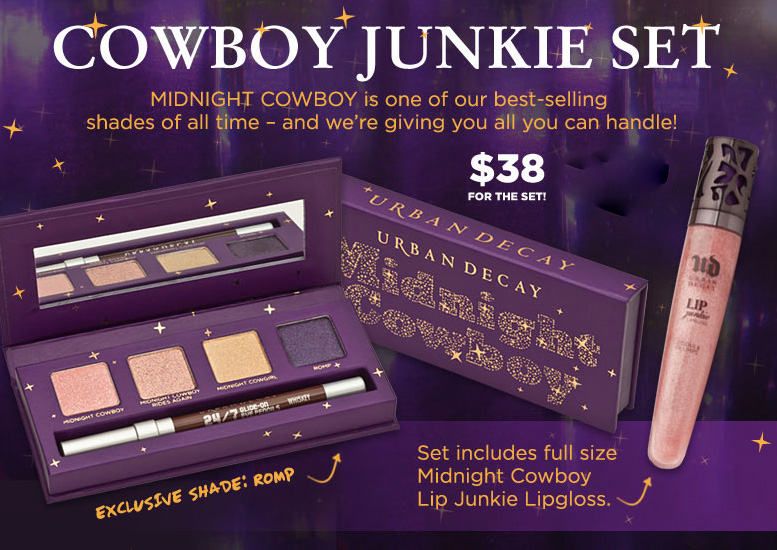 Cowboy Junkie Set: Midnight Cowboy (pink champagne with lots of silver glitter), Midnight Cowboy Rides Again (golden beige with bronze, gold & silver glitter), Midnight Cowgirl (subtle golden-beige with gold glitter), Romp (deep silvery grape), Lip Junkie Lip Gloss: Midnight Cowboy (sheer nude sparkle), 24/7 Glide-On Eye Pencil: Whiskey (dark brown).
The price in the US is $38
You are gonna love this set if you love glitter.  I don't plus I already have MC and MCRA so this is not for me! And will you be getting it?
Read More
This weekend Illamasqua celebrates 2nd Birthday! So congrats to the amazing brand! Be sure to read my Illamasqua reviews.  For those who are in London: "Singer songwriter sensation Viktoria Modesta will even be performing an exclusive set at the Illamasqua Flagship Store, at 20 Beak Street, London W1 on Saturday afternoon. See the striking sensation in person at 3pm, 4pm and 5:30pm."
I already wrote about some new items from affordable brands and today E.L.F. shared that their Christmas collection is already available. Click here to see everything.
In other news, enjoy the
Read More
If you live in the US be sure to get this amazing set with 18 mini nail polishes from Sephora by OPI. It is available at Sephora obviously and the price is $48 with the $81 value.
You get:
– 18 x 0.12 oz Nail Colors in
A True Romantic,
Techno Girl,
Access 24/7,
Ms. Can't Be Wrong,
What A Broad,
Just A Little Dangerous,
Cab Fare,
Caliente Coral,
Special Request,
High Maintenance,
Sample Sale,
I'm With Brad,
Leaf Him At The Altar,
Mermaid To Order,
Opening Night,
Already Famous,
Dating The Drummer,
Never Enough Shoes
I WANT IT! That's all. Wish I could get it here…
Read More
Clinique Holiday 2010 makeup collection is here. It is called Strawberry Fudge and I have to say that I absolutely love this promo photo. Makes me want the snow!
Strawberry Fudge Holiday Compact, $ 36
Silvery compact features an exclusive Color Surge Eyeshadow Trio inspired by one of Clinique's most-wanted shades, Strawberry Fudge. Soft-Pressed Powder Blusher in New Clover adds the perfect balance to cheeks.
Vitamin C Lip Smoothie Antioxidant Lip Colour, $17.5
Pom-a-greatness
Strawberry Bliss
Guava
Read More