I've promised  a review about the newest line from L'Oreal Professionel – Force Vector. If you want to find out more about the line and 5 products read this post because I just don't want to repeat everything here.
About the Force Vector Serie
"New Force Vector counters this damage with Glycocell, the latest in haircare technology from L'Oréal Professionnel. Glycocell combines Incell technology and Royal Jelly Extract to deliver targeted strength and reinforcement to fragile, weak hair. Incell strengthens the natural cohesion of the hair and increases its resistance to external stressors, for long-lasting conditioning results. Royal Jelly Extract is a nutrient-rich substance produced by bees that provides concentrated essential amino acids and vitamins to the hair. Together these technologies are designed to reinforce hair that has been compromised due to external aggressions, leaving it stronger and more resistant to breakage. "
I've got three products our of 5 because I don't need Force Vector Reinforcing Anti-Breakage Conditioner and Force Vector Reinforcing Anti-Breakage Thermo-Active Treatment.
This means what I got:
Force Refill Intense Reinforcing In-Salon Treatment
Force Vector Reinforcing Anti-Breakage Shampoo
Force Vector Reinforcing Anti-Breakage Masque
And now I will tell you my impressions about each product that I've been using since November.
Force Vector Reinforcing Anti-Breakage Shampoo (250 ml),£9.50 or $21.00
I finished this shampoo last week and already got a drugstore one and I miss the L'Oreal Shampoo a lot so I will be getting the new one soon. But this time from the other serie (I am thinking avout Volume Expand).
First of all I have to tell you that I have a thin and oily hair. My hair really looked so much better, thicker and healthier when I was using this shampoo.  The bonus is that I absolutely love how it smells and you need a small amount of shampoo to wash your hair.
There is only one negative thing. My hair gets oily very soon after this shampoo but I can't say that I mind that because I wash my hair every 2 days. My hairdresses told me that it is because the shampoo contains some oild that "cover"  the hair.
Also I wanted to see the result that this shampoo gives the fine hair so I asked my friend to try it and to tell the result. After using this shampoo for a while my friend told me the same! Her hair looked amazing but she had to wash it more often.
So I guess it's better to use it when you have dry hair.Also I would recommend you to get this shampoo from an on-line shop because you will have to pay more in the salon just like I did.
Force Vector Reinforcing Anti-Breakage Masque (200 ml),£13 or$30.00
For some reason I am
Read More
I can't believe that I wrote my first post a year ago! But back then this blog had a different name and I didn't post regular. I can't belive how many things happened during this year! I really want to thank you all for the support, comments and e-mails that I've got! Probably the best thing about this blog is that I've met so many wonderful people!
I always want to know what my readers think about the blog and what they want to read. I  often get  comments and e-mails where you ask more information about myself. I don't make personal posts for a lot of reasons. But today I thougth that I would just show you my new hair style! I went to my favourite L'Oreal Professionel Salon this week and this is the result! I just had a hair cut, nothing else
Don't miss the review of their products that I've been using for 2.5 months next week!
The red lipstick  that I am wearing is Revolution by Urban Decay.
yes, it's a big longer in the front
I wanted to have a giveaway but unfortunatelly this was a very busy week because I am leaving tomorrow and had to get a lot of things ready plus work I had lots of work to do. And also now I am working on "Spring Project" so I just had no time to get some nice items for you guys. But I will try to do it soon. Plus it's my Birthday in March !
And of course Happy V Day if you celebrate it !
Read More
Hi girls! This week I was sick for several day so I had to stay at home in bed almost all days long. I finished reading my book and 2 magazines and was bored to death. So I thought about watching some kind of a show for girls. My favourite show of all times is Desperate Housewives but I've seen all the episodes and now am waiting for some new. I've also seen all episodes of Sex and the City and some other shows. But I wanted to find some show for girls that I could watch and not think too much , lol. I've read about the Hills and the City on several beauty blogs so I wanted to give it a try.
I find this show boring but I still watch it because of the makeup, hair, shoes, bags and outfits.  I can't say that I like the plot or the problems of the main heroes. But  I like Whit's and Olivia's style and they are beutiful girls in general.  Although I can't say that I adore this show  I don't mind watching it when I am sick or have nothing to do. Every episode is 20 minutes and you can watch them online at the MTV website
And what do you think about such TV shows? Do you like them? What are your favourite shows anyway? What would you recommend me to watch? And I would really love to hear your comments on this!
I am bogging about TV shows for girls because often I see there a great look that I create for myself after that
Here are some more photos from the City
Read More
We all were waiting for the information about Chanel summer collection after we saw these photos from the Chanel show. So here are the promo photos and information about the collection which will be available in April 2010.
Le Vernis € 21,50
Mistral
Nouvelle Vague
Riviera
Rouge Allure € 29,50
Super
Genial
Darling
Gloss Fluo €24,50
Laser
Pop
Levres Scintillantes €24,50
Bikini Peach
Soleil Tan de Chanel €42,00
Terre d'ore
Terre Halee
Check out more promo photos
Read More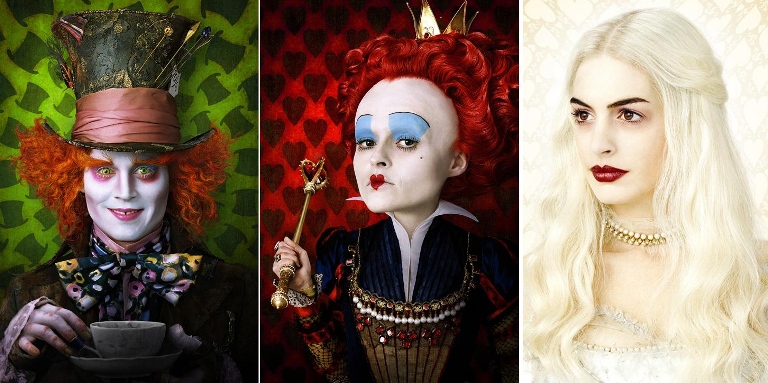 Looks like everyone is crazy about Alice now. What do we have so far? Alice in Wonderland collection  by OPI, Paul and Joe Alice collection (probably I should make a post about it for those of who who don't know the details) and this Book of Shadows by Urban Decay which is probably the most wanted makeup item lately. Let me remind you that I already made posts about Book of Shadow Volume II and about Alice in Wonderland The Book Of Shadows (how it looks like).
And now it's time for detailed review and swatches of this palette. Lets me say that I was 100% sure that I will be getting this palette when I first heard about it. Do you want to know why?  I absolutely love Urban Decay eye products and it is SUCH a great deal!
The prices of the original products
eye shadows 1.5g, $17, £12
24/7 liners 1.2g $17, £11
deluxe eye shadows 2.5 g $18, £13
primer potion 10ml $18.00, £ 11
And this is what you get for only £28 or $52
16 eye shadows 0.8 g
2 24/7 liners 0.08 g
mini primer potion 3.7 ml
What else is there to ask for?
Here is how all the goodies look like
24/7 Liners
Flipside – bright teal, gorgeous colour which is perfect for summer
Zero -black liner which every girl needs
Eye Shadows
The shadows are topsy-turvy in Underland but have real-World names
There are no matte shadows plus  most of them contain glitter and some contain lots of glitter. So here are the details!
Underland (Flash) – highly pigmented electric purple
Alice (Painkiller)- this is my favourite shade that can be described as very pigmented vibrant shimmering turquoise
Oraculum (Baked) rich cooper
Queen (Last Call) plum with burgundy
Chessur (Chopper) coppery fawn with silver microglitter
White Rabbit (Polyester Bride) it is a pale shade with lots of silver glitter
Read More