This time makeup collection by Chanel was inspired by pearls and we all know how much Mademoiselle Chanel loved pearls. Peter Philips wanted to create a beautiful collection which would reflect the iridescent refections of pearls.
Beautiful pearls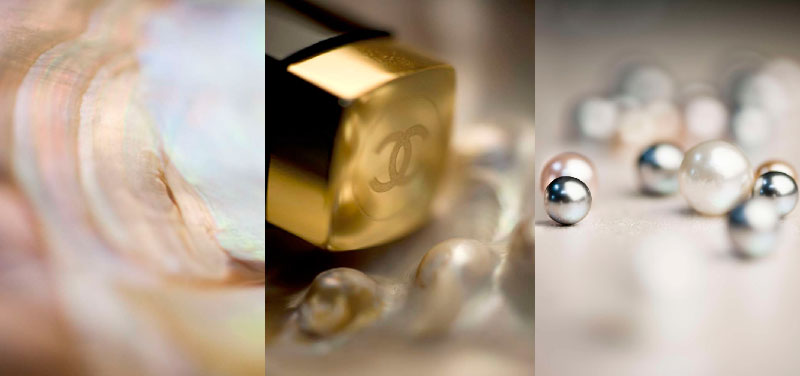 Collection includes new format of eye shadows – quints Ombres Perlees De Chanel
"CHANEL has created a tailor-made case to hold all of this magic. The classic black case becomes rectangular to contain five iridescent shades captured in a rich cream texture that glides smoothly over the skin. Blanc perlé, Rose porcelaine, Violine clair, Gris vert and Gris noir scintillant offer a bewitching odyssey with each sumptuous and capricious colour. The exquisitely fresh eye shadows are applied easily with the double-tipped foam applicator or fingertips. They can even stray from the eyelids to enliven cheekbones with a touch of shine."
Poudre Universelle Compacte
Rose Merveille, a pale pink with subtle sparkles for a halo of light.
Joues Contraste
Espiegle, a silken rosy peach blush.
Rouge Coco
Jersey Rose, a pink that flatters all skin tones, to wear to your heart's desire.
Peregrina, a delicate coral for the great outdoors.
Rouge Allure
Flamboyante, a  rosy red that shimmers like a promise of happiness.
Coquette, a vivid, energising pink, steeped in radiance.
Le  Crayon Levres
Levres Scintillantes
Nakkar, an intrepid soda pink warmed by
Read More
Now this is something gorgeous! The 3 new Dior nail polishes from the Gris City collection which  reinvents M. Dior's beloved grey for the three capitals of fashion and luxury: Paris, London and New York.
As they are shown in the photo:
Bond Street, likened to a grey London fog infusion.
NY 57th representing raw, asphalt metal, a wakening shade.
Gris Montaigne being sleek and elegant.
Each is 10ml and £17, available at Selfridges.
Aren't they gorgeous? I'd love to have them all! And which one do you like the best?
Read More
If you want to get something very special for yourself – Tom Ford's Black Orchid set (£90/$140) is what you need! I personally absolutely love the nail polish and  the lipstick, the colour is gorgeous and I would love to have them both. Although I am not sure that I need this perfume but I guess it would be a nice present for my Mama, who loves such type of perfumes (but I can't imagine her rocking such lipstick/nail polish).
Set includes Black Orchid Private Blend Lip color(black design which I like SO much better), Black Orchid Pressed Perfume and Nail Polish.
So what do you think?
Read More
There are so many great deals for those who live in the US right now, I thought I'd share my top 3 with you.
BECCA
Get a free full size Mineral SPF Primer (a global best-seller) with any BECCA online purchase of $75 + at becca.com
YSL
Spend 50$ and enjoy 20% off plus complimentary shipping, valid till 3oth November. Use the code FRIENDS.
shu uemura
Spend 50$ and enjoy 20% off plus complimentary shipping, valid till 29th November. Use the code WISH2010.
There are so many more great deals:  Giorgio Armani, Lancome, butter LONDON and many, many more. I won't write about all the deals because I will get jealous that I can't use any of them, boo!
Read More
Today I would like to talk with you about samples…
Do you like them? Do you think it's a good strategy to give us samples? What kind of samples do you like the best? What size do you think they should be? Have you ever  bought anything if you liked the sample? If you do, what was the last thing you've bought?
Some samples I've found inside my makeup bag
Here are just some of my thoughts and I'd really love to hear yours!
As for myself I really love samples! In fact I think it's a great way of trying new products and I think that every brand should put at least one sample with an order; it is also nice when you can choose.
I like the samples of primers , foundations and perfumes the best and I think that you should be able to use it at least 3 times to make sure if you like/dislike the product.
And, yes, I've bought  products because of a  good sample several times and the last thing was YSL perfumes.
Read More