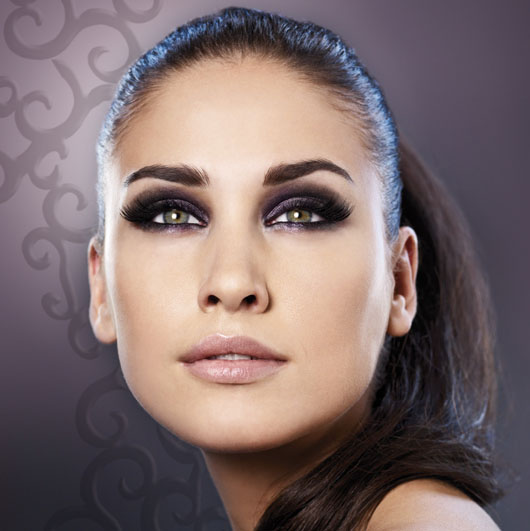 A quick glance, an impression that remains! With the new collection Impressions on Eyes Make up Factory, the art of eye make-ups continues to perfection.
Imaginative products are characterized by excellent quality and ease of use. To succeed in professional make-up of breathtaking intensity and sustainable impact.
Eye Make up Factory Primer
The basis for a long-lasting eye make-up is the Eye Primer. The smoothing eye shadow primer neutralized the eyes, makes them appear more even and fresh and prolongs the shelf life of your eye shadow significantly. The creamy, pleasantly light texture contains light-reflecting pigments and a polymer of plant origin, which brightens the eye area and leaves a smooth look. The eye primer is fragrance free.
Make up Factory & Liner Eyeshadow
Read More
Max Factor make-up artist Stephen Smith got the better of the trend looks by Pat McGrath and inspire the international catwalks and his own fall / winter created trend: "Soft Contrasts" sums up the contradictory tendencies beauty of the season together perfectly and presented with natural nuances and intense color highlights a dream duplicated noble makeup look for every occasion and every woman. The makeup of the upcoming season makes you want to change!
Stephen Smith reveals how the implementation of the new Max Factor trend looks "soft Contrasts succeed" and is the tricks that the make-up guaranteed eye-catcher for the season:
"This autumn, natural and warm colors dominate the catwalks. Look for my trend, Soft Contrasts, "I have brown and fascinating rose selected for the eyes and nails, and depending on the occasion dark bronze-beige or powerful Bordeaux red for the lips. The combination of these colors is a perfect contrast to the rather cool season and flatters the complexion. The transitions of the individually painted facial features run very smooth, and emphasize the natural beauty of every woman's ideal. A neat, natural makeup is absolutely a trend, and the basis for a classic look. I love the new Max Factor Second Skin Foundation – they can apply perfectly and the result looks a 100% natural. In addition, Second Skin Foundation can be wonderfully combined with other products from Max Factor.
Second Skin Foundation,  € 17.99
Limited Edition + face chart
Read More
Promo photo of Holiday 2009 Collection by Estee Lauder. And it looks amazing!
Opulent Shimmer Lip Gloss , $18
Cranberry
Gold
Gel Eyeliner, $19.5
Ultimate Red Turbolash ,$32
Ultimate Red Signature Eyeshadow Quad ,$35
Gold Opulence
Lavish Plum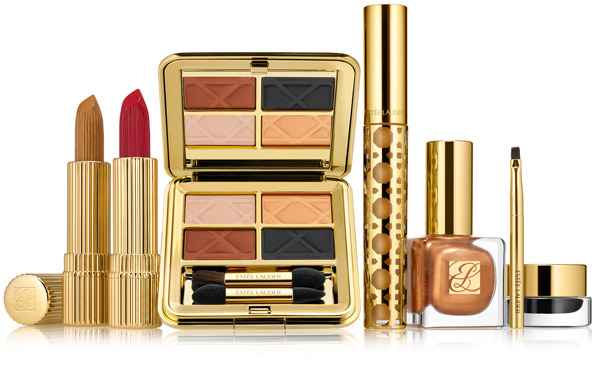 Signature Lipstick ,$19.5
Blackberry
Cranberry Ltd
Goldi
Simply Red
Pure Colour Nail Lacquer ,$18
Burgundy
Gold
Opulent Shimmer Powder , $32
Radiant shimmer powder illuminates skin with a hint of golden opulence. Sweep it across cheekbones, décolletage—anywhere you want a holiday glow.
Holiday Sets
Holiday Mascara Set ,$25
Give her long, long-wear lashes and a flawless finish—an eye look to love. A perfect stocking stuffer, this gift collection includes four great formulas for amazing eyes, all in a golden, crocodile-embossed pouch: Double Wear Zero-Smudge Lengthening Mascara in Black, Dual-Ended Lash Primer Plus and Double Wear Stay-in-Place Concealer SPF 10, and Artist's Eye Pencil in SoftSmudge Black.
Holiday Lipstick Colleciton ,$37.5
Read More
New Fall-Winter 2009 Collection of nail polishes by IsaDora
Wonder Nail 065 Smoky Grey – 8,50 EUR
Wonder Nail 186 Sapphire – 8,50 EUR
Wonder Nail 188 Dynamic Purple – 8,50 EUR
Wonder Nail 189 Black Rose – 8,50 EUR
Wonder Nail 194 Jugend Black – 8,50 EUR
Wonder Nail 195 Matte Velvet – 8,50 EUR
Read More
This new awesome and glamorous holiday 2009 makeup collection by Too Faced is already available at Sephora.
Glamour Revolution ($39.50)
What it is:
A limited-edition makeup book that includes everything a glamour queen needs to overthrow an old beauty routine.
What it does:
This beauty arsenal includes everything a glamour queen needs to overthrow an old beauty routine. The limited-edition makeup book contains a collection exclusively crafted for royal holiday gifting.
This set contains:
Milk Chocolate Single Eyeshadow
George & Weezie Single Eyeshadow
Boy Toy Single Eyeshadow
Label Whore Single Eyeshadow
London Calling Single Eyeshadow
Glamazon Single Eyeshadow
Dirt Bag Single Eyeshadow
Party Girl Single Eyeshadow
Neptune Single Eyeshadow
3 Lip Glosses
Chocolate Soleil Bronzer
Brightening Blush in La Vie En Rose
Shadow Insurance (colorless application)
What else you need to know:
Calling the most stylish ladies in the Kingdom of Glamour! Unite in the quest to overthrow the confining rules of conservative beauty and rebel in the illustrious light and soul-enhancing effects of Too Faced's Glamour Revolution! Vow your allegiance to the Queen of Cosmetics and promise to keep your lips glossy, your cheeks flushed, and your skin bronzed. And pledge your lids will smolder with the indulgence of pure pigments and gorgeous glitters!
Everyday Glamour Set ($100 Value), ($34)
What it is:
A set of products to create everyday glamour.
What it does:
In a chic gold clutch, you'll find all the portable products you need to create endless everyday beauty looks. The Snow Bunny Bronzer delivers golden-brown warmth that's combined with a delicate pink, fawn shimmer to mimic a natural "just-back-from-vacation" glow. The Galaxy Glam Eyeshadow in Coco Comet features a swirl of soft beige and iridescent green and the Mini Starry-Eyed Liquid Liner in Stalkerazzi is a liquid eye liner packed with sparkling light brown micro-glitter. A sample-sized portion of the best-selling silicone based eyeshadow primer, Shadow Insurance, transforms any eyeshadow into a perfectly blendable, color-drenched version of its self, then locks it down perfectly until you take it off. Get the look of lash extensions without the cost or commitment with the best-selling Lash Injection mascara and then finish off your look with the clear lip gloss, Mini Mirror Mirror Gloss in I Know You Want Me.
This set contains:
Read More