It seems that lately I am  thinking only about coral lips and nails. I've made a huge list of products that I want to get. I will share some of them with you!
The lipstick from Summer 2010  collection by Chanel
Lips
YSL Rouge Volupte # 26 and #30 (#30 thanks to Belle De Jour)
MAC Shygirl ( thanks to Aleksis from Alpha Blonde)
Bobbi Brown Coral Reef
Bobbi Brown Golden Nectar (gloss)
Bobbi Brown Cabo Coral
Rouge Coco de Chanel- La Pausa (coming soon)
Chanel Rouge Allure Luminous Satin Lip Colour in Genial (summer 2010)
Candy Glow by Chanel (one more)
It doesn't mean that I will get everything from the list but  I plan to get at least several items. If we are talking about Coral lipsticks and glosses – here is the lip swatch of one of my favourite shades
Read More
It looks like that every collection of  Make Up For Ever is deducated to a specific colour. It was "purple" collection Ultra Violet for Fall and "blue" collection Blue Rhapsody for Holiday and now it is "golden" collection!
Dany Sanz was inpired by Gustav Klimt to create this collection! I've mentioned several times that I've studied culture and arts so  I really love this idea. Klimt is among my favourite artists plus I am always excited when the art of makeup is connected with other forms of Art. I hope that this is not the last collection inspired by an artist!
It seems to me that Dany was inspired by this painting ( it is not a fact, just my thoughts)
And here are the products from the collection
Read More
I didn't post NOTD in a really long time so it's time to do something with the situation
I got one more nail polish from Vipera Cosmetics. It was pretty hard to get it but absolutely worth it. I already made a post about this nail polish with review and swatches (yellow shade) so here is only the swatch of nail polish # 638
My hands have too many lines on them  but this is the way I was born and can do nothing with it. And here is the set  from Make Up For Ever and my new earrings that I got this weekend.
Read More
Happy February, girls!  Do you know what's the best way to start the new month? That's right – to get yourself some new makeup. I was browsing some online stores on the other day searching for something for myself and I came across these products. Neiman Marcus has Cabana Corals Lip & Eye Palette, $60
Eye shades include:
Ivory Eye Shadow, Bermuda Pink Metallic Eye Shadow, Seashell Metallic Eye Shadow, Bonfire Metallic Eye Shadow, Tan Eye Shadow, Burnt Sugar Metallic Eye Shadow
Lip shades include:
Cabo Coral Lip Color, Salmon Lip Color, Shell Lip Color, and Coral Reef Metallic Lip Color
You can read the original post about Cabana Corals by Bobbi Brown here
Benefit To Go Beauty Bestsellers ($30 V alue), $10
This set contains:
0.08 oz Posietint: A poppy-pink tinted lip & cheek stain
0.06 oz Some Kind-A Gorgeous: The foundation faker
0.25 oz That Gal: A brightening face primer
0.09 oz High Beam: A luminescent complexion enhancer
Give Me Some Lip – Valentine's Day Gift Set ($65 Value), $25
Read More
"Karl Lagerfeld gave me three key words: Neon Baroque, Chemical Pastels and Liquid Silver. For the lips I used the new Summer 2010 Rouge Allure Lipstick in Genial. This coral shade perfectly matched the Technicolor and Neon Baroque spirit Karl wanted for the makeup at this show."- Peter Philips
It seems that we all are waiting for the new Summer 2010 makeup collection by Chanel. I already made a post about it but here are more details and closers looks.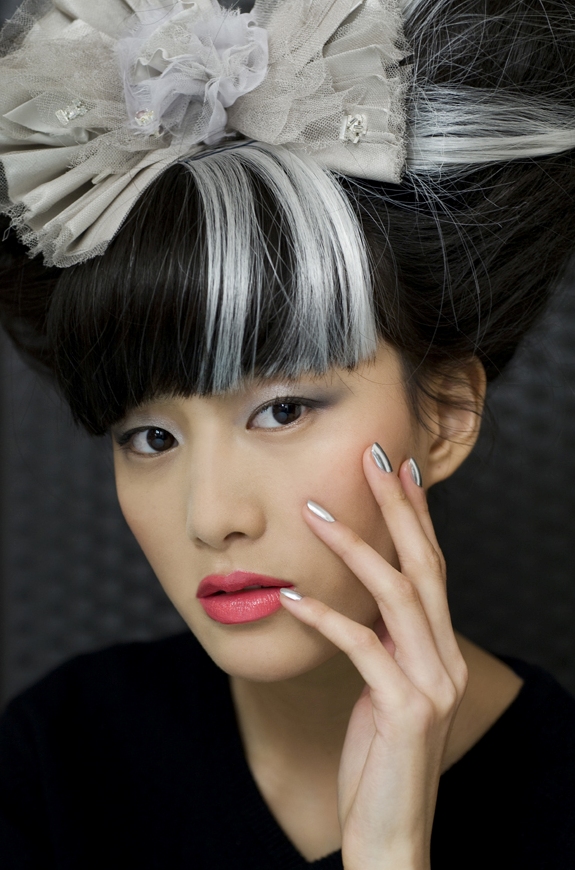 Here are the products that were used to create this look:
Eyes:
1. Ombres Contraste Duo in Gris-Subtil (summer 2010)
2. Le Crayon Khol Intense Eye Pencil in Graphite
3. Inimitable Mascara Multi-Dimensional in Black
Cheeks:
Les Tissages de Chanel Blush Duo Tweed Effect in Tweed Corail
More products and the photo of the new amazing coral lipstick
Read More