The OPI Coleccion De Espana features the colors of passion. The OPI Coleccion De Espana features nail polish colors that are full of drama. Try the OPI Coleccion De Espana . . . an accessory to the season's perfectly polished fashion.
Dark and mysterious with fiery passion, the latest collection from OPI celebrates the drama of Flamenco, the excitement of the bull fight and the beauty of a country rich in art and culture. In the evening, plazas fill with Spanish beauties to see and be seen, stopping at outdoor café's to share the Tapas and Sangria. It captures the warmth and complexity of Spain from Barcelona to Madrid to Seville.
There are 12 colors in this collection
Barefoot in Barcelona
Can You Tapas This?
Give Me Moor!
Pink Flamenco
No Spain No Gain
Ate Berries in the Canaries
Read More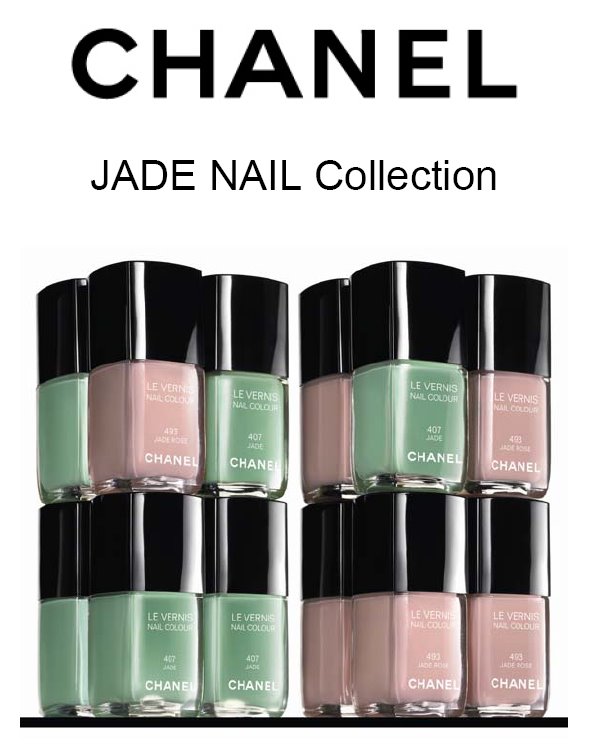 Swatches of Chanel Jade Collection – All Laquered Up. You can see  how famous it is already by watching this photos.    

Summer BeautyFix – Mischo Beauty
Guerlain Parure Extreme fluid foundation review       –   Make Me Blushhh
Go Natural For A Week – Product List with Indian Girl
MAC Sneak Peek for Spring 2010 – The Beauty Alchemist
Swatches of Nail Trend by Mac – Magimania
The perfect makeup for your eye color – Chic Profile
Read More
Autumn is here and do you know what that means? New episodes of our favorite soap operas
What are you eagerly looking forward to? In this post I would like to tell you what I am waiting for. Not only soap operas of this Fall but some movies, too.
1. Desperate Housewives 6
(promo photo from ABC)
There will be no Eddie Britt plus I can't wait to see who was the bride in the last episode:) And I missed those 4 women. I am saying four because I am not a fan of Catherine. Who is your favorite Desperate Housewife? Do you like them as much as I do?
You can read about them here (ABC) and here(about 6th season)
2. Gossip Girl 3
I just can't wait to see Chuck and Blair together plus
Read More
Like a sequel to a great novel that you were sorry to see end, Book of Shadows is back with Volume II to captivate us once again. The largest and most unique palette we offer, Vol. II is stocked with 16 shadows (including 8 exclusive to this set), travel size 24/7 Eye Pencils in Zero and Bourbon, and a mini genie bottle of Eyeshadow Primer Potion. The mix of shadows includes shimmers and glitters, neutrals and brights. Build just about any look you can imagine!
NEW/exclusive shades: AC/DC (deep eggplant shimmer), Nylon (champagne sparkler), Mushroom (taupey-gunmetal), Sphynx (pink sparkle/shimmer), Jinx (bright blue shimmer), Homegrown (bright green shimmer), Misdemeanor (deep teal sparkle), and Perversion (matte black).
Read More
Month ago a Made a post about my favorite beauty blogger – Karen. Today I would like to tell you about other 2  great blogs. You may ask what do they have in common? Beauty and both ladies live in the USA. But this is not my point.  These 2 ladies were the first who became my friends among all beauty bloggers.  So I would like to say thank you to Betsy and Adina for their friendship and support. And introduce them and their blogs to my readers. I will give you 12 reasons to love them!
Read about Betsy here
Unfortunately I can not use the photo of Betsy from Autum Masquarade but I assure you that she looks really nice
1. The point of every blog is to share your opinion and communicate with your readers. And I can say that this is true about Autumn Masquerade. Betsy is a very friendly person and she always answers all her readers question, shares with the latests sales and on her blog and you can always find the dates of the latest launches.  If you already read her blog I recommend you to check it out because she has new design.
2. Do you love sales? Everyone does;) I have great news for you. Autumn Masquerade has sales coming on quite often. I wrote about one of them on my blog.
3. If you are looking for great reviews of high-end products with photos – you should definitely
Read More