I  am super excited to introduce you the new Benefit products which are Prrrowl and Girl Meets Pearl. As all Benefit products they have a cute design and I  believe that the products are also amazing.
Benefit Beauty never lets me down and I absolutely love all their products that I have (in fact I just bought something new from them this week).
So here is the Prrrowl. Can you guess what it is?
It  is a
Read More
This month the luxury British brand Elemis launched new Pro-Intense Eye and Lip Contour Cream.
And here is what is written about it:
"A rich textured cream containing active plant stem cells from Edelweiss that works with the skin's natural function at the 'dermal-epidermal junction' level to protect the shape of skin cells, tighten the collagen network and hydrate evenly throughout the day."
The Pro-Intense Triple Effect is designed to:
Redensify
Plump
Firm
The price of this new products is £57.00 but only now you can get the set which also includes a FREE full size Absolute Eye Mask (worth £27) for £57.00 !
Skin Type: All, Mature.
And I personally would recommend you getting the
Read More
I have to say that Fabulous Felines is the kind of MAC collections that I am waiting for. Mostly because I want to see the new quads. I love MAC's quads, I really do. As you may know there will be 3 quads and it turned out that 2 shades are re-promoted and I have those 2 shades. So here they are:
Burmese Beauty Eyeshadow Quad, $36
Prized, pale yellow beige (S)
Skintone 2, mid-tone gold (F)
Burmese Beauty, frosted brown green (L)
Showstopper, soft smoked black (M)
Leopard Luxe Eye shadow Quad, $36
Wild By Nature, mid-tone camel (M)
Style Predator, frosted midtone yellow orange (VP)
Notoriety, mid-tone brown with gold pearl (V)
Furiously Fabulous, frosted warm black (VP)
And here is how they look like:
Swatches and my opinion
Read More
Take a look at butter LONDON holiday 2010 collection.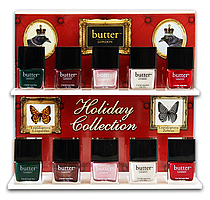 So the colours from the collection are:
British Racing Green
Dark, "hunter green" that was the baskstage darling when used at this season's shows
Perfect Prezzie
Treat yourself to this burnt red that is ever so festive.
Fairy Lights
Fairy Lights are what the English call small white Christmas tree lights. Be a beacon to
Read More
I personally like lip stains a lot because they last on your lips forever and I like the matte effect that they give. They can be a bit drying but that's not a problem if you use a lip balm.
So here are 2 new affordable lip stains that you may want to try:
Just Bitten Lipstain + Balm by Revlon
Kiss-proof color with soft shine
Lipstain and balm in one convenient, dual-ended package
Contains vitamin C for for anti-oxidant protection
Available in 10 lightweight shades
Maybelline Colorsensational Lipstain
Read More