How pretty are these new 17 Vintage Love palettes (£5.49 each) which will be available this week (28th) at Boots? They are called Metallic Nude and Pretty Pastel. I really hope that these have a good pigmentation because if they do, I would love to get both.
And what do you think? Aren't they beautiful?!
There will be a lot of other products in the collection, obviously, but these are the items that caught my attention.
Read More
MAC will have several Spring 2011 collections and besides the Future Face (face products: powders and foundations mostly), Cremeblend blushes and a few more collections, there will be a collection  with Sheen Supreme Lipsticks.
I really loved the promo and I would actually  like to try the lipsticks so I thought I'd share with you.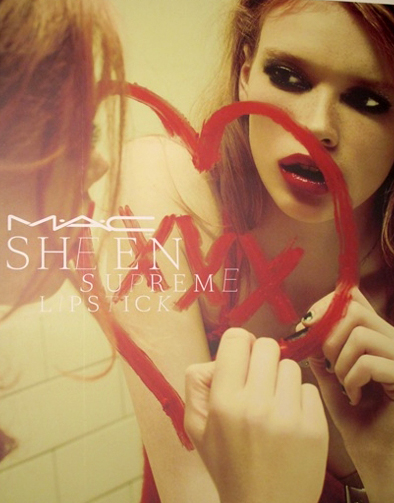 image iswii.net
Check out the products
Read More
This week I came across this ad from L'Oreal. This is an ad for their  Colour Riche lipstick featuring Doutzen Kroes. And, wow, this colour (#410) is just so beautiful. I would totally use it for spring/summer. The nail polish is also amazing.
Orange should be a a huge trend this summer as well as it was last summer – see me wearing orange/coral lipstick here. The question is: "Would you dare to wear such colour?". I am going to check out this lipsticks and I really hope that the colour is close to this promo.
If orange lipstick is way too much for, you can go for an orange/coral lip gloss. Something like this gorgeous BECCA gloss in Frappe which is a total perfection.
As for the nail polish – I totally love this bright and hot coral/orange that I have. It's a must have for summer!
And do you like any orange/coral lipsticks or glosses?
Read More
I like reading such type of posts from time to time and I've realised that I never did one myself. So I took one of my makeup bags which happens to be Estee Lauder (I like it because it's a big one and I can put quite a lot of products inside) and just took all the items which were inside so that you (and myself, as I can never be 100% sure what's inside) can take a look.
Now this is not the makeup bag that I take with me obviously! Why would I need this all anyway?  These are just the products that I was using at the moment.
So do you want to see what's inside?! Then keep reading!
Read More
Ever since I wrote this post I wanted to get the Master hand lotion from butter LONDON. So I've finally got myself one as a holiday treat.
Let me remind you that it is described as "a unisex lotion for exceptionally soft skin. Black Tea scent – sophisticated, smoky – just what you are craving."
And I can't tell you enough how much I love it! Maybe I am so overwhelmed because I've wanted it for some time but palso because it's a great product.
The design is to die for. I LOVE it, nice and elegant. It smells unbelievable,  I am love  the scent! But some people I know didn't like it as they find it too strong so this obviously depends on your taste.
The price is £ 7/ $10 for 50 ml which is a reasonable price for such a luxury lotion.
But there is one
Read More