Take a look at butter LONDON holiday 2010 collection.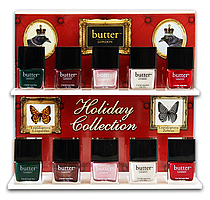 So the colours from the collection are:
British Racing Green
Dark, "hunter green" that was the baskstage darling when used at this season's shows
Perfect Prezzie
Treat yourself to this burnt red that is ever so festive.
Fairy Lights
Fairy Lights are what the English call small white Christmas tree lights. Be a beacon to
Read More
I personally like lip stains a lot because they last on your lips forever and I like the matte effect that they give. They can be a bit drying but that's not a problem if you use a lip balm.
So here are 2 new affordable lip stains that you may want to try:
Just Bitten Lipstain + Balm by Revlon
Kiss-proof color with soft shine
Lipstain and balm in one convenient, dual-ended package
Contains vitamin C for for anti-oxidant protection
Available in 10 lightweight shades
Maybelline Colorsensational Lipstain
Read More
Today I'd love to tell you about a Korres product that I've been loving for the last month and it's their jasmine Body Butter. I've wanted it ever since I got a sample of it with my zuneta order. So I was very happy to get it finally. But I got mine in 50ml because I wanted it to be small so that I can always have it in my handbag.
I've been using this mostly for hands and sometimes body. I have to say that if you love jasmine this is a must-have for you! It is also mousturizing and nourishing enough for my dry hands.
Here is what Korres promises and I agree with all statements:
Jasmine Body Butter is enriched with Shea Butter to soften, moisturize & restructure the skin.
A proprietary blend of Sunflower, Almond & Avocado Oils restores skin's elasticity & smoothness.
Quince extract acts as a soothing agent to heal and nourish stressed skin.
And what is your favourite Korres body butter?
Read More
I am very happy to share the information about the new Rouge Bunny Rouge Fall 2010 collection which is called  Abbreviated Affair.
And this is  what RBR tells us about the look:
"A classic beauty look for the summer season is represented by Angharad, one of our City Angels, in our ABBREVIATED AFFAIR look. A wide expressive eyelid line, created with our Quartz Eyeliner, is paired only with a hint of eye shadows, plus slightly shimmering, healthy looking skin and true red lips.
The combination of our products including the refreshing Aqua Primer, the soft Tinted Moisturiser, the luminous Highlighting Powder and an intense Colour Burst Lipstick make this look timelessly elegant and desirable."
Products that were used:
FACE
PRELUDE IN THE CLOUDS Aqua Primer
FINE-SPUN LIGHT Luminous Skin Wand (colour 'Orionis' – pink beige with a touch of peach)
SKETCHES ON WATER Tinted Moisturiser (colour 'Adansonia' – transparent wash of pale milky beige)
LOVES LIGHTS Highlighting Powder (colour 'Sweet to Touch' – light baby pink with the finest Aurora golden glow effect)
FOR LOVE OF ROSES Original Skin Blush (colour 'Starina' – palest coral with an illuminating radiance)
EYES
WHEN BIRDS ARE SINGING… Long-lasting Eye Shadow (colours 'Capricious Nightingale' – metallic finish, silver-white
cherry blossom pink – and 'Delicate Hummingbird' – cool, dusky sugar-frosted plum, iridescent with pink shimmer)
WHEN BIRDS ARE SINGING… Long-lasting Matte Eye Shadow (colour 'Grey Go-away Lourie' – semi-opaque smoky
slate grey)
DEVOTION
Read More
I really love the   Evan Rachel Wood's make-up look in the new Gucci Guilty promo photo, have you seen it by the way?
This is the new fragrance that will be available in September 2010.
Key notes:
amber
mandarin
pink pepper
peach
lilac
geranium
patchouli
It will be available in 30, 50 and 75 ml.
Don't you agree that that the make-up looks goregeous? What woman would like such perfume? I can picture a confident, sexy, daring, brave and gorgeous woman who loves floral-oriental scents.
Read More