This week I already made a post about Topshop makeup and last week I wrote about Burberry beauty so today I would like to tell you about ESPRIT cosmetics. It is not a new line but maybe some of you never heard about it.
Did you try anything? I never did but I read some reviews and people say that they make great nail polishes. I have some clothes and a bag from ESPRIT but never had a chance to try the makeup.
You can check out all the details yourself at the official website. There you can also find the makeup for you type.
So what do you think? Would you give it a try?
Read More
Today I would like to tell you about my favourite lipstick of the last several months. It is MAC Blankety.  I've been using this lipstick a lot lately and I am very happy with it.
This is what MAC says about their lipsticks:
"Colour plus texture for the lips. Stands out on the runway. Simmers on the street! What made M·A·C famous."
Blankety is described as Soft pink beige (Amplified Creme) and you can see the colour below:
Here are the reasons why I like this lipstick:
This is a neutral colour and it will look nice with a lot of makeup looks and with a lot of clothes.
I like how it feels on my lips and it gives an opaque coverage with only 1 layer.
The design is simple and nice. Here is one thing that happened to me last month. I went to my favourite restaurant and they have 2 floors so I was having lunch on the second floor. And I dropped this lipstick on the 1st floor. I rushed to the first floor, picked it up and it looked like as if it never felt down (it was closed of course).
This lipstick is from permanent line so you can always get one more when you want.
This lipstick is cheap.
This is how it looks like on the skin:
Lip Swatch
Read More
Last month I asked on twitter what should I watch and most of you said that I should watch Mad Men. This is what I've been watching this month and I have to say that I absolutely love it. I love the atmosphere of 60′s and the makeup of the girls of course.
I will not discuss the plot because maybe some of you haven't seen it yet but I'd love to talk about it if anyone would like to
I can't stop admiring the girls makeup and I found some information about it at one of the website dedicated to Mad Men. So enjoy the photos and details about makeup!All the products mentioned in the answers are by MAC Cosmetics.
Joan Holloway
Always put together, very sassy and sexy.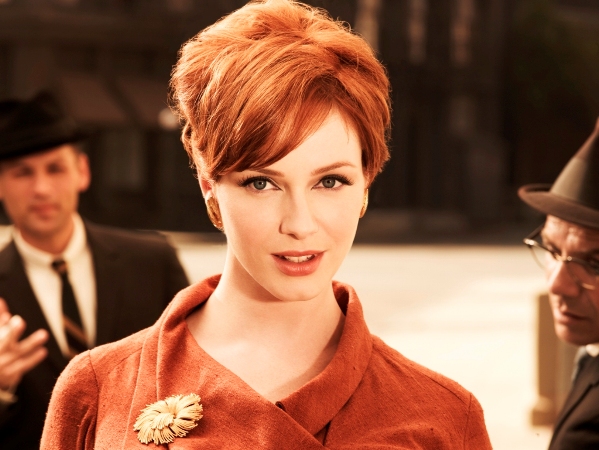 What are your key products for creating the makeup looks for the main female characters?
Joan Holloway: We do a heavier eye on Christina, so the key products would be eyeliner and strip lashes.
What are your favourite MAC products for each character?
Joan Holloway: Cream Colour Base in Virgin Isle, Fluidline in Blacktrack and Rich Ground, and Eye Shadow in Soft Brown.
Betty Draper
Although she is a housewife she is an ex-model, so her makeup is clean but very current for the period.
What are your key products for creating the makeup looks for the main female characters?
Betty Draper: Betty has two distinct looks, her at-home look and her going-out/evening look. For home she is very natural, basically a sheer foundation, think black eyeliner and mascara. Evening Betty goes a little thicker on the liner and a brighter lipstick, but always coordinated with her clothing.
What are your favourite MAC products for each character?
Betty Draper:
Read More
For the first time I heard about NARS because of their names : Orgasm, Super Orgasm, Deep Throat, Striptease and a lot of others. But the most famous name is Orgasm of course. Several years ago when I didn't read any beauty blogs and I didn't have my own I still heard a lot about this blush so it's obvious that it's the first item that I got from NARS. And since that my NARS collection is growing bigger. Even this week I got a new NARS blush.
What is written about NARS blushes?
They are £ 19.50, $26
Made with transparent pigments for a soft and sheer look. Imparts a natural, healthy glow for any skin tone and may be worn alone or layered together for more depth and intensity.
Provides a sheer, natural hint of color
Made with transparent pigments to avoid heaviness
Broad selection of shades
This is how Orgasm looks in a pan
And here is a close up of the colour in the daylight, my impression and cheek swatches
Read More
L'Occitane is a great brand which has a lot of fans all over the Wolrd. But did you try their makeup? Here is what is writtent about it:
"L'Occitane Make-Up! According to a Greek legend, a beautiful nymph named Paeonia was so courted by the gods that a jealous goddess, Aphrodite, transformed her into a flower with a thousand petals – the peony."
Here are some products that are available in different shades:
Lip Balms, $15
Lipsticks, $20
Mme Louis Henry Lipstick
Mme Louis Henry, a pink peony with old-gold patina reflections, inspired this shimemring pink lipstick.
Easy to wear and ideal for any occasion, this semi-sheer lipstick melts onto the lips, coating them with a stunning, radiant shine.
The rich texture, delicately perfumed and enriched with softening peony extract, gives an instant feeling of comfort and leaves a light, non-sticky film on the lips.
Shine Lip Colours, $20
Pivoine Lip & Cheek , $20
Face Colour Powders, $22
Read More